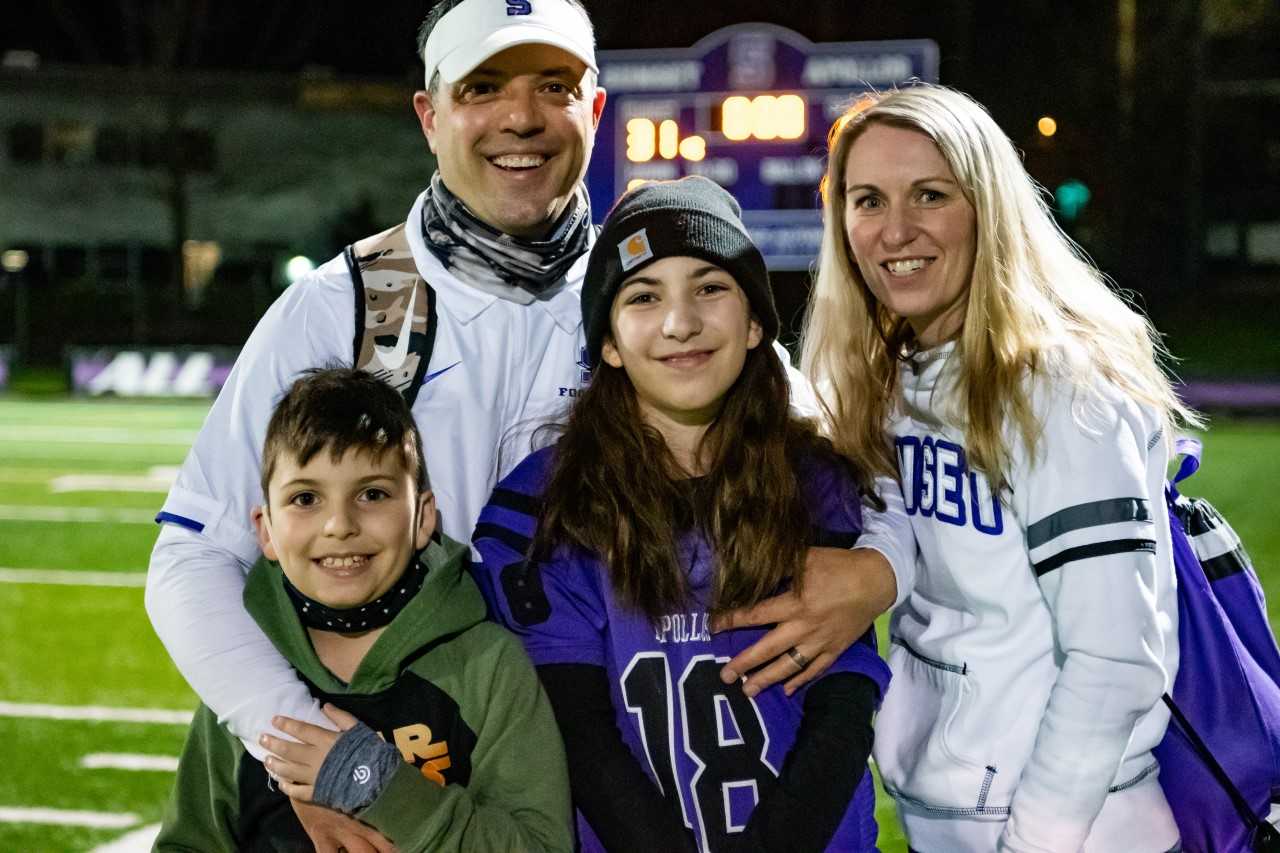 Dominic Ferraro will try to bring some of the Sunset magic to his first football head coaching job at Forest Grove.
Ferraro, the Apollos' offensive coordinator for the last five seasons, has been hired as the new coach of the Vikings. He will replace Perry Herbst, who went 11-32 in five seasons, including 0-6 this year.
Ferraro said he will be looking to push the pace on offense, similar to his approach at Sunset, which averaged a 6A-high 40.2 points per game in going 6-0 last season.
"We call it the Ricky Bobby offense, because Ricky Bobby wants to go fast," Ferraro said. "We're spread tempo. We're going to spread you out and we're going to throw it deep, and we're going to mix in the run. We're always going to be in attack mode."
Ferraro, 44, has assisted at Sunset (2006-09, 2016-21), Westview (2010-14) and Grant (2015). The 1995 Jesuit graduate spent the last nine seasons as an offensive coordinator.
He applied for the Grant head coaching job in 2015 and spent one season assisting with the Generals. He said he has pursued other head coaching openings in recent seasons.
"It's definitely something I've been thinking about and planning for, making sure I have a plan for it," he said.
What appealed to him about Forest Grove?
"It's a one-horse town," he said. "You've got your own school district, one high school. I think you can build something that the community will be proud of, on and off the field. There's definitely an opportunity to build something. It starts with trying to focus on our culture."
Forest Grove has gone 10-15 as a member of the 5A Northwest Oregon Conference the last three seasons. The Vikings played in the 6A Greater Valley Conference from 2014 to 2017, going a combined 1-17 in the last two seasons to meet the criteria to drop down one classification.
Forest Grove will play in the 5A NWOC this fall but is hopeful to move back to 6A in 2022, according to Ferraro. The school's other sports teams play in the 6A Pacific Conference, where the football team played before moving to the Greater Valley in 2014.
"The hope is that we'll be back there sooner than later," Ferraro said. "We've got a pretty large freshman class coming in, which is positive. It'll depend on how we do, and next season's numbers. I think we're doing all right in terms of numbers. There is some excitement right now, and kids are coming out."
Ferraro, who works for the state in public health, is working remotely from the school.
McKechnie to Y-C
Yamhill-Carlton has replaced coach Brennon Mossholder with former Linfield standout receiver Brad McKechnie.
Mossholder, who went 21-21 in five seasons, has accepted the head coaching job at Hillcrest of Idaho Falls. The Clackamas graduate took over after the Tigers went 0-8 in 2015 and guided them to a 9-1 record and the 3A PacWest Conference title in 2019, their most wins since 1971. The team finished 4-2 this year.
"I'm really proud of how we have been able to change the culture here," Mossholder said. "I inherited a program that expected to lose and did not have a great work ethic. The guys now expect to win and know what it takes to be a winning program."
Mossholder also was head coach for the baseball team for the past four seasons. This season, the Tigers finished 15-3 and were runners-up in the 3A Culminating Week Tournament.
McKechnie goes to Yamhill-Carlton after spending the last three seasons as the defensive coordinator and defensive backs coach at 5A North Bend. He also has assisted at 5A Springfield and 4A Marshfield.
McKechnie was a receiver on Linfield's 2004 NAIA national championship team. He finished his career at No. 4 on Linfield's all-time list for receptions and touchdowns and No. 7 in receiving yards.
Sweet Home goes with Adams
Sweet Home has selected 23-year-old Ryan Adams to replace Dustin Nichol, who has retired from teaching and coaching. Nichol went 55-58 in 11 seasons with the 4A Huskies, including 2-4 this year.
Adams, a 2015 Sweet Home graduate, has coached in the program for six seasons, the last two years as offensive coordinator. He plans on making some changes to the team's spread offense.
"I want to go fast," Adams told The New Era of Sweet Home. "No huddle. Hurry-up offense is what I envision."
Sweet Home athletic director Nate Tyler told the paper that "it was very clear that Adams was our No. 1" during the interview process. "He's good at motivating," Tyler said. "He's good with the Xs and Os, and he has a good offensive mind. There was a lot of upside with Adams."
Walker returns to Lebanon
North Salem assistant Troy Walker will take over as the head coach at Lebanon for Ty Tomlin, who went 43-35 in eight seasons and won a 5A championship in 2016.
Walker, introduced as the Warriors' coach Thursday night, is a 1988 Lebanon graduate. He played for the Warriors under Tomlin's father, Don, the coach from 1984 to 1998.
"For me, this is a golden opportunity to come to my hometown, raise my family here," Walker told the Lebanon Express.
Ty Tomlin said that stepping down was a "faith-based decision" and that "it was time to be somewhere else." He said he is in the process of looking at other opportunities.
Walker and Lebanon athletic director Kraig Hoene played together for the Warriors. Hoene has desired to bring Walker back to Lebanon, according to the Lebanon Express.
"One thing I know about Troy is that Troy gets kids, and kids get Troy," Hoene told the paper. "He's an unbelievable person with character and integrity."
Aloha promotes assistant
Aloha has turned to longtime assistant James Mitcham to succeed Bill Volk as coach.
Volk stepped down after 25 years in the program, including the last eight as head coach, during which he compiled a 28-46 record. The Warriors went 9-2 in 2019 and 4-2 this year.
Mitcham, a 2000 Aloha graduate, has been on the coaching staff since 2005. He has coached at several different levels, spending the last eight seasons as the varsity defensive coordinator.
Mitcham's son, Jenner, will be a freshman at Aloha this year.
Notes: Philomath has hired Crescent Valley offensive coordinator Alex Firth to replace Tony Matta as coach. Matta, the school's athletic director and assistant principal, went 7-15 in three seasons as coach, including 4-2 this year. … Several other schools are in the process of filling head coaching vacancies. Among them are McMinnville, La Salle Prep, Sisters, Caldera, Regis, Reynolds, Gresham, North Medford, Harrisburg, Valley Catholic, Phoenix, Newberg and Redmond. … Seth Womack stepped down as Redmond's coach to take over at California High School in Missouri. … Aaron Hazel left La Salle Prep to be the coach at Nelson, the new North Clackamas high school. … Steve Turner, who went 15-12 in the last three seasons as North Medford's coach, has retired. Turner, 66, compiled a 121-89 record as the head coach at Rainier (1985-87), Crook County (1998-2004), Mountain View (2008-11), Cascade (2012-15) and North Medford. He won a 5A title at Mountain View and a 4A title at Cascade. ... Sherwood's Greg Lawrence retired and was replaced by Newberg coach Kevin Hastin. ... Barlow hired Tracy Jackson to succeed Chris Koenig. Jackson has been the head coach at Woodburn, North Marion, Madison, Hood River Valley, Dallas and Gervais.