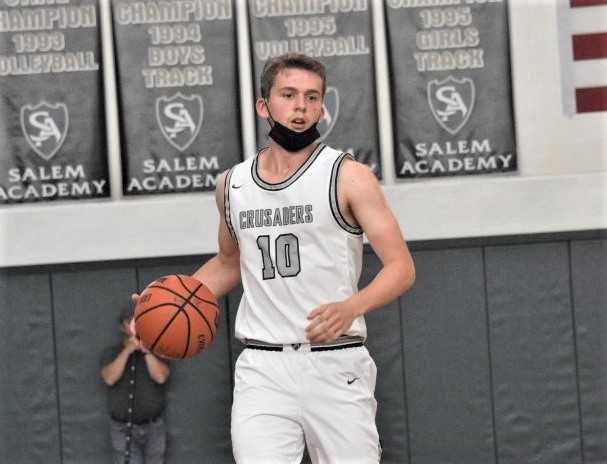 An offensive explosion from Benett Bos and a defensive change-up lifted Salem Academy over Columbia Christian 49-36 in the final of the 2A boys basketball culminating week tournament Saturday at Ridgeview High School.
Bos, a 6-foot-3 senior guard, made 15 of 32 shots from the field and finished with 34 points and nine rebounds for the Crusaders (14-1). The performance capped a standout season for Bos, a fourth-year starter who flourished after moving from post to the perimeter this season under first-year coach Ben Brown.
"He was terrific," Brown said. "He's good off the dribble, he's a really good three-point shooters, he can create his own shot within the offense, and he can help create for others, as well."
Salem Academy fell behind early against hot-shooting Columbia Christian (11-4), but after switching from a 2-3 zone to a man-to-man defense, the Crusaders took control.
"We were able to frustrate them," Brown said. "They didn't get into a good rhythm. We had to make some change to go against our gameplan, but we adapted."
Junior guard John Pass added eight points and six rebounds for Salem Academy, which won its 13th consecutive game after a 58-50 loss at 6A South Salem, a team coached by Brown's brother, Travis.
Salem Academy, which has never won a state championship, won four playoff games in six days to take the title of the 16-team tournament. It was especially gratifying for Brown, who led the school's girls team to state runner-up finishes in 2015 and 2018 during his five-year tenure as coach (2014-19).
"I didn't want to be the coach that lost three state title games," Brown said. "It was kind of a surreal moment after winning it. There was a little bit of pressure, but the boys seemed to handle it just fine."
The Crusaders held opponents to 38.3 points per game, led by senior forward John Bennett (6-4) inside and junior forward Chase Brown (6-2) on the perimeter.
"The guys did a great job of not looking ahead," Ben Brown said. "I'm proud of them just staying mentally focused on the task at hand."
Last season, Salem Academy went unbeaten in the 3A PacWest Conference and reached the 3A quarterfinals. The Crusaders dropped down to 2A this season and went 7-0 in the Tri-River Conference, ending three-time reigning conference champion Western Christian's regular-season league winning streak at 49 with 36-32 win on June 3.
"Winning the conference was amazing, especially the Tri-River being so tough," Brown said. "Western Christian has kind of ran that league for a while."
Reigning 2A champion Toledo, which went 8-0 this season, did not participate in the tournament due to a positive virus test. Boomers coach Bart Rothenberger was instrumental in organizing the tournament.
"He had to make the tough decision of not participating," Brown said. "Toledo was one of the top teams, and it's unfortunate for those guys they didn't get to participate."
Gervais girls prevail
Senior-dominated Gervais defeated Tri-River Conference foe Salem Academy 49-41 in the final of the 2A girls culminating week tournament Saturday at Ridgeview.
Sophomore reserve Sofia Contreras and senior Ariceli Vasquez scored 13 and 11 points, respectively, to lead the Cougars (12-0). Gervais defeated Salem Academy 59-52 in a conference game June 14.
"The comfort level of knowing their game, I think that helped calm us down a little bit," Gervais coach Kyle Buse said. "We felt like we controlled the game the entire way."
Buse said his team embraced the challenge when the air conditioning went out in the gym.
"We kind of felt like it was a little bit of home-court advantage because our gym is usually hot," Buse said.
The team's four senior starters – Vasquez, Lilly Welburn, Katie Hanson and Isabel Contreras – played for Buse since they were in the fifth grade. The Cougars had high hopes after last season, when they went 23-6 and reached the 2A quarterfinals.
"I think everybody felt that expectation," said Buse, who has coached Gervais for six seasons. "We've been taking steps over the last few years, especially with these seniors. I knew we had a shot."
Gervais beat reigning Tri-River and 2A champion Kennedy 51-47 on June 7 and went on to win the conference. The tournament title was a crowning achievement for the Cougars, who won state titles in 1988 and 1994.
"It was pure emotion," Buse said. "People were so happy for all the years and time we put in. It paid off."
Vasquez and Welburn led the team in scoring at 9.5 points per game. Sofia Contreras, who backed up Vasquez at point guard, shined in the tournament with season-highs of 13 points against Heppner (9-3) and Salem Academy (10-4).