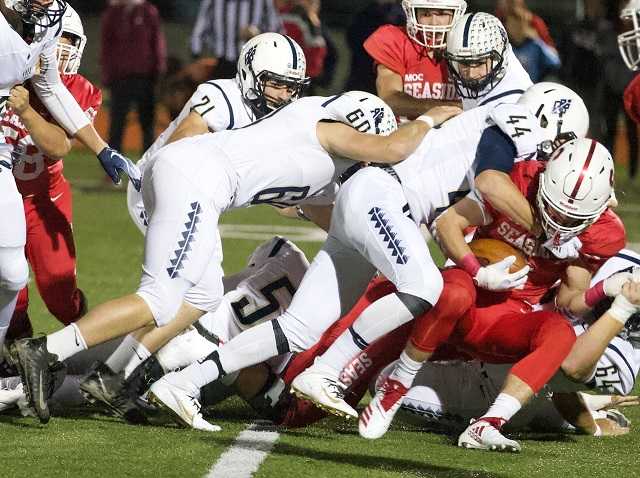 SEASIDE — It seemed only appropriate that Seaside's last act of desperation to try to save its No. 1 ranking Friday night would die under the heels of the Banks defense.
The No. 2 Braves' defense had been antagonizing the Seagulls all night.
It came down to one final play at the end. Banks was leading 10-7 with the clock winding down inside 10 seconds when Seaside quarterback Payton Westerholm -- running for his life as he had been all night -- fired his last bullet. He hit Alexander Teubner with a sideline pass at the Banks 15.
But Braves' defensive back Josiah Ochoa was right there, too. He slammed Teubner to the turf and kept him in bounds as the clock went to zeroes.
"We knew they would go to him," Ochoa said. "We just had to make a play and there he was. When he stayed in bounds, I was speechless."
So was Seaside. Banks did things to the dynamic Seagulls in the annual Cowapa League showdown at Broadway Field that nobody has come close to doing in a long, long time. Like this:
-- The Seagulls have been averaging 468 yards and a class-high 52.2 points a game. The Braves held them to 232 yards and just seven points.
-- Banks shut the door on Seaside tailback Teubner. The splendid Seagull senior already had over 1,000 yards for the year. The Braves held him to 107 Friday night -- 56 of them on the one play in which he got loose.
And save one scoring drive, Banks darn near shut the Seagulls out. Imagine that.
"Our defense deserved to win that one," observed Banks coach Cole Linehan. "They (the Seagulls) can score. Whenever they get to the 20, they usually score.
"This time they didn't."
But it was close. The Seagulls got to the Banks 10 with 30 seconds left. A holding penalty and a illegal shift pushed them back 15 yards, then Ochoa made his play.
The Braves, 6-1, were everywhere defensively. For the most part, they outmuscled the Gulls in the trenches, chased Westerholm out of his comfort zone, blitzed effectively -- and did a bit of reading.
"For the last two weeks," said linebacker Hayden Gobel, "we've spent at least 10 minutes against this offense with the scout team. Their guards are the key. Wherever they went, that's where the play was going.
"And we saw our film of last year's game (a 19-14 loss) and saw the mistakes we made and what we had to do."
Linebacker Bryson Cook was another of the Braves who bullied the Seaside offense.
"We had to shut Teubner down," he said. "He's the guy who makes him go. We just played him as hard as we could."
In one key series late in the game, the Banks offense had everything to do with putting the Seagulls, 6-1, up against a wall.
The Braves nursed a 10-0 lead -- thanks to a two-yard, first-quarter run by Martial Stegemeier and a 37-yard third-quarter Jacob Slifka field goal -- late into the fourth quarter when the Seagulls got their only score.
It came late in the after Seaside caught a significant break. Westerholm's bomb pass for Brayden Johnson was picked off 5-foot-9 cornerback Jarred Evans at the Braves' one, but it was ruled off by a sideline warning to the Banks coaches for being outside the restriction box.
Seaside took advantage of the reprieve to drive for a 7-yard touchdown run by Teubner with 5:57 to go.
But the Braves played keep-away by driving into Seaside territory with a clock-eating march, and by the time Gulls tackle Travis Fenton sacked Braves' wildcat quarterback Blake Markham on the Seaside 44, there was just 1:48 left.
It was enough for a team like Seaside to get one last score to win the game.
But not on Friday night.
And certainly not against Banks.