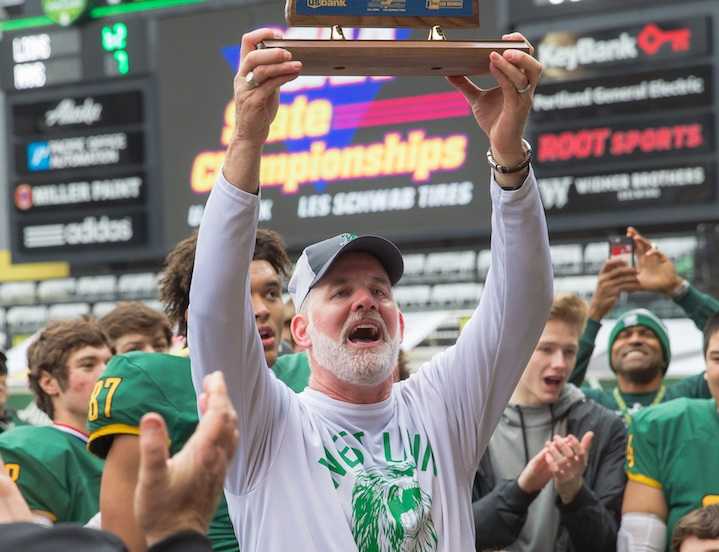 Nothing was official, but West Linn's football team believed it made an airtight case as the state's best 6A team in the COVID-shortened spring season.
After finishing 6-0, the Lions even went so far as to get rings with "No. 1" on them.
Starting Friday night, though, West Linn can begin pursuit of a full-fledged OSAA blue trophy when it opens the season with a nonleague game at perennial power Jesuit. The Lions lost 26 seniors from last season, but coach Chris Miller appears confident in his newcomers.
"This group could be one of the more fun groups for us to develop," Miller said. "I think we could do some of our best coaching with this group.
"The group we had in the spring, they were ready made. They were ready for that explosive, blue-trophy, 14-0 season. I kind of knew what I was going to get out of that group, and I have a good feeling of what I'll get out of this group."
Friday's matchup could be a preview of a high-states state playoff game. In the OSAAtoday 6A preseason coaches poll, West Linn is No. 2 and Jesuit is No. 4. The Lions and Crusaders have quarterfinal streaks of six and 12 years, respectively.
"It'll be fun to go over there and play," Miller said. "Jesuit is a cool setting over there. It'll be Friday night lights with high energy. Our kids will be stoked and excited and ready."
The game promises to be revealing.
"Playing West Linn in this first game will give us a good indication of what we can and cannot do," Jesuit coach Ken Potter said. "It allows us to evaluate our players against a quality opponent and see the areas we really need to improve upon. It is an extremely tough first game, but also one that will help us a lot in the long run."
The Lions were impressive in last week's jamboree against Barlow and McNary. The offense was efficient and explosive and the defense swarmed, forcing six turnovers.
"Kids were flying around on defense," Miller said. "We've got a lot of new faces on defense. We have really good team speed. We can run and we have high football IQ."
West Linn's offense can build behind an offensive line that returns three starters in seniors Eric Mee, Braylon Cornell and Jake Rams. The Lions still are sorting out their skill positions, but fortunately for them, they are loaded with options.
"We're about three-deep in all the offensive skill positions," Miller said. "These kids are athletes, man. The challenging thing for me is finding playing time for all of them, getting them meaningful minutes."
The competition at quarterback is between seniors Chase Harmon (6-1, 178) and Earl Ingle (6-1, 197) and sophomore Nick Sakys (6-2, 202). All three threw touchdown passes in the jamboree.
"We'll kind of see how things pan out," Miller said. "Heck, maybe all three of them will play Friday, who knows."
The Lions receiving corps is deep, big, athletic and talented. It features returning starters in 6-foot-6 senior Lucas Reininga and 6-3 junior Mark Hamper and two promising sophomores in 6-3 Wiley Donnerberg and 6-2 Gabe Howard.
Linebackers Ingle and Hamper lead what could be a devastating defense.
"Those guys are probably top five, six, eight players in the state of Oregon," Miller said. "They're both juniors, which is nice."
Jesuit finished 2-3 in the spring, only the third losing season in Ken Potter's 34-year tenure and the first since 1992. But the Crusaders, who have won seven consecutive Metro League titles, are in position to bounce back strong.
One reason is the return of senior running back Michael Rincon, who rushed for 718 yards in the spring. They also have a physical force in senior tight end/defensive end Spencer McKelligon and a third-year starter in senior linebacker Johnny Miller.
Like West Linn, the Crusaders will break in a new quarterback. Senior Tatum Lewis, the spring starter, is recovering from a torn ACL, and his backup, Matt Irwin, moved to Idaho. Senior Porter Harris, the JV starter in the spring, are sophomore Jacob Hutchinson are candidates to start.
Potter, whose career record is 325-77, could pass Thurman Bell (332-154-1) to move into the No. 2 spot on Oregon's all-time wins list this season. He also is closing in on the leader, Dewey Sullivan (352-84-1).
A look at other top matchups in Week 1 (spring records in parentheses):
Thursday
Co-No. 2 Powder Valley (4-2) at co-No. 2 Dufur (5-0), 7 p.m.: The Badgers and Rangers, tied for second in the 1A coaches poll behind Adrian, are on parallel tracks. Both were quarterfinalists in 2019 and each returns six starters from successful spring seasons. The Rangers, who won 48-36 at Powder Valley in the spring, have 230-pound senior fullback Kaleb Pence. Powder Valley, which defeated reigning 1A champion Adrian/Jordan Valley 70-58 in the spring finale, features senior quarterback Reece Dixon.
No. 3 Amity (5-0) at No. 2 Santiam Christian (5-1), 7 p.m.: The first game of a rugged early-season schedule for Santiam Christian, the 3A champion in 2019. The Eagles go to Kennedy (No. 2 in 2A) next week and play host to Junction City (No. 4 in 3A) on Sept. 17. Santiam Christian is looking to rebound after its 18-game winning streak ended with a 13-10 loss to Cascade Christian in the spring finale, but it won't be easy against Amity, a quarterfinalist in 2019 that went unbeaten in the spring.
Friday
Barlow (3-3) at Nelson, 7 p.m.: First-year school Nelson of Happy Valley makes its debut with a Mt. Hood Conference game against neighbor Barlow. The fledgling Hawks, who splintered off from nearby Clackamas, are coached by Aaron Hazel, who went 27-35 in the last seven seasons at La Salle Prep. Barlow, a 2019 state semifinalist under longtime coach Terry Summerfield, played the spring season under interim coach Chris Koenig before switching to veteran Tracy Jackson.
No. 7 Sherwood (5-1) at Lakeridge (2-3), 7 p.m.: Sherwood will play its first game since the retirement of longtime coach Greg Lawrence, who won 234 games and two state titles in 27 seasons. He has been replaced by Kevin Hastin, who went 20-16 in the last four seasons at Newberg, including a 5-1 spring that featured a 14-9 win over Sherwood. Lakeridge has a dynamic combination in junior quarterback Ryan Oliver and 6-5 sophomore receiver Joey Olsen, who has multiple Division I offers. Sherwood won at Lakeridge 50-13 in 2019.
No. 10 Mountainside (3-3) at No. 5 Lake Oswego (3-1), 7 p.m.: It's a big season for Mountainside senior quarterback Brian Mannion, who burst onto the scene as a sophomore and helped lead the Mavericks into the 6A quarterfinals with an upset win at No. 1 seed Tigard. Mannion, the son of coach John Mannion and the brother of NFL quarterback Sean Mannion, has a new target in senior Keenan Speer-Johnson, a transfer from Tigard. Lake Oswego, a semifinal team in 2019, played only four games in the spring due to a COVID-19 outbreak. Lakers senior running back Gabe Olvera, who saw varsity action as a sophomore, is ready to break out. Lake Oswego was rocked in July by the death of assistant coach Brian Bartsch, 46, of natural causes.
No. 9 Sunset (6-0) at No. 8 Tigard (2-3), 7 p.m.: It was only six games, but the spring represented a breakthrough for Sunset, which ended a 26-game losing streak to Metro League rival Jesuit and completed an unbeaten run with an overtime win over reigning 6A champion Central Catholic. The Apollos graduated many of their key players, but still have senior running back Caleb Kim, who rushed for 784 yards and 13 touchdowns. Tigard, which went 10-1 in 2019, is looking to rebound from a spring season that included three losses by 17 points or more. The Tigers won at Sunset 45-22 in 2019.
Newberg (5-1) at West Salem (6-0), 7 p.m.: Two of the most successful teams from the spring collide. Newberg made giant strides in four seasons under coach Kevin Hastin, but he left for Pacific Conference rival Sherwood and was replaced by former Lincoln coach Jeremy Johnson, who will switch from the wing-T to the fly offense. West Salem was hit hard by graduation but has a standout quarterback in 6-6 senior Brooks Ferguson, the son of Western Oregon head coach Arne Ferguson.
Camas (4-1) vs. No. 1 Central Catholic (5-1) at Pioneer Memorial Stadium, Oregon City, 7 p.m.: An intriguing matchup of 2019 big-school state champions as the Rams take on Camas (Wash.). The teams met in season openers in 2016 and 2017, with Camas winning 42-10 and 35-13, respectively. Central Catholic nearly completed a perfect spring season but lost to Sunset in overtime in its finale. The Rams bring back lots of experience, including senior quarterback Luke Johnson (15 touchdown passes), senior receiver Jordan King (seven touchdown catches) and senior linebacker Emar'rion Winston, an Oregon commit.
No. 4 Mazama (6-0) at No. 1 Marshfield (5-1), 7 p.m.: The game between the Vikings, who won the 4A Showcase title in the spring, and the Pirates, who won the third-place game and enter the season at the top of the coaches poll, could establish a hierarchy for the season. Mazama needs to regroup after graduating 11 players who received Skyline Conference honors. Most of Marshfield's team is back, including senior quarterback Dom Montiel, who threw for 4A highs of 1,711 yards and 22 touchdowns in the spring. The last time the teams met, Marshfield won at home 28-23 in the 2018 quarterfinals.
No. 6 Gladstone (5-1) at No. 3 Banks (5-1) , 7 p.m.: The Gladiators and Braves, perennial 4A powers, meet in the season opener for the fifth time in six seasons. Banks won three of four meetings between 2016 and 2019, taking the last one 21-6 at home. In the Braves' state title season of 2018, their only loss was to Gladstone, 35-28. The Gladiators, who lost to Marshfield in the 4A Showcase third-place game in the spring, have a new coach in Gladstone graduate Cam Sommer, who was promoted from offensive coordinator. Banks quarterback Cooper Gobel threw 18 touchdown passes in the spring, half of them to tight end Charles White. Both are seniors.
No. 2 Kennedy (5-1) at No. 7 Gaston (5-0), 7 p.m.: Gaston is coming off a terrific spring season, posting its first winning record since 2012 and outscoring opponents 176-36. Two of the best weapons in the Greyhounds' single-wing offense return in seniors Jaden Dolan (538 rushing yards) and Brandon Clowdus (nine touchdowns). Gaston gets a big test against one of 2A's best programs in Kennedy, the state champion in 2018 and runner-up in 2019. The Trojans' only loss in the spring was a 45-8 defeat to 3A power Santiam Christian.