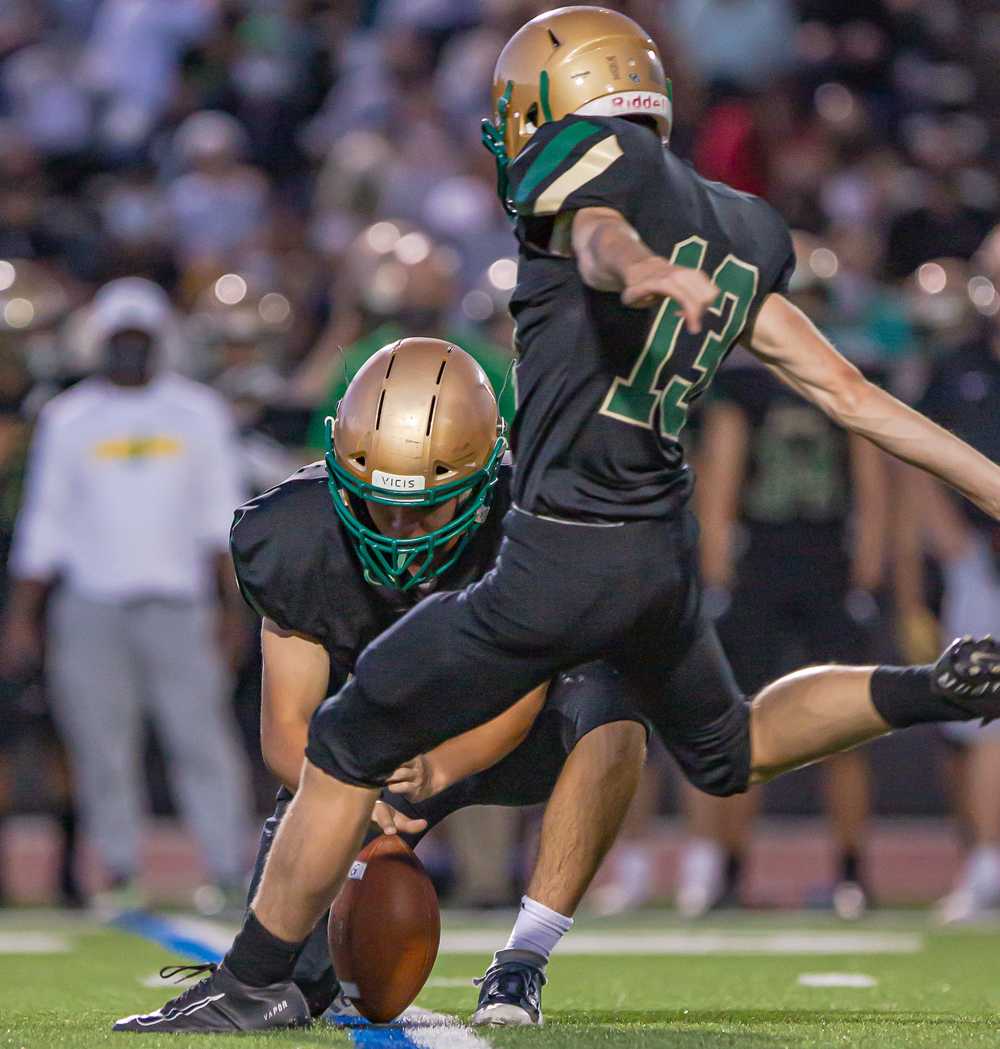 Every Friday night, we'll offer you PATs, a few nuggets from the night that was. We will add more blurbs as reports come in.
Be sure to check out Jerry Ulmer's comprehensive Football Notebook, published Sundays, for an in-depth look at all of the weekend action from across the state.
***
Pick is poison for Toledo in loss to Heppner
Caden George returned an interception for a score in the first quarter and Cameron Proudfoot did the same in the fourth for Heppner, which shut out host Toledo, 19-0. Brock Hisler, Coner Brosnan and Tucker Ashbeck aided the defensive cause by teaming for 36 tackles.
***
Great Scots!
David Douglas dominated Centennial, 31-6, behind a strong defense that forced four turnovers. Jaden Poulschock paced the offense with 176 yards rushing and two scores on 10 totes. He also brought a first-quarter punt to the house.
***
Liberty belles of the ball
Liberty scored 28 first-quarter points and led Aloha 42-0 at halftime in a 56-0 season-opening win.
***
Nutter butter for Bend
Malachi Nutter rushed for 183 yards and sealed Bend's win over 27-7 win over Grants Pass with a late touchdown. The young Lava Bears finished with 266 yards on the ground and four TDs.
***
Oliver hardy in Lakeridge win
Ryan Oliver threw for 212 yards and Jake Reichle added 189 yards on the ground as Lakeridge doubled up Sherwood, 42-21.
***
Greene with envy
Carter Greene threw five touchdown passes in the first half, three to Conner Chase, and Lucas Tuski returned the opening kickoff for a score in Marist Catholic's comfortable 49-12 win over Sweet Home.
***
Hamper puts damper on Jesuit home opener
Mark Hamper caught nine passes for 136 yards and a touchdown and sealed West Linn's 17-3 win at Jesuit with a late interception. The game was tied at 3-3 before Chase Harmon connected on two second-half scores, the second to sophomore Wiley Donnerberg in the fourth quarter.
***
Sunset downs Tigard
A stingy defense and balanced offense paced Sunset to an impressive 48-6 win at Tigard. Caleb Kim rushed for 107 yards and two touchdowns. Hayden Hurley caught two touchdown passes. Each added an interception on defense.
***
Many happy returns for Wolfe in Vale win
Vale crossed the border into Idaho and shut out Parma, 25-0. John Wolfe had 152 yards in punt returns, including one that covered 85 yards for a score. Wolfe also caught a TD pass. QB Tanner Steele threw for two TDs for the Vikings and ran 67 yards for another score.
***
Mills grinds out 4 TDs in Churchill win
Austin Mills had four rushing touchdowns and the Churchill defense produced five interceptions in a 35-28 road win over Eagle Point.
***
Pirates kick booty in second half at Clatskanie
Dayton outscored host Clatskanie 28-6 after the break to record an impressive 42-12 win. Junior Nate Arce and sophomore Justin deSmet combined for 241 yards rushing and three touchdowns on the ground. Sophomore defensive tackle Morgan Gallagher had four tackles for loss (11 total) and Lucas Ashley added a 30-yard scoop and score for the Pirates.
***
Mestas a Hoss for Bonanza
Tanner Mestas had 150 yards rushing and two touchdowns, Adrian Mohica returned the opening kickoff for a score and Ty Nelson caught a scoring strike, forced a fumble and recovered another in Bonanza's 38-12 road win at Tulelake of California. Twenty-six points in the second quarter, aided by several Antler takeaways and a safety, set the tone.
***
Winning the "D?" Bateman!
Trent Bateman had 13 tackles and also caught six balls for 92 yards and two touchdowns as Monroe, No. 4 in 2A, got past Reedsport, 26-8, in Thursday's season opener for both teams. Brody Ballard tacked on 162 rushing and two TDs for the Dragons. Aaron Solomon paced Reedsport with 68 yards rushing on seven carries. Keanon Noggle scored on a 13-yard run right before halftime.
***
Bright Hughes keys SC win
Jackson Hughes scored three times, all on tosses from Jared Mehlschau, as Santiam Christian, No. 2 in the 3A poll, rallied from an 8-0 deficit to defeat No. 3 Amity, 20-16, in a game played on Thursday. Wyatt Hatch and Reagan Clark scored the touchdowns for Amity.
***
Behold Lowell!
Getting strong play from Austin Smith, Lowell opened up a 34-0 halftime lead in a 47-0 shutout of Gervais on Thursday.
***
Merit Badgers
QB Reece Dixon scored on a 25-yard run early and Kaden Krieger had three consecutive sacks late in Powder Valley's 42-14 win over Dufur in a Thursday matchup of teams tied for second in the OSAAtoday 1A-8 coaches poll. Powder Valley led 22-14 at halftime before pulling away with 20 unanswered in the final two quarters.
***
Lake Oswego finds its Layne
Jack Layne hit Dylan Layne for a scoring strike on Lake Oswego's opening drive and Layne threw three more touchdowns, two to Justice Lowe, in a 40-7 home win over Mountainside. Bryce Mannion hit Benjiman Taylor for Mountainside's only score.
***
Not a lone Ranger
Estacada had five different runners score touchdowns en route to a 38-8 win on the road at Stayton.Caleb McDonald had a rushing and receiving touchdown to lead the Rangers.
***
Be sure to check out Jerry's more comprehensive report on Sunday!