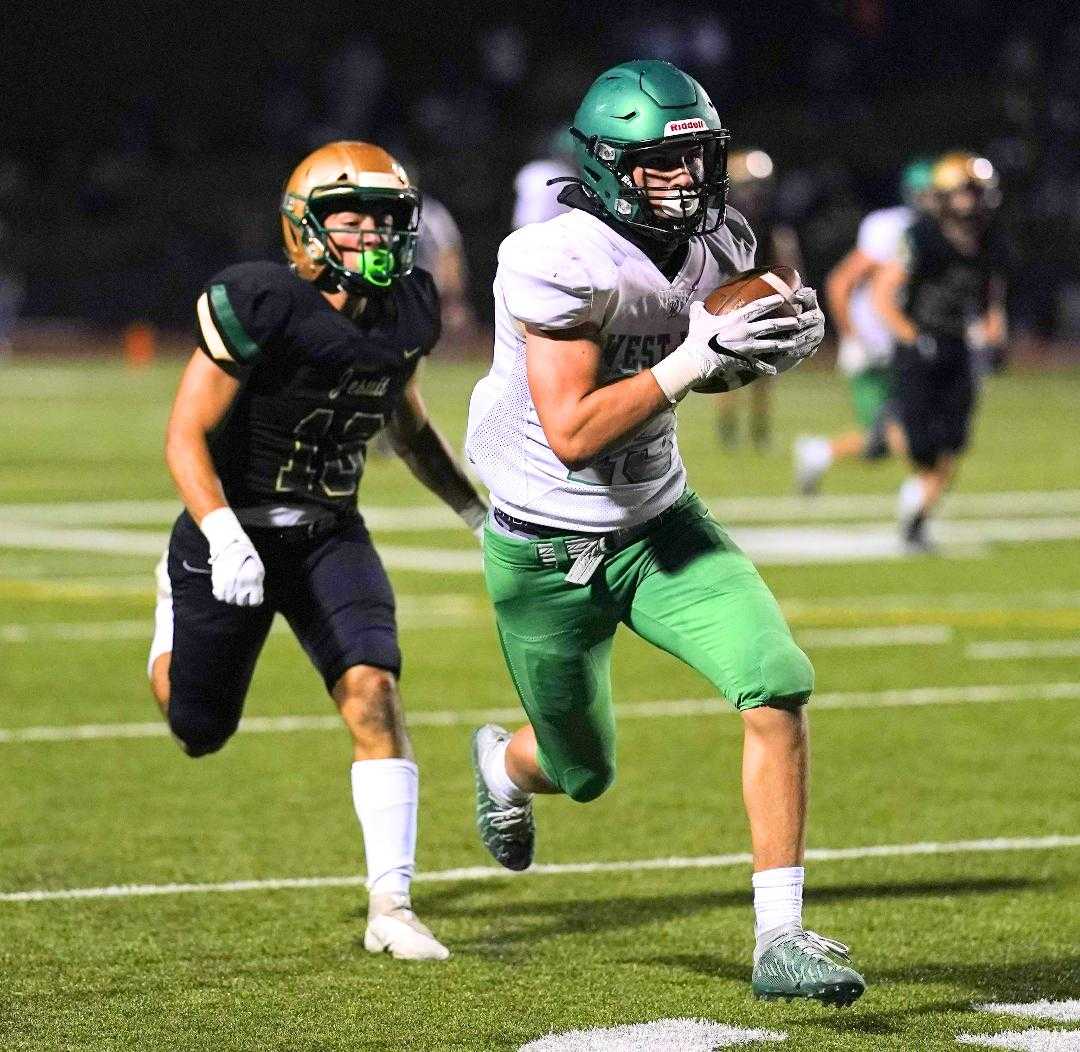 PORTLAND – Mark Hamper was a Jesuit ballboy back in 2015, when his brother Kyle made the big catch in the Crusaders' win over West Linn in the 6A football championship game.
Friday night, Hamper returned to Jesuit wearing a West Linn uniform, and he had a game that he won't soon forget. The junior receiver and linebacker stood out on offense and defense to lead the No. 2 Lions to a 17-3 nonleague win over the No. 4 Crusaders in the season opener for both teams.
The 6-foot-3, 202-pound Hamper caught nine passes for 143 yards – including a 49-yard touchdown and a 54-yarder that set up another score – and added a clinching interception and 43-yard return in the final minutes. He also had two tackles for loss.
"This is a really special moment," Hamper said. "Super fun game, great opponent. It makes it more special. It's always good to play good, but even more against a team that you're familiar with, and kind of know them. It just made it bittersweet."
Hamper said he talked by video call with brothers Kyle and Luke, who started his high school career at Jesuit and finished it at West Linn, before getting on the team bus Friday. Kyle and Luke went on to college careers at New Hampshire and Bucknell, respectively.
"They gave me some words," Hamper said. "My big brother Kyle told me how to play the fullback a little better, so that helped out. Kyle was definitely rooting for West Linn. I think he had a track suit, West Linn gear on."
It was the first game for the Lions since finishing a 6-0 spring season. They graduated many of the key players from that team but believe they have the pieces to remain a 6A contender.
The performance was far from perfect, but West Linn was able to gut out a tough road win over a scrappy Jesuit team that is hungry to make up for a 2-3 spring season.
"I've had this game circled on my calendar for, I'm not going to lie, probably two years now," said senior quarterback Chase Harmon, who was among the Lions making their first varsity starts. "Getting off to a big win on the road, we've just got to keep the momentum going."
The score was 3-3 at half as West Linn got a 21-yard field goal from sophomore Gage Hurych and Jesuit answered with a 40-yard field goal by sophomore Kaden Butcher as time expired in the second quarter.
The Lions finally found the end zone on their first series of the third quarter when Harmon rolled out and lofted a deep ball to Hamper, who was alone behind the defense for a 49-yard score. Early in the fourth quarter, Hamper caught a 54-yard pass from Harmon to set up a 14-yard touchdown pass to sophomore Wiley Donnerberg, making it 17-3.
Harmon withstood a heavy Jesuit pass rush – he was sacked six times – to complete 18 of 23 passes for 234 yards and the two touchdowns without an interception. Hamper was his top target, but the 6-3, 188-pound Donnerberg added six catches for 78 yards.
"That's the future of West Linn right there," Harmon said of Hamper and Donnerberg. "Our receiving corps is so great. … When you've got receivers like that, just get them the ball. That's my job."
Hamper and Donnerberg had good words for Harmon, who has been competing for the starting job with senior Earl Ingle and sophomore Nick Sakys.
"I was impressed," Donnerberg said. "I wasn't expecting him to do as well as he did. We're going to start making connections. Our game as a team is going to come together, for sure."
Added Hamper: "I think Chase solidified his spot at QB1. I think he proved he can lead us to 'dubs.'"
Defense dominated much of the game, however. Jesuit's defense had the six sacks and seven other tackles for loss, holding the Lions to nine rushing yards. West Linn's defense limited Jesuit to 230 yards and stopped the Crusaders cold in the red zone in the second and fourth quarters.
The Lions not only held Jesuit senior running back Michael Rincon to 43 yards on 14 carries, but made things difficult for sophomore quarterback Jacob Hutchinson, who completed 13 of 31 passes for 130 yards with one interception.
Hutchinson tried to go deep several times but was stymied by senior cornerback Jordan Tawa, who broke up four passes. On one of the breakups, Tawa knocked the ball from the grasp of senior tight end Spencer McKelligon in the end zone.
Tawa, whose brothers Tim and Casey were standouts for the Lions, has blossomed since entering the school as a 5-4, 99-pound freshman. In the past year, he has grown a few inches and added more than 20 pounds, and now is listed at 5-9, 168.
"I'm extremely confident," Tawa said. "I've never felt better about any sport. Going into this one, no nerves at all. When I was envisioning things of the game, I was making the plays. I knew I was ready. So I just came out here and did my job."
It was the first time Jesuit did not score a touchdown since a 17-0 loss to Skyline (Wash.) in the 2009 season opener. And was the first time the Crusaders didn't find the end zone against an Oregon team since a 21-0 shutout against Lake Oswego in 2007.
Jesuit's best chance to score came in the second quarter then it reached the West Linn 5-yard line, but sophomore Lonnie Burt was held to one yard on 4th-and-2.
"I thought we played pretty well, but obviously we didn't perform in the red zone, which kind of hurt," Rincon said.
The Crusaders' defense was smothering at times. Juniors Noah Staley and Garrett Speer each had 1.5 sacks and senior Johnny Miller had three tackles for loss.
"They do their part, we've got to do our part," Rincon said. "I've got to break one off and hopefully put some points on the board. There were a few opportunities I feel like I could've gone."
Speer had a message for anyone doubting the Crusaders.
"A lot of people think we're the same team as last year, and they're not giving us much respect, but we'll show them," Speer said. "We're a lot older. Last year, we were super young. This year we've got that growth. We know what we're doing."
The game was the second regular season meeting between the teams, the other coming in 1975, when Jesuit won the season opener 12-3. The teams had not met since the 2015 final, won by the Crusaders 21-14.