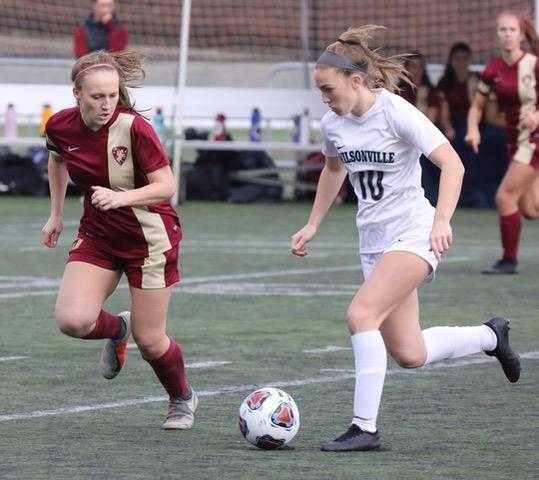 History beckons for Wilsonville's girls soccer team this season.
Not only do the Wildcats – No. 1 in the OSAAtoday 5A preseason coaches poll – have a realistic shot at their first state championship, but senior striker Lindsey Antonson is poised to make a run at the state record books.
With 87 goals through three seasons, the Oregon State-bound Antonson is in range of the state record of 133, set by Jesuit's Callan Harrington from 2016 to 2019. She needs 47 goals to pass Harrington, and if that seems like a tall order, consider that Antonson scored 46 as a sophomore, tied for the fourth-best single-season total in state history.
Antonson got off to a good start this year by recording a hat trick in Wilsonville' season-opening 6-0 win over South Salem.
"Lindsey is such a strong leader," said Alex Boehm, Wilsonville's co-coach with Dallas Malone. "She is someone that kids in our whole program look up to. Soccer really is her life. She loves it. She leads this team with integrity and a work ethic that is phenomenal."
The last two seasons have been bittersweet for Antonson and the Wildcats, however. They reached the 5A final in 2019 but couldn't find the net in losing to Crescent Valley 1-0 on penalty kicks. They had high hopes for last season, and even though they finished 11-0 and outscored their opponents 51-5, they didn't get a chance to go after a title in the COVID-shortened spring campaign.
Wilsonville – which still has 10 players from the 2019 team, nine of them seniors – has had to live with finishing second for nearly two years.
"That's still on their mind, absolutely," Boehm said. "It makes this year even more important. They're going into the season with a chip on their shoulder. They feel like they have something to prove. They're really, really determined to show up and prove that they can come away with a title."
The spring season still served as a building block, though. The Wildcats posted a 4-1 win over Marist Catholic, the runner-up of the 4A Showcase. They defeated Northwest Oregon Conference runner-up Scappoose 3-0, handing the Indians their only loss. And they had an impressive 5-1 victory against Sunset, a strong team from the 6A Metro League.
Boehm said going undefeated was a confidence builder for Wilsonville, which went 13-5-1 in 2019.
"We were challenged with some quality teams, and really held up to that challenge and showed what we could do," Boehm said. "We're going into this season with a lot of confidence. They've got their eyes on the state title, for sure. They have all the package to get there."
The Wildcats are loaded with experience. Of the nine seniors, four of them are four-year varsity players in Antonson, midfielder Karina Borgen and defenders Dalton Mermis and Katelyn McDougal.
"They bring tons of motivation to every training session, which shows how driven they are to go far this year," Boehm said.
Wilsonville is counting on Antonson to provide plenty of offense, but the Wildcats believe their attack is more diversified that in recent seasons. Sophomores Kenley Whittaker, Ashlyn Ring and Brianna Crane and senior Brighton Ring support Antonson on the front line.
"I think what Lindsey and our whole program is excited about is how dynamic our offense is now," Boehm said. "We've really developed as a team to have a lot more threats up top."
Whittaker was second on the team in scoring as a freshman behind Antonson, who had 19 goals in 11 matches.
"She and Lindsey are such a dynamic duo," Boehm said of Whittaker. "We're really fortunate to have Kenley. She's been another powerhouse for us."
Borgen is a two-way force at midfield. Mermis and McDougal, starting center backs in the 2019 final, "are our brick wall," according to Boehm. The goalkeeper is senior Maddie Erickson, a standout pitcher who has committed to Michigan for softball.
Wilsonville will play eight nonleague matches against 6A teams before starting NWOC play Oct. 6 against La Salle Prep.
"This team is really, really special," Boehm said. "They definitely feel like the stakes are really high. They're so motivated and energetic right now."