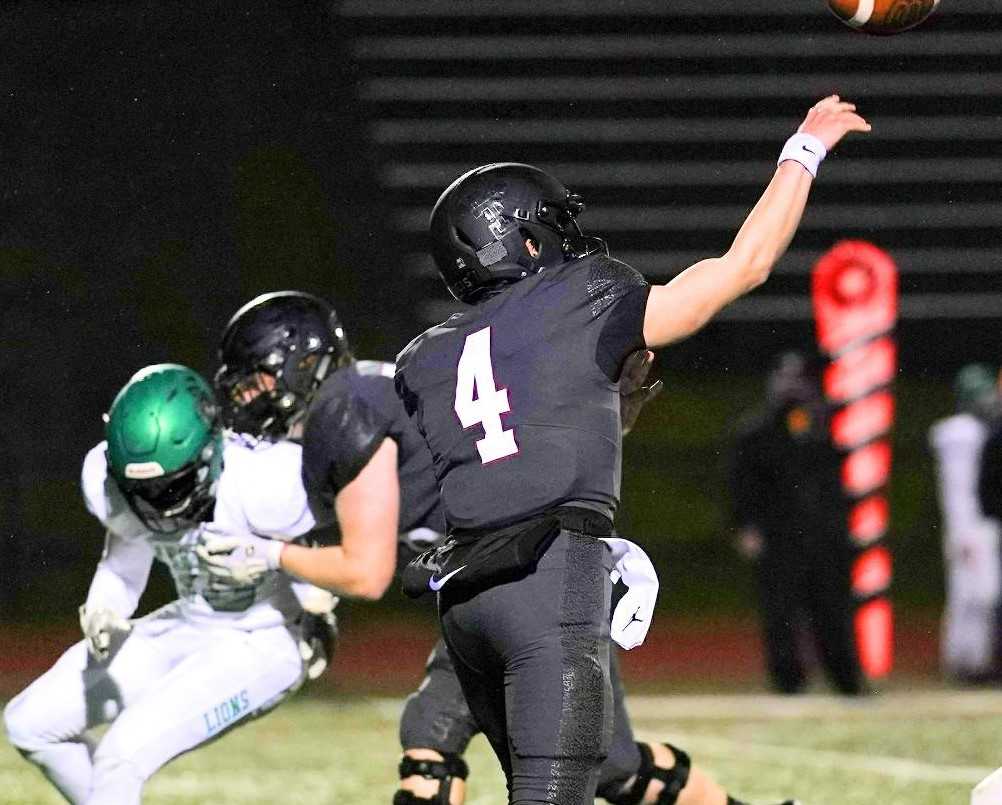 Friday's Silverton-Tualatin nonleague football game will be more than an enticing matchup between potential state championship contenders in 5A and 6A, respectively, on the Timberwolves' field.
It also will showcase senior quarterbacks primed for big seasons in Silverton's Jordan McCarty and Tualatin's Jackson Jones, both of whom got off to fast starts in Week 1.
The 6-foot-1, 180-pound McCarty completed 12 of 20 passes for 322 yards and one touchdown and ran for two scores as the Foxes rolled over visiting Grant 41-7. The 6-1, 185-pound Jones went 19 of 31 for 233 yards and three touchdowns to lead the Timberwolves to a 44-33 road victory over Menlo-Atherton (Calif.).
McCarty, the son of Silverton boys basketball coach Jamie McCarty, is a third-year starter at quarterback.
"This offseason, he worked on his passing mechanics a lot, and I think it showed on Friday," Silverton coach Josh Craig said. "He really did a good job stepping up in the pocket, and taking off on the run when he needed to, and also keeping the play alive without retreating."
Jones, who saw varsity action as a sophomore and was the full-time starter in the spring, also has taken his game up a notch.
"He's making really good decisions with the football," Tualatin coach Dan Lever said. "And he's really helping us utilize our perimeter talent. The plethora of throws the kid can make, it's just a lot of fun. He knows where to put the ball to give the guys a chance, right where the defender can't get it."
Both quarterbacks are blessed with outstanding receivers.
Tualatin targets include seniors Cole Prusia (6-3), Kellen Hale (6-5), Peter Burke (6-5) and Noah Ogoli (6-1) and junior Richie Anderson (6-4). Senior running back Malik Ross also is a weapon in the slot.
"Oh man, this is a fun group," Lever said of his receivers. "We just have so many options. We can roll out four guys that are 6-3 or taller. We have the ability to create some mismatches."
Craig said Tualatin's passing game is "next to none. They're going to be an incredible challenge for us, but a really good one. They're really good through the air."
McCarty likes to look for senior Austin Ratliff, who played only one game in the spring due to an ankle injury but is off to a strong start this season, catching a 69-yard touchdown pass last week. Senior Vandon Fessler is a savvy route runner.
McCarty averaged 26.8 yards per completion last week.
"It was a lot of vertical stuff," Craig said. "We have a couple of good veteran receivers that are really fast and do a good job of stretching the field. A lot of catch and runs. Guys were open and they just kept running."
Lever is impressed with McCarty.
"He's just a phenomenal athlete," Lever said. "They play him on defense, and he returns punts. He's everywhere when you watch the tape."
Silverton went 10-2 in 2019, losing in the 5A semifinals to eventual champion Thurston. The Foxes finished 3-2 in the spring, falling to 6A schools West Salem and Sherwood.
Tualatin went 9-3 in 2019 and made the 6A quarterfinals. The Timberwolves finished the spring season 4-2, with losses to West Linn and Lake Oswego.
In the OSAAtoday coaches polls, Tualatin is No. 4 in 6A and Silverton is No. 4 in 5A.
Craig senses that he has a special team this year.
"It's the most fun I've ever had coaching," Craig said. "They know how to have fun, and they're also focused at the same time. They just enjoy playing together. They watch a lot of film. They like to push each other."
The video of Silverton's win over Grant made a believer of Lever.
"Man, holy smokes, I think we're playing a state championship 5A team," Lever said. "That's a very, very finely tuned machine that we're going to face on Friday."
Other top games in Week 2:
Friday
6A No. 3 Lake Oswego (1-0) at Sherwood (0-1), 7 p.m.: The teams haven't met since Sherwood joined the Lakers in the Three Rivers League from 2014 to 2017, winning three of four meetings, although one was a forfeit. Sherwood was No. 7 in the 6A preseason coaches poll but fell out of the top 10 with a 42-21 loss to Lakeridge. Lake Oswego moved from No. 5 to No. 3 by beating Mountainside 40-7.
North Medford (0-0) vs. 6A No. 2 West Linn (1-0) at Wilsonville HS, 7:30 p.m.: The first of five home games that West Linn is scheduled to play at Wilsonville while its stadium is being renovated. The Lions stuffed Jesuit 17-3 last week as Chase Harmon threw for 234 yards and two touchdowns. North Medford was scheduled to open at Del Norte (Calif.) last week but the game was canceled.
Tigard (0-1) at 6A No. 8 Jesuit (0-1), 3:30 p.m.: The Tigers and Crusaders opening the season with losses is about as rare as a Friday afternoon varsity football game. Both offenses struggled at home last week as Tigard lost to Sunset 48-6 and Jesuit fell to West Linn 17-3, the first time in 14 years the Crusaders failed to score a touchdown against an Oregon team. The teams haven't met since Jesuit edged Tigard 23-22 in the 2018 quarterfinals.
5A No. 2 West Albany (1-0) at 5A No. 5 Canby (1-0), 7 p.m.: The Cougars, looking to establish themselves as 5A contenders, got off to a good start with a 26-20 road win over then-No. 8 Dallas as standout sophomore Tyler Konold scored touchdowns rushing and receiving. They can really make a statement, though, against perennial 5A power West Albany, which defeated Beaverton 21-17 last week.
5A No. 3 Wilsonville (1-0) at 5A No. 6 Pendleton (1-0), 7 p.m.: The Buckaroos are feeling good after turning back 6A Southridge 27-26 in their opener, stopping a two-point conversion attempt with 1:20 left. The task gets tougher this week against the Wildcats, who thumped Lebanon 42-19 as Chase Hix threw two touchdown passes and sophomore Jay Rummell-West ran for two scores. In the last meeting in 2018, Wilsonville dominated 53-7 in a District 1 crossover game.
4A No. 1 Marshfield (1-0) at Churchill (1-0), 7 p.m.: Senior quarterback Dom Montiel leads the top-ranked Pirates against the Lancers. The teams haven't met since a Midwestern League contest in 2012, won by Churchill 51-7. Marshfield finished that season 0-10 and dropped to 4A the following year.
4A No. 6 Mazama (0-1) at 5A No. 7 Crater (1-0), 7 p.m.: Mazama, coming off a 35-20 loss at No. 1 Marshfield, gets another difficult road game against the Comets, who drilled North Bend 31-0 last week. Sophomore Shane Wood threw three touchdown passes and Caden Lasater had three interceptions, returning one 90 yards for a score, in the win for Crater.
3A No. 2 Santiam Christian (1-0) at 2A No. 2 Kennedy (1-0), 7 p.m.: Two of the state's best small-school programs collide in a rematch from the spring, won by Santiam Christian 45-8. The rebuilt Eagles opened with an impressive 20-16 home win over No. 3 Amity. Kennedy cruised 34-6 over Gaston, which went 5-0 in the spring.
1A-6 No. 2 South Wasco County (1-0) at 1A-6 No. 1 Joseph (1-0), 7 p.m.: Since the six-man game was introduced in 2018, the Redsides and Eagles have risen to the top. The teams played in the crossover first-place game in 2019, when South Wasco County won 19-6 to avenge a regular-season defeat. The Redsides also beat Joseph 45-0 in the spring finale to finish 5-0.
Saturday
3A No. 8 Warrenton (1-0) at 2A No. 1 Heppner (1-0), 5 p.m.: Reigning 2A champion Heppner has won 19 in a row, including a 32-7 home win over Warrenton in the 2019 quarterfinals. Warrenton moved to 3A in the spring and went 5-0, and this season opened with a 45-14 win over Knappa as senior Hordie Bodden Bodden threw for 250 yards and three touchdowns, rushed for 82 yards and a score and had an interception on defense.