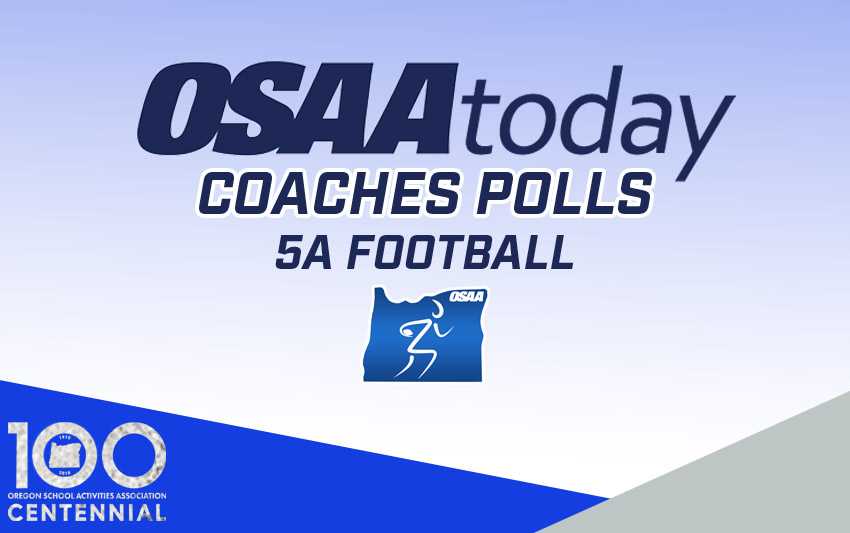 Week 7 Statewide Football Coaches Poll 5A
OSAAtoday presents its weekly 5A Football Coaches Poll. Thanks to all the coaches who took the time and had the expertise to contribute their opinions to this endeavor.
Please note: these polls are for generating interest and discussion only and have no impact on the OSAA's RPI and Colley ratings that form the basis of the OSAA's rankings for playoff purposes.
5A Football
1. Wilsonville (11) [1] 7-0 128
2. Pendleton (2) [4] 7-0 109
3. Churchill [2] 6-1 99
4. West Albany [3] 7-0 94
5. Silverton [5] 6-1 60
6. Thurston [8] 5-2 52
7. Scappoose [7] 5-2 36
7. Crater [10] 5-2 36
9. Lebanon [6] 5-2 34
10. Crescent Valley [nr] 5-2 31
First-place votes in parentheses
Last ranking in brackets
Record listed is what's posted on www.osaa.org
Others receiving significant votes: None
Notes: Nathan Overholt threw four touchdown passes, giving him 32 for the season, as Wilsonville blew past St. Helens 67-14. Cooper Mootz ran for three touchdowns and caught a scoring pass for the Wildcats, who led 36-0 after one quarter.. … West Albany beat Corvallis 14-0, its second consecutive shutout. … Crescent Valley handed Silverton its first loss, 27-14, as Cam Sanders rushed for two touchdowns and Camren Hemzacek had two interceptions. … Trent Sorey threw three touchdown passes and ran for a score, and Willie Camp returned a fumble 90 yards for a touchdown as Pendleton remained unbeaten with a 41-10 win over Parkrose. … Lebanon held South Albany to 58 yards in a 63-0 win. Colton Shepard passed for two touchdowns and ran for two scores for the Warriors. … Quincy Cleveland ran for 175 yards and three touchdowns to power Scappoose past Wilson 49-21. … Crater beat Eagle Point 65-20 as Trevor Jaasko caught three touchdown passes and Trever Davis passed for 179 yards and ran for 96 yards. Devin Bradd had a 99-yard touchdown run for Eagle Point. … Deonte Jones rushed for 233 yards on 13 carries – including a 95-yard touchdown – as Churchill held off South Eugene 28-22. Marshaun Tucker Jr. caught seven passes for 169 yards and two touchdowns and had an interception at the goal line for Churchill.