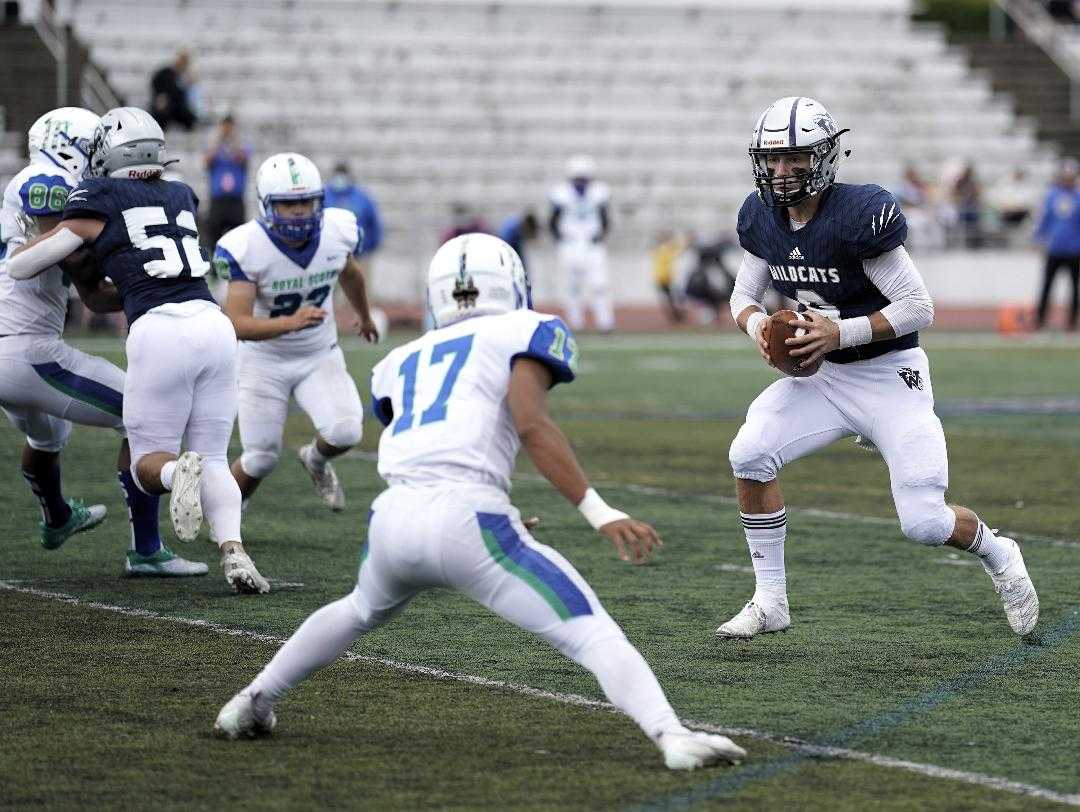 The spring football season was supposed to be when Chase Hix broke out as Wilsonville's starting quarterback.
But when he suffered a torn pectoral muscle in the third quarter of the team's second game, Hix's time was pushed back to this season, and he is taking advantage.
The 6-foot-2, 190-pound senior has completed 63.3 percent of his passes for 786 yards and nine touchdowns with one interception for the Wildcats (3-0), No. 2 in the OSAAtoday 5A coaches poll. In Saturday's 50-13 home win over McKay, he was 9 of 12 for 207 yards and three touchdowns, all in the first half.
"He's playing great," Wilsonville coach Adam Guenther said. "He's maturing. He's kind of come into his own a little bit. We've been fortunate the last several years to have some good quality quarterbacks come through, and he's next up in line. He sees the opportunity and he's taken the reins accordingly."
Hix suffered the torn muscle between his pectoral area and right shoulder at the end of a scramble.
"He didn't even get hit very hard, he just landed funny," Guenther said. "He couldn't throw. It was really unfortunate because he's also one of the best javelin throwers in the state."
Jayce Knapp, the starter in 2019 who had played a senior season in Texas in 2020, returned to Wilsonville by spring and had agreed to back up Hix. When Hix went down, Knapp stepped in and helped lead the Wildcats to a 6-0 record.
Hix not only missed football season, but also track and basketball.
"He wanted to come back and play, but we were like, 'It's a six-game season, you've got your entire senior year ahead of you,'" Guenther said. "There was no reason to push it."
Hix shined in the team's second game at Pendleton, completing 24 of 38 passes for 387 yards and four touchdowns with one interception. He also ran for 43 yards and a score on nine carries.
"He got in a groove," Guenther said. "He plays best when he lets the flow of the game come to him. When he tried to do a little bit too much, that's when things get a little harder. When he stuck to the game plan against Pendleton, he lit it up."
Wilsonville had 463 total yards in Saturday's win over McKay. Junior Jacob Ogden rushed for 133 yards and two touchdowns on four carries.
Turning the Tide
Do-everything Glencoe senior quarterback Royce Fasel continued his outstanding play Friday by willing his team to a 50-49 win at Beaverton.
The 6-0, 240-pound Fasel not only rushed for 299 yards and six touchdowns on 38 carries and completed 13 of 17 passes for 179 yards and a score, he threw the winning two-point conversion pass to senior Zack Schlottmann with 14 seconds left.
The Crimson Tide (2-1) trailed Beaverton 49-34 midway through the fourth quarter before Fasel brought them back. He threw a five-yard touchdown pass to Lucas Anthony and ran in the two-point conversion to make it 49-42 with 1:54 left. And after sophomore Danny Shaw recovered the onside kick, Fasel scored on a three-yard run and hit Schlottman with the winning pass.
"The last three minutes of that game was his team buying into him as a leader and saying, 'We're going to win this thing,'" Glencoe coach Ian Reynoso said. "It got to the point at the end of the game where he goes, 'Run the ball, I'm not going to let anybody stop me.'"
In three games, Fasel has rushed for 784 yards and 10 touchdowns and passed for 307 yards and three scores. During Friday's game, he played quarterback, fullback and running back on offense and linebacker, strong safety and cornerback on defense.
"Royce is the best football player in the state," Reynoso said.
Fasel's leadership is contagious.
"Having him in the huddle is a game-changer," Reynoso said. "You take any adult off the street and put them in the huddle and listen to Royce, and they're going to want to go and play football for him."
Fasel packs power. He cleans 305 pounds and squats 515, and despite dealing with a balky shoulder for the past few years, he benches 300.
Fasel broke into Glencoe's lineup as a freshman, starting at linebacker and rushing for 180 yards in his second game at running back. During the spring season, the Crimson Tide switched him to quarterback to utilize his playmaking ability.
Despite the change of positions, Fasel kept the No. 32 that Reynoso gave him as a freshman in honor of Ben Petrick, the star running back from Glencoe's 1994 state title team.
"I'm a big legacy guy," Reynoso said. "No. 32 right now is our dude number. He wants more than anything to build Glencoe football and make it what it used to be."
Reynoso said Fasel is a "phenomenal" linebacker, but Glencoe is promoting him to college programs as a fullback.
"He just wants to play football somewhere," Reynoso said.
Cascade holds on
No. 4 Cascade and No. 5 Mazama offered a glimpse of a potential high-stakes 4A playoff game Friday night.
The visiiting Cougars (3-0) got a clutch performance by senior quarterback Jacob Hage and survived a late surge by the Vikings to hold on for a 31-28 win. Hage rushed for touchdowns of 5, 43 and 86 yards and threw for a 30-yard score to senior Colin Smittle as Cascade avenged a 15-13 road loss from 2019.
"We came into this game knowing that it was going to be a dogfight,," Hage said. "We knew it'll come down to us winning up front, and that's what we did tonight. Our lineman, they showed up tonight."
The Cougars led 28-14 at half – amassing 310 of their 386 total yards – and extended their edge to 31-14 on Smittle's 32-yard field goal early in the third quarter. But Mazama, which won the 4A Showcase in the spring and was coming off an impressive 42-14 win at 5A Crater, rallied behind standout senior tailback Zeke Heaton.
Heaton, who entered leading 4A in rushing with 374 yards, ran for two scores to draw Mazama within 31-28 with 6:56 left in the game. He finished with 210 yards and three touchdowns on 37 carries.
The Vikings got the ball back with 4:23 remaining, but the Cougars did not allow a first down, regained possession and ran out the clock when Hage ran for a fourth-down conversion.
Cascade, which outscored its first two opponents 109-0, showed it could make the plays in crunch time.
"It all really came down to everyone doing their job. It's all we had to do," Cascade senior defensive end Isaac Schnepp said. "Our coaches have been preaching all week and all day about adversity. We knew we had to face it and it all came down to how we responded, and we responded perfectly."
Colts shake off rust
Thurston, tied for third in the OSAAtoday 5A coaches poll, finally got a chance to play a football game Friday. The Colts, idle in the first two weeks due to COVID issues, opened with a 58-0 win at Springfield (1-3).
Coach Justin Starck, who led Thurston to 5A titles in 2018 and 2019, said waiting to play was "nerve-racking."
"To not have a contest, it's hard to keep them focused," Starck said. "When you're off that long without a game, you almost revert to kind of your spring and summer type of mentality, which isn't good. So we had to fight against that."
The Colts were dominant on defense, holding to Millers to one total yard and not allowing them past the 50-yard line. But they showed some rust, committing 11 penalties, two that wiped out touchdown runs of 50-plus yards by senior speedster Gavin Knights.
"We have to work on that," Starck said. "We tried to go up-tempo and we weren't playing fast. Our assignment stuff and execution was pretty good, it's just some of the little things about the game."
Thurston played five quarterbacks, getting touchdown passes from the three who are vying for the starting job – junior Darien Witham and seniors Alex Boring and Cael Stewart. Witham is the returning starter, Stewart is a transfer from Arizona and Boring is finally back to 100 percent after suffering a torn ACL a year ago.
Jacob Newell, a 6-5 senior tight end who has signed with Nevada, caught four passes for 137 yards and three touchdowns. Senior Brycen Indell, a transfer from Willamette, rushed for 94 yards and two touchdowns and dominated at weak inside linebacker.
"He's a great addition," Starck said of Indell. "He was phenomenal defensively. He was just everywhere."
Historic rivalry on hold
The COVID-19 crisis claimed one of the state's best rivalry games this week.
The Marshfield-North Bend game – known as the Civil War, an annual meeting since 1917 – was canceled due to two positive cases in the North Bend program that resulted in many of the Bulldogs going into quarantine.
"This is a sad one to lose," North Bend superintendent Kevin Bogatin told KMTR of Eugene. "This is a huge game for our kids and our community. I feel terrible that, of all games to cancel, this is the game that gets canceled."
Marshfield, No. 1 in the OSAAtoday 4A coaches poll, was able to fill the void with a game against Prairie (Wash.) at Sheldon High School in Eugene. The Pirates (3-0) won 18-8.
For now, it appears that the longstanding rivalry has been interrupted. But given how schedules have been fluid because of positive cases this season, it's not inconceivable that the game could be rescheduled.
"Maybe down the road we end up with another cancellation and they end up with a cancellation, and the stars align and it's an easy pick-up game," Bryan Trendell, superintendent of Coos Bay School District, told KMTR.
Other highlights from Week 3:
6A
Chase Harmon completed 21 of 25 passes for 268 yards and three touchdowns to lead West Linn past Sunset 28-14. … Central Catholic outlasted Tumwater (Wash.) 42-35 in overtime. Cru Newman threw three touchdown passes, including the go-ahead score to Jordan King in overtime. … Clackamas got an interception return for a touchdown from Keontae Johnson-Gibson in a 56-7 win over Reynolds. … Westview's Sam Leavitt completed 11 of 18 passes for 263 yards and five touchdowns in beating Century 55-7. Darrius Clemons had five catches for 138 yards and three touchdowns for the Wildcats. … Jaden Poulschock rushed for 252 yards and caught an 88-yard touchdown pass to lead David Douglas past Gresham 58-30. The Scots ran for 421 yards. … Lakeridge throttled Liberty 42-13 as Jake Reichle rushed for 131 yards and two touchdowns on seven carries and scored on a catch and interception return. Dallas Kuenzi had two interceptions for the Pacers. … Jack Wagner, filling in for starting quarterback Jackson Jones (shoulder), threw four touchdown passes to lead Tualatin past Aloha 43-0. …
Jesuit stopped Camas (Wash.) 20-10 as Tyree Blake caught a 52-yard touchdown pass and returned an interception 60 yards for a score. Payton Roth rushed for 181 yards for the Crusaders. … Lake Oswego's Gabe Olvera ran for three touchdowns and caught a scoring pass as Lake Oswego dropped South Medford 41-14. … Tyler Copeland completed 15 of 20 passes for 228 yards and four touchdowns in McNary's 41-0 win over Grants Pass. Braiden Copeland and Gunner Smedema caught two touchdown passes each. … Johnny Withers rushed for 201 yards and three touchdowns on 20 carries as West Salem outlasted South Salem 36-28. The Titans rushed for 346 yards. … Sandy defeated Barlow for the first time in 21 years, rallying to win 14-7. The Pioneers trailed 7-6 in the fourth quarter before Leithan Thompson caught an 83-yard touchdown pass from Teague Clemmer. Thompson thwarted Barlow's last drive with an interception. …
North Medford held on to beat Sherwood 28-21 as Mason Warren threw three touchdown passes, two to Bryce Dyer. Down 28-7 in the fourth quarter, Sherwood pulled to within a touchdown and drove inside North Medford's 25-yard line, but ran out of time. … Roseburg quarterback Colton Marsters rushed for 177 yards and threw for 139 yards in a 34-12 win over Southridge. Cayden Eckel added 112 rushing yards for the Indians. … Brock Thomas accounted for six touchdowns – three rushing, two passing, one receiving – in Sheldon's 42-28 win over Newberg. … Tigard turned back Mountainside as Konnor Grant rushed for 180 yards and three touchdowns. … Jefferson defeated Wells 16-12 behind Zavier Russell, who rushed for 118 yards and one touchdown on 15 carries. … Mountain View edged Sprague 31-28 on a 20-yard field goal by Blaine Causey with 12 seconds left. … Bryan Blank had three field goals in McMinnville's 23-21 win over Oregon City.
5A
Payton Lambert (three touchdowns) and Kyle Liscom (two touchdowns, 11 tackles) led Pendleton past Putnam 47-6. … Crater stopped a two-point conversion attempt with 56 seconds left to secure a 15-13 win over Churchill. Caden Lasater and Javon Smith ran for touchdowns for the Comets. … Michael Cale threw two touchdown passes – one a 61-yard strike to freshman Tyler Hart-McNally – as West Albany held off Dallas 21-9. … Braydon Burton rushed for 193 yards and three touchdowns to lead Lebanon past Central 32-21. Kohler Hernandez rushed for 171 yards and three scores for Central. … Jordan McCarty ran and passed for touchdowns to lead Silverton past South Albany 14-2. ... Luke McNabb threw three touchdown passes to Colin Stoddard to lead Scappoose to a 35-6 win over Forest Grove. ... Hood River Valley improved to 3-0 for the first time since 2003 by outlasting Ridgeview 27-26 in overtime. Trenton Hughes threw three touchdown passes to Mason Spellecy, ran for a score, and broke up a potential game-winning two-point pass in overtime. Spellecy had two interceptions. ... Canby brushed off North Salem 42-13 as Mikey Gibson threw three touchdown passes and Bryce Oliver ran for two scores.
4A
Carter Greene completed 10 of 13 passes for 209 yards and three touchdowns as Marist Catholic downed Gladstone 42-14. Tate Brechbiel rushed for 168 yards for the Gladiators. … Estacada forced five turnovers and built a 30-0 lead after three quarters on its way to a 30-14 win over Seaside. Corey James ran for two touchdowns and passed for a score for the Rangers. … La Grande built a 24-0 lead at half and coasted past Vale 37-12. … Banks thumped Hidden Valley 35-0 as Jamar Flippen rushed for 160 yards and two touchdowns on 14 carries. … Dom Montiel threw three touchdown passes – two to DJ Daugherty – as Marshfield downed Prairie (Wash.) 18-8 … Eddie Freuaff caught two touchdown passes for Henley, which handled Crook County 38-14.
3A
Caj Simmons ran for five touchdowns, including a 97-yarder, and returned a kickoff 94 yards for a score to spark South Umpqua's 60-29 win over Corbett. … Siuslaw blanked Sisters 50-0 as Camp Lacouture ran for three touchdowns and Beau Erickson threw for three scores, two to Braydon Thornton. … Top-ranked Cascade Christian completed its first game of the season, dropping Yreka (Calif.) 44-0. Triston Wallace rushed for 113 yards and two touchdowns and starred on defense with three sacks and an interception. … Eli Haynes threw two touchdown passes to propel St. Mary's past Pleasant Hill 20-14. … Sutherlin defeated 4A Valley Catholic 46-18 as Thomas Mentes rushed for 124 yards and two touchdowns on five carries and caught a scoring pass. … Philomath's David Griffith rushed for 178 yards and two touchdowns on 20 carries in a 32-12 win over Woodburn. … Rainier's Stone Ware rushed for 316 yards and five touchdowns on 16 carries in a 57-22 win over Amity.
2A
Heppner's defense, getting 10 tackles from Kason Cimmyotti, held Stanfield to 87 yards in a 14-0 win. Brock Hisler rushed for 127 yards for Heppner. … Monroe's Nate Young rushed for 165 yards and three touchdowns in a 60-6 win over Oakridge. … Niko Maita returned an interception for a touchdown and Benny Alves threw two touchdown passes for Lakeview, which defeeated Portola (Calif.) 23-13. … Weston-McEwen's Blain Peal threw three touchdown passes, two to Cameron Reich, in a 36-0 win over Umatilla. … Mason Harrison ran 60 yards for the go-ahead touchdown midway through the fourth quarter as Irrigon edged Riverside 28-26. … Reedsport overcame Douglas 20-14, getting the winning touchdown in the fourth quarter on a 13-yard run by Aaron Solomon.
1A
Powder Valley won a showdown with St. Paul 50-40 as Reece Dixon threw three touchdown passes – two to Kaden Krieger – and added scores on a run and fumble return. … Lyle/Wishram/Klickitat won 50-28 over Ione/Arlington, which got a kickoff return for a touchdown from Cedrick Dayandante. … Zak Holsey rushed for 145 yards and three touchdowns and threw a scoring pass for Waldport, which dominated Days Creek 54-14. … Enterprise got rushing touchdowns from Gideon Gray, Trey Stewart and Jackson Decker to beat Imbler 18-12. … Echo built a 26-0 lead in the first quarter and cruised past Huntington 68-6 in a six-man game. … Powers dispatched Yoncalla 41-25 in a six-man game behind freshman quarterback Rene Sears, who ran for two touchdowns, threw for a score and returned a fumble 99 yards for a touchdown. … North Douglas' Palu Rayon-Wilder ran six times for 274 yards and five touchdowns in a 53-6 win over North Lake in a six-man game. ... Jacob Jackson ran for five touchdowns and Boden Perkins scored four times – twice rushing, twice receiving – as Prospect/Butte Falls rolled past Gilchrist 72-25 in a six-man game.
Jeremy McDonald contributed to this report