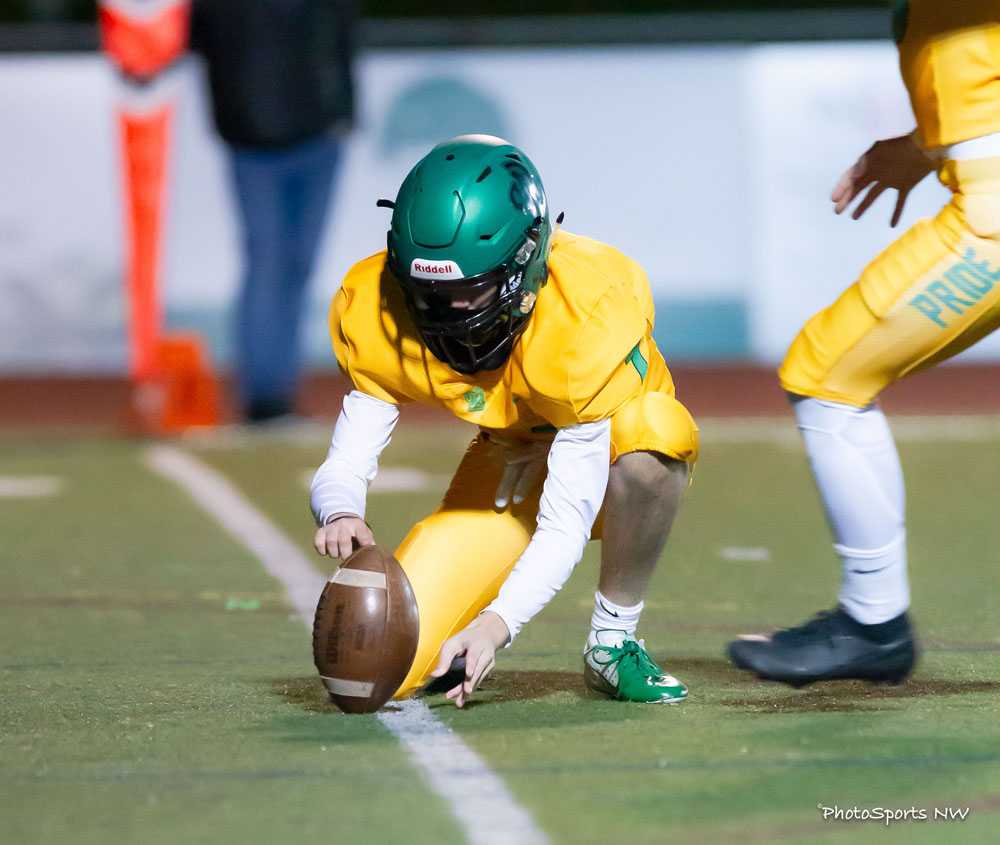 Every Friday night, we'll offer you PATs, a few nuggets from the night that was. We will add more blurbs as reports come in.
Be sure to check out Jerry Ulmer's comprehensive Football Notebook, published Sundays, for an in-depth look at all of the weekend action from across the state.
***
Holy Toledo!
Previously-winless Toledo shocked previously-undefeated Monroe, 44-36. Gunner Rothenberger rushed for over 100 yards and two TDs for the Boomers. Brody Ballard ran for 235 yards and two touchdowns and threw for two more in the loss for Monroe.
***
Colts shoot blanks
Thurston's 26-point second quarter propelled the Colts to a 44-0 win over Willamette. Thurston had 440 yards of total offense and all three QBs had passing touchdowns. Jacob Newell led the receivers with 138 yards and two touchdowns. Grayson Starck added 88 yards receiving and a score.
***
Heppner rocks around the Brock
Brock Hisler scored from eight yards out with 1:45 on the clock to give Heppner a come-from-behind win, 34-28, over Kennedy in a showdown between the top two teams in 2A. Elijah Traeger had 68 yards of total offense and a pick six in the loss for Kennedy.
***
Ranger danger!
Waylon Riedel and Jake Behrman each scored twice in Estacada's 44-14 over La Grande in a Thursday showdown of unbeaten teams. The Rangers led 22-7 at the half and put the game away courtesy of an 86-year scoring jaunt from QB Cory James. Logan Williams and Brody MacMillan scored touchdowns for La Grande.
***
Cascade win is a rush!
Undefeated Cascade dominated on the ground – 586 yards rushing -- and overcame a slow start to crush Tillamook, 62-20, in a Thursday tilt. Rogue Newton, Lance VanHoose, Jacob Hage and Blake Lewis all scored from distance for the victorious Cougs. Hage also blocked a punt that was scooped for a score by Isaac Schnepp.
***
Dallas outfoxed
Silverton got on the board one minute into the game, led 21-0 after one, finding success through the air and on the ground, and went on to the decisive 42-7 win over Dallas, in a game played on Thursday. Alex Briseno, a first-time starter at running back, carried the rock 15 times for 140 yards and three scores. WRs Austin Ratliff and Van Fessler both went over the century mark in receiving yards and Jordan McCarty amassed 347 yards of total offense, with two TD strikes to Ratliff and another on the ground.
***
Holmes to the house sparks West Linn
Defensive end Jake Holmes returned a poor punt 20 yards for a touchdown, which gave West Linn a 14-7 second quarter lead and propelled the undefeated Lions to a 24-14 victory over Camas. Camas, a Southwest Washington power, fell to 0-4, with all losses coming against elite Oregon 6A squads.
***
Grady gets an "A" in Sunset win
Sunset QB Grady Newsome threw three touchdowns passes and Caleb Kim scored once on the ground and once on the receiving end of a Newsome pass in the Apollos' 49-0 shutout of Aloha. "After a tough loss the week before, I was extremely proud of our focus and execution in all three phases of the game and for all four quarters," said head coach Damien Merrick.
***
He's just Joshing!
Josh Rodriguez' 87-yard interception return for a score started a 27-point second-quarter scoring spree for Marist Catholic in the Spartans' 41-16 win over Cascade Christian. Kaiden Ayoma ran for a score and caught a TD pass from Carter Greene, who had three; as Marist opened up a 41-0 halftime lead. Keith Reed threw a second-half touchdown pass and ran for another score for Cascade Christian.
***
Wolfe lifts the Vale
John Wolfe caught two TD passes from Tanner Steele, who had 244 yards of total offense, in Vale's 12-6 win over New Plymouth.
***
You da Mannion!
Brian Mannion hit Keenan Speer-Johnson on a fade route late in the game to lift Mountainside past Sherwood, 28-14. Sherwood had gotten within one score on a Nolan Scott dash.
***
Antlers pointed in second-half surge
Bonanza, down 26-14 at halftime, scored 22 unanswered to rally past Tuelelake, 36-26. Tanner Mestas had 203 yards rushing and Adrian Mohica added 136 to carry the offense. But the key to the win was tremendous defensive effort in the second half, which included two fumble recoveries and an interception.
***
For Pete's sake
Jae'Sean Pete scored four touchdowns in Grant's 70-7 win over Franklin.
***
Super Dupper helps Roseburg blank McMinnville
Landyn Dupper threw a 39-yard TD pass on a gadget play to help Roseburg stay undefeated in a 41-0 blanking of McMinnville.
***
Jesuit orders up a comeback
Jesuit trailed 21-0 in the first quarter but rallied to defeat Westview, 44-42, behind four Michael Rincon rushing touchdowns.
***
Zach attack sparks Dayton
Zach Smith had 300 yards of total offense, including 233 on the ground, as Dayton broke open a close game at halftime with 22 second-half points in the Pirates' 38-8 win over Blanchet Catholic. Dylan Phipps had 15 tackles, including two sacks, to lead the defense.
***
Be sure to check out Jerry's more comprehensive report on Sunday!