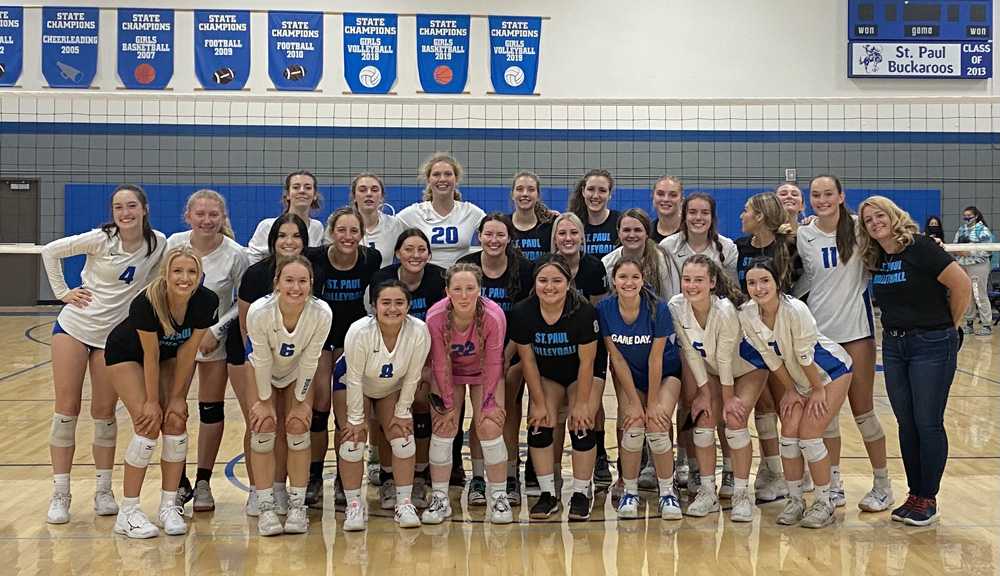 You've found our third volleyball notebook of the fall 2021 season. Here's the dish:
Stayton its case
Stayton, which is 6-8 overall in counting matches, was a surprise winner at the North Marion Tournament on Saturday. The Eagles got off to a slow start in pool play, but kicked it into gear in the eight-team bracket, downing Woodburn, Sutherlin and Catlin Gabel to take the title.
"The girls played so hard and worked as a team!" exclaimed head coach Ruth Palfenier. "My defense and serving were both very strong and were big factors in our wins!"
Libero Mary Weitman was on fire in the back row, Jessica Leimbach also made some huge digs and Molly Schotthoefer set up a huge block in the front row for Stayton. Behind the line, the Eagles only missed two serves during bracket play. Kaley Sitton had 10 aces, Laina Atiyeh chipped in with seven aces and Maddy Mitzel had five.
3A Catlin Gabel finished second despite playing without two starters. The Eagles finished second in their pool, then dispatched Willamina for a second time in the quarterfinals. Head coach Jeannette Lee said her team might have played its best match of the year in the semis, when it defeated the host school. Catlin Gabel's blockers did a great job in that match of neutralizing North Marion's monster middle, Jaydan Sahlin.
The team was fatigued heading into the championship match and Stayton did Catlin Gabel no favors by extending rallies with precision passing and great defense.
"Overall, I'm out of my mind proud of my squad for stepping up to the challenge," Lee said despite the finals loss. "Elsa McDermott (Jr, OH) was all-world for us. I'm sure she led us in digs, kills and serve-receive. Our setter, Oci White (Sr.), was an incredible leader who made great choices throughout the day. She calmed the storms and eased our freshmen's minds from worry, while running a smart offense. Honorable mention to Bianca Haldorsen and Emma Shields. Both carried a heavier offensive load than they're used to and both made key defensive plays to bolster us past North Marion."
Jesuit and West Albany make State Preview final
Jesuit, the top-ranked team in 6A and West Albany, 5A's No. 1 team, lived up to their status by making the championship match at the State Preview hosted by South Albany on Saturday. The tournament saw La Salle Prep stun previously-unbeaten Bend in a quarterfinal match.
Jesuit won all of its matches in sweeps, including 26-24, 25-15 over West Albany for the title. The Crusaders, 3-0 Tuesday winners over Mountainside (which made the semis at the State Preview), have not dropped a set through 15 matches this fall.
Jesuit coach Teresa Zimmerlee said the key to her team's strong performance was passing, which gave the team's hitters opportunities to put the ball away.
"We have some talented hitters and when we get the ball to them, they are hard to stop," she explained.
Lilly Lansing had 10 kills, Maisie Alexander 12 digs and Jackie Carle averaged 13 assists per set in the finals win over West Albany. Outsides Izzy Patterson and CeAnna O'Loughlin, middle Tess Masingale and defenders Hannah Nguyen and Tiana Takayama also stood out, while Avery Pickard had two key solo blocks in the West Albany match.
What's next for Jesuit?
"We keep working to get better every chance that we have," Zimmerlee said. "There is always room for improvement. We are constantly working on defense, serve receive and getting the hitters a little bit quicker ball. I always feel like teams are like puzzles; you keep working until you find the pieces that complement each other."
West Albany downed 6A Summit in the quarterfinals then dominated La Salle in the semis to get to Jesuit. Setter Sydney Harrington, libero Maddy Hellem and OH Hailey Heider led the way all day for the Bulldogs. Middles Gracie Boeder and Grace Nealy also were big contributors.
OC is OK
Oregon City won its own tournament last Saturday. The 6A Pioneers downed 5A Dallas in the championship match.
"It was a whole team effort with strong offensive performances from OHs Emma Pruitt, Emma Cereghino and Paige Thies," noted Pioneer head coach Erica Frafjord. "MB Olivia Adamo was dominant on the net both defensively and offensively. Strong serving and defense by the rest of the team contributed to the victories. We have great team chemistry this season and we're looking to compete in every match we play. I'm extremely proud of how this team has come to believe in each other and play for each other."
Dallas' second-place finish included a 26-24, 25-23 win over rival Silverton in the quarterfinals.
"Kaitlyn Van Well stood out as a kill leader and Emma Moore set the tone for us with her energy and competitiveness," said Dallas head coach Kayce Lilley. "Our defense as a whole stepped up big time, making it tough for teams to score on us. Libero Jordyn Wynia was passing dimes in serve-receive and on defense."
Turnarounds, Part 2
In our last notebook, we wrote about Stanfield's turnaround this fall after going 2-8 in the spring. The Tigers were 9-2 at the time and have since won three more to improve to 12-2. They are fourth in the OSAA computerized ranking.
5A Redmond went 2-13 over the spring and this fall sits at 11-5. Head coach Katie Karcher said that being healthy and senior-led are keys to the turnaround.
"We had players out with injured knees, broken ankles and other injuries," Karcher explained of her team's challenging spring season. "Going into a season with limited practices and workouts because of Covid restrictions makes it hard to build a program and find the chemistry a team needs. There were more obstacles than I wanted for our team last year. It definitely did not help our spring season."
Karcher also said that winning begets winning.
"My seniors are doing a great job of leading this team," she explained. "The entire team is working together well. They are finally getting a better mental game, something we have been working on."
1A Crosshill Christian is 5-5, a remarkable start to the fall season considering the Eagles went 0-12 in the spring with just two sets won.
Head coach Julie Bennett said the spring season was a struggle due to no time to train, five new starters and five players on the 11-player roster completely new to the sport.
"When I say 'brand new players' we are talking the basics...here are the lines, you get three contacts per side, here is how you hold your hands, etc.," Bennett explained. "With only five days of practice prior to our first match, we were just trying to figure out where to go, let alone how to play."
The catalyst for fall success has been having the time to train, teach and prepare.
"Having the opportunity to train our very young setters in order to put the ball in hittable positions is huge in getting our hitters to be able to control their third contacts," Bennett said. "Because we are still a young and inexperienced team, early communication on the court and learning to trust each position so as not to depend on only one or two players has been our strategy. As they learn their jobs and see success, their confidence grows.
"Another reason for our early success is our senior, Hope Witham. Although she was with us last season, we didn't have the capacity to get balls to her and she was responsible for too many jobs. She has led the team physically, with a .350 kill percentage."
It's early yet, but Crosshill Christian is playing more like the team that made four straight Elite Eight appearances before COVID than the team that couldn't get out of its own way last spring.
1A Glenwood / Klickitat, known commonly as "Klickwood," went 0-5 in the spring but is 6-2 so far in the fall. The Eagles, who were league and district champs in 2019 and went to state, have returned to form, it seems.
Head coach Jaecee Hoctor said that the team lost eight seniors from its state tournament team and the graduating 2021 seniors elected not to play spring ball.
"That left a small, young team consisting of two juniors, three sophomores and five freshmen," Hoctor explained. "Our spring season continued to have setbacks with a delayed season and new protocols for safety measures due to COVID. We had to wear masks, couldn't change benches/sides, and couldn't give high fives to our teammates or good game claps to our opponent."
"This season's players have another season of experience and have stepped up into positions that needed filling," Hoctor continued. "Our two seniors, Laney Tuthill and Julie Fink, have stepped up as our captains and continuously lead by example and encourage their teammates to get better. We have also gained an experienced junior setter, Alise Gimlin, to help run our offense."
Making the postseason this fall is realistic for Klickwood, which currently sits 29th in the computer rankings, five spots out of a playoff berth.
"This season feels like we have ground under our feet and we have high hopes to get somewhere," Hoctor said. "As a coach I always have a goal to get to post season and this year is no different."
Fantabulous Freshmen!
In this space, we recognize Oregon high school freshmen who are making major contributions to their varsity teams this fall. Here are the players we've uncovered so far:
Mylee Blake, 6-0 OH, Siuslaw – A sniper on the court who is a kill leader for the Vikings every match, Blake also is a positive and encouraging player and emerging leader with an innate knowledge of the sport.
Moe Bondo, 5-7 S, Milwaukie – Has a great understanding of the game.
Jackie Carle, 5-5 S, Jesuit – Quick, athletic and confident, Carle is averaging almost 11 assists per set when she's running the offense for the undefeated Crusaders.
Giana Elgarico, 5-10 OH, Marist Catholic – A six-rotation talent, Elgarico is the Spartans' go-to hitter when a kill must be had. She leads the team in kills and also is the best passer in serve-receive.
Saralynn Grove, 5-9 MB, Amity – A versatile six-rotation player with an arsenal of shots, Grove also frustrates hitters with her big block.
Paige Liles, 5-4 libero, Camas Valley – Liles serves tough, leads the team in digs and passes 80 percent of the serves.
Tatum Montiel, 5-10 OH, Marshfield – The Pirates' kill leader in most matches this season, Montiel had 20 kills and 14 digs in a Sept. 23 win over Siuslaw.
Sheala Simmons, 5-8 MB/RS, Newport – A fiery southpaw, her intensity and desire to compete have brought a sense of urgency to the court.
Lily Tegner, 5-6 OH/RS, Jefferson – A vocal, high-energy player, Tegner came into the program ready to dominate and she has not disappointed. Tegner is a kills leader on a senior-dominated team, as well as an exceptional teammate.
Quick hits
The Creswell Invitational this weekend features 12 tough teams, led by the host school, Monroe, Catlin Gabel, Sutherlin, Amity and Cascade Christian…Katie Clevenger had 30 kills in South Medford's five-set league win over Roseburg last night…Crane won the Mohawk Tournament on Saturday, downing Bonanza in a four-set finale. Kortney Doman and Skye Miller were standouts for the victors. Bella Tenold made the All-Tournament team for Bonanza…
St. Paul has had an annual alumni volleyball match for six years now to kick off its season.
"Every year it is our toughest competition with the usual trash talk you would expect, all in fun," noted head coach Les Hiller. "Our high school players are always very pumped for it and the seniors at the end of their career usually look forward to getting to come back and play. The alumni practice off and on through the summer and usually the week of the Thursday night match.
"This season, the Alumni beat our current team for the first time. They were loaded with many All Star players from the past 12 years that I have coached at St. Paul."
Stat stars
I have asked coaches on our bulk email list to help me compile a list of astounding single-game statistical achievements! We will keep a running tally of players who stat at these levels for a single match:
55 assists in a match
35 kills in a match
35 digs in a match
15 blocks in a match
15 aces in a match
Here's what we have so far…
15 aces in a match
Natalie VanderPloeg, 5-4 Sr. libero – 28 aces in a 3-0 sweep
Nose-bleeders
Jumping 10-feet on approach remains a lofty goal for most volleyball players. If you get enough air to touch a regulation basketball rim, you have the ability to hit over blockers and pick your own spots. That makes you a very dangerous scorer on the court!
In this space, we will recognize those Oregonians who have achieved that lofty mark. We will add to it in each Volleyball Notebook as coaches tell us about the players who have reached rare air. Here's where we stand currently in the 10-Foot Club:
Taylor Brickey, 6-0 Sr. OH, Summit
Amariah Clay, 5-6 Sr. MB/RS, Beaverton
Katie Clevenger, 6-0 Jr. OH, South Medford
Emma Gates, 5-9 Sr. MB, Cascade
Sophia Gregoire-Salagean, 6-2 Jr. OH, Newberg
Sophie Scott, 6-3 Sr. MB, Catlin Gabel
If you are a HS coach and want to add someone to the list, by all means email me, [email protected], put "10-foot club" in the subject line and provide the info in the manner shown above.
Mensa Mensa
In this space, we will recognize "smarty-pants" volleyball players, those who have an unweighted GPA of 3.9 or better or a weighted GPA above 4.0. Here are the Mensa nominees we have received to date:
Zoe Alberty, 5-7 Sr. S/RS, Siuslaw
Sydney Alexander, 5-6 Jr. OH, St. Mary's (Medford)
Jazell Allen, 5-6 Jr. OH, Milwaukie
Madison Balcom, 5-4 Sr. OH, Thurston
Emma Ball, 5-10 Sr. MB/RS, Crescent Valley
Stella Barber, 5-9 Sr. MB, Newport
Lucretia Benolken, 5-9 Jr. OH, Cascade
Albie Borovansky, 5-3 Jr. libero, St. Mary's (Medford)
Kora Botta, 5-8 Sr. MB, Milwaukie
Taylor Brickey, 6-0 Sr. OH, Summit
Brooke Burns, 5-5 Sr. DS, Beaverton
Addy Childress, 5-4 Jr. OH, Willamina
Kenna Coleman, 5-7 Sr. S, Cascade
Kamryn Craig, 5-4 Jr. DS, North Bend
Kate Doorn, 5-11 Sr. S, Summit
Kelsey Dunn, 6-2 Jr. MB, St. Mary's (Medford)
Natalee Federico, 5-7 Sr. RS, Cascade
Grace France, 5-4 Sr. S, Willamina
Adrianna Frank, 5-8 Sr. OH/RS, North Bend
Maria Fuller, 5-1 Sr. DS, Crescent Valley
Emma Gates, 5-9 Sr. MB, Cascade
Olivia Hale, 5-9 Jr. OH, Dallas
Stella Hall, 5-9 Jr. RS, Thurston
Ayrica Hansen, 5-10 Sr. RS, Rogue River
Kaitlyn Hansen, 5-8 Jr. S, St. Mary's (Medford)
Hailey Harris, 5-5 Sr. DS, Beaverton
Madison Heagney, 5-9 Sr. S/RS, Crescent Valley
Audrey Histed, 5-7 Sr. S, Cascade
Anna Howard, 5-7 Sr. DS, Rogue River
Hallee Hughes, 5-10 Jr. OH, Willamina
Laci Jespersen, 5-4 Sr. DS, West Salem
McKenzie Jonas, 5-10 Jr. MB, Crook County
Eleanor Kahn, 5-5 Sr. OH/DS, Beaverton
Josephine Kasberger, 5-6 Sr. OH, Crook County
Hannah Kendall, 5-6 Sr. libero, Summit
Kylie Kinsella, 5-8 Sr. RS, St. Mary's (Medford)
Katy Klein, 5-5 Sr. DS, Summit
Emily Lettenmaier, 5-8 Sr. OH, McNary
Olivia Lewis, 5-7 Sr. S, Molalla
Shannon MacCallum, 5-11 Sr. OH, Summit
Sierra Martin, 5-4 Sr. libero, Thurston
Leah Mattson, 5-9 Jr. MB/RS, Crescent Valley
Kendall Maykut, 5-8 Sr. OH, Crook County
Jenny McKinnon, 5-4 Sr. S, Crook County
Avyree Miethe, 5-7 Sr. OH, Warrenton
Kaitlyn Miles, 5-8 Jr. MB, Marshfield
Delaney Mitchell, 5-3 Jr. DS/libero, Molalla
Carlee Murray, 5-6 Sr. OH/libero, Newport
Cami Oliva, 5-5 Sr. DS, Cascade
Annah Orloff, 5-2 Jr. DS, Molalla
Kara Paterson, 5-6 Sr. libero, Crescent Valley
Sophia Perakis, 5-7 Sr. MB/RS, Crescent Valley
Bailey Pool, 5-5 Jr. S, East Linn Christian
Malia Rauh, 5-5 Sr. OH/DS, Beaverton
Cierra Ridenour, Sr. OH, Colton
Isabella Rodriguez, 5-5 Jr. libero/DS, McNary
Hailey Schwinof, 5-7 Jr. OH/RS, McNary
Riley Simonsen, 5-6 Jr. RS, Warrenton
Stevie Singler, 5-6 Sr. DS, Newport
Lainey Stranberg, 5-7 Sr. OH, St. Mary's (Medford)
Sophia Terwilliger, 5-8 Jr. OH, Crescent Valley
Kayla Toavs, 5-8 Jr. OH/MB, McNary
Natalie VanderPloeg, 5-4 Sr. libero, Mohawk
Abigail Warrick, 5-8 Jr. MB, Marshfield
Josie Wertz, 5-9 Jr. OH, Newport
Emily West, 5-9 Sr. RS, North Bend
Sydney Wilson, 5-4 Sr. libero, North Bend
Lauren Wyatt, 5-3 Jr. libero, East Linn Christian
Jordyn Wynia, 5-3 Sr. libero, Dallas
Any volleyball coach may add someone to the list by emailing [email protected], putting "Mensa" in the subject line and providing information in the manner shown above.
College-Bound!
In this space, we list those players, in the current senior class and younger, who have made a commitment to attend a college or university of their choice and play volleyball.
Here's who we have so far. We will add to this list in subsequent notebooks as we receive notifications.
Mackenzie Berger, 6-3 Sr. MB, Gaston – Idaho State
Kayleigh Carpenter, 5-7 Jr. OH, South Salem – Boise State (for defense)
Greta Davis, 5-10 Sr. OH, Sisters – Sacramento State (Indoor and Beach)
Kate Doorn, 5-11 Sr. S, Summit – University of Idaho
Sophia Gregoire-Salagean, 6-2 Jr. OH, Newberg – University of Oregon
Emmi Marks, 5-9 Sr. OH, West Salem – Corban University
Ella Nordquist, 6-0 Sr. MB, West Linn – Western Oregon University
Sophie Scott, 6-3 Sr. MB, Catlin Gabel – Cal Berkeley
Emily Warmenhoven, 5-11 Sr. OH, West Linn – Belmont University
Any volleyball coach may add someone to the list by emailing [email protected], putting "College commitment" in the subject line and providing information in the manner shown above.