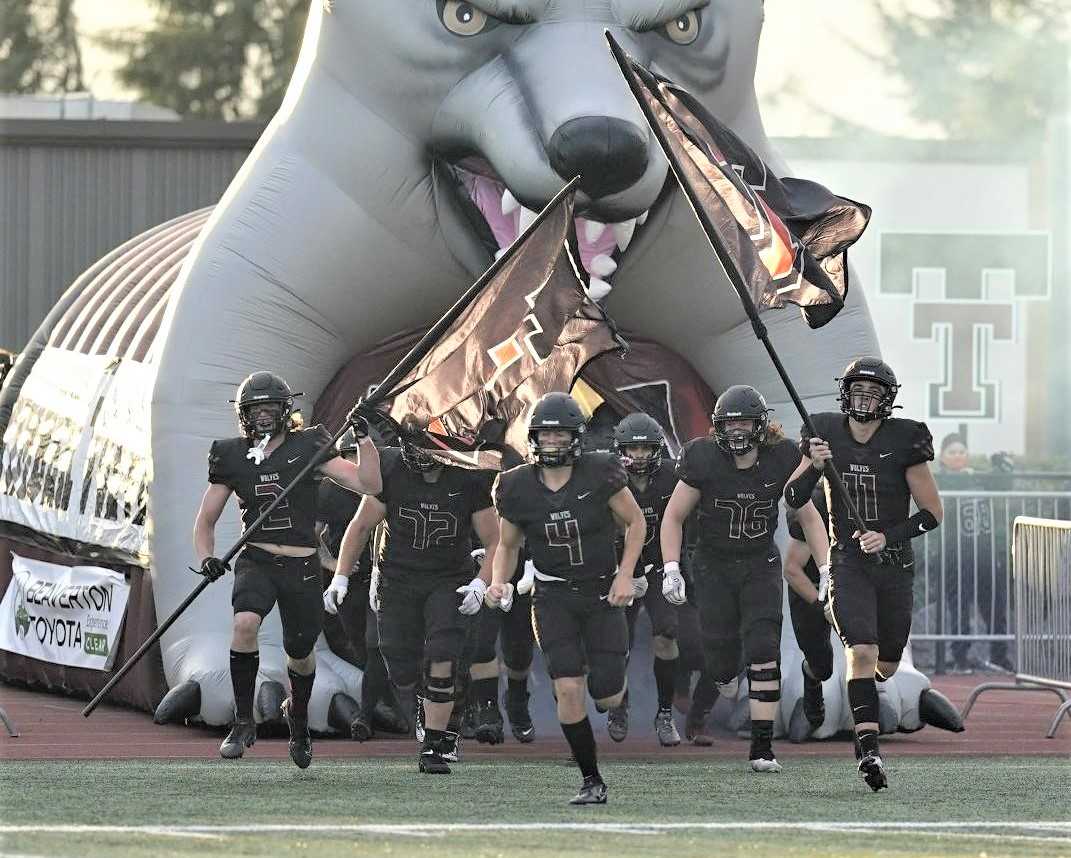 Forgive Tualatin coach Dan Lever for having a sense of deja vu this week as he prepares his team to meet West Linn in a Three Rivers League football showdown at 2 p.m. Saturday at Wilsonville.
If it seems to Lever that he has been here before – taking an unbeaten Timberwolves team into a highly anticipated matchup with the perennial 6A power Lions – there is good reason for it.
Tualatin started 6-0 in his first season as the team's coach in 2017, 6-0 in 2018 and 3-0 in 2019. Then the Timberwolves promptly absorbed their first losses at the hands of the Lions by scores of 21-9, 45-20 and 34-20, respectively.
This time, No. 3 Tualatin and No. 1 West Linn enter the game with 4-0 records.
"We've had some very silly turnovers and very silly penalties, if you go back," Lever said of past meetings with the Lions. "For us to have a chance in those games, you can't do those type of things. For us, we can't beat ourselves."
Lever recalled 2018, when the Timberwolves had five turnovers against the Lions. They blocked a punt on West Linn's first series and had the ball at the 2-yard line, but fumbled it away, and the Lions marched the length of the field for a touchdown to set the tone.
"It's been a lot of stuff like that," Lever said.
Lever said his team must be mentally locked in all week, unlike in past seasons leading up to playing the Lions, who are 7-0 against Tualatin under coach Chris Miller.
"For whatever reason, we've had a terrible week of practice going into West Linn. I mean bad," Lever said. "So that's been addressed. I'm old school in that regard. You've got to win the Monday, Tuesday, Wednesday, Thursday. We've got to have a great week of practice."
Tualatin has not beaten West Linn since moving from the Pacific Conference to the Three Rivers in 2014, including a 37-6 loss in the spring. Prior to that, the teams hadn't met since 2005, when the Timberwolves beat the Lions 55-28 in a nonleague game.
Tualatin has defeated Menlo Atherton (Calif.) 44-33, Silverton 35-28, Aloha 43-0 and West Salem 41-7. Saturday marks the beginning of a treacherous three-game stretch for the Timberwolves, who play host to No. 4 Lake Oswego (4-0) and go to No. 7 Lakeridge (4-0) in their next two games.
"You're talking about three of the top teams in the state coming at us," Lever said. "This is why you love the Three Rivers, these playoff-type atmospheres. Whatever happens, happens, and we'll reload for another one, and then another one.
"It really kind of battle tests you for the playoffs. The reality of the situation, I totally anticipate playing one or two or anybody from our league – maybe three, who knows? – in the playoffs."
The Timberwolves are hopeful for the return of senior quarterback Jackson Jones, who missed the last two games after injuring his shoulder against Silverton. He threw five touchdown passes in six quarters before his injury.
"He's feeling a lot better," Lever said.
Jack Wagner, a 6-4 junior, has been outstanding in relief of Jones. He ran for a 49-yard touchdown against Silverton, threw four touchdown passes against Aloha and completed 16 of 19 passes for 247 yards and ran for an 81-yard score against West Salem.
The Timberwolves have a stable of fast, rangy receivers and one of the state's top big-play threats in senior running back Malik Ross, who ran for three scores against West Salem.
West Linn has a state player of the year candidate in Mark Hamper. The 6-3, 202-pound junior receiver and defensive back has 32 catches for 462 yards and six touchdowns. He also has four interceptions.
Lions senior quarterback Chase Harmon, a first-year starter, has completed 76.2 percent of his passes for 1,092 yards and 12 touchdowns with three interceptions.
West Linn has opened the season by beating No. 6 Jesuit 17-3, North Medford 49-7, No. 8 Sunset 28-14 and Camas (Wash.) 24-14.
A look at other top matchups for Week 5:
Glencoe (3-1) at Liberty (2-2), 7 p.m.: With Sherwood and Newberg both 0-4, the door appears wide open in the Pacific Conference, and the Crimson Tide and Falcons are looking to get a leg up in the conference opener. Glencoe has won the last two meetings since losing to Liberty 58-0 in 2018.
6A No. 7 Lakeridge (4-0) at Oregon City (2-2), 7 p.m.: Lakeridge, which has West Linn and Tualatin in its next two games, can't afford to look past the Pioneers, who are still trying to find their footing under first-year coach Shane Hedrick. The Pacers won 35-20 in the spring.
Tigard (2-2) at 6A No. 4 Lake Oswego (4-0), 7 p.m.: So far, Tigard has been a notch below its teams from recent seasons, but the Lakers aren't likely to overlook the Tigers, who have beaten them in all five games since joining the Three Rivers League in 2014. The teams did not meet in the spring.
Woodburn (3-1) at 4A No. 4 Cascade (4-0), 7 p.m.: The Oregon West Conference opener matches Cascade's offense, averaging a 4A-high 50.5 points after gaining 586 yards in last week's 62-20 win over Tillamook, against Woodburn's defense, which recorded its third shutout last week in beating North Marion 21-0.
4A No. 6 Mazama (2-2) at 4A No. 7 Henley (4-0), 7 p.m.: The Klamath Falls rivals meet in the Skyline Conference opener. Henley is off to a surprising start, but the real test will be the Vikings, who have won the conference seven years in a row. Mazama won 35-0 in the spring and leads the all-time series 16-13.
3A No. 4 South Umpqua (4-0, 1-0) at St. Mary's (3-1, 1-0), 7 p.m.: South Umpqua, averaging a 3A-best 47.0 points, is 4-0 for the first time since 2014, when the Lancers started 5-0 in 4A. St. Mary's enters the Special District 2 game on a three-game winning streak.
3A No. 3 Cascade Christian (1-1, 0-0) at 3A No. 2 Siuslaw (3-0, 1-0), 7 p.m.: Cascade Christian is looking to bounce back in the Special District 2 game after a tough 41-16 home loss to 4A power Marist Catholic last week. Siuslaw, winless in 2018, improved to 3-0 by turning back 4A Gladstone 15-7 on a late touchdown.
Sutherlin (3-1) at 2A No. 3 Lakeview (4-0), 7 p.m.: The Honkers have climbed the 2A rankings by starting 4-0 for the first time since 2010, when they opened 6-0. Taking out the 3A Bulldogs, who are coming off a 48-36 loss at 3A No. 8 Warrenton, will be a tough task.
2A No. 1 Heppner (4-0, 1-0) at 2A No. 4 Weston-McEwen (3-0, 2-0), 7 p.m.: Reigning 1A-8 champion Heppner extended its winning streak to 22 last week by rallying past No. 2 Kennedy 34-28. Weston-McEwen, led by quarterback Blane Peal (seven touchdown passes), will find out where it stands in the Special District 5 game.
1A No. 2 Powder Valley (4-0, 3-0) at 1A No. 1 Adrian (4-0, 2-0), 7 p.m. (Mountain Time): Powder Valley, which already holds win over No. 5 Dufut and No. 3 St. Paul, takes a crack at top-ranked and 2019 state champion Adrian in a Special District 2 East game. Powder Valley beat Adrian 70-58 in the spring finale.