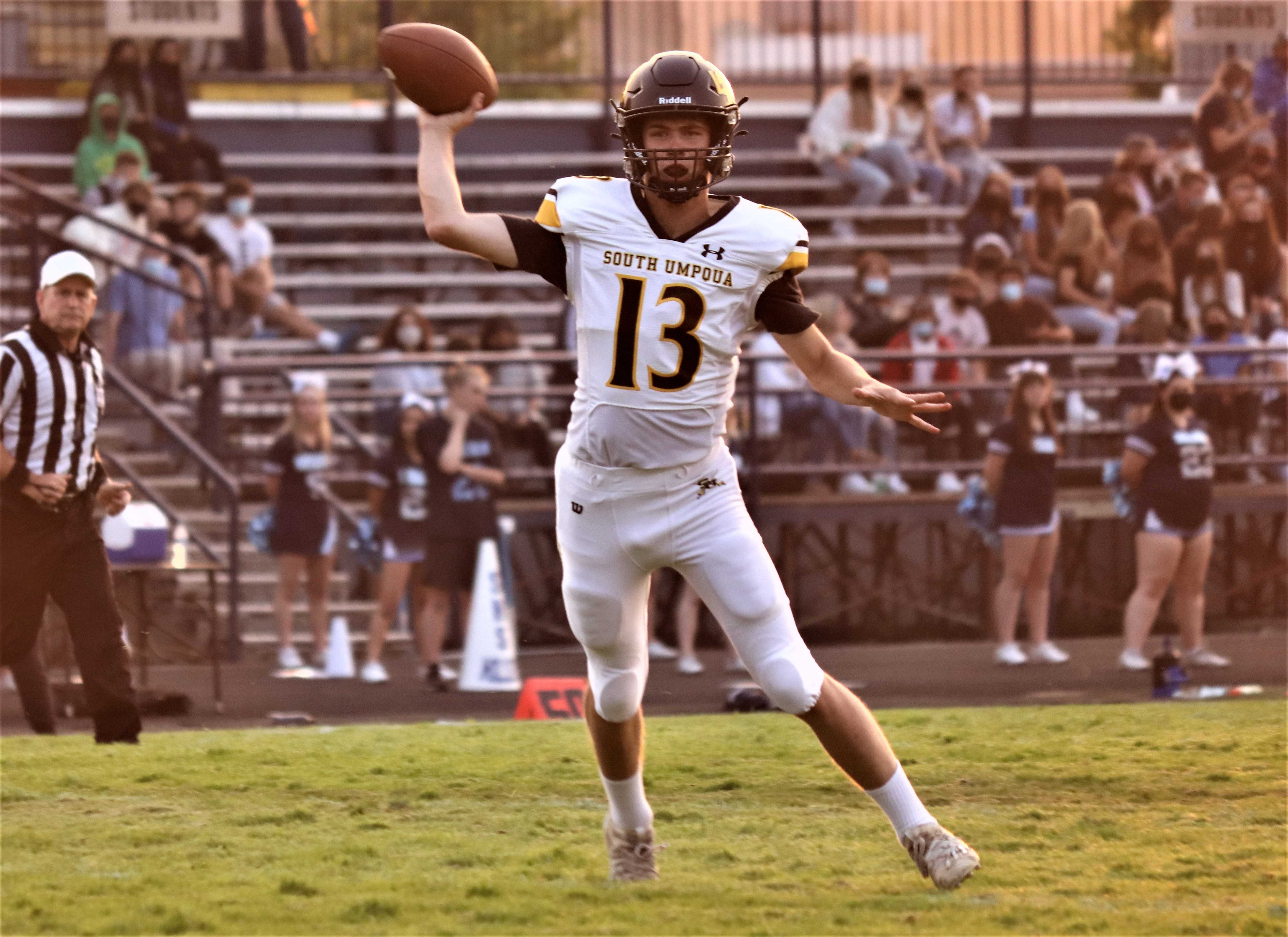 It's been seven years since the last time South Umpqua opened the football season 5-0.
In the meantime, three members of that 2014 4A quarterfinal team have joined the staff as assistant coaches, which invites a tempting comparison: Could this year's team, now 5-0, beat that team?
"They'll tell you, 'No way,'" South Umpqua coach Steve Stebbins said of his assistants and former players. "Very different teams. This team is probably more athletic and faster. That team up front, we were huge and very, very physical. It would be an interesting game because there would be two different styles."
South Umpqua has been up and down since 2014. The Lancers were runners-up in the 4A Far West League in 2016 and 2017, going 6-4 both seasons, but dropped to 3A the following year and finished 2-7 in 2018 and 2019.
The seeds for this year's success sprouted in the spring, when they finished 4-2. With eight starters back on each side of the ball, expectations for this season were high.
"It was kind of nice because that spring season, there wasn't a lot of down time between then and fall," Stebbins said. "And returning all of our skill kids, we just kind of jumped right back into things, and it was just kind of rolling with our offense."
So far, no team has come within 30 points of fourth-ranked South Umpqua (5-0, 2-0 3A Special District 2). In the last two weeks, the Lancers rolled 41-8 over No. 10 Philomath (4-1) and 55-6 against St. Mary's (3-2).
The schedule gets tougher down the stretch as the Lancers finish the regular season against Burns (3-1), Sutherlin (4-1) and No. 3 Cascade Christian (1-2), which beat them 37-0 in the spring.
"If you're going to win our league, you're going to have to knock off Cascade Christian at some point," Stebbins said. "The next three games we'll really find out where we're at."
The Lancers have been prolific on offense, averaging a 3A-high 48.6 points per game. They are led by junior quarterback Jace Johnson, who has thrown for 1,065 yards and 19 touchdowns with two interceptions and rushed for 217 yards and two scores.
The 6-foot-2, 175-pound Johnson saw limited varsity time as a freshman and took over as the starter as a sophomore. Johnson, who also plays basketball and baseball, has a knack for making plays.
"Half the time we're joking, I don't even know why I call plays because Jace will get in trouble, and it turns into backyard football," Stebbins said. "He scrambles and finds open receivers. He knows the offense inside and out at this point. He's just gotten smarter and smarter with the football."
On multiple occasions this season, Stebbins said, Johnson has escaped the pocket and shown an innate sense for stopping short of the line of scrimmage and finding open receivers down field.
"For a high school junior, that's pretty impressive to have that awareness," Stebbins said.
Johnson's favorite target is his cousin, senior Kade Johnson (5-11, 170), who has 20 catches for 285 yards and six touchdowns.
"There's a little cousin love there," Stebbins said. "I think Kade's kind of his safety net. He feels comfortable with him."
When the Lancers need a big play, they often look deep to 5-8 junior Isaac Real, who has nine catches for 323 yards and five touchdowns, three coming from more than 50 yards. Senior Andrew Christensen has 11 catches for 277 yards and five scores.
Caj Simmons, a 5-6, 200-pound senior, has rushed for a team-high 296 yards and eight touchdowns, scoring five times in a 60-29 win over Corbett on Sept. 17. Simmons missed Friday's win at St. Mary's after having his appendix removed last week, but the team is hopeful he will return in a couple weeks.
"He's super physical, he's super strong in the weight room, and he's very tough to tackle," Stebbins said of Simmons, a state placer in wrestling.
South Umpqua changed its defense this season from a four-man front to a 3-4 to get more skill players on the field, and it has paid off as the Lancers have held opponents to 10.0 points per game.
Senior Brayden Reedy (6-3, 210) and junior Tanner Dobeck (6-4, 230) have been outstanding at defensive end. Kade Johnson and senior Justin Jenks bring athleticism at outside linebacker. Simmons is an anchor at middle linebacker, and Christensen is a third-year starter at free safety.
Real has three interceptions and Kade Johnson and Christensen have two apiece.