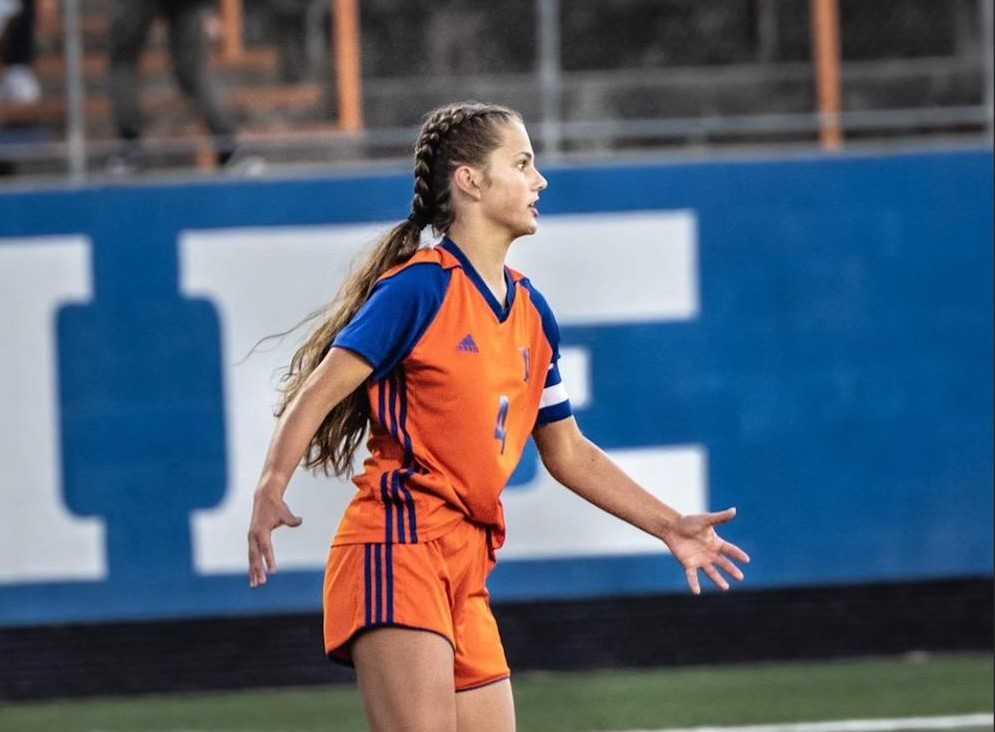 Winning has become a way of life for Hidden Valley girls soccer. Since 2005, the Mustangs have won three state titles and posted a winning percentage of .752.
But after losing six players from a team that reached the semifinals of the 4A Showcase in the spring – including center midfielder Justice Hartford and defender Kaiah Fisher – the Mustangs weren't sure if they could measure up against the top teams in 4A this season.
So when they earned a 1-1 draw on Sept. 20 against 4A power Marist Catholic – the team that eliminated them on penalty kicks in the spring – it gave them a jolt of confidence.
"They came out at halftime with smiles on their faces, like, 'Hey, we can play with these guys,'" Hidden Valley coach Dennis Hart said. "A lot of times they put that opponent too big in their mind as this big monster, and they had a lot of success, and actually had the run of play. It was kind of fun to watch them perk up and go, 'Man, we got this.'"
The Mustangs have opened the season 7-0-1 overall, 4-0 in the Skyline Conference, and are looking every bit like a team that could make another playoff run. They are No. 4 in the OSAAtoday 4A coaches poll, behind No. 1 Gladstone, No. 2 North Marion and No. 3 Marist Catholic.
"I think we should be in the discussion," Hart said. "I think we're building in the right direction, for sure, and we definitely have the components. Playing in the semifinal match in the spring, and missing that opportunity after working so hard against a really good Marist team, a lot of these girls are competitors, and they just built fires. They're pretty driven."
Hidden Valley has outscored opponents 34-4 behind senior Leah Beachy (eight goals, five assists) and sophomore Riley Yunker (eight goals). The Mustangs also are getting key offensive contributions from senior Skylar Willey (five goals, five assists), junior Gabby Heverly (five goals, three assists) and senior Taya Mendoza (four goals).
They are producing in key moments. After spotting Marist Catholic an own-goal in the first half, the Mustangs got even when Beachy drew a penalty and Mendoza converted the shot. Monday at Mazama, the game was scoreless with 20 minutes left when Yunker put away a goal off Beachy's corner kick.
On a negative note, the Mustangs have not been full strength since facing Marist Catholic. In that game, they lost senior goalkeeper Marissa Beck to a concussion and juniors Gena Hoxsey (knee) and Sophie Sorce (ankle) to injuries and they have yet to return. In the following game against Henley, junior Emma Trader was lost for the season with a broken ankle.
The Mustangs had 12 players available against Mazama on Monday.
"Everyone goes through this," Hart said. "It's just been a testimony to how the girls have been resilient and overcome things. We're just trying to get fit and more healthy. We have all those ingredients that are there."
Henley stays hot
Junior Jacob Gonzales scored twice and had an assist as the No. 5 Henley boys solidified their hold on first place in the 4A Skyline Conference with a 6-2 home win over No. 3 Phoenix on Wednesday.
Brock Patzke and Eli Hayes each added a goal and two assists for the Hornets (6-1-1, 4-0), who extended their lead over second-place Phoenix (7-2, 3-2), runner-up of the 4A Showcase in the spring.
Henley trailed 1-0 in the first half before dominating the Pirates, who were missing three players, including senior forward Victor Martinez, a league player of the year candidate.
"It took us until the second half to make some adjustments, and once we did, I thought it caught them off-guard," Henley coach Lupe Gonzales said. "To be able to score against a team like Phoenix, it was a proud moment for us. It was a pleasant surprise."
Martinez's absence was a factor, according to Lupe Gonzales.
"Victor is a difference-maker and would have changed the game considerably," he said.
Lupe Gonzales said Henley started the season slow as wildfire smoke impacted the team's training. The Hornets had only two practices before opening with a 2-1 loss to Brookings-Harbor.
"We played really poorly," he said. "We weren't fit, we weren't organized. Our lineup wasn't established."
Henley has won five in a row since tying No. 10 Cottage Grove 0-0 on Sept. 18.
"That was a really good test for us," Lupe Gonzales said of the tie. "I was really excited by the way we started to play. We started to attack better, more consistently. We started to get some cheap goals."
Jacob Gonzales (seven goals, four assists) and Hayes (seven goals, six assists) lead Henley in scoring. Senior goalkeeper Andrew Edwards, who recorded five consecutive shutouts, has been "phenomenal," according to Lupe Gonzales.
Barlow's coach Jacobsen picked
Barlow girls coach Jay Jacobsen will be one of two coaches for the West team in the High School All-American Game, set for Dec. 11 in Knoxville, Tenn.
Jacobsen was selected by the board chair for the event after receiving a regional nomination. Last year, Jacobsen was recognized as a High School Coach of Significance by United Soccer Coaches, a national award given to one coach in each state.
Jacobsen, an all-state player for Barlow as a senior in 1998, is 48-12-8 in five seasons as Barlow's coach. In 2018, he led the Bruins to their first quarterfinal appearance in 11 years, falling to West Linn. In 2019, Barlow took a 14-0-2 record into the quarterfinals, where it lost to Jesuit 4-0.