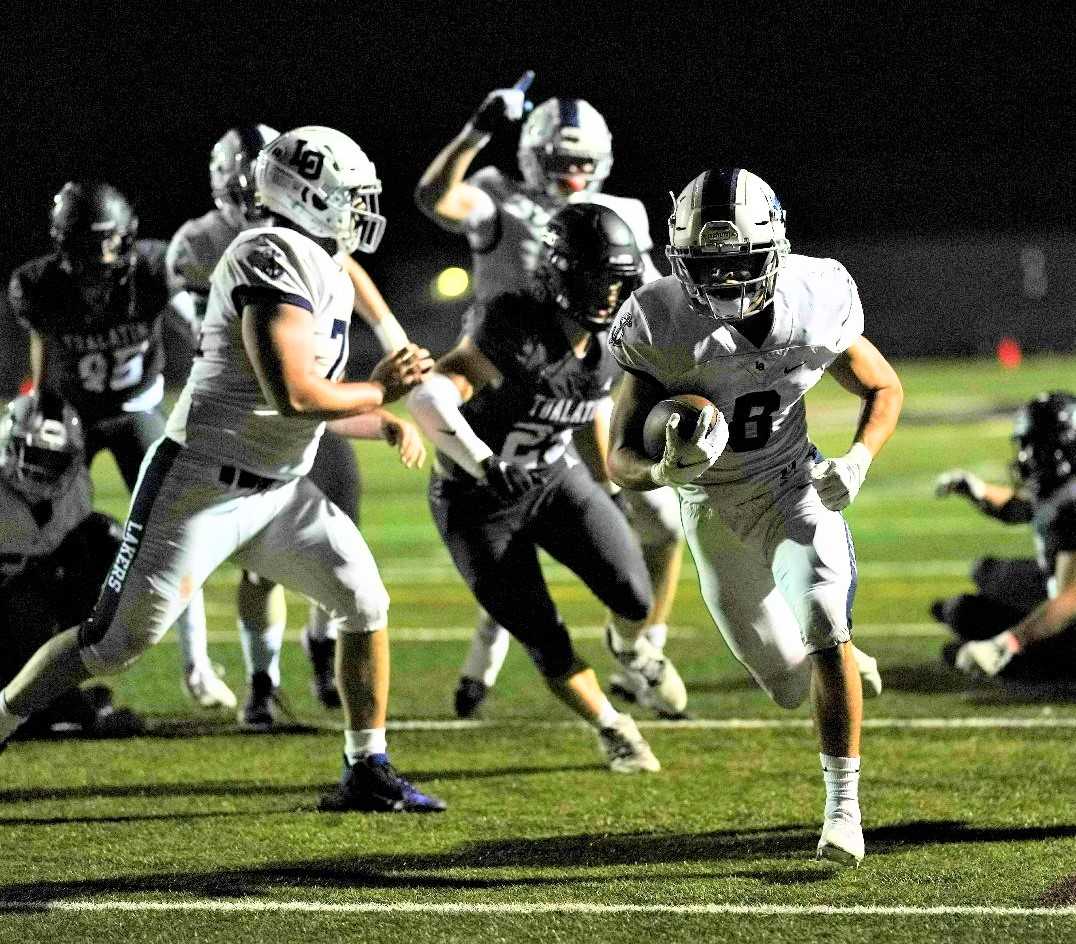 TUALATIN – The Lake Oswego Lakers spent the whole week hearing about Tualatin's big win over West Linn last weekend.
By the time the third-ranked Lakers pulled up to Tualatin High School on Friday night to take on the top-ranked Timberwolves in a Three Rivers League football showdown, they were on a low boil.
"When you hear stuff like, 'They're unbeatable,' it makes you a little fired up," Lake Oswego junior running back Calvin Macy said. "It makes you want to play your hardest."
The Lakers (6-0, 2-0) used that motivation to deliver their biggest win of the season, holding off a second-half rally to beat Tualatin 35-26 and take over sole possession of first place in the power-packed Three Rivers.
"We beat them last year. People seem to forget about that," said Lakers senior receiver Dylan Lane, referencing a 36-7 win in the spring. "We were saying all week, they've got to play us. We don't have to play them, they've got to play us. And they've got to beat us."
Lake Oswego senior quarterback Jack Layne completed 16 of 26 passes for 269 yards and one touchdown, a 39-yard strike to senior Justius Lowe in the fourth quarter to break a 20-20 tie and put the Lakers ahead to stay. He also ran for a score.
Senior Gabe Olvera rushed for 100 yards and two touchdowns on 17 carries, Macy added 97 yards and one score on 14 carries and Dylan Lane had six catches for 105 yards for the Lakers, who finished with a 521-339 edge in total yards.
Lake Oswego never trailed.
"I think we caught them at a good time, winning a big game, like they did," Lakers coach Steve Coury said. "I told our kids after this, 'We'll see them again, probably,' because they're going to be there. They're one of the better teams in the state. I think that win took maybe a little bit out of them."
For the Timberwolves (5-1, 1-1), it was a much different vibe than after they rolled over West Linn 49-14. Senior running back Malik Ross, who rushed for 117 yards and one touchdown on 17 carries Friday, tried to put the game into perspective.
"We knew this was going to be the best team we're going to play all season," Ross said. "I don't think we took anything off from practice. I think we came focused and ready. But sometimes, you can't win without losing."
Lake Oswego, which led 13-6 at half on two touchdown runs by Olvera, appeared to be in total command when it took the second-half kickoff and marched 70 yards to take a 20-6 lead on 15-yard quarterback draw by Jack Layne.
But Tualatin fought back to tie 20-20 with two touchdowns, a 52-yard pass from senior Jackson Jones to senior Kellen Hale and a one-yard run by Ross on the first play of the fourth quarter.
That's when Jack Layne went deep and found Lowe, who got behind the defense for a 39-yard touchdown. Senior Regan Henshaw added the extra point to make it 27-20 with 9:18 remaining.
The speedy Lowe left the game late in the first half with calf cramps but returned to catch his team-high seventh touchdown pass of the season. It was his first catch of the game.
"I had to push through it," said Lowe, who had three catches for 89 yards, all in the fourth quarter. "I knew this was a big game and I had to compete. It's all mental."
Jack Layne said of Lowe: "He's not going to let a little thing stop him. That's the kind of player he is. It's awesome having him out there. He's a difference-maker. He's got a second gear that not a lot of guys can hang with him. It's pretty cool to have a guy like that."
Tualatin answered when Jones hit senior Peter Burke for a 48-yard touchdown pass, but when senior kicker Dominic Borges missed wide right on the extra point under heavy pressure, the Lakers still led 27-26 with 8:32 remaining.
The Timberwolves got the ball back at their own 21-yard line with 5:33 left after stopping Lake Oswego on downs, but could not gain a first down and punted with 4:58 to go. It hurt them that Ross had left the game for good on the previous series after making a hard tackle on defense.
"I got hit in the head," Ross said. "I'm good, though. Initially, it hurt pretty bad."
Macy scored on a 15-yard run with 2:56 left, and Jack Layne passed to Dylan Lane for the two-point conversion to give Lake Oswego a 35-26 lead.
"We were talking about going for two if we did score to get it to a nine-point lead, so they'd have to score twice in three minutes," Coury said.
The Lakers were subdued in their celebration. They are alone in first place, but they still must face the other second-place teams – No. 4 West Linn (5-1, 1-1) and No. 5 Lakeridge (5-1, 1-1) – in their final two regular-season games. Still, they are outperforming preseason expectations.
"I think it's the team chemistry," Dylan Layne said. "We've got great leadership, we've got great coaching. It all comes together every week and it shows on the field."
Tualatin's Jones completed 16 of 30 passes for 219 yards and three touchdowns with one interception. Two of the scores went to Burke, who had four catches for 67 yards.
The Timberwolves will try to shake off the loss before another big game at Lakeridge next week.
"We battled back," Ross said. "Obviously, there was stuff we could've done better. But we're just going to take this one in and use it to fuel us in the playoffs."