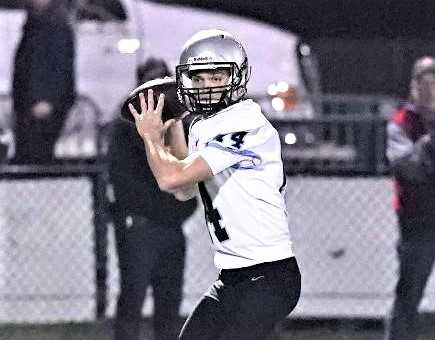 When Mountainside stunned top-seeded Tigard in the second round of the 2019 6A playoffs behind sophomore quarterback Brian Mannion, the future seemed bright for the fast-rising Mavericks.
But their momentum was stunted by the COVID-19 crisis, leading to a 3-3 finish in the spring season. And when much of their roster turned over this fall, they got off to a shaky start, dropping their first three games.
Mountainside is showing progress of late, though, beating Sherwood, Beaverton and Sunset in consecutive weeks. Friday night, the Mavericks (3-3, 2-1 6A Metro League) scraped out a 27-26 overtime win over Sunset, a team that beat them 20-0 in the spring.
"To see us win some hard-fought games against good teams has been very gratifying for me as a coach," Mountainside coach John Mannion said. "I'm most happy for the players. As a whole, they've stuck together. It's fun to see them get validation the last few weeks."
Brian Mannion put Mountainside ahead 27-20 in overtime on a one-yard run, and after the Apollos answered with a touchdown, they missed the extra point, giving the Mavericks the win.
Mannion completed 18 of 28 passes for 221 yards and three touchdowns, including a strike to senior Joe Pribula to give Mountainside a 20-17 lead with 35 seconds left in regulation. Sunset forced overtime on a 35-yard field goal by Sam Harker as time expired.
Senior Caleb Paler rushed for 85 yards on 19 carries and junior Quinn O'Connor had eight catches for 88 yards for the Mavericks, who have made significant progress since opening the season by losing to Lake Oswego 40-7, Westview 49-16 and Tigard 30-13.
"We had a pretty murderous start to the season, schedule-wise," John Mannion said. "In Week 1, only two or three of our guys had played on a varsity field before.
"That being said, we still competed in all those games. The last few weeks have all been games that were hanging in the balance late. It's given our guys confidence that we can win those games and energized them."
For the season, Paler has rushed for 472 yards and senior Keenan Speer-Johnson has three touchdown catches. Freshman cornerback Brayden Boe has three interceptions in the last two games.
Brian Mannion has completed 56.6 percent of his passes for 1,075 yards and nine touchdowns with four interceptions as he adjusts to a remade receiving corps.
"I think he's playing the best he's ever played," John Mannion said of his son. "It's good to have a veteran quarterback this season with a lot of younger guys. His overall level of play has taken a step. It's fun to see."
Brian Mannion has been in contact with several college programs. He did personal workouts for Oregon, Colorado, San Jose State and Idaho, according to his father.
"It's certainly a goal of his," John Mannion said. "There's nothing firm at this point, but there's a wide range of schools, from the Pac-12 to the Ivy League to the Big Sky Conference to Division II."
Roughriders 'find some heart'
The north Portland neighborhood rivalry game went down to the wire Thursday night before Roosevelt emerged with a 28-22 win at Jefferson.
With the score tied 22-22, senior quarterback Imarion Kelly connected with senior Jackson Flatner for a 32-yard touchdown on a screen pass with 1:37 remaining to lift the Roughriders (5-1, 3-0) over the Democrats (3-3, 3-1) in the pivotal Portland Interscholastic League game.
It was the fifth consecutive win for Roosevelt, which needed a clutch touchdown drive after Jefferson wiped out a 22-6, fourth-quarter deficit to tie with 3:11 left.
"To get the win was huge," Roughriders coach Ryan McCants said. "We let them back in the game late, and I'm just glad we were able to find some heart and get the win.
"I'm just so proud of our kids buying in more and more each week, finding a way to get it done. At the same time, I think they all know we aren't quite satisfied yet with the way we've been playing. We know we can do better."
Up next for Roosevelt is a first-place showdown Friday at home against Grant (4-3, 4-0). The Roughriders lost to Grant 60-20 in the spring, when they finished with a 1-5 record.
"We're excited. We just want to string together our best week of practices," McCants said. "We need to go back to work, clean up some things."
Kelly threw two touchdown passes – also connecting with senior Lindell Betts for a 23-yard score on a screen pass – and ran for a score against Jefferson. For the season, Kelly has passed for 17 touchdowns and run for four scores.
McCants was most impressed with Kelly's poise under pressure.
"Even though he plays with a ton of passion, in those crunch times, he's really cool, calm and collected," McCants said. "Even when we were up, he didn't get too high, and when we're not in sync on offense, he doesn't get too low. He's a great presence to have at the leadership spot on offense. He's doing things like changing protections, getting us out of bad plays every now and then."
On Thursday, the Roughriders went up against former Roosevelt assistant coach Anthony Stoudamire, who returned to Jefferson as the head coach this year.
"When Coach Stoud called me and told me he was going to take the job, I was excited for him," said McCants, who is in his second season at Roosevelt. "I know he's got a lot of love for Roosevelt and Jefferson. It was great to see Stoud. I think he's doing a great job. He's going to build that program up the right way."
The game was played before a capacity crowd as fans stood on the sidelines and behind fences.
"The atmosphere was electric," McCants said. "Our fans definitely brought energy. We played an away game, but it was almost like a home game with the way our fans showed up."
Clackamas keeps rolling
No. 6 Clackamas – coming off outscoring Reynolds, Nelson and David Douglas 155-7 in consecutive Mt. Hood Conference games – took advantage of an open date created by a forfeit from Centennial to set up a 6A nonleague contest against surging Grant on Thursday.
This time, it took the Cavaliers (7-0) a little longer to create some separation, but they broke from a 14-7 halftime lead to overwhelm the Generals 48-14 at Franklin High School.
"It was good for us to face some adversity and play a really good team in Grant," Clackamas coach James Holan said of the Generals, who had won three in a row. "Really the only team that's gotten in our way this year has been us."
The game was tied 7-7 when Clackamas quarterback Blake Baker found Ben Moffett in the back of the end zone for a 20-yard touchdown pass as time expired in the first half. The Cavaliers pulled away in the third quarter as Baker threw two touchdown passes and Luke Ash ran for two scores.
Baker, a 6-0, 170-pound junior, completed 9 of 18 passes for 161 yards and five touchdowns, two each to Moffett and KJ Johnson-Gibson and one to Miles Williams. Baker, who has 14 touchdown passes this season, threw his first interception.
"Picks are going to happen," Holan said. "One thing I've really been proud of is how well he's taken care of the football. He's doing a great job. For him, the ceiling is really high. We're not even close to recognizing it yet."
Ash, a 5-9, 170-pound junior, rushed for 232 yards and two touchdowns on 22 carries. For the season, he has 654 yards and 12 touchdowns.
Clackamas is averaging 48.6 points per game. Holan credited much of the team's success to an offensive line that is led by senior tackles Kage Casey (6-6, 280) and Hayden Harlan (6-3, 275) and senior center Logan Chastain (6-1, 280).
"Those three guys are pretty unbelievable," he said. "They definitely make us go."
Senior Levi Jameson (6-0, 230) and sophomore Devin Brooks (6-4, 325) also have been key contributors on the line.
"I can't say enough about how well our offensive line is playing," Holan said. "We've had to move some guys around because of injuries, and they've responded. They're playing at a really high level."
Johnson-Gibson has six touchdown catches. Williams – who has offers from Oregon State, Nevada, Portland State and Eastern Washington – has five scores.
Junction City 'learning how to battle'
No. 6 Junction City took another step in its growth under second-year coach Max Wall with a 42-13 win at No. 9 Santiam Christian on Friday in a 3A Special District 2 North game.
The Tigers went 0-7 in 2018 and 1-7 in 2019 before dropping from 4A to 3A and hiring Wall, who coached teams to 11 league titles in 17 seasons at Monroe (1995-2009) and Central Linn (2011-12).
Wall, who hadn't coached since 2012, guided Junction City to a 5-1 record in the spring, the only blemish a 34-7 loss to 2019 state champion Santiam Christian. The Tigers got some payback against the Eagles (3-2) on Friday, building a 26-7 lead in the second quarter and coasting to the win to improve to 4-0.
"The kids, they took that pretty hard last year," Wall said of the loss to Santiam Christian. "We're learning how to battle. That's probably the biggest difference in the two games. That's the one thing I'm really proud of them about. The kids acted like a team."
Gabriel Ward, a 5-10, 180-pound senior running back, rushed for 261 yards and three touchdowns on 25 carries. He also scored a pair of two-point conversions and caught a 16-yard touchdown pass from senior Colby Evans.
Ward is having a monster season, rushing for 823 yards and nine touchdowns, averaging 9.8 yards per carry.
"He's the best running back I've ever coached," Wall said. "He's a slasher and he's got great vision. When it comes down to lowering your shoulder and needing a little power, he's not real big, but he's strong, and he breaks tackles. You better square up on him if you're going to bring him down because he's pretty special."
Evans, who suffered a dislocated ankle on the fourth play of the season opener against North Eugene, returned to the lineup Friday and completed 13 of 17 passes for 111 yards and two touchdowns.
"It's nice to have Colby back. It opens things up," Wall said.
Wall has expressed his desire for Junction City to return to 4A. He is encouraged by the program's turnout of about 60 players.
"My JVs are playing good competition," he said. "Are they ready for a diet of Marshfield and Marist? Not yet. But we've got to keep working toward that goal of getting the program back to where it needs to be."
St. Paul offense humming
No team is operating at a higher level on offense than 1A St. Paul.
The third-ranked Buckaroos (5-1) continued their torrid pace Thursday at No. 4 Waldport, smashing the previously unbeaten Irish 80-36 in an eight-man game. They scored touchdowns on all 11 of their possessions and racked up 622 total yards.
"We're getting really efficient play offensively," said St. Paul coach Tony Smith, whose team is averaging 56.5 points this season. "We're not super fast or super big, we're just executing really well. I know we're getting markedly better every week."
Vastly improved Waldport (4-1) was eager for the test against St. Paul, which beat the Irish 80-6 in their last meeting in 2019. But the Buckaroos were relentless, opening a 44-20 lead at half and pulling away as Waldport committed three second-half turnovers.
St. Paul rushed for 590 yards behind seniors Clancy Koch (nine carries, 237 yards, two touchdowns) and Bryce Williams (11 carries, 156 yards, two touchdowns). Senior quarterback Lance Tuck rushed for 82 yards and three scores and threw a touchdown pass.
The 5-10, 160-pound Koch is having a big season not only at running back, but also at linebacker. He moved from defensive back this season.
"That's his biggest growth," Smith said. "To have the cover skills he has, especially in eight-man, with the field so big, that's been a huge advantage for him."
The Buckaroos are finding their stride since a 50-40 loss at No. 2 Powder Valley in Week 3. It's part of their overall maturation since the spring, when they finished 4-1, losing only to Powder Valley.
"We were really young last spring," he said. "We graduated a bunch of kids, some that played for four years. We played pretty well, and we've really improved a bunch this year."
St. Paul was the 1A runner-up in 2018 and 2019, losing by six points to Dufur and Adrian/Jordan Valley, respectively. The Buckaroos are hopeful to make another run, but Smith said that No. 1 Adrian, which throttled Powder Valley 38-0 in Week 5, is an imposing force.
"I would have to see that Adrian-Powder film," Smith said. "Either they're the Alabama of 1A or there's something screwy. Powder has a ton of offensive weapons that can score anytime they touch the ball. To not give up a point to those guys, Adrian is scary good."
Other highlights from Week 6:
6A
Jack Layne completed 16 of 26 passes for 269 yards and one touchdown, a go-ahead 39-yard strike to Justius Lowe in the fourth quarter, as Lake Oswego won at Tualatin 35-26 in a battle of unbeatens. Gabe Olvera rushed for 100 yards and two touchdowns on 17 carries for the Lakers. … Sherwood's Bjorn Bergstrom threw four touchdown passes to Cody Hall and the Bowmen never punted in a 48-14 win over McMinnville. … Sandy racked up 491 yards – 344 rushing – to beat Gresham 48-35. Garrett Willenberg ran for 86 yards and three scores for the Pioneers. … Nelson freshman Avirey Durdahl passed for four touchdowns to lead a 28-7 win over Reynolds. … Mountain View held Aloha to 19 total yards in a 63-0 rout. Sayre Williamson ran for 222 yards and four touchdowns. … Joe Carson ran for three touchdowns as South Medford stopped Grants Pass 31-19. …
McNary edged South Salem 21-13 as Zane Archer rushed for 104 yards and one touchdown on 17 carries and Ben Allen returned an interception 25 yards for a score. … Roseburg improved to 6-0 for the first time since 2010 with a 38-20 win over North Medford. Colton Marsters rushed for 189 yards and three touchdowns and Logan Klopfenstein returned a kickoff 87 yards for a score. … Central Catholic dispatched Barlow 49-21 as Riley Williams caught five passes for 149 yards and four touchdowns. … Tyler Mahlman passed for 387 yards and five touchdowns as Century held off Glencoe 43-24, overshadowing Glencoe's Royce Fasel, who rushed for 280 yards and four scores. … Down 27-21, West Linn got a nine-yard touchdown pass from Nick Sakys to Gus Donnerberg and an extra point from Gage Hurych with 22 seconds left to overtake Lakeridge 28-27. Joey Olsen caught three passes for 162 yards and a touchdown for Lakeridge. …
Michael Rincon rushed for 192 yards and Lonnie Burt ran for three touchdowns as Jesuit dropped Beaverton 49-13. Tyree Blake had a touchdown catch and an interception return for a score for Jesuit. … Darrius Clemons returned a kickoff and punt for touchdowns and had a scoring catch in a 35-0 win over Southridge. Drew Bennett also had an interception-return touchdown for the Wildcats. … Liberty outlasted Newberg in a 50-49 thriller behind Hiro Diamond, who passed for 242 yards and four touchdowns and ran for 227 yards and three touchdowns on 25 carries. Trailing 49-42 on the final play, Diamond threw a touchdown pass to Mike Campos and ran in the go-ahead two-point conversion. … Tigard beat Oregon City 45-36 as Konner Grant ran for three touchdowns. ... Johnny Withers ran for two touchdowns in West Salem's 28-15 win over Summit.
5A
Gavin Knights rushed for 190 yards and two touchdowns for Thurston, which piled up 504 yards to turn back Churchill 42-32. Brycen Indell ran for two scores for Thurston. … Silverton's Jordan McCarty threw five touchdown passes – three to Vandon Fessler – and ran for two scores to lead a 47-7 win over Central. … Wilsonville led 47-0 at half on its way to beating Forest Grove 54-0. Jay Rummel-West had two rushing touchdowns. … Canby sophomore Tyler Konold rushed for 146 yards on eight carries as the Cougars blasted Hillsboro 42-6. … Hood River Valley's Ryles Buckley scored touchdowns on a run, catch and interception return to lead the Eagles past The Dalles 54-6. … Crater trailed Eagle Point 10-0 in the third quarter before rallying to win 17-10 in overtime. Caden Lasater rushed for 111 yards, including a six-yard score in overtime. The game ended on an Eagle Point fumble. …
Kyle Liscom rushed for 126 yards on nine carries and scored three touchdows for Pendleton, which blanked McDaniel 48-0. … Redmond pulled away from Putnam 36-20 behind Cody Crain, who rushed for 219 yards and two touchdowns on 30 carries. … Ridgeview's Eric Pendergrass ran for three touchdowns in a 30-0 win over Parkrose. … South Albany defeated Corvallis 33-21 by rushing for 327 yards. Tyler Seiber ran for 132 yards and three touchdowns and returned a kickoff 85 yards for a score for the RedHawks. … West Albany was behind 7-3 at half before turning back Lebanon 21-7. Juan Zaragoza-Perez kicked three field goals for the Bulldogs, who held the Warriors without a first down in the second half. … Dallas brushed off Crescent Valley 27-10 as Ashton Foster ran for three touchdowns. … Luke McNabb threw three touchdown passes – two to Johnny Clothier – and ran for three scores in Scappoose's 47-13 win over McKay.
4A
Henley handled Phoenix 49-6 as Tulson Higgins rushed for 107 yards and two touchdowns on seven carries. … La Grande ran away from Nyssa 55-16 as Brody MacMillan rushed for 161 yards and three touchdowns and Braden Carson caught two scoring passes from Logan Williams. … Molalla won 19-16 over Crook County, which got 250 passing yards and two scoring passes from Palmer Smith but had five turnovers. Molalla's Tucker Ward passed for 200 yards and two touchdowns. … Mazama's defense dominated North Valley in a 49-0 romp, holding the Knights to one total yard and collecting three interceptions and nine tackles for loss. Aidan Kindt scored on a punt return for the Vikings. … Cooper Gobel completed 11 of 13 passes for 264 yards and five touchdowns in Banks' 56-22 win over Amity. … Marshfield, ranked No. 1 in the OSAAtoday 4A coaches poll, rolled to a 43-16 win over Rainier, No. 1 in 3A. Dom Montiel completed 9 of 10 passes for 168 yards and five touchdowns for the Pirates. … Jacob Hage, Blake Lewis and Lance van Hoose each ran for more than 100 yards as Cascade defeated Marist Catholic 38-33. Lucas Tuski had three touchdown runs for the Spartans. … Estacada downed Madras 42-14 behind Jake Behrman, who ran for three touchdowns. … Seaside got a 37-yard field goal from Kaleb Bartel in the fourth quarter to overtake Milwaukie 16-14. … Hidden Valley's Daniel Iwazimu ran for four touchdowns to lead his team past Klamath Union 38-0.
3A
John Wolfe caught six passes for 128 yards and two touchdowns and returned a kickoff 95 yards for a score in Vale's 34-13 win over Baker. … Cascade Christian thumped St. Mary's 35-7 to extend its edge in the series to 21-1. Keith Reed threw three touchdown passes and ran for a score and Triston Wallace rushed for 110 yards for the Challengers. … Sisters edged Pleasant Hill 28-26 to give first-year coach Clayton Hall his first victory. … Siuslaw trailed La Pine 26-20 in the fourth quarter before pulling out a 34-26 win. Camp Lacouture rushed for three touchdowns, including a tiebreaking one-yard score with 1:04 left. .. Warrenton rushed for 408 yards in its 36-14 win over Corbett. Dylon Atwood had 15 carries for 175 yards and three touchdowns and Hordie Bodden Bodden had 12 carries for 157 yards and two scores. ... South Umpqua defeated Burns 42-12 as Kade Johnson caught four passes for 114 yards and three touchdowns, ran for a score and had an interception. Jace Johnson passed for 194 yards and three touchdowns and Justin Jenks ran for two scores.
2A
Monroe defeated Lowell 38-28 behind Brody Ballard, who ran for 166 yards and two touchdowns and threw for a score. Lowell's Austin Smith ran for 142 yards and one touchdown. … Blane Peal threw two touchdown passes, recovered a blocked punt in the end zone and ran for a score to spark Weston-McEwen's 41-8 win over Irrigon. … Grant Union downed Stanfield 26-21, stopping the Tigers at the 5-yard line to end the game. … Heppner extended its winning streak to 24 with a 61-0 win over Riverside. Landon Mitchell threw two touchdown passes and the Mustangs held Riverside to eight total yards and three first downs. … Baker Brooksby rushed for 188 yards and three touchdowns as Oakland blasted Creswell 41-7. ... Kennedy rolled over Regis 34-14, getting 102 rushing yards and two touchdowns from William Schaecher.
1A-8
Bonanza broke from a 22-22 halftime tie to defeat Crosspoint Christian 50-28. Tanner Mestas rushed for 230 yards and four touchdowns on 19 carries, ran in two two-point conversions and had an interception for Bonanza. … Lost River raced to a 32-0 lead after one quarter and handled Chiloquin 51-0. Chase McAuliffe threw two touchdown passes and Cody Lyman ran for 88 yards for Lost River. … Ione/Arlington trailed 18-0 in the first quarter but came back to beat Sherman 30-26. Carson Eynetich threw two touchdown passes and ran for a score and Taylor Rollins rushed for 116 yards and one touchdown for Ione/Arlington. … Dufur outlasted Pilot Rock 46-44 despite the performance of the Rockets' Austin Ford, who caught seven passes for 190 yards and three touchdowns and returned a punt 90 yards for a score. … River Wolfe rushed for 132 yards and two touchdowns and caught a scoring pass to lift Camas Valley over Mohawk 34-20. … Enterprise took care of Elgin 55-26 as Gideon Gray rushed for 134 yards and three touchdowns and caught a scoring pass. .. Gold Beach defeated Brookings-Harbor 36-34 in overtime, stopping a potential two-point conversion to win. Trenton Storns had four catches for 111 yards and one touchdown, ran for a score and passed for a touchdown for Gold Beach.
1A-6
Mason Murdock had three sacks and two fumble recoveries to help Echo defeat South Wasco County 32-29. Dom Curiel ran for two touchdowns – including the go-ahead 52-yard score in the final minute – and caught a pass for a score. … Yoncalla's Noah Leary returned interceptions 39 and 70 yards for touchdowns, caught a 77-yard touchdown pass and ran for a 20-yard score to lead a 52-0 win over Gilchrist. … Christian Halstead had two interceptions, returning one for a score, and caught a touchdown pass as Elkton smothered Prospect/Butte Falls 25-0. … North Douglas dispatched Riddle 47-18 behind Ray Gerrard, who rushed for 112 yards and two touchdowns on three carries and had seven tackles for loss. Paul Rayon-Wilder ran for 216 yards and two touchdowns and returned a kickoff 73 yards for a score for North Douglas.