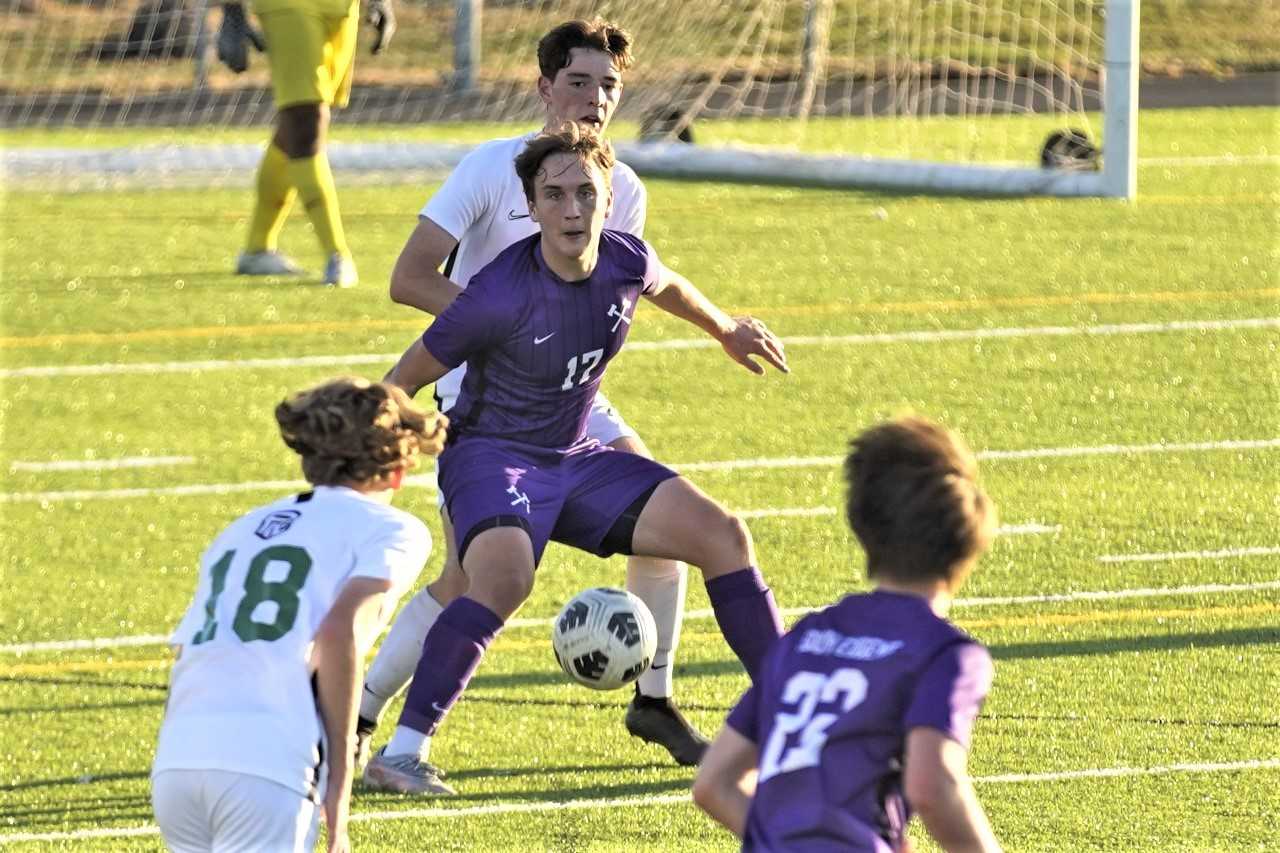 It's no surprise that South Eugene's boys soccer team once again is leading the 6A Southwest Conference, where the Axe are 61-5-6 with five championships since 2014.
But if it wasn't for the unusual approach the team took to the shortened spring season, coach Pete Peterson isn't so sure that the Axe (8-2, 5-1), who have outscored opponents 43-7, would be this far along.
Unable to travel outside of their area in the spring due to COVID-19 restrictions, and facing few challenges on their schedule, the Axe opted to play most of their matches down one or two players. It created the kind of resistance that was critical for the development of the players and the team as a whole, according to Peterson.
"We began to build this quality squad based on some of that experience," Peterson said. "Rather than letting the level of opponents dictate that experience, we wanted to take that into our own hands.
"I tip my hat to the boys. There aren't many teenagers that are going to jump at that option when presented to them. They would rather just run up the score and have fun."
South Eugene went 7-2 in the spring. The Axe were at full strength when they lost to Willamette 3-2 and Corvallis 4-2, defeats that helped keep them grounded.
"They were humbling experiences," Peterson said. "It proved to us that we're not invincible, which is very important."
South Eugene lost six seniors from the spring, including four starters, but has a veteran foundation with 12 seniors this season. Among the seniors are key third-year starters in forward Griffin Rae, center midfielder Whit Schatz and center back Owen Whitney.
Rae, who has eight goals, is "the tip of our spear," according to Peterson.
"He holds the ball up well, and he's just a clinical finisher," Peterson said. "He's someone that can tow the whole team with him, and get the goals for us when the service is there for him."
Peterson said that Schatz is "the conductor of the symphony" and Whitney is "the backbone and the brains" of the team. Juniors Charlie Lacey (10 goals, six assists), Zac Walker and Elijah Malama (six assists) also have helped fuel the attack for the Axe, who are No. 7 in the OSAAtoday 6A coaches poll.
"I like to play soccer with style, and this team can play that way," Peterson said. "They will play with grit, they will be competitive, but they also play a very entertaining game."
South Eugene lost at No. 3 Lincoln 2-1 in the season opener on a second-half penalty kick and fell 1-0 at North Medford in a conference game Sept. 29, giving up a goal six minutes into the second half. The team's best win was a 3-1 decision over visiting Cleveland on Sept. 14 in which Walker scored twice.
The Axe play at second-place Grants Pass (5-3-2, 4-2-1) on Saturday before getting another shot at North Medford (4-4-2, 2-2-2) at home on Oct. 19.
"My guys, their jaws are clenched. They're waiting for a rematch," Peterson said of facing the Black Tornado.
South Eugene was scheduled to play No. 1 Summit (9-0-1) at home Sept. 2, but after the Storm made the trip, the game was called off due to poor air quality minutes before the start.
The Axe searched to fill the open date with a challenging opponent and found one in Wilsonville (4-3-2), which will play host to a nonleague match in the regular-season finale Oct. 26. The Wildcats are No. 3 in the OSAAtoday 5A coaches poll.
"Getting this game against Wilsonville will be a tune-up and a wake-up call," Peterson said. "It will give us some data. Have we slowed down over the course of league play? Are we humble enough? Are we hungry enough?"
South Eugene has appeared in five finals but none since 2002, when the Axe tied Sheldon for their second title. They reached the 6A semifinals in 2017 and quarterfinals in 2018 before falling in the second round in 2019.
Peterson, a 1982 South Eugene graduate who is in his third season as the team's coach, believes the Axe have the pieces to make a playoff run.
"This is a talented team, and they could do something quite special this year," Peterson said. "These guys are making a claim that they're among the best."