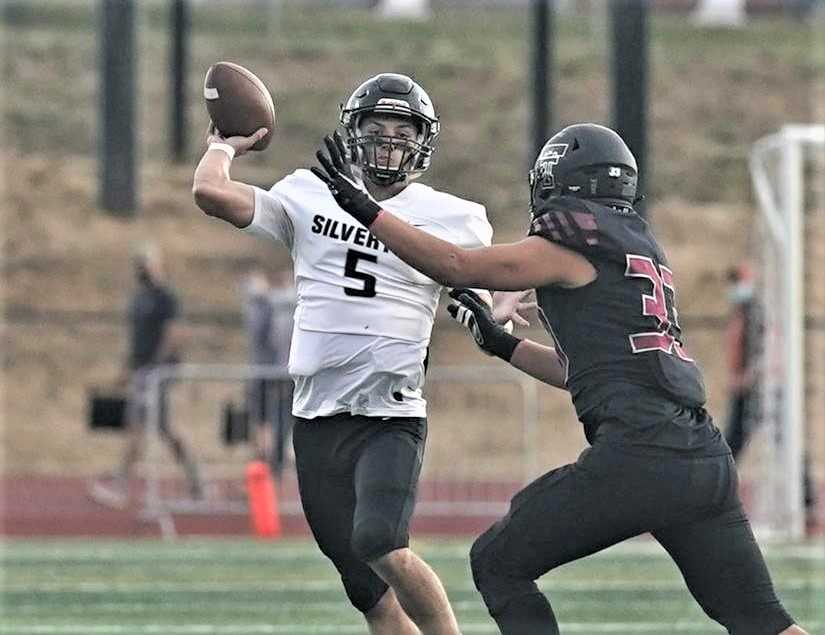 Silverton and West Albany aren't exactly natural rivals in football.
The schools are separated by 40 miles. And they didn't even meet until becoming members of the same league – the 5A Mid-Willamette Conference – when the OSAA divided into six classifications in 2006.
But the teams always seem to be in each other's way in recent seasons. And Friday night, when the third-ranked Foxes (6-1, 5-0) and fourth-ranked Bulldogs (7-0, 5-0) meet at Silverton, first place once again will be on the line.
The high stakes are typical. In their last four conference meetings – the two seasons (2012, 2013) before West Albany left for the 6A and the two seasons (2018, 2019) after it returned to 5A – the game had a bearing on the Mid-Willamette title. In three of those years, the teams also met in the 5A playoffs.
"They left for 6A, and now they're back, and we're back on track," Silverton coach Josh Craig said. "It's kind of like they never left, in a way. There's definitely a mutual respect. We like to play them. It's a good challenge. We love it. We like the opportunity to beat those guys, and I think they probably should feel the same about us."
The games have been hotly contested. In 2018, when the teams shared the Mid-Willamette title, Silverton won 17-14 in a conference game and West Albany prevailed 20-16 in the state quarterfinals. In 2019, the teams were unbeaten in the conference when West Albany won 28-21 in the regular-season finale.
"It's just how it all shook out the last few years," West Albany coach Brian Mehl said. "We had good ballclubs, and so did they. The games are always close. It's a lot of fun to be out there on the field coaching against those guys, because they're good at what they do. I feel like every year we play them a bunch of times."
The teams did not meet in the spring season, however, due to Silverton having COVID issues.
Silverton's only loss this season came against 6A No. 3 Tualatin (6-1), a respectable 35-28 defeat on the road. The Foxes have been dominant in the Mid-Willamette, outscoring their opponents by an average of 37-6.
"For them to play competitively against Tualatin, it speaks to where they're at," Mehl said.
Silverton senior quarterback Jordan McCarty has completed 57.2 percent of his passes for 1,892 yards and 15 touchdowns with six interceptions. He has run for 501 yards and nine scores.
McCarty has the conference's two leading receivers in seniors Vandon Fessler and Austin Ratliff. The 5-foot-11 Fessler has 53 catches for 946 yards and six touchdowns. The 6-2 Ratliff has 27 catches for 657 yards and six scores.
"It helps that they've been on varsity all together for three years," Craig said. "They're a very complementary passing game. You've got Austin, who's very big, physical, tall, fast, can kind of bust a big play open. You've got Van, who just runs some phenomenal routes and is always in the right spot. It's a thunder-and-lightning sort of thing."
Mehl said defending the Foxes will be his team's "greatest challenge of the year."
"They always seem to have a good quarterback, and usually one receiver, and this year they have two receivers that are really talented," Mehl said. "They're really good at stretching you down the field."
West Albany also has a dual-threat quarterback in senior Michael Cale, who has passed for 10 touchdowns and run for eight scores. Junior DeMarcus Houston has four touchdown catches.
Freshman running back Tyler Hart-McNally was called up to varsity in Week 3 and has become a weapon for the Bulldogs. In last week's 29-13 win over South Albany, Hart-McNally rushed for 96 yards on three carries – including a 62-yard touchdown – and caught three passes for 24 y ards.
Craig is wary of West Albany's running attack.
"They do a really good job of hitting the edge," Craig said. "The fly sweeps, they like to outman you, get numbers to the edge and just try to get around."
The Bulldogs, who are averaging a modest 24.6 points per game, are winning behind a defense that is limiting opponents to 13.4 points.
"Defense puts us in position to win those games," Mehl said. "When we really got to have it, they get it done."
Craig said the Bulldogs might bend but they don't break.
"They don't give up a lot of big plays and they don't let you typically finish a drive," Craig said. "They might give you a first down or two, and get to midfield, but they have a knack for getting you behind the sticks. They're just real disciplined."
The winner will clinch at least a share of the conference title. In the final week, West Albany plays host to Corvallis (3-4, 2-3) and Silverton is home to face Lebanon (3-4, 3-2).
Other top games in Week 8:
Thursday
Sandy (6-1, 5-1) at 6A No. 5 Clackamas (8-0, 6-0), 7 p.m.: Clackamas has been on a collision course to meet Central Catholic for the Mt. Hood Conference title in the final week, but the Cavaliers first must get past the Pioneers, who are averaging 47.0 points in their last three games.
6A No. 4 West Linn (6-1, 2-1) at 6A No. 1 Lake Oswego (7-0, 3-0), 7 p.m.: Much is on the line in the classic Three Rivers League rivalry game. The Lakers need to win to stay on track for the outright league title. If the Lions prevail, they could pull into a three-way tie for first place with Lake Oswego and Tualatin (6-1, 2-1). West Linn won 42-7 in the spring.
Friday
6A No. 10 Sheldon (6-1, 2-0) at 6A No. 8 Roseburg (7-0, 3-0), 7 p.m.: The Irish and Indians battle for first place in the Southwest Conference. Sheldon won the conference in 2018 and 2019. Roseburg's last conference title came in 2005, when it shared the Southern Oregon crown with North Medford. The Indians last outright conference championship was in 2001.
5A No. 6 Pendleton (7-1, 5-0) at 5A No. 10 Ridgeview (7-1, 4-1), 7 p.m.: Pendleton is in position to win the Northwest Oregon Conference East division outright by finishing the season with wins over the Ravens and Parkrose (1-7, 1-4). If Ridgeview wins, though, it could create a three-way tie for first place with Pendleton and Hood River Valley (6-1, 4-1).
3A No. 9 Dayton (6-1, 3-0) at Philomath (5-2, 2-1) 7 p.m.: Dayton, which did not play the last two weeks because of forfeits by opponents, needs to win to set up a showdown next week at rival Amity (4-3, 3-0) for the title in the Special District 1 West division.
3A No. 3 South Umpqua (7-0, 2-0) at 3A No. 4 Cascade Christian (3-2, 1-0), 7 p.m.: It's the ultimate test for unbeaten South Umpqua. Since moving from 4A to the 3A Far West League in 2018, the Lancers have been no match for the Challengers, losing all three meetings by a combined score of 149-0.
Saturday
Summit (5-2) at 5A No. 8 Crater (5-2), 1 p.m.: The nonleague game matches Summit, the second-place team in the 6A Mountain Valley Conference, against Crater, the second-place team in the 5A Midwestern League. The Comets are coming off a tough 9-0 loss at unbeaten Thurston.
2A No. 3 Lakeview (6-1, 4-0) at Glide (4-2, 2-1), 1 p.m.: The visiting Honkers need a win over Glide to maintain their hold on first place in Special District 4. Lakeview hasn't finished the season with a winning record since going 6-4 in 2013. The Honkers won at Glide 27-18 in the spring finale.