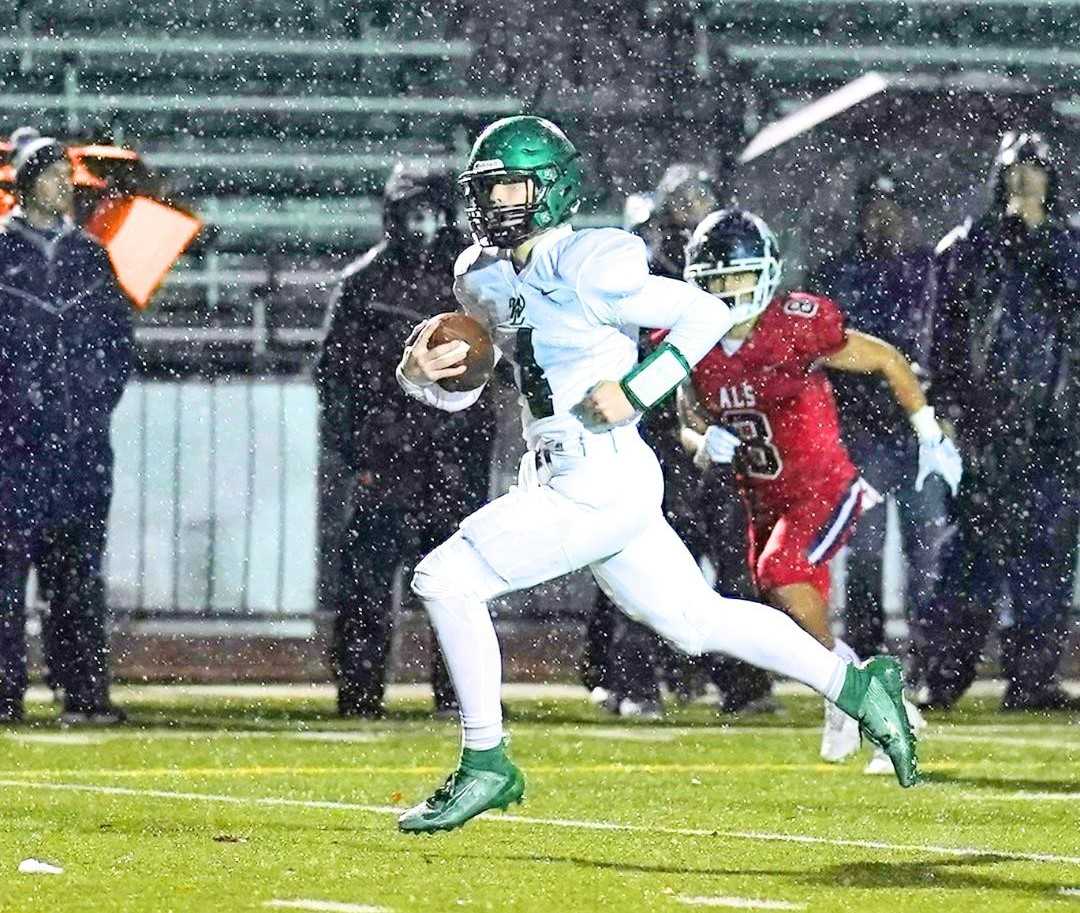 LAKE OSWEGO – Anyone that jumped off the West Linn football bandwagon a few weeks ago might want to get another ticket.
The fourth-ranked Lions reintroduced themselves as serious 6A championship contenders – and kept alive their hopes for a Three Rivers League title – with a business-like 31-14 win at top-ranked and previously undefeated Lake Oswego on a rainy Thursday night.
It was a much different type of performance by West Linn than three weeks ago, when a 49-14 home loss to No. 3 Tualatin forced the Lions to take a long look in the mirror.
"This is everything," West Linn junior receiver and defensive back Mark Hamper said. "You get your butt kicked 49-14, it's quite a confidence loss. But we've been waiting for this one to show that we're that top team in the state."
The Lions (7-1, 3-1) have won three in a row since that defeat to pull into a first-place tie with Lake Oswego (7-1, 3-1) and Tualatin (7-1, 3-1) heading into the final week. West Linn senior quarterback and linebacker Earl Ingle said that the Lions "learned that we needed to work" after the defeat.
"I think we were a little bit on our high horse, thinking that we were No. 1, that we were the best," Ingle said. "And we had a gut-check. I think we definitely reacted the right way. It's definitely a great way to bounce off that loss. I think we can definitely be a successful playoff team. It's going to be fun."
Lake Oswego could have clinched at least a share of the league title with a win, but after the teams finished the first half tied 14-14, West Linn dominated the second half.
"They did a great job," Lakers coach Steve Coury conceded. "They had a great plan, they executed it. They're a great football team. I knew that coming in. The league is tough. We'll learn a lot from it and we'll get better from it."
The Lions, known for their sophisticated passing game in the tenure of coach Chris Miller, ran the ball on 30 of their 40 plays. The offense clicked with Ingle, who made his first start at quarterback after playing the season behind senior Chase Harmon and sophomore Nick Sakys.
West Linn's offensive line dominated the Lakers, rushing for 222 of the team's 323 total yards. Senior Jaxon Steinhauer rushed for a team-high 110 yards and one touchdown on 13 carries.
"Our run game was outstanding," sophomore receiver Wiley Donnerberg said. "Our O-line blocked their butts off."
Hamper, who entered the game leading the league in receptions (49) and receiving yards (648), lined up in the backfield and rushed for 48 yards on nine carries. He caught one pass for minus-1 yard.
Hamper said that having Ingle at quarterback gives West Linn's rushing attack a "huge boost." Ingle rushed for 40 yards on five carries, including an 18-yard touchdown in the first quarter, and completed 5 of 10 passes for 101 yards and one score, a 26-yard strike to Donnerberg in the second quarter.
"That kid is a monster," Hamper said of Ingle. "I feel like Earl's the one. No shame toward Harmon. Harmon got it done, Sakys got it done. But Earl's just a true winner, a true football player. He can get it done in any way."
Steinhauer also raved over Ingle.
"I love Earl back there," Steinhauer said. "I love his confidence and the presence he brings to the team."
The 6-foot-1, 197-pound Ingle, a standout on defense, is enjoying his new role on offense.
"I'm feeling a little bit more confident every snap," Ingle said. "At the start of the game, I was a little bit nervous, but I definitely settled down back there.
"It's a lot of fun. I've been behind Nick and Chase, and I've been envious of them. But they did a great job back there, and I was happy that I got my opportunity to be back there, to be behind a great line and some great guys."
West Linn scored on all three of its second-half possessions.
The Lions drove 74 yards to take a 17-14 lead on a 21-yard field goal by sophomore Gage Hurych. They made it 24-14 early in the fourth quarter on a 12-yard run by Hamper.
After Hamper made an interception (his fifth of the season) at the Lake Oswego 6-yard line and returned it 56 yards, Steinhauer ran for a 19-yard touchdown to give the Lions a 31-14 lead with 3:21 left.
Lake Oswego drove into West Linn territory on all four of its possessions in the second half but came up empty.
"I just think we weren't playing at the highest level we can play at," Lakers senior receiver Justius Lowe said. "We weren't executing our game plan. We beat ourselves."
Lake Oswego senior quarterback Jack Layne threw touchdown passes of 25 yards to Lowe and 53 yards to senior Gabe Olvera for a 14-7 lead in the first half, but the Lakers were held in check the rest of the way.
Layne, who came into the game leading the league in passing yards (1,945) and touchdown passes (21), finished 11 of 21 for 173 yards and the two scores with one interception. The Lakers finished with 338 total yards, getting 114 rushing yards on 21 carries from Olvera.
The night was a major disappointment for Lake Oswego, which remembered losing to the Lions 42-7 in the spring.
"They smacked us down last season, so we were hoping to do the same thing," Lowe said. "We knew it was going to be a dogfight. They came out on top. Props to them."
To claim at least a share of the league title, Lake Oswego almost certainly will need to win at No. 6 Lakeridge (6-2, 2-2) in the Battle for the Lake rivalry game next week.
"We'll be back. We're all right," Coury said.
West Linn finishes its regular season with a home game against Oregon City (2-6, 0-4) in the Battle for the Bridge. The Lions will be carrying plenty of momentum into the rivalry game.
"Our confidence right now is through the roof," Steinhauer said. "Beating the No. 1 team in the state, couldn't be happier."
Added Donnerberg: "That Tualatin game crushed us a bit, but to come out here with a big win, it gives us some hope."