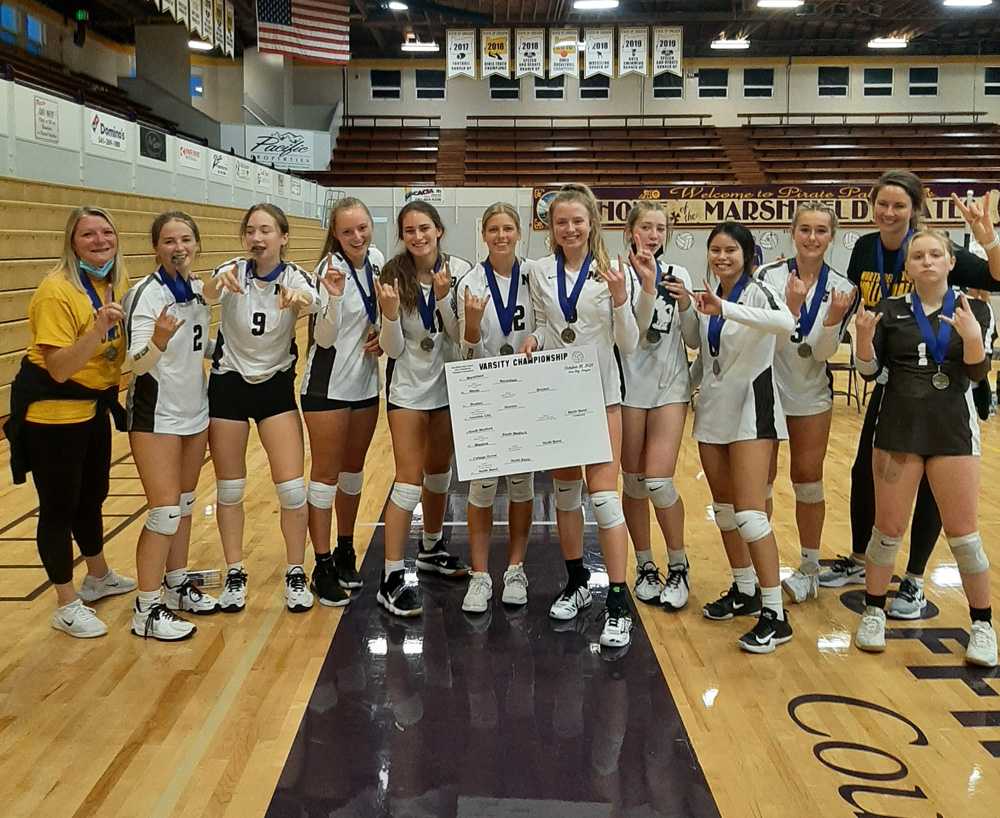 This is our fifth volleyball notebook of the fall 2021 season. We are always at your service.
Lions feast on Crusaders
On Oct. 16, for the second Saturday in a row, West Linn found itself matched up with two-time reigning 6A champion Jesuit in a pivotal tournament match. For the second straight time, the Lions prevailed, this time in straight sets to capture the West Linn Tournament.
Rayna Reynolds had six kills in seven swings, including the clincher on a slide attack; to spark West Linn, which also won its own event in 2019, the last time it was contested. Emily Warmenhoven and Addie Hoover combined for 17 additional kills.
West Linn previously defeated Jesuit in three sets in the semifinals at the Bend Clearwater Classic on Oct. 9 before losing in the championship match to Idaho's top team, Skyview of Nampa.
"Our goal with the West Linn Tournament was to start where we left off in Bend and continue to climb as a team," noted head coach Emilie Wilmes, who added that staying focused from the first point of a match to the last was a point of emphasis all day Saturday.
West Linn faced Sheldon and its talented junior setter, Beaux Bruegman, in the first round of bracket play and defended its fast offense well. Olivia Doel had four aces and eight digs in the sweep for the Lions. West Linn then swept South Salem to get to Jesuit.
"Getting to play Jesuit a second weekend in a row was exciting for the girls," Wilmes said. "Mentally they were prepared and were ready to get to work."
West Linn also won the event in 2019, the last time it was contested.
This year's title helped West Linn secure the top overall seed in the 6A playoffs.
"They were all ecstatic when we moved up [in the rankings]," Wilmes said about her team. "It's made them more determined in practices to hold the expectations of a top team in State."
West Linn is 23-2 overall, its only losses coming against Skyview and West Albany, 5A's top team. The Lions last won state in 2007.
North Bend doesn't break
North Bend is the No. 2 seed in 5A after winning the Marshfield Tournament on Oct. 16. The Bulldogs (20-1) were forced to three sets in each of their bracket play matches but proved resilient in victory.
North Bend head coach Summer Sawyer was particularly thrilled to see her squad get by 6A South Medford, as South Medford won the spring match between the teams in four sets. North Band had previously swept Siuslaw, the team it met in the championship match.
"It was a great day of volleyball and we really played as a solid unit," Sawyer said.
Sawyer recognized the terrific play of setter Olivia Knutson, middles Mya Massey and Bridget Gould, outsides Bria Hood and Payton Marshall and libero Sydney Wilson.
"My setter did a great job of spreading the offense and speeding up our attacks," she said. "Both middles did a great job of mixing up their shots and finding the setter to put teams out of system. Bria (OH) struggled early with getting blocked, so she found creative ways to put the ball down and score points. Payton (OH) played aggressive at the net and also played solid defense in middle back and served tough, accumulating several aces at clutch moments. Sydney anchored the defense with awesome serve receive and some incredible saves, making it hard for the [opponents'] offense to find the floor."
Undefeateds?
In our last notebook, we mentioned that 4A Mazama and 2A Gaston remained unbeaten according to how OSAA records results (Mazama lost to Bend in pool play at the Rogue Valley Classic in mid-September, but OSAA doesn't count pool play matches because they are played only to two sets).
Since then, both teams have now lost officially. There are no undefeated teams remaining in Oregon heading into the playoffs.
Mazama fell to South Medford at the Marshfield Tournament. The Vikings will go into the 4A playoffs as the No. 4 overall seed.
Gaston lost to Vernonia, a team it had twice defeated in five sets, in the Northwest League championship match on Saturday. The Greyhounds struggled both to serve and pass the ball and paid the price in the four-set loss. Gaston will be the No. 2 seed in the 2A playoffs, which open Saturday.
Saints march into playoffs as No. 1 seed in 1A
North Clackamas Christian has been to the OSAA playoffs in 1A every year since 2013 but hasn't advanced past the second round. The Saints (24-3) should improve on that in 2021 as the top seed in 1A.
"For us, the No. 1 seed is an honor, but we have played some great teams like Damascus and North Douglas and we know that we will have to be at our best to keep winning," noted head coach Grant Nelson.
Nelson said that NCC has battled injuries all season long, but that those injuries have made the team better.
"One of our best played matches of the year was in the middle of the season against undefeated 2A Gaston," he explained. "We played that match without Ashlyn Watt, who was a First Team All-League and First Team All-Defensive player and the team stepped up and took Gaston to a fifth set. Those times have helped us believe we are an excellent team and we don't just rely on a couple of girls to carry us."
North Clackamas won't learn the identity of its Oct. 30 playoff opponent until the first round is complete tonight, but knows it stands just one win from reaching the elusive quarterfinals.
"None of our coaches or players believes we have reached our potential yet, so if we can continue to work hard every day to get a little bit better we will certainly have a chance against any team we face the rest of the season," Nelson said.
(Under) Dogs overcome challenges to win Corbett Tournament
3A Willamina traveled to the Corbett Tournament Saturday before last with only eight varsity players and came away victorious in an eight-team field that included OSAA 4A schools and Class 1A Washington teams.
The Bulldogs fell to the 4A host school in pool play, but rebounded in bracket play by upsetting 4A Molalla in the semifinals. Senior RS Madi Diehl had a huge match with seven kills, four aces, 10 digs and four blocks.
Willamina then faced White Salmon of Washington, a state-ranked Class 1A school, and swept to the title. Junior OH Hallee Hughes had eight kills and senior setter Grace France contributed 11 assists and seven digs in the win.
Hughes and Diehl combined for 64 kills for the tournament. France led the Bulldogs in assists and digs for the day.
Willamina is seeded seventh in the 3A playoffs, which begin on Saturday.
Candy corn…love it or hate it?
In honor of Halloween, we asked high school volleyball coaches what seems to be on everyone's mind these days: How do you feel about candy corn?
We created a survey with the following four choices and asked coaches to pick one:
Love it! It has the right amount of sweetness and good texture and it keeps forever
Hate it! What a waste of calories! Where's the chocolate?
Love it! I can eat it in segments and it never disappoints
Hate it! It's so bland. What's the point?
So, did coaches love candy corn or hate it? You'll find the results of our survey at the end of this notebook.
Turnaround updates
In our Sept. 15 notebook, we identified seven schools, David Douglas, Redmond, North Salem, Stanfield, Myrtle Point, Crosshill Christian and Glenwood / Klickitat, that got off to strong starts after terrible spring seasons. A collective 8-66 during the spring, the same seven teams finished a combined 78-63 during the regular season this fall.
Stanfield, 2-8 during the Covid season, is now 19-4 after yesterday's district championship loss to Grant Union, a team it twice defeated previously. The Tigers, along with 5A Redmond and 6A David Douglas, made the OSAA playoffs.
Unsung heroes
In this section, we recognize those players, nominated by their coaches, who have been "unsung heroes" on their teams this fall.
Mackenzie Agnew, 5-7 Sr. S, North Marion -- Agnew has been team captain for the Huskies for the past two seasons and was nominated by head coach Lindy Wing because of her leadership on and off the court and because setters never get enough recognition. Agnew leads North Marion in assists, has been a steady defender and plus server. "Mackenzie plays a huge role on the team," Wing said.
Summer Artman, 5-11 Jr. MB, Clackamas – Artman is a workhorse and the backbone of Clackamas' defensive game at the net. "Her constant pressure on the biggest hitters in the state is a huge contribution to the Clackamas team both by getting key points with stuff blocks, and creating offensive opportunities by slowing down the big hammers from very talented opposing hitters," said coach Nathan Blankenship.
Lauren Bernt, 5-8 Soph. OH, West Albany – A first-year varsity player, Bernt has spent more time on the sidelines than on the court, due to a senior-loaded roster that is No. 1 in 5A. "Her value this year has come from her leadership and support of her teammates from the bench," coach Megan Wallace said. "In my opinion, we have one of the best benches in the state and that is hugely attributed to her enthusiasm and 'all in' mentality!! She is a 'we before me' kind of athlete and, without her, I don't know if we would have the same kind of energy that we do."
Paige Candee, 5-7 Sr. DS, Silverton – A starter as a sophomore, Candee tore her ACL the first day of tryouts her junior year, which came this past spring. Told she probably would not be able to compete as a senior in the fall, she still came to all program events and helped run Silverton's Kids Camp. Candee did extra work to get back on the court sooner rather than later and, last month, was fully released to play. Now she's back in the lineup and contributing to one of the best 5A teams in the state. "Even when she couldn't play, she still had the Fox spirit of Silverton Volleyball!" exclaimed coach Kate Trimble.
Shannon Milter, 5-5 Jr. DS/OH, Canby – Canby coach TJ Schlatter said that Milter hasn't played as much as she'd hoped, but that she's been ready and willing to contribute at all times. "When our starting middle was out sick, I asked Shannon to step in and play middle for us," Schlatter explained. "Against the number one team in our league no less! This is a position she has never ever played before. She did not bat an eye, and her response was, 'OK, let's do this!' Many times athletes will back away from the unknown, but Shannon embraced it with energy and effort and did a spectacular job! This is the sign of a very good teammate, being ready and willing to play any position for the good of the team and doing it with a good heart. Since that time, Shannon has gained more and more confidence and has been playing great as a defensive specialist for us."
Natalie Reveles, 5-5 Jr. DS, Bend – Reveles is not a star for the standout Bend team, but coach Kristin Cooper noted that when she comes in, she makes a difference on the court. She finished the regular season with 25 aces and has served a ton of big points for the Lava Bears. She also passed a 2.24 during league play and once passed a perfect set!
Ana Rose, 5-9 Soph. MB, Horizon Christian (Tualatin) – Rose has missed the season with a severe ankle injury, but she has still been integral to the Hawks' success. "Her presence on the sideline has been inspirational," noted coach Jay Lazaro. "She's at every game, both JV and Varsity, cheering on the teams. She is the loudest at the bench and a master in encouraging others. We are blessed to call her teammate."
Noelle Thickett, 5-7 Soph. RS, St. Mary's School (Medford) – Thickett has played multiple positions this year – setter, middle, outside, right side and DS – including several positions in the same match. "She is a very versatile player who has shown immense growth both physically and mentally," noted head coach Katie Miller.
Chloe Wallace, 5-6 Sr. DS, West Albany – A quiet force on a star-laden team, Wallace is consistent and solid. She's been especially effective behind the service line, with only two errors in 150 attempts. "She gets in there and gets the job done," said Bulldog head coach Megan Wallace.
Adessa Woods, 5-9 Jr. S/RS, Junction City – A six-rotation talent for the Tigers, Woods has great hands and is a good blocker. "She does the little things that keep us in games, with her attitude and effort," noted coach Gary Meininger. "She is a positive force for the team!"
Portsiders!
This week, we asked our coaches on our email list, "Who are the top left-handed hitters in Oregon this season?" Here's what we have come up with:
Abigail Brown, 6-2 Jr. RS, Philomath – Brown is the Warriors' BIG blocker and routinely shuts down opposing offenses. She also is very smart and really connects hitting the sharp angle.
Abby Francis, 5-10 Sr. RS, Bend – Francis finished the league season with 76 kills while hitting .272. "Abby is an awesome down the line hitter," noted head coach Kristin Cooper. "She can mix things up and really is an important part of our offense from the right side."
Bridget Gould, 5-10 Soph. MB, North Bend – Gould leads the Bulldogs in kills with 219 and is hitting .355 in conference play. She also is the team's top server, with 47 aces, and has 33 blocks. "She is only a sophomore but plays with such intensity and dominates at the net," noted head coach Summer Sawyer.
Jayden Sahlin, 6-0 Sr. MB, North Marion – Sahlin is a team captain and is pivotal at the net as both an attacker and blocker. She has 150 kills, 99 digs and 17 blocks on the year and is serving at 92 percent. Sahlin is quick on her feet and reads the ball nicely, said coach Lindy Wing.
Other great lefty hitters out there? High school varsity coaches only may submit by emailing [email protected], putting "Freshman" in the subject line and furnishing the information in the form above.
Mighty Mites!
In this space, we recognize Oregon "Mighty Mites," those six-rotation or front row varsity starters who stand 5-6 or shorter. Here are the players we've uncovered so far (a * indicates a new addition this time around):
Sandee Adriano, 5-1 Sr. OH – A four-year letter winner and Seaside's lone senior this season, Adriano is outstanding in all phases on the floor and has grown into her leadership role as well.
Jazell Allen, 5-4 Sr. OH, Milwaukie – Allen jumps well, which helps her attack despite being undersized. Her defense is excellent.
Natalie Baker, 5-6 Fr. MB, Clatskanie – Baker plays six rotations for the Tiger. Last week, she had 28 kills, 32 digs, four solo blocks and seven assisted blocks. She plays much bigger than her height and is a player Clatskanie leans on heavily to get the job done.
*Kiera Butori, 5-6 Sr. OH, Jewell – Butori leads Jewell in aces, digs, kill percentage, serve percentage and serve-receive percentage. "She dominates back row defense and knows where to place her attacks at the net," coach Jessica Miller said.
Aryn Felder, 5-5 Sr. MB, Hillsboro – Felder has played middle all four years of her career. She is almost always the smallest player at the position but is a leading hitter for Hilhi and averages 2.5 solo blocks per match.
Lexi Fern, 5-3 Soph. S, Gaston – A six-rotation setter, Fern is a main reason the Greyhounds remain undefeated with just a couple of weeks remaining in the regular season.
*Gracelyn France, 5-4 Sr. S/DS/MB, Willamina – A four-year starter, France excels whatever her position on the floor. She sets and attacks from the middle while in the front row and was a standout DS when an injured hand prevented her from playing all six rotations. Despite standing only 5-4, she is an effective blocker, a sound setter and an instinctual player.
Taylor Haltiner, 5-4 Sr. OH, Tillamook – Tillamook head coach LaVonne Rawe called Haltiner "a firecracker." "She isn't that tall, so her compromise is wit and coachability," Rawe added. "She reads well and has a rocket float serve."
Cienna Hartle, 5-6 Sr. MB, Junction City – Hartle leads the Tigers in blocking while routinely matched up against players four inches or taller.
Ellie McDonald, 5-6 Soph. RS, Horizon Christian (Tualatin) – A great athlete whose twin sister is a setter/hitter, McDonald plays like she's the tallest person in the gym. She jumps well and is an asset on the right and behind the service line.
Tehya Militante, 5-4 Jr. OH, Century – A double-double machine, reaching 10 or more kills and digs every match it seems, Militante's vertical jump and high volleyball IQ make her a capable attacker despite her smaller stature.
Mikayla Moore, 5-6 Jr. OH, Rogue River – The most impactful player on her team, Moore is a hustler who typically paces the Chieftains in kills, digs and even aces.
Skylar Rissel, 5-5 1/2 Sr. OH, Hillsboro – A six-rotation outside, Rissel is second on the Spartans in kills and averages more than one block per game on the outside. She has incredible court IQ and is a team player.
Lainey Stranberg, 5-4 Sr. OH, St. Mary's (Medford) – Stranberg is second on the Crusaders in kills this year, with 120 as of Oct. 11. "She works hard to find openings through and/or around the block," noted head coach Katie Miller.
Emma Wagner, 5-6 Sr. MB, Sherwood – Wagner plays with the presence of a six footer. According to her coach, she "owns the middle blocker position with such skill and confidence every time she steps on a court."
Hope Witham, 5-5 Sr. OH, Crosshill Christian – The foundation of the Crosshill Christian program, opponents game plan to try to stop Witham. Good luck with that! The senior is hitting .340 in league play, is an outstanding passer and tops the squad with 39 aces. "She jumps out of the gym," said head coach Julie Bennett. "We are lucky to have her!"
Fantabulous Freshmen!
In this space, we recognize Oregon high school freshmen who are making or made major contributions to their varsity teams this fall.
Natalie Baker, 5-6 MB, Clatskanie – Baker plays six rotations for the Tiger. Last week, she had 28 kills, 32 digs, four solo blocks and seven assisted blocks. She plays much bigger than her height and is a player Clatskanie leans on heavily to get the job done.
Mylee Blake, 6-0 OH, Siuslaw – A sniper on the court who is a kill leader for the Vikings every match, Blake also is a positive and encouraging player and emerging leader with an innate knowledge of the sport.
Moe Bondo, 5-7 S, Milwaukie – Has a great understanding of the game.
Jackie Carle, 5-5 S, Jesuit – Quick, athletic and confident, Carle is averaging almost 11 assists per set when she's running the offense for the undefeated Crusaders.
Giana Elgarico, 5-10 OH, Marist Catholic – A six-rotation talent, Elgarico is the Spartans' go-to hitter when a kill must be had. She leads the team in kills and also is the best passer in serve-receive.
Saralynn Grove, 5-9 MB, Amity – A versatile six-rotation player with an arsenal of shots, Grove also frustrates hitters with her big block.
Mia Hunt, 5-8 OH/RS/S, Central Catholic – Coach Kayla Hambley called Hunt her "most dynamic player." She plays everywhere, does everything well and with poise, is a consistent and essential passer for the Rams and one of the team's strongest servers.
Paige Liles, 5-4 libero, Camas Valley – Liles serves tough, leads the team in digs and passes 80 percent of the serves.
Tatum Montiel, 5-10 OH, Marshfield – The Pirates' kill leader in most matches this season, Montiel had 20 kills and 14 digs in a Sept. 23 win over Siuslaw.
Malia Parker, 5-10 MB, Central Catholic – Parker is an efficient hitter whose flat, powerful serve recently earned her a spot in the starting lineup for one of the best teams in the state.
Sheala Simmons, 5-8 MB/RS, Newport – A fiery southpaw, her intensity and desire to compete have brought a sense of urgency to the court.
Lily Tegner, 5-6 OH/RS, Jefferson – A vocal, high-energy player, Tegner came into the program ready to dominate and she has not disappointed. Tegner is a kills leader on a senior-dominated team, as well as an exceptional teammate.
Quick hits
How many 2019 state champions are top-four seeds in their respective classifications this year? Five. Kennedy, which will miss the playoffs in 2A after a 4-11 season, is not…Only Santiam Christian, the reigning 3A champ, is seeded No. 1, however…
…After sweeping the Silver Bracket at the West Linn Tournament two Saturdays ago, Clackamas tacked on three regular season wins and will enter tonight's playoff match against Lake Oswego on a six-match winning streak. Setter Kendall Ishida, MB Summer Artman and OH Halsey Brumitt have been catalysts…Sisters prepared for the post-season by facing larger schools at the Bend Clearwater Classic on Oct. 9. The Outlaws defeated 6A Summit and North Medford and 5A Dallas to lock up the Silver Bracket.
"We faced some very good 5A/6A teams, in very close games," Sisters coach Rory Rush said. "It was great competition for us. It pushes us and helps us get ready for the playoffs." OH Bre White, MB Gracie Vohs and RS Sydney Myhre were standouts for Sisters…Sisters will enter the 4A playoffs as the No. 1 seed despite losing senior OH Greta Davis, a Sacramento State commit, to a season-ending leg injury incurred during a powder puff football game in mid-September…Davis was on the court for Senior Night last Thursday and took the match's first serve, the final serve of her decorated high school career…
…West Albany defeated Central last night to complete its regular season at 22-3. The Bulldogs, who have lost only to 6A schools, will be the odds-on favorites to win the 5A state title. "We are excited and feeling confident going into the playoffs," coach Megan Wallace said. "For us to finish on top we will need to make sure we are mentally sharp. We have been preparing our mental game all season for these exact moments and the girls are ready to put it to the test."
…Santiam Christian defeated Harrisburg last Thursday in four sets. Maddie Fields had 14 kills and 14 aces to lead the way. Alyssa Knox added 30 digs. Santiam Christian won both league matches against Harrisburg after losing to it in a mid-September tournament. That marked the only loss all-season for Santiam Christian against a 3A opponent. The Eagles will enter the state playoffs as the No. 1 seed, and on a seven-match winning streak. They hoping to add a third consecutive OSAA state title to their resume.
"They came in as a young team, not by grade necessarily but by last year being what it was," noted coach Kelli Fitzpatrick. "This was the first time many of them have been on varsity and played together. We also have two starting freshmen who are not only new to varsity but new to our school and our program so that has taken time to work itself out. They feel excited and proud that all their hard work has paid off…" Fitzpatrick added that for Santiam Christian to come away with the blue plaque, it will need to stay steady in everything it does. "We will celebrate each victory to its full extent, but whether it's a point gained or lost, we can't ride any roller coaster of emotion," she explained. "We just need to stick to the fundamentals and strengths that have gotten us this far, and whatever happens from there, know we have done everything possible to have another chance to play for the state title."
…2A No. 1 Salem Academy defended its league title by defeating Culver last night. The Crusaders (23-2) will enter the state playoffs on a 23-match winning streak in official contests. Salem Academy placed third in 3A in 2019 and seems determined to take home its first title since 1995.
"What we need to go all the way… we just need to stay disciplined," noted head coach Melissa Holman. "Take one practice at a time. One match at a time. We visualize ourselves climbing a mountain. No looking down, just up. We have hard work ethic, a LOT of talent and we like to have fun. It's really the perfect combination. Anything can happen at state. But we are good at adjusting to any complication or struggle. So we just stay connected to each other, trust one another and grind out the wins!"
…Monroe is a dangerous third seed in the 2A playoffs. The Dragons enter on a nine-match winning streak, three over state-ranked Lowell. Maddie Gamache and Bella Gamache lead the way…4A Cottage Grove edged Siuslaw, 15-13 in the fifth, on Thursday for the Sky-Em League title. Gracie Arnold had 19 kills, 10 digs and five aces in the win. Izabell Senters (kills; digs) and Peyton Kidd (assists; digs) also had double-doubles…Churchill shared the 5A Midwestern League title with North Bend with a Thursday sweep of Willamette. Stella Scott led the way for the Lancers with 11 kills and three aces…
…Sheldon's Oct.19 sweep of South Eugene completed a 10-0 run through the Southwest Conference for the Irish. Keira Vaughn had 12 kills and 11 digs for the victors…Phoenix lost a 4A play-in match to Junction City on Saturday. The Pirates had been bidding to make the state playoffs for the first time in seven years…Sauren Garton had 13 kills on Monday as 6A Pendleton swept 4A Baker. The Bucks sent 10-year head coach Amanda Lapp out with a win. Lapp is stepping down…
…North Douglas won the 1A Skyline League district tournament on Saturday by sweeping Umpqua Valley Christian. Samantha MacDowell led the way with 16 assists, five kills and four aces…Sutherlin knocked off Cascade Christian on Saturday in a 3A Far West League volleyball tiebreaker. Tianna Murphy amassed 25 assists and 13 digs and Haley Smoldt chipped in with 23 digs and two aces for the winning side…
Stat stars
I have asked coaches on our bulk email list to help me compile a list of astounding single-game statistical achievements! We will keep a running tally of players who stat at these levels for a single match:
55 assists or more in a match
35 kills or more in a match
35 digs or more in a match
15 blocks or more in a match
15 aces or more in a match
Here's what we have so far…
15 aces in a match
Morgan Milbrett, 5-6 Fr. S, Mapleton – 26 aces in 3-1 victory over Siletz Valley on Oct. 11.
Natalie VanderPloeg, 5-4 Sr. libero, Mohawk – 28 aces in a 3-0 sweep of Mapleton on Sept. 16.
Nose-bleeders
Jumping 10-feet on approach remains a lofty goal for most volleyball players. If you get enough air to touch a regulation basketball rim, you have the ability to hit over blockers and pick your own spots. That makes you a very dangerous scorer on the court!
In this space, we will recognize those Oregonians who have achieved that lofty mark. We will add to it in each Volleyball Notebook as coaches tell us about the players who have reached rare air. Here's where we stand currently in the 10-Foot Club:
Taylor Brickey, 6-0 Sr. OH, Summit
Amariah Clay, 5-6 Sr. MB/RS, Beaverton
Katie Clevenger, 6-0 Jr. OH, South Medford
Emma Gates, 5-9 Sr. MB, Cascade
Sophia Gregoire-Salagean, 6-2 Jr. OH, Newberg
Gracie Johnson 6-5 Jr. MB, Nyssa
Sophie Scott, 6-3 Sr. MB, Catlin Gabel
If you are a HS coach and want to add someone to the list, by all means email me, [email protected], put "10-foot club" in the subject line and provide the info in the manner shown above.
Mensa Mensa
In this space, we will recognize "smarty-pants" volleyball players, those current juniors and seniors who have an unweighted GPA of 3.9 or better or a weighted GPA above 4.0. Here are the Mensa nominees we have received to date:
Zoe Alberty, 5-7 Sr. S/RS, Siuslaw
Sydney Alexander, 5-6 Jr. OH, St. Mary's (Medford)
Jazell Allen, 5-6 Jr. OH, Milwaukie
Madison Balcom, 5-4 Sr. OH, Thurston
Emma Ball, 5-10 Sr. MB/RS, Crescent Valley
Stella Barber, 5-9 Sr. MB, Newport
Lucretia Benolken, 5-9 Jr. OH, Cascade
Albie Borovansky, 5-3 Jr. libero, St. Mary's (Medford)
Kora Botta, 5-8 Sr. MB, Milwaukie
Taylor Brickey, 6-0 Sr. OH, Summit
Brooke Burns, 5-5 Sr. DS, Beaverton
Addy Childress, 5-4 Jr. OH, Willamina
Kenna Coleman, 5-7 Sr. S, Cascade
Kamryn Craig, 5-4 Jr. DS, North Bend
Kate Doorn, 5-11 Sr. S, Summit
Kelsey Dunn, 6-2 Jr. MB, St. Mary's (Medford)
Natalee Federico, 5-7 Sr. RS, Cascade
Grace France, 5-4 Sr. S, Willamina
Adrianna Frank, 5-8 Sr. OH/RS, North Bend
Maria Fuller, 5-1 Sr. DS, Crescent Valley
Emma Gates, 5-9 Sr. MB, Cascade
Olivia Hale, 5-9 Jr. OH, Dallas
Stella Hall, 5-9 Jr. RS, Thurston
Ayrica Hansen, 5-10 Sr. RS, Rogue River
Kaitlyn Hansen, 5-8 Jr. S, St. Mary's (Medford)
Hailey Harris, 5-5 Sr. DS, Beaverton
Madison Heagney, 5-9 Sr. S/RS, Crescent Valley
Audrey Histed, 5-7 Sr. S, Cascade
Anna Howard, 5-7 Sr. DS, Rogue River
Hallee Hughes, 5-10 Jr. OH, Willamina
Kylie Iverson, 5-8 Jr. S/OH, South Wasco County
Laci Jespersen, 5-4 Sr. DS, West Salem
McKenzie Jonas, 5-10 Jr. MB, Crook County
Eleanor Kahn, 5-5 Sr. OH/DS, Beaverton
Josephine Kasberger, 5-6 Sr. OH, Crook County
Hannah Kendall, 5-6 Sr. libero, Summit
Kylie Kinsella, 5-8 Sr. RS, St. Mary's (Medford)
Katy Klein, 5-5 Sr. DS, Summit
Emily Lettenmaier, 5-8 Sr. OH, McNary
Olivia Lewis, 5-7 Sr. S, Molalla
Shannon MacCallum, 5-11 Sr. OH, Summit
Sierra Martin, 5-4 Sr. libero, Thurston
Leah Mattson, 5-9 Jr. MB/RS, Crescent Valley
Kendall Maykut, 5-8 Sr. OH, Crook County
Sadie McCoy, 5-7 Jr. RS/MB, South Wasco County
Jenny McKinnon, 5-4 Sr. S, Crook County
Avyree Miethe, 5-7 Sr. OH, Warrenton
Holly Miles, 5-9 Sr. S/OH, South Wasco County
Kaitlyn Miles, 5-8 Jr. MB, Marshfield
Delaney Mitchell, 5-3 Jr. DS/libero, Molalla
Carlee Murray, 5-6 Sr. OH/libero, Newport
Cami Oliva, 5-5 Sr. DS, Cascade
Annah Orloff, 5-2 Jr. DS, Molalla
Kara Paterson, 5-6 Sr. libero, Crescent Valley
Sophia Perakis, 5-7 Sr. MB/RS, Crescent Valley
Bailey Pool, 5-5 Jr. S, East Linn Christian
Malia Rauh, 5-5 Sr. OH/DS, Beaverton
Cierra Ridenour, 5-7 Sr. OH, Colton
Isabella Rodriguez, 5-5 Jr. libero/DS, McNary
Hailey Schwinof, 5-7 Jr. OH/RS, McNary
Lois Shetler, 5-7 Jr. DS/OH, South Wasco County
Riley Simonsen, 5-6 Jr. RS, Warrenton
Stevie Singler, 5-6 Sr. DS, Newport
Lainey Stranberg, 5-7 Sr. OH, St. Mary's (Medford)
Sophia Terwilliger, 5-8 Jr. OH, Crescent Valley
Kayla Toavs, 5-8 Jr. OH/MB, McNary
Natalie VanderPloeg, 5-4 Sr. libero, Mohawk
Abigail Warrick, 5-8 Jr. MB, Marshfield
Josie Wertz, 5-9 Jr. OH, Newport
Emily West, 5-9 Sr. RS, North Bend
Sydney Wilson, 5-4 Sr. libero, North Bend
Lauren Wyatt, 5-3 Jr. libero, East Linn Christian
Jordyn Wynia, 5-3 Sr. libero, Dallas
Any volleyball coach may add someone to the list by emailing [email protected], putting "Mensa" in the subject line and providing information in the manner shown above.
College-Bound!
In this space, we list those players, in the current senior class and younger, who have made a commitment to attend a college or university of their choice and play volleyball.
Here's who we have so far. We will add to this list in subsequent notebooks as we receive notifications.
Mackenzie Berger, 6-3 Sr. MB, Gaston – Idaho State
Kayleigh Carpenter, 5-7 Jr. OH, South Salem – Boise State (for defense)
Greta Davis, 5-10 Sr. OH, Sisters – Sacramento State (Indoor and Beach)
Kate Doorn, 5-11 Sr. S, Summit – University of Idaho
Gwen Fife, 6-0 Jr. OH, Sheldon – University of Utah (Beach)
Sophia Gregoire-Salagean, 6-2 Jr. OH, Newberg – University of Oregon
Alayna Hughes, 5-8 Sr. libero, Sheldon – University of Providence (Montana)
Laci Jespersen, 5-5 Sr. libero, West Salem – Bushnell University
Emmi Marks, 5-9 Sr. OH, West Salem – Corban University
Tess Masingale, 6-3 Sr. MB, Jesuit - Cal Poly SLO
Ella Nordquist, 6-0 Sr. MB, West Linn – Western Oregon University
Sophie Scott, 6-3 Sr. MB, Catlin Gabel – Cal Berkeley
Emily Warmenhoven, 5-11 Sr. OH, West Linn – Belmont University
Any volleyball coach may add someone to the list by emailing [email protected], putting "College commitment" in the subject line and providing information in the manner shown above.
Candy Corn!!!!!!!!!!!!!!
Turns out coaches love it! More than 100 coaches voted, with love overcoming hate with a 54 percent majority.