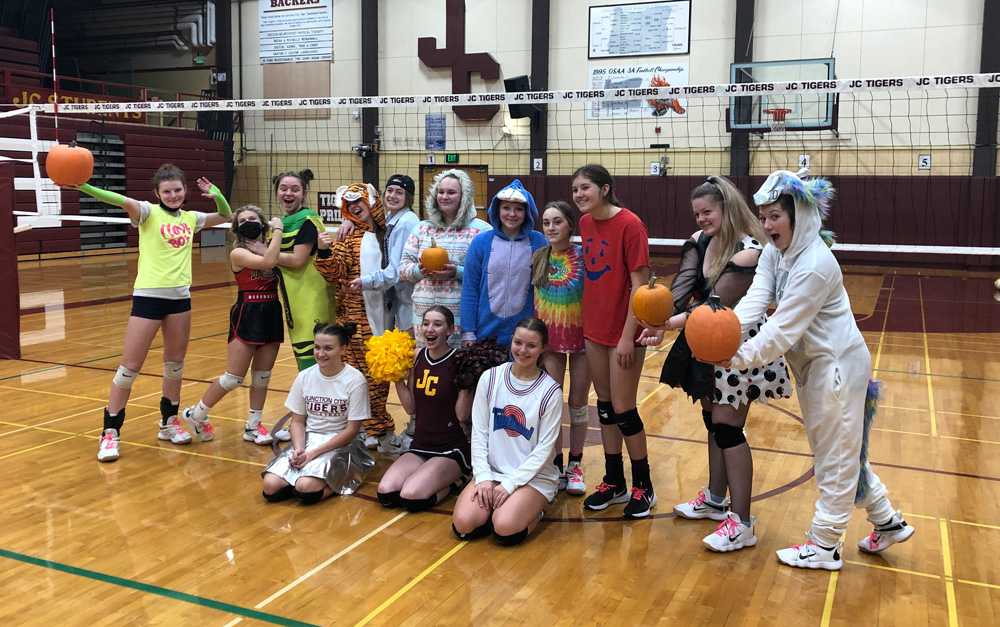 Second-round volleyball matches in 6A and 1A and first-round matches in 5A, 4A, 3A and 2A took place Friday and Saturday. Here's what happened, based on reports received. We will add more highlights as we receive them. You can find complete brackets here: https://www.osaa.org/activities/vbl/brackets.
6A
South Salem 3, McNary 1 – Kaleigh Carpenter had 18 kills and 13 digs and Araeya Watanabe added 12 kills and 18 digs in South Salem's win. The Saxons, ranked fifth in the final OSAAtoday coaches poll, won the first and fourth sets at deuce in a very competitive match. "I was really happy with how we passed, especially as the match progressed," noted Saxon coach Matt Leichty.
Bend 3, Mountainside 0 -- Marley Hardgrave had a team-high 12 kills, including the final three in a close third set, in the sweep for the Lava Bears. Marin Montagne added 17 digs and passed a 2.6 (out of 3.0). "I was proud of the defense we played tonight from the block to the back row," Bend coach Kristin Cooper said. "We would not let a ball hit the floor."
Jesuit 3, West Salem 0 – Maisie Alexander and Isabel Patterson both passed over a 2.0 in Jesuit's sweep. Alexander added four aces and 18 service points. Tess Masingale, Patterson and CeAnna o'Loughlin teamed for 25 kills in the win.
West Linn 3, Summit 0 -- Lila Skates' serving and Audrey Shih's passing were key to the Lions' second-round sweep. Addie Hoover (11 kills; 10 digs) had a double-double for West Linn, No. 1 in the final OSAAtoday coaches poll.
Sheldon 3, Clackamas 0 -- The Irish won with surprising ease over the Cavaliers, as Elle Bruegman contributed 14 digs, Gwen Fife had 10 kills and Beux Bruegman had 17 assists ans five kills. "It was an exciting match," said Sheldon coach Martine Wodke. "Our team was focused on serving and passing."
Sprague 3, Sherwood 2 -- The Olympians rallied from down 13-11 in Game 5 to win on the road. Sprague came in as the 22 seed to Sherwood's No. 6, but every set was close (25-23, 22-25, 25-23, 22-25, 16-14). Megan Smith had 41 assists to spark the offense and added 13 digs. Sarah Jones had 38 digs to lead the defense. Abby Sorensen and Sidney Friesen both had double-doubles and teamed for 32 kills and 33 digs. "The girls pulled together and knew they could get it done," coach Anne Olsen said.
5A
Silverton 3, Redmond 1 – After dropping the first set, the Foxes won a close second set, then raced to a 6-0 lead to start the third and kept the momentum to the end. Alexis Haury had 30 assists, 11 kills and five aces. Olivia Rosborough contributed 22 and four stuff blocks.
Crescent Valley 3, Crater 1 -- CV rallied from a set down to take a competitive match versus Crater. Crescent Valley, No. 2 in the final OSAAtoday coaches poll, got terrific play from senior libero Kara Patterson (27 digs; 4 aces) and from freshmen Bella Jacobson (17 kills; 7 digs, 2 aces) and Kamden Mitchell (23 assists; 13 digs; 4 kills) in the win. "We were able to close out sets with good decisions," coach Troy Shoery said. "They always play with passion and grit. They have big goals and have not met them yet." Kendra Bittle led Crater with 17 kills and nine digs.
Churchill 3, South Albany 0 – The Lancers won the first and third sets handily but were challenged in the second in their sweep of South Albany. Stella Scott led the way with 15 kills and 13 digs. Amelia Gansen added 36 assists and seven kills and Brooke Peterson had 17 digs for the victors, who were ranked eighth in the final OSAAtoday coaches poll.
Wilsonville 3, Crook County 0 -- The Wildcats, ranked fifth in the final OSAAtoday coaches poll, won two back-and-forth sets to take command, then pulled away from No. 9 Crook County, as senior Ashli Edmiston recorded seven of her team-high 16 kills. Edmiston added nine digs and three aces and Makenna Wiepert had 31 assists and nine digs in the win.
West Albany 3, Parkrose 0 -- Hailey Heider had a huge game behind the service line for West Albany in the sweep. She finished with 16 aces, including nine as part of a 13-point run in the second set. Sydney Harrington added four aces of her own, together with 22 assists, for the top-ranked Bulldogs.
North Bend 3, St. Helens 0 -- Bridget Gould and Mya Massey combined for 24 kills as North Bend played error-free and consistent in the win. "Our focus was to start strong and finish strong and we did just that," coach Summer Sawyer said.
Ridgeview 3, Thurston 0 -- Tough serving and strong defense sparked Ridgeview's sweep. Kylee Rost had 13 digs and Jenna Albrecht and Madie Vaughn teamed for 17 kills, 11 digs and five aces for the Ravens in the win.
Central Catholic 3, Nelson 0 -- Freshman Malia Parker had nine kills, junior Alycia Wilson added seven and senior libero passed and defended well in the Rams' sweep of Nelson, which was making its postseason appearance as a first-year school.
4A
Siuslaw 3, North Marion 0 (Friday) – Six-rotation middle Desiree Tupua had 18 kills, 12 digs, nine blocks and 12 perfect passes in Siuslaw's road sweep at North Marion. The Vikings, ranked ninth in the final OSAAtoday coaches poll, played great floor defense and diversified the offensive attack to win in three sets, including a first set that went into extra points.
Baker 3, Marshfield 2 – Baker won a thriller in a battle of top 10 teams. The Bulldogs won the first two, but dropped the next two, as Marshfield rallied behind freshman Tatum Montiel and sophomore Paige MacDuff. Marshfield led Game 5 early but could not complete the win. Montiel and MacDuff combined for 47 kills for Marshfield. "The team is young and fought til the end," noted Marshfield coach Tammi Montiel.
Sisters 3, Marist Catholic 0 – Gracie Vohs had 14 kills, six blocks and five aces and served 10 straight points in the second set to help the Outlaws pull ahead on their way to the sweep.
Sweet Home 3, Junction City 0 -- Sweet Home dominated the first set and won more rallies in the final two sets to sweep by Junction City. The Huskies won the de facto 3A championship last spring.
Valley Catholic 3, Henley 1 -- Fran Eisenhardt, Abby Berndt and Addie Emerson combined for 34 kills and Sophia Rewers and Kylee King teamed for 40 digs in the Valiants' win. The first three sets were tightly contested. Freshman JoJo Christianson started the fourth on a 7-0 serving run to help Valley Catholic win going away.
Cascade 3, La Grande 0 -- La Grande battled through diversity all year and fought to the end despite coming up short to the No. 2-ranked team in 4A according to the final OSAAtoday coaches poll. The Tigers lost Game 1 badly but rallied to play two competitive sets behind Grace Neer, Makenna Shorts, Izzy Kump and Ari Myer.
Cottage Grove 3, Tillamook 1 -- Tillamook got 23 kills combined from middles Kate Klobas and Makayla Tuielometu, but could not overcome substandard passing and the loss of two outside hitters to serious injuries in a match up of teams ranked in the top 10 in the final OSAAtoday coaches poll. "We won serve but lost in digs and serve-receive," said Lady Mook coach La Vonne Stein-Rawe. "We will be back." Gracie Arnold had 18 kills, nine digs and four blocks for the victors. Peyton Kidd added 26 assists and 11 digs and Blakely Herbert had 22 digs and three aces."We played tough and were able to pull together as a team and find success," said Cottage Grove coach Abby Ladd.
3A
Cascade Christian 3, Santiam Christian 2 – The Challengers stunned the top-seeded Eagles, who were 2019 champs and ranked No. 2 in the final OSAAtoday coaches poll. The teams traded sets to the end, with Cascade Christian winning the decisive sprint to 15 behind the setting of Molly Griffin, defense and serving of Ellie Harrington and hitting of Maddi Carter. "I am proud of the way our players played," said Challengers coach Rob Kleker. "They played with intensity, executed their assignments and made adjustments on the fly."
Burns 3, La Pine 0 – Burns dominated from behind the service line and with fast offense. The Hilanders, ranked first in the final 3A OSAAtoday coaches poll, averaged 14 kills per set. Sophomore setter Ashley Wright had 33 assists four aces and and served 11 straight points to close out the first set. Libero Macy Temple contributed six aces in the win.
Willamina 3, Harrisburg 1 – Hallee Hughes had 31 kills and 10 digs and Grace France had 32 assists and 11 digs in Willamina's win. The victorious Bulldogs started down 6-0 in the first set before rallying to win. They took the second thanks to France's strong serving and six consecutive Hughes kills. Hughes had nine kills in the fourth and final set to propel Willamina into the quarterfinals for the first time since 2013.
Catlin Gabel 3, Amity 0 -- Natalie Potter and Elsa McDermott combined for 24 kills in Catlin Gabel's sweep. The Eagles, ranked third in the final OSAAtoday 3A coaches poll, did not server well but were strong in all other phases and were able to overcome Amity's clever attacks on the second ball to win in three.
Sutherlin 3, Yamhill-Carlton 0 -- Mallory Turner had 15 kills and five blocks for the victors, who were ranked fourth in the final OSAAtoday coaches poll. Makayla Murphy added nine kills and four aces and Tianna Murphy had 33 assists. "We played our game steady and controlled and moved the ball around well," said coach Kathy Rice. "Everyone did their job and came together for the win."
Horizon Christian (Tualatin) 3, Warrenton 0 – Freshman libero Olivia Lyons was brilliant defensively for Warrenton, but the Hawks just had too much. Reagan Anderson on the left and Sadie Eisert and Emilie Miller in the middle scored a ton and Horizon Christian's back row was efficient and effective.
Creswell 3, Vale 0 -- Creswell served eight aces for the match, four by setter Kimmy Kelsea, and Lizabelle Osborn and Emme Whitson teamed for 26 kills in the sweep.The Bulldog defense was great and the team played like it had been there before when, in actuality, only Whitson had played in a state playoff match previously.
2A
Vernonia 3, Reedsport 1 – Vernonia won the match despite dropping the first set after a starting middle went down with a sprained ankle. The Loggers, fourth in the OSAAtoday 2A coaches poll, also trailed 11-3 in the second set, but rallied to win, 27-25, then won the final two sets, 25-20, 25-20, to advance.
Portland Christian 3, Stanfield 2 -- Portland Christian won a top 10 battle by using its power in the middle to prevail. Stanfield was effective from the pins and challenged PC with a big block, but the Royals were able to take an early lead in Game 5 and hold on. "I am proud of my players for buckling down on our defense and teamwork to battle in these games," said Portland Christian coach Kristina Gore.
Gaston 3, Oakridge 1 -- Big middle Mackenzie Berger had 33 kills and 17 digs for Gaston, which rallied after dropping the first set to scrappy Oakridge. Madi Bentley added 18 digs and five aces and Lexi Fern had 45 assists for the Greyhounds in the win.
Lowell 3, Bonanza 0 -- The Devils won a deuce first set on the road then picked up its energy in the sweep. Alexis Curry has 12 kills, Amerika Baszler contributed eight kills, four blocks and 17 assists and Lydia Plahn had 25 assists, four kills and three blocks in the win.
Salem Academy 3, Lakeview 1 -- Lakeview had great athletes and challenged the top-ranked team in 2A, but the Crusaders overcame a match tied at a set apiece by winning the final two games at home. Aly Herber had 18 kills and hit .343 while libero Annabelle Brawley, Conference POY, was her usual strong self on defense.
Grant Union 3, Sheridan 0 -- Freshman setter Addy Northway had nine aces as GU served tough and erred just four times all match long. MB Drewsey Williams was a beast, with 10 kills and six blocks; and libero Lauryn Pettyjohn passed lights out. "Our girls are playing great volleyball right now," noted head coach Shanna Northway.
1A
Damascus Christian 3, South Wasco County 0 – The Eagles, ranked third in the final OSAAtoday coaches poll, rallied from behind in the first two sets before settling in to sweep the Redsides.
St. Paul 3, Central Christian 1 -- Top-ranked St. Paul dominated the the first two sets, yielding 11 combined points. Central Christian found some fight in the third and one the set and played the Buckaroos tough in the fourth before falling. Strong serving and passing from senior Ainsley Goughnour kept St. Paul on track. She finished with six aces.