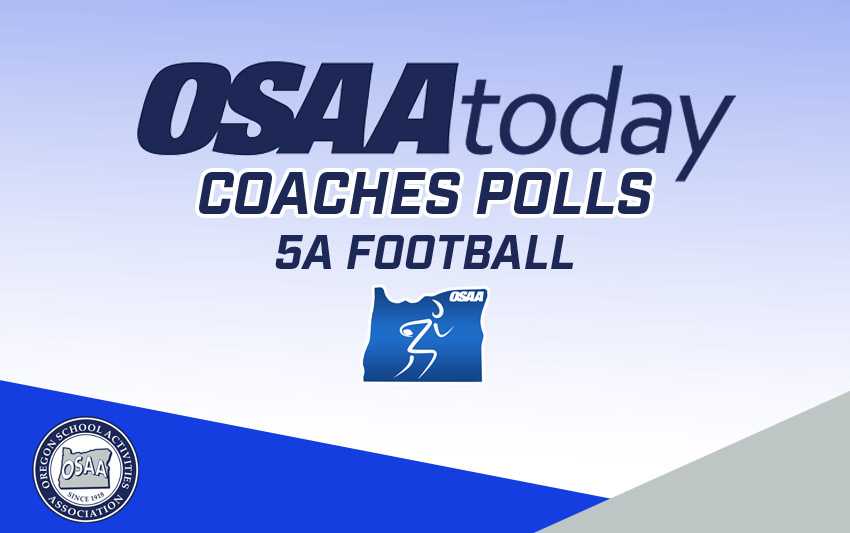 Final 2021 5A football coaches poll
OSAAtoday presents its final 2021 statewide 5A football poll following the conclusion of Week 9. Thanks to all the coaches who took the time and had the expertise to contribute their opinions to this endeavor all season long.
Please note: these polls are for generating interest and discussion only and have no impact on the OSAA's RPI and Colley ratings that form the basis of the OSAA's rankings for playoff purposes.
1. Silverton (8) [1] 8-1 139
2. Wilsonville (4) [2] 9-0 134
3. Thurston (3) [3] 7-0 124
4. West Albany [4] 8-1 108
5. Canby [5] 7-2 77
6. Pendleton / Griswold / Nixyaawii [6] 8-1 66
7. Hood River Valley [7] 8-1 43
8. Crater [8] 6-3 42
9. Ridgeview [9] 7-2 25
10. Dallas [nr] 5-4 14
Dropped out:
Former co-No. 10 Lebanon 4-5
Former co-No. 10 North Salem 6-3
Former co-No. 10 South Albany 6-3
First-place votes in parentheses
Last ranking in brackets
Record listed is what's posted on www.osaa.org (maximum of nine regular-season results).
Others receiving significant votes: North Salem 6-3 11; South Albany 6-3 11; Churchill 5-4 10
Week 9 highlights: Wilsonville got fumble returns for touchdowns by Kal Gutridge and Tristan Davis to help beat Canby for the title in the Northwest Oregon Conference West division. … Chace Pence completed 19 of 23 passes for 251 yards and three touchdowns and John Peck ran for 119 yards and two scores as Churchill handled Willamette 35-0. … Thurston rolled North Bend 60-0 as Alex Boring passed for three touchdowns. … Crater got four touchdown passes in the first half from Shane Wood to blow out Ashland 45-0. Kayden Gardner and Javon Smith each caught two touchdowns. … Ridgeview got three interceptions in dominating rival Redmond 42-0, clinching a playoff berth. … Michael Cale ran for three touchdowns and threw two scoring passes to freshman Tyler Hart-McNally for West Albany, which held off Corvallis 41-27. The Spartans' Carter Steeves threw four touchdown passes. … South Albany scored on a blocked punt and a fumble recovery in the end zone in defeating Crescent Valley 42-0. Tyler Seiber blocked the punt and ran for two touchdowns. … Austin Ratliff scored touchdowns receiving and on an interception return in Silverton's 35-0 win over Lebanon. … Myles Barton ran for 448 yards and seven touchdowns on 34 carries to lead Putnam past The Dalles 55-41. The rushing total is No. 7 all-time in the state; the touchdown total is tied for third.