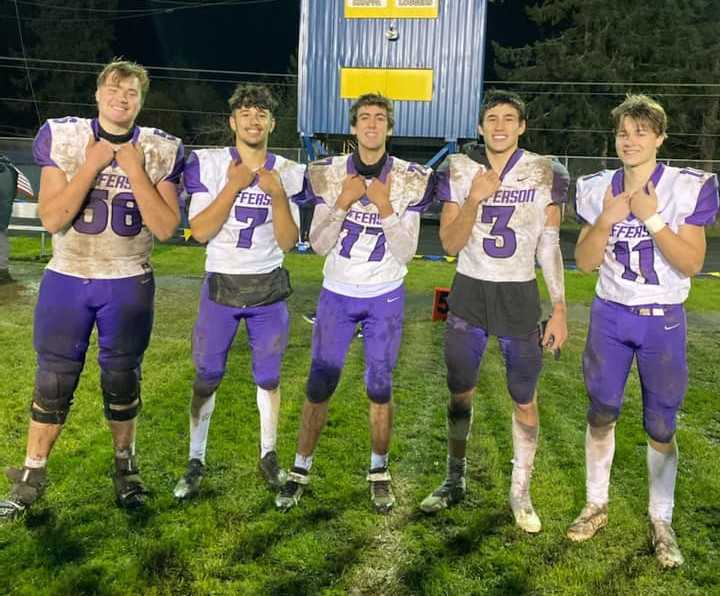 Jefferson's 12-6 road win over Knappa in the first round of the 2A football playoffs Friday not only punctuated the team's dramatic improvement from finishing 1-8 two years ago, but it was an historical breakthrough for the Lions.
It marked Jefferson's first playoff win since 1965, when the Lions won the B state championship by beating Elgin.
"It's huge," third-year coach Kaleb Gilgan said. "More than just the team, I think it's a big thing for the community. Over the last two years, I've seen the community get more involved."
No. 5-seeded Knappa (7-2) scored first Friday, but No. 12 Jefferson (7-3) pulled even at 6-6 late in the first half on a 28-yard touchdown pass from junior Jace Aguilar to senior Elijah Stelly. The Lions took the lead early in the fourth quarter when junior Zach Wusstig scored on a 4-yard run out of the wildcat formation.
Knappa reached Jefferson's 10-yard line with two minutes left but the Lions held on downs. The defense allowed a season-low in points, getting interceptions from Wusstig and Aguilar and forced fumbles from Wusstig and sophomore Calvin Grantom.
Jefferson advanced to play at No. 4 Coquille (7-1) in a quarterfinal Friday at North Bend.
"Our kids are ecstatic," Gilgan said. "No matter how far we go in the playoffs, that's a big thing. I think they've got to enjoy the moment and notice that this program has come a long ways."
Gilgan, the former defensive coordinator at Gervais, joined Jefferson in 2018 as a volunteer assistant under coach Calvin Griggs. The team finished 8-2 in 2018, losing at Lakeview 31-12 in the first round of the playoffs.
Griggs left after the season to take the job at 4A North Marion, and Gilgan took over. The team was decimated by graduation, though, and won only one game in Gilgan's first season.
The foundation for this year's success was built by the current juniors, according to Gilgan.
"They're the difference-makers," Gilgan said. "They've been able to make the change not only in how we play, but the culture of football in this community. They decided they wanted to be that game-changer. They want to be that class of kids that really leaves a mark on this community."
Wusstig, a third-year starter at running back, has rushed for 1,089 yards and 14 touchdowns. Aguilar, a transfer from Scio, has thrown for 1,228 yards and 17 touchdowns. Stelly has caught 44 passes for 837 yards and 12 scores.
Dallas surging
A potential darkhorse in the 5A bracket is Dallas.
The No. 11-seeded Dragons (6-4) went on the road in the first round and pulled out a 7-6 win over No. 6 Pendleton (9-2), their fifth victory in six games.
"We're definitely playing our best ball," Dallas coach Andy Jackson said. "We've had a lot of adversity this season. We lost a lot of kids early to COVID stuff. We had some big season-ending injuries on our O-line. Our kids have been through the gauntlet."
Dallas lost three of its first four games, all to teams that are still alive in the 5A playoffs in No. 4 Canby, No. 3 West Albany and No. 2 Silverton. After falling to Lebanon in Week 7, the team had a turning point the following week when it rallied from a 10-point deficit in the fourth quarter to beat Corvallis 43-31.
"That was when I really felt like our team was coming together, and I thought, 'OK, we've got a chance right now,'" Jackson said. "I knew that with our schedule, if we could just get into the playoffs, then we could do something."
Against Pendleton, senior Logan Person scored on a 15-yard run to put Dallas ahead 7-6 early in the second quarter, and the defense made it stand up by turning back several threats.
The Buckaroos had fourth-and-four at the Dallas 15 late in the third quarter but were stopped on a tackle by junior Owen Hess. Pendleton had first down at the Dallas 9 with 26 seconds left, but senior Isaac Ostrom had a sack, an intentional grounding penalty pushed the ball back to the 25, and the threat fizzled.
"Our defense just stood tall and kept getting stops," Jackson said. "Our defense is playing good ball right now."
Person rushed for 101 yards and the score, giving him 1,230 yards and 14 touchdowns for the season.
Dallas will make its first quarterfinal appearance in five years when it visits West Albany (9-1) on Friday. The Dragons lost at West Albany 21-9 in a Mid-Willamette Conference game Sept. 17.
"One thing about our conference that is awesome is you literally see the best teams in the state on a week-to-week basis," Jackson said. "As hard as it was going through that stuff early on, it did make our kids tougher, more resilient. Now that we're in the playoffs, the kids that are young are getting more comfortable."
'Big one for Warrenton'
A two-year detour to 2A seems to have paid off for 3A Warrenton.
The fourth-seeded Warriors (7-2), who returned to 3A for the spring season, advanced to the quarterfinals Friday with a 12-0 win over No. 13 Philomath. Warrenton, which had played in 3A since the OSAA divided into six classifications in 2006, had never won a 3A playoff game.
"It was a big one for Warrenton," said Ian O'Brien, who returned as the team's coach in 2017 after spending two years as the athletic director at Lakeridge.
The Warriors went 0-9 in 3A in 2016, forfeiting their last game due to lack of players. After going 1-8 in 2017, they met the criteria to move down to 2A for a two-year period.
"We were in dire straits in terms of trying to get kids out," O'Brien said.
Warrenton finished 5-4 in 2018, losing in the first round of the 2A playoffs, and went 7-3 in 2019, advancing to the 2A quarterfinals before falling to eventual champion Heppner 32-7.
The Warriors were 5-0 in their return to 3A in the spring, and despite graduating many of their top linemen, they have excelled this fall. Their only losses are to Heppner and Rainier, teams ranked No. 1 in the OSAAtoday 2A and 3A coaches polls, respectively.
O'Brien said the opportunity to play in 2A helped the program regroup.
"We felt like it was the right thing for our program to try to kind of give it that life shock," O'Brien said. "We had decent young kids that were coming up. That two years playing at 2A, where we were able to make the playoffs, and have some success, that has helped catapult us to maintaining and sustaining our culture within our program."
Senior Hordie Bodden Bodden, who moved to quarterback in the spring after playing receiver and running back his first two seasons, has been the driving force for the Warriors.
He has passed for 1,965 yards and 21 touchdowns and rushed for 778 yards and 13 touchdowns on 92 carries. He also has four interceptions at cornerback.
"He's the real deal," O'Brien said.
In Friday's win, Bodden Bodden completed 11 of 17 passes for 175 yards and two touchdowns. Senior Ethan Caldwell had four catches for 98 yards and one score.
The Warriors play host to No. 5 La Pine (6-3) in a quarterfinal game at 1 p.m. Saturday at CMH Field in Astoria.
Rattlers roll
Mitchell/Spray/Wheeler showed its dominance of the 1A six-man division Saturday by thumping Powers 53-13 in a semifinal matching the state's two remaining unbeaten teams.
Senior Clint Rutherford rushed for 252 yards and four touchdowns, junior Nate Clark ran for 148 yards and three scores and sophomore Logan Sweeney returned a fumble 85 yards for a touchdown for the Rattlers (9-0), who will meet Triangle Lake (5-2) for the unofficial championship at 1 p.m. Saturday at Sisters.
After going a combined 4-15 in the first three seasons of six-man, the team has crushed its competition this season. The Rattlers have outscored their opponents 433-101, winning every game by at least 14 points.
"It's mainly because we were a young team, and these guys are juniors and seniors now," coach Jerry Anderson said. "We just have talent, too, especially the juniors. They know football, they've played football."
The 6-0, 180-pound Clark, a multi-sport athlete who has competed in national rodeo events, has rushed for 1,200 yards and 20 touchdowns and caught six scoring passes. He also has returned five kickoffs, two punts and three interceptions for touchdowns.
The offensive line of senior Thomas Chase (6-2, 215) at center and Sweeney (5-10, 190) and sophomore Zach Neuberger (6-2, 225) at end has overwhelmed opponents.
"We have a really, really powerful offensive line," Anderson said.
The team's roster also has seven international students who stay at dormitories at Mitchell and Spray. One of them is kicker Nils Lahme, a senior from Germany.