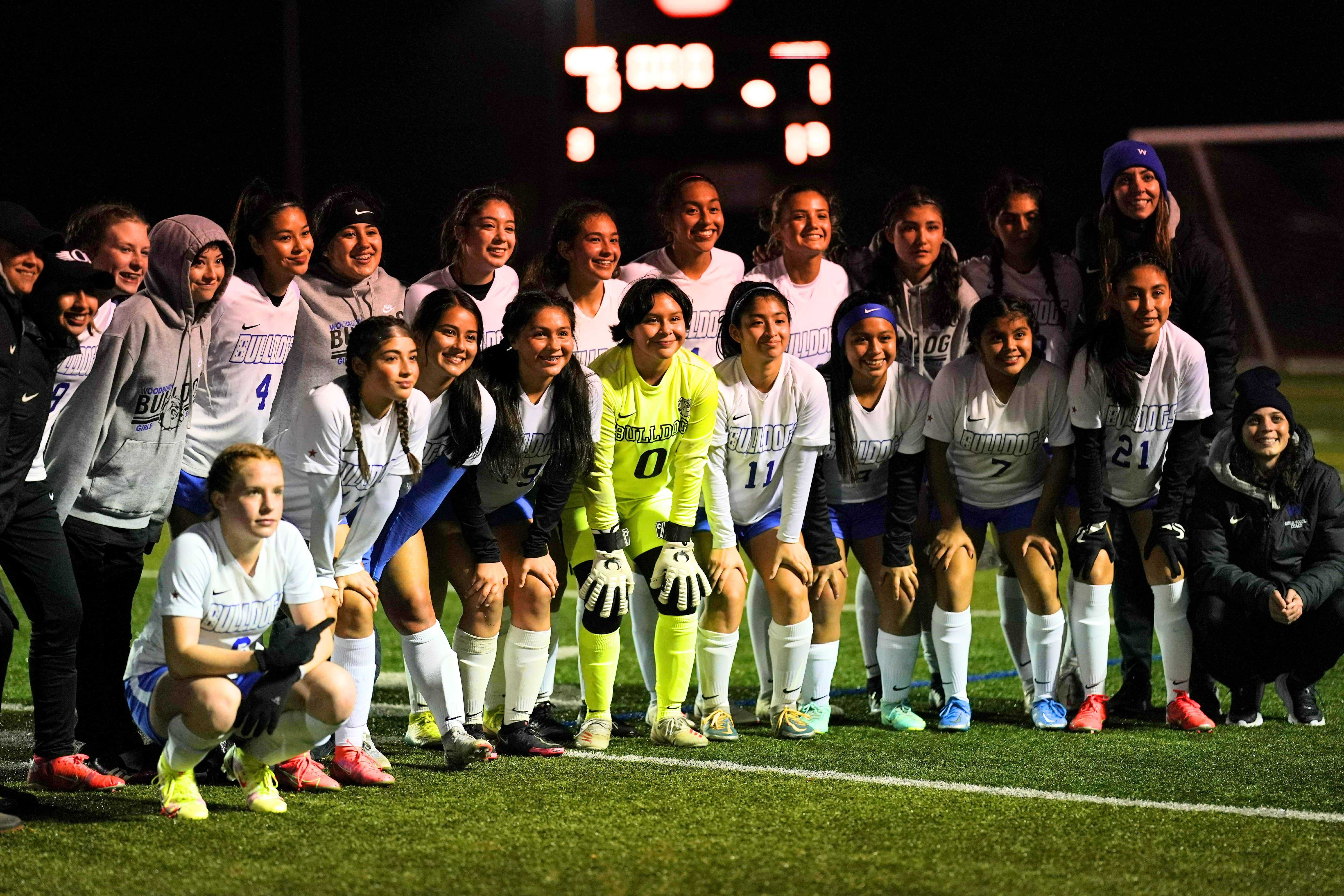 GLADSTONE – It's starting to feel a lot like 2019 for Woodburn's girls soccer team.
The Bulldogs, with eight players from their 4A title team of two years ago, earned a spot in the final with a 1-0 semifinal win at Gladstone on Tuesday night.
Just like in 2019, Woodburn knocked out a top-seeded Gladstone team in the playoffs. And just like in that 2-0 quarterfinal win, the Bulldogs did it by scoring early and holding on the rest of the way.
"Today in the hallway, a teacher asked us if we were ready to beat the No. 1 team, and I said, 'Yeah, we did it in 2019, we'll do it again,'" senior forward Myranda Marquez said.
In the fourth minute, sophomore Elizabeth Valdez Vasquez took a pass from junior Crystal Garcia and blasted a shot inside the left post from about 20 yards out. That was all the fourth-seeded Bulldogs (12-0-4) needed to vanquish the Gladiators (15-2).
Woodburn will go for another title Saturday when it meets second-seeded Hidden Valley at Liberty High School.
"It means a lot to us, especially because we've been getting a lot of critiques throughout the years," Valdez Vasquez said. "I feel like this is a really good thing to show them."
In 2019, the Bulldogs stunned the state not just by winning their first title, but by doing it as the No. 9 seed. Now they have a chance at a second title.
"That's been our goal really since December of 2019," Woodburn coach Andrea Whiteman said. "Our immediate goal was like, 'OK, we want to do this again.'
"Five years ago, when I came into this program, our goals looked very different. It was like, 'We want respect for the women's program in the same way the men's program gets it.' I think the talent has been there, it's just a matter of it being something that's continuous and expected."
The early goal caught Gladstone by surprise. The Gladiators, who had only allowed only four goals in their first 16 matches, were focusing their attention on Marquez, who entered with a team-high 22 goals and eight assists this season.
"We didn't expect where the attack was coming from," Gladstone coach Tyler Lewis said. "We really thought that they were going to look to play more through (Marquez). And they went a little more direct from the beginning, and went right into (Valdez Vasquez). Once we adjusted to that, I don't feel like they had much attack."
Whiteman said that Woodburn enters every match with the goal of scoring in the first 10 minutes.
"Our record this year is 19 seconds into the game," she said. "What it does is just sets the tone. It puts them on their heels. I think they're a very good team. They play physical. Where we got to them is we played to feet and got around them. That seemed to work in our favor."
Gladstone began to control play midway through the first half., but struggled to create opportunities. The Gladiators picked up their attack in the second half but could not push a goal past Woodburn junior goalkeeper Litzy Gonzalez.
In the 49th minute, Gladstone nearly got even when junior Rhyli Grim's pass into the box found an open pocket, but Gonzalez was able to smother the ball before two nearby Gladiators could reach it. In the 59th minute, Gladstone junior Delaney McNett blistered a free kick from 42 yards, but Gonzalez was able to tip it over the goal.
"It was really pressuring, especially with the audience and everything," Valdez Vasquez said of holding onto the lead. "It was big pressure."
The team's championship experience paid off, according to Marquez.
"I think it being almost the same team from 2019 helps because we've had time to play together," Marquez said. "And a lot of us play club together, and have known each other since we were little, so we have that connection."
Highlights from Tuesday's other semifinals:
Girls
Beaverton advanced to the 6A final with a 2-0 win over Forest Grove. Lauren Ashe scored on a free kick in the 32nd minute and Macy Deckert added a goal in the 47th minute. The Beavers will face Grant, which beat Sunset 1-0 as Caprial Loescher scored with four minutes left in the match. … La Salle Prep turned back North Eugene 3-2 in overtime in a 5A semifinal. Emelia Warta scored in the first overtime to give La Salle Prep a 2-1 lead, and after North Eugene's Lauren Becraft equalized one minute later, Allison Weber scored in the second overtime to put the Falcons ahead to stay. Weber also had a goal in regulation. … La Salle Prep will play Northwest Oregon Conference rival Wilsonville, which defeated Crescent Valley 2-0 in the other 5A semifinal. Lindsey Antonson scored two goals – both on assists from Dalton Mermis – to increase her state-record career goal total to 136. … Hidden Valley defeated North Marion 2-1 to advance to the 4A final. Hannah Rommes scored on a rebound off the post in the 21st minute and Gabby Heverly made it 2-0 in the 41st minute. North Marion's Dominique Huapeo converted a free kick with four minutes left. … Oregon Episcopal routed Dayton 6-0 in a 3A/2A/1A semifinal behind Olivia Faucera, who had four goals and two assists. The Aardvarks took control early as seniors Annie Hendrickson and Nadia Schwartz scored in the seventh and eighth minutes, respectively. … Oregon Episcopal will face Special District 1 rival Catlin Gabel in the final for the sixth consecutive season. Catlin Gabel, the 2019 champion, advanced with a 4-0 win over Riverdale. Campbell Swaim scored twice and Lola Diaz-Gonzalez had a goal for the Eagles, who also benefited from an own-goal.
Boys
Top-seeded Summit remained unbeaten with a 3-0 win over Grant in a 6A semifinal. Nani DePerro and Alex Grignon scored to put the Storm ahead 2-0 at half, and Rory McKee added a goal off a corner kick in the second half. … In the other 6A semifinal, West Linn won at Jesuit 1-0 on a goal by Luke Tinsley in the 39th minute. … Corvallis came from behind three times to defeat host Willamette 4-3 in a 5A semifinal. The Spartans trailed 3-2 before pulling even in the 74th minute when Jesus Pulido scored off a corner kick by Colin Smith. They got the go-ahead goal in the 77th minute when Kellen Filker curled a shot inside the far post from the top of the 18-yard box. Ben Perez and Ryan John also had goals for Corvallis, which got three assists from Anson Shimeall. … Mizael Harris had a goal and two assists for La Salle Prep, which knocked out North Salem 4-1 in the other 5A semifinal. Jeffrey Richter, Luke Bjelland and Ben Sheffield had goals for the Falcons, who led 3-0 in the first half. … Dylan Bell scored in overtime to give Philomath a 2-1 win over North Marion in a 4A semifinal. Aden Carrillo put North Marion ahead 1-0 in the 68th minute, but Mark Grimmer Jr. scored for Philomath to force overtime. … Hidden Valley outlasted Molalla 4-3 to advance to the 4A final. Mason Klipfel, Ronan Hodge, Theo Bergman and Tristen Winkler scored for the Mustangs. … Catlin Gabel goalkeeper Dillon George saved a penalty kick with seven seconds left to preserve a 3-2 win over district rival Oregon Episcopal in a 3A/2A/1A semifinal. Oregon Episcopal led 1-0 and 2-1, but Catlin Gabel got equalizers from Felipe Rueda Duran in the first half and Aidan Sheeran-Hahnel in the 66th minute. With about 10 minutes left, the Eagles took a 3-2 lead as Rueda Duran scored off an assist by Raul Rendon Benitez. … No. 7-seeded Dayton won at Riverside 2-1 to earn a spot in the 3A/2A/1A final. Daniel Anguiano converted a penalty kick in the 21st minute and Tyler Spink added a goal two minutes later, scoring from inside the box on a shot that passed between the goalkeeper's legs.