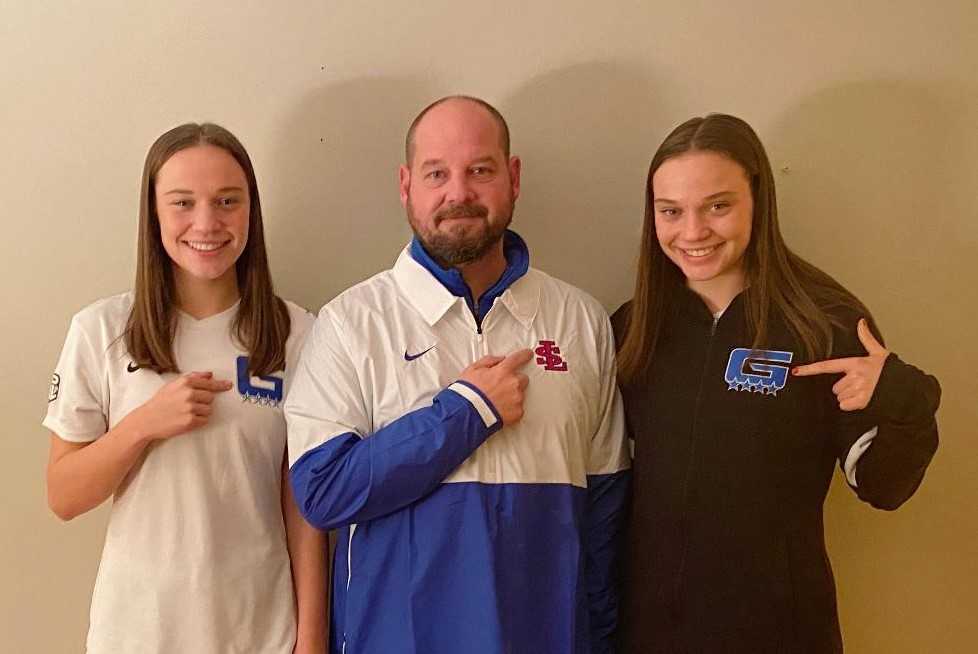 Entering the girls soccer season, hopes were high in the Frazier household.
Elle and Liv Frazier, senior twins at 6A Grant, sensed that the Generals had a chance to do something special. And their father, Andrew, the girls coach at 5A La Salle Prep, believed the Falcons were rising as state contenders.
But they are amazed at how their fortunes will converge Saturday in the OSAA/OnPoint Community Credit Union state championships at Hillsboro Stadium.
In the morning, La Salle Prep plays Wilsonville for the 5A title. At night, Grant goes for its first state championship when it meets Beaverton in the 6A final.
"I can't wait for Saturday. It's a big day in our house," Andrew Frazier said. "It's crazy to me. I don't even know how to explain it. We knew we had good teams, and we felt like we could both get there, but to actually do it is way harder."
Or course, Grant has a big fan in the La Salle Prep coach. And the Falcons can count the Frazier twins among their supporters.
"I'm rooting for La Salle," Liv said. "A lot of their girls I'm friends with. Definitely, seeing them succeed is fun. I've been able to go to a couple of their games. They look good.
"My dad likes to say that La Salle could hang with us. I think it would be a good game."
So if both teams win, who gets the bragging rights at home?
"I think we get the bragging rights," Elle said. "I always use the 6A excuse. He doesn't really like that."
Andrew isn't ready to concede anything.
"There's no question I'm going to take all the bragging rights," he said with a laugh. "I made a social media post and I made my picture bigger than theirs. I'm still the dad."
Andrew, who played in college at Willamette University, coached his daughters in club soccer with United PDX, winning a state championship with them and many of their Grant friends. He joined the Grant staff in 2019 as the JV coach, but when the job at La Salle Prep opened, he couldn't pass it up.
"It felt right. So I jumped on it," Andrew said of his first high school head coaching job.
His decision was made easier with the knowledge that Grant, which does not have lights on its home field, would play many of its matches in the late afternoon, not conflicting with La Salle Prep's night games.
The playoff schedule has created conflicts, though. He missed Grant's wins in the second round and quarterfinals, and because La Salle Prep went into overtime in the semifinals Tuesday, he missed all but the last 20 minutes of Grant's semifinal win.
Liv admitted that it was difficult to see her father leave Grant for La Salle Prep.
"I didn't really like it at first because I didn't want him to go to a different school that wasn't mine," Liv said. "But I got over it, and I think it worked out for the best, because I've gotten to meet a lot of new players, and got immersed in a new team, and just seeing what they're capable of."
La Salle Prep, which went 6-5-3 in 2019, improved to 7-3-1 in the spring and 15-2-1 this season. The Falcons are going for their first title since 2016.
"I think he's impacted it a lot," Elle said of her father. "He's a good coach. He brings good energy to the teams that he coaches. He made them more competitive and gave them the opportunity to go as far as they have."
Added Liv: "He likes to win, and he'll find a way to do it pretty much every time."
Elle and Liv, who signed letters of intent Wednesday to play at Portland State, are among the state's best players.
Elle, a forward, has a team-high 28 goals and 10 assists this season and was named the Portland Interscholastic League player of the year. Liv, also a PIL first-team pick, is an elite defender who has moved to play center midfield this season and collected 11 assists.
Andrew can't help but wonder how his daughters could have bolstered the Falcons.
"I tried to recruit them, but they wanted to stay with their friends," Andrew said. "I didn't want to push too hard."
The twins have helped Grant reach the state final for the second time in school history. The Generals were runners-up in 2010, losing to Jesuit 2-1 in overtime.
Before the season, Liv remembers Grant's captains meeting in the backyard of coach Manolis Tjuanakis.
"The big goal was just getting to the state championship," Liv said. "So seeing it come to reality is really cool."
The Generals carried momentum from going 8-2-1 in the spring and have gone 16-1-1 this season.
"We knew we could build off that and go all the way this year," Elle said.
So it all comes down to Saturday. La Salle Prep is up first at 10 a.m., and although the twins will be pulling for the Falcons, it's not likely they will be in attendance.
"I'm probably going to focus on our game that night," Liv said. "But I'll probably look at the live stream."
Regardless of how the finals play out Saturday, the trash-talking in the Frazier household probably will continue.
"They're pretty confident that they could beat us, but I'm not so certain," Andrew said. "I've got some tricks up my sleeve. The mental game would be 24 hours a day."
A look at Saturday's state championship matches:
Girls
6A – 7 p.m., Hillsboro Stadium
No. 5 Beaverton (15-2-1) vs. No. 3 Grant (16-1-1): For the first time since 2016, 6A will have a champion other than Jesuit, which had the top seed this year but lost in the second round to Forest Grove. It's been a banner year for Beaverton, which ended Jesuit's 76-game unbeaten streak in a Metro League match, and now the Beavers are in the final for the first time in 30 years and going for their first title since a three-peat in 1986, 1987 and 1988. Beaverton's lineup features six fourth-year starters, including Lauren Ashe, who scored in the quarterfinals and semifinals. Senior Elle Frazier has 28 goals for Grant, which has recorded six consecutive shutouts.
5A – 10 a.m., Hillsboro Stadium
No. 2 La Salle Prep (15-2-1) vs. No. 1 Wilsonville (17-0-1): The Northwest Oregon Conference rivals meet for the title. Wilsonville handled the Falcons 5-0 at home Oct. 6. Wildcats senior Lindsey Antonson, signed with Oregon State, has scored a state career-record 136 goals, including 48 this season. Wilsonville has not won a title, coming close in 2019, when it lost to Crescent Valley in the final on penalty kicks. La Salle Prep won its only title in 2016. The Falcons are led by junior midfielder Emelia Warta, who has 30 goals and 12 assists.
4A – 7 p.m., Liberty HS
No. 4 Woodburn (12-0-4) vs. No. 2 Hidden Valley (15-0-2): The last two official state champions collide in Woodburn and Hidden Valley, winners in 2019 and 2018, respectively. Woodburn has eight players still on the roster from its first title team, including senior Myranda Marquez, who has 22 goals and eight assists. The Bulldogs took down top-seeded Gladstone 1-0 in the semifinals. Hidden Valley is unbeaten despite losing six players from a team that reached the semifinals of the 4A Showcase in the spring. The offense is led by senior Leah Beachy (15 goals, eight assists) and sophomore Riley Yunker. The Mustangs have won three titles.
3A/2A/1A – 10 a.m., Liberty HS
No. 2 Catlin Gabel (13-2-1) vs. No. 1 Oregon Episcopal (11-2): The Special District 1 rivals square off in the final for the sixth consecutive time. Catlin Gabel ended Oregon Episcopal's five-year reign in 2019 with a 2-1 win in the final. The teams split two matches this season, with Oregon Episcopal winning 1-0 on Sept. 24 and the Eagles getting payback 2-0 on Oct. 1. Senior Kendrick Dahlin (17 goals, 13 assists) and junior Charlotte Long (16 goals, 10 assists) lead Catlin Gabel's attack. Aardvarks senior Olivia Faucera had four goals and two assists in a 6-0 semifinal win over Dayton. The Eagles have 14 titles in 21 finals appearances; Oregon Episcopal has nine titles, seven since 2011.
Boys
6A – 4 p.m., Hillsboro Stadium
No. 6 West Linn (15-1-1) vs. No. 1 Summit (16-0-1): The Storm, which lost to Jesuit on penalty kicks in the 2018 final and to Franklin in overtime in the 2019 final, is back with perhaps its best team ever. Summit has outscored opponents 89-11, led by senior Nani Deperro (30 goals, 19 assists), the Mountain Valley Conference player of the year. West Linn, appearing in its first championship match, has shut out its last six opponents as senior goalkeeper Tyler Davis has been on a roll. Seniors Max Kelley (11 goals) and Owen Caba (15 assists) drive West Linn's attack. Lions coach Steve Ancheta is in his third season after spending eight years as the women's coach at Western Oregon. Before that, he coached Central Catholic's boys.
5A – 1 p.m., Hillsboro Stadium
No. 3 Corvallis (12-3-2) vs. No. 1 La Salle Prep (15-1-1): La Salle Prep, runner-up in 2018 and champion in 2019, is back under first-year coach Monty Hawkins, who returned to the school from Sherwood. Hawkins coached the Falcons to three finals in the 1990s, including a co-title in 1994, before leaving after the 1996 season. Senior Mizael Harris has been electric for La Salle Prep, recording 21 goals and 20 assists. The game is a rematch of the 2018 final, won by Corvallis 1-0. The Spartans are unbeaten in 12 matches since a three-game losing streak that started with a 4-1 defeat at La Salle Prep on Sept. 9. They came from behind three times to beat Willamette 4-3 in the semifinals. Ryan John, the first sophomore captain in coach Chad Foley's seven-season tenure, has a team-high 15 goals. Senior defender Jesus Piludo was the Mid-Willamette Conference player of the year.
4A – 4 p.m., Liberty HS
No. 9 Hidden Valley (13-4) vs. No. 2 Philomath (16-1): Hidden Valley, which finished third in the Skyline Conference behind Henley and Phoenix, was 7-4 before going on a six-game winning streak. Senior Theo Bergman leads the Mustangs with 19 goals. Hidden Valley pulled out a 4-3 semifinal win over Molalla to reach the final for the first time since 2010, when it lost to Stayton. The Mustangs won titles in 1993 and 2000. Philomath survived a close call against North Marion in the semifinals, needing a goal from senior Mark Grimmer Jr. in the 78th minute to force overtime. The Warriors got the winning goal in the second overtime on a free kick by Dylan Bell. Philomath won the title in 2012, its only finals appearance.
3A/2A/1A – 1 p.m., Liberty HS
No. 7 Dayton (14-3) vs. No. 1 Catlin Gabel (16-0): Two programs with much different histories clash. Dayton has never reached the championship game, but Catlin Gabel has won 13 titles in 19 appearances. The Eagles, playing in their fifth consecutive final, are going for a three-peat and fourth title in five playoff seasons. They needed a penalty-kick save from senior goalkeeper Dillon George with seven seconds left to hold off Oregon Episcopal, state runner-up the last two seasons, in the semifinals. Senior Felipe Rueda Duran, who scored 32 goals as a sophomore, has 38 goals and 16 assists this season. Catlin Gabel has outscored its foes 100-7. Dayton knocked off No. 2-seeded Riverdale 2-1 in the quarterfinals and No. 3 Riverside 2-1 in the semifinals. Senior defender Danny Anguiano is the second district player of the year in Dayton history. Senior Benji Hudson has 22 goals and 15 assists.