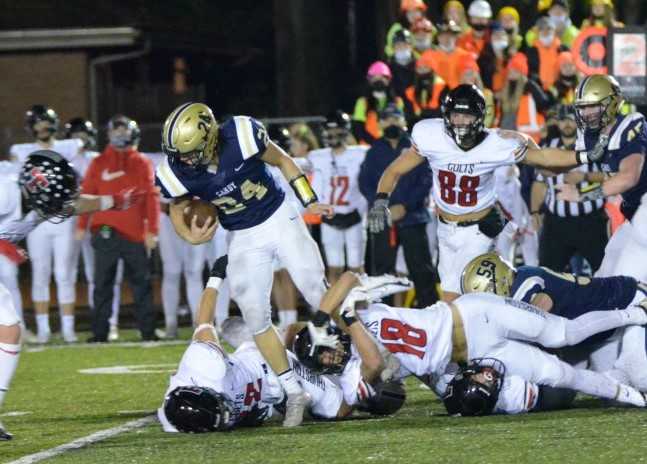 CANBY – On a night when Thurston's offense was mostly stuck in neutral, the Colts' defense came to the rescue Friday at Canby in the quarterfinals of the 5A football playoffs.
No. 5-seeded Thurston held No. 4 Canby to 131 total yards to win 20-0 and keep alive its hopes for a three-peat. It was the fifth shutout of the season for the Colts (9-0), who are limiting opponents to a 5A-low 6.8 points per game.
"Our defense knew we had to be the focal point," said senior tight end and defensive end Jacob Newell. "Sometimes games go like that."
Newell, junior Vaun Halstead and seniors Cruz Ortiz and Josh Buller had sacks, senior Parker Saunders had an interception and senior Easton Miller and sophomore Luke Newell had fumble recoveries for Thurston, which swallowed up Canby's offense.
Cougars senior Tyler Konold, 5A's leading rusher, finished with 137 yards on 25 carries, but 43 came on one run. Canby senior quarterback Mikey Gibson completed 5 of 18 passes for 21 yards with one interception.
"We were ready to give it all it takes," Halstead said. "We just don't back down to anyone. We never quit. We're all gas, no brakes. We're just out there having fun, encouraging each other."
Now the Colts move on to play top-seeded Wilsonville (11-0), which is averaging 44 points per game.
"They haven't played our defense. That's why they're humming," Jacob Newell said of the Wildcats.
He won't get an argument from Canby coach Jimmy Joyce, whose team had to scratch and claw for every yard against the Colts.
"It was ridiculous," Joyce said. "That front eight is as good as any front eight in the state, it doesn't matter what level it's at. That's one of the best front eights I've seen, and I've been doing this for almost 20 years now. All credit to them. There's a reason they're two-time defending state champs."
Still, Canby was able to go toe-to-toe with the Colts for most of the game. The Cougars were within 3-0 early in the fourth quarter and appeared ready to score when Gibson found senior Cameron Lee for a 30-yard pass to Thurston's 15-yard line.
But the play was nullified when Canby was flagged for having an illegal man downfield, and that became a turning point.
The Cougars tried a fake punt on fourth-and-12 at the Thurston 47-yard line, but Parker T Ackerman's pass to Konold resulted in a four-yard loss, turning the ball over to the Colts near midfield.
On the next play, Thurston senior quarterback Alex Boring went deep to Jacob Newell, and the 6-foot-5, 230-pound Arizona State commit outran senior cornerback Keenan Brewer for a 49-yard touchdown catch to make it 10-0 with 9:07 left.
"We just read press coverage and Jake ran a go, and burned him over the top," said Boring, who completed 12 of 18 passes for 105 yards and one touchdown. "Jake's going to win that most of the time."
It was the ninth touchdown catch of the season for Newell, who had only four catches for 26 yards up to that point. The play was a gut-punch to the Cougars.
"When you have a talent like that, it's kind of a ticking time bomb," Joyce said of Newell. "You know he's going to get his. I told the kids in the locker room pregame, 'They're too good not to get a play. We've just got to hold them to a few.' I think we did that. We just had a few mistakes."
Thurston made it 17-0 with 6:37 left when Boring ran for a seven-yard touchdown, set up by Halstead's 31-yard run to the Canby 12. The Colts tacked on a 41-yard field goal by senior Gavin Levesque, who connected on a 33-yard field in the first quarter.
It was more than enough for Thurston's defense.
"I'm so proud of that defensive effort, the whole crew," Colts coach Justin Starck said. "Our guys just did a nice job of containing whoever had the ball."
Canby's defense also was solid, holding the Colts to 89 yards through three quarters before giving up 109 yards in the fourth quarter.
"That was a good game, right there," Jacob Newell said. "That's how you get down and grind, baby. Holy smokes. I'm sore. I'm going to go ice and take some ibuprofen. … Our offense couldn't get it going at the beginning, but we ended up getting a groove a little bit."
Thurston has not lost to a 5A team since 2018. The Colts are feeding off the winning tradition.
"I still feel the presence is around us," Boring said. "But I know that we're a new group, so we've got to persevere and make our own way."
Thurston didn't get a chance at a three-peat in the spring. Now the Colts don't want to waste their opportunity.
"We want it," Jacob Newell said. "After winning back-to-back state championships, we're kind of like the big dogs. But we see ourselves as underdogs every time. And we're just here to prove ourselves again."
Said Halstead: "We definitely feel that we have the guys, we have the opportunity to do it, and now it's just a matter of mental and physical preparation, and going out there and doing it."
The Colts have a recent playoff history with Wilsonville. They beat the Wildcats 30-27 in the 2018 final, prevailing in a dramatic finish, and knocked them out of the 2019 quarterfinals 48-9.
"I'm feeling confident, defense-wise," Miller said. "I think our offense can pick it up, too, and play even better than they did today. I think we'll win. I feel good."
Starck said his team has "a little work to do" on offense before meeting Wilsonville.
"But we've got explosive kids and some playmakers out there that can go off at any moment," Starck said. "We've played them a time or two, and we welcome the opportunity to play them again. It will be quite a challenge."