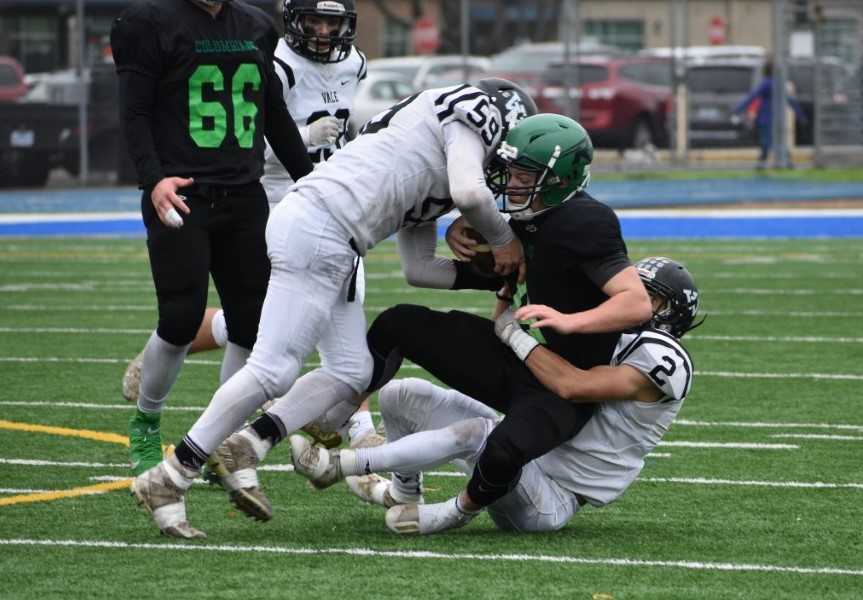 Vale's 14-6 win over second-seeded Rainier in a 3A quarterfinal Saturday was among the surprises of the second week of the football playoffs.
But more unexpected than the result was how the seventh-seeded Vikings (10-1) were able to shut down Rainier running back Stone Ware, who shredded opposing defenses this season.
The senior, who had games of 316 and 314 rushing yards during the regular season, ran for 278 yards and four touchdowns in a first-round win over Nyssa. But he couldn't shake free of the swarming Vikings, who held him to 49 yards on 20 carries.
Vale studied how Ware got his yards and came ready with a plan to close down his running lanes.
"He does a really good job of tucking in behind his blockers and running to daylight," Vale coach Jeff Aldred said. "We did a really good job of, when we saw daylight, we squeezed the air out of it. Our linebackers and secondary would run to daylight, and when he would bounce, we had somebody there."
Senior Peter McBride continued his outstanding play at defensive end. Vale also got solid play from its linebackers – senior Jackson Schaffeld and juniors Owen Crane and Eli Aldred – and seniors Tanner Steele and John Wolfe provided plenty of run support from the secondary.
Rainier (10-2), which entered averaging 35.5 points, finished with 129 total yards and a season-low point total.
"We focused a ton on physical play and tackling fundamentals," Aldred said. "We played a really physical style of football. We got a couple of good shots on them early, and it really set the tone for the game."
Vale's defense came up big in key moments, especially during a goal-line stand in the third quarter while protecting a 14-6 lead. Rainier had an 18-play drive that consumed more than 11 minutes, but after having a first down at the Vale 4-yard line, the Vikings stopped the threat on fourth down at the 2.
Vale managed only 175 total yards against the Columbians, but two touchdown runs from Steele, the team's quarterback, proved to be enough. The Vikings advanced to the semifinals to face No. 3 South Umpqua (10-1) on Saturday.
Vale has won eight in a row since a 37-12 loss at 4A La Grande. Aldred said that defeat was misleading in that the Vikings committed five turnovers and were missing four starters due to COVID.
"I think it happens sometimes with us east side schools, people do a lot of scoreboard watching and just make assumptions that way," Aldred said. "But the La Grande game was an outlier. We gave them short fields the whole day."
Vale – which has the most state championships in Oregon history with 12, the last one coming in 2015 – could be ready to add to that total. Behind a defense that is holding opponents to a 2A-low 9.6 points per game, the Vikings are surging with confidence.
"We like our defense up against anybody," Aldred said. "We've only gotten better each and every week. And we have played a tough schedule."
'Unbelievable' Ross sparks Tualatin
Behind a scintillating performance by senior running back Malik Ross, third-seeded Tualatin exploded in the first half of a 58-25 win over No. 14 Westview in the 6A round of 16 on Friday.
By halftime, the Timberwolves (10-1) had a season high in points in leading 51-25. And much of that came courtesy of Ross, who scored a school-record six touchdowns in the first half, five in the second quarter.
The 6-foot, 190-pound Ross finished with 19 carries for 170 yards and five touchdowns. He also returned a kickoff 80 yards for a score for Tualatin, which advanced to a quarterfinal date with No. 6 Summit (9-2) on Friday.
"What can you say about him? It's a lot of fun to coach," Tualatin coach Dan Lever said of Ross, who has rushed for 1,071 yards in the regular season and had two touchdowns on four carries in the first round. "He's unbelievable. How he doesn't have a Division I offer just blows my mind. He just kind of takes over, and he does it in big games. He plays his best against the best."
Tualatin had seven interceptions in the game, including one on a two-point conversion attempt. Senior Cole Prusia had two interceptions, returning one 36 yards for a touchdown to start the scoring. Senior Jack Wagner and sophomore AJ Noland also had two picks apiece and senior Noah Ogoli had one.
Lever credited the versatility of his multi-sport athletes.
"We've got some kids that can do just about anything athletically," Lever said. "They're used to competing all the time. They're not fazed by critical situations. They're comfortable being uncomfortable."
Pacers lean on Reichle
It was a big weekend for Lakeridge senior running back Jake Reichle.
On Friday, he rushed for 328 yards and five touchdowns on 37 carries to lift the 10th-seeded Pacers to a 40-7 win at No. 7 Sheldon in the 6A round of 16. He narrowly missed the school record of 345 yards, set by Jalen John in 2019.
On Sunday, he received a preferred walk-on offer from Oregon State. Not bad for a player in his first season at running back after focusing primarily on his defensive duties at free safety in his career.
"Super happy for him," Lakeridge coach Spencer Phillips said of the 6-3, 190-pound Reichle. "There's no question to me he's a Division I football player."
Reichle has seemed like a natural at running back, rushing for 1,840 yards and 23 touchdowns this season, averaging 9.2 yards per carry. He has reached 100 yards nine times and 200 yards four times.
"He plays the game so violently," Phillips said. "When you watch him run the football, he's so violent. There's not a lot of players like him, regardless of level, high school, college, NFL. This being his first year ever playing running back, it speaks to what kind of athlete he is."
Lakeridge rushed for 432 yards against Sheldon, also getting 104 yards on five carries from junior quarterback Ryan Oliver. Phillips said that the offensive line – led by sophomore Chris Azari (6-2, 265), a second-year starter – has executed at a high level after switching some positions and changing blocking schemes.
"They played so well up front," Phillips said. "I kept saying, 'We don't have to throw the ball to win, just keep running it.'"
Lakeridge will play No. 2 West Linn (10-1) in the quarterfinals.
Hawks flying high
La Pine is back in the semifinals after a 30-year absence.
The fifth-seeded Hawks (7-3) won at No. 4 Warrenton 30-8 in a 3A quarterfinal Saturday to earn a spot in the final four for the first time since 1991. They will play No. 1 Siuslaw (10-0), which beat them in a Special District 2 North division game Oct. 8.
La Pine coach Bo DeForest, defensive coordinator Travis Cook and assistant Bob Metcalf were members of the Hawks' semifinal team in 1991, when they lost to Vale 27-22. It stands as the only semifinal appearance in school history.
The team has made dramatic improvement since finishing with 3-6 records in 2018 and 2019. La Pine improved to 4-2 in the spring, raising expectations for the 2021 season.
"We felt like in the spring that we were a playoff-caliber team, and we figured that this year we'd be a state championship contender," DeForest said. "That was the plan."
The Hawks have won five in a row after starting the season 2-3. They believe they left wins on the table in losing to Vale 20-14, Henley 16-12 and Siuslaw 34-26.
"We feel like we're 12 yards away from being undefeated this year," DeForest said. "It was just silly mistakes."
In the loss to Vale, they were stopped one foot shy of the end zone on the final play. Against Henley, they were inside the 10-yard line at the finish. And against Siuslaw, they failed to convert five fourth-and-short opportunities, two at the 1-yard line.
But the Hawks believe they have found themselves heading into the rematch with Siuslaw. Part of the reason is the development of junior quarterback Colton Campbell.
"He's always been a pretty good run threat, but he's throwing the ball well now," DeForest said. "And that's kind of when we changed, ever since the Siuslaw game, we've become more of a two-headed attack versus just a running offense.
"We're a little more complete team right now than when we played Siuslaw last time."
Against Warrenton, La Pine had big advantages in total yards (395-190) and first downs (25-9). Senior tailback Dylan Hankey rushed for 125 yards and one touchdown, junior running back Dawson Cook ran for two scores and Campbell threw a touchdown pass to junior Haakon Hanson.
The Hawks absorbed a blow in a first-round win over Amity when senior Teagen DeForest (6-0, 295) – the district offensive lineman of the year – suffered a ruptured ACL and torn meniscus.
Three Rivers shines
The Three Rivers League has underscored its reputation as the class of 6A by placing four teams in the quarterfinals in top-seeded Lake Oswego, No. 2 West Linn, No. 3 Tualatin and No. 10 Lakeridge.
The league went 4-0 in the second round as Lake Oswego dropped McNary 35-14, West Linn handled South Salem 55-9, Tualatin took out Westview 58-25 and Lakeridge rolled at Sheldon 40-7.
"One little move in the bracket, there could be four of us in the semis," Tualatin's Lever said. "This time of year, with the strength of our schedule, we're just used to being in really competitive football games. It definitely helps. If you can make it through the league alive, injury-wise, it really does help you."
The Three Rivers can put only three in the semifinals, though, considering West Linn and Lakeridge will meet in the quarterfinals. In the first meeting, West Linn won 28-27 by scoring a touchdown with 22 seconds left.
"When we lost that game, I told the kids, 'We will see this team again, and when we do, it's whoever wins the second game that will have the last laugh,'" Lakeridge's Phillips said.
Lake Oswego plays host to No. 9 Jesuit. Tualatin is at home to face No. 6 Summit.
"The best thing about playing in the TRL is it prepares your team for games at the end of the season," Phillips said. "It sets you up for the kind of physicality toward the end of the year."