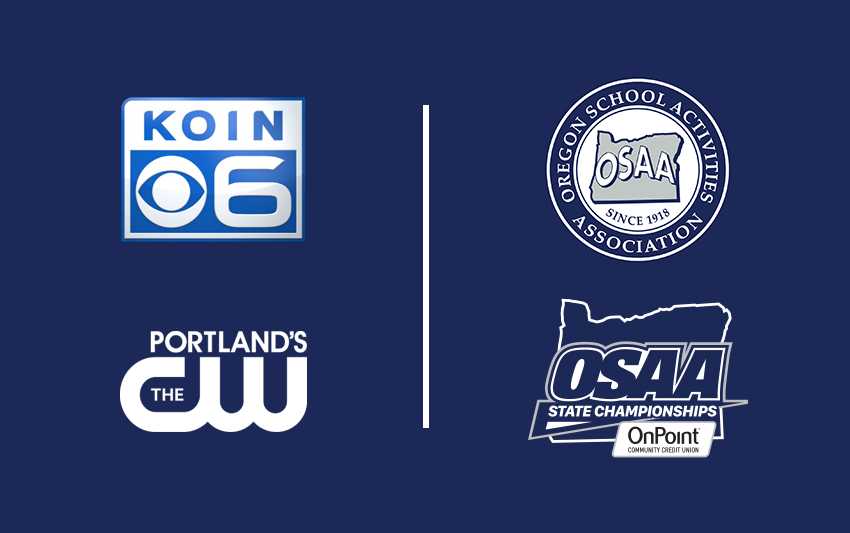 The Oregon School Activities Association (OSAA) today announced a television broadcast agreement with Portland's KOIN and sister station KRCW/Portland's CW. Portland's CW will become the home of OSAA/OnPoint Community Credit Union State Championships in the Portland media market. The partnership will begin this fall with the 6A Football Semifinals and the 6A Football State Championship game.
"The OSAA is excited to partner with KOIN and Portland's CW and we appreciate their dedication to this type of local sports programming," said OSAA Executive Director Peter Weber. "We look forward to showcasing these outstanding events and Oregon's amazing high school students through this partnership."
The broadcast schedule of the OSAA/OnPoint Community Credit Union 6A Football State Championships presented by Pacific Office Automation begins on November 26 with the semifinals at 12pm and 5pm. The championship game will be played at 12pm on December 4. All three games will be broadcast live on Portland's CW from Hillsboro Stadium.
"We are delighted to announce an exclusive broadcast partnership with OSAA to air this year's highly competitive High School semifinal games on Friday, 11/26, and the Oregon State Championship on Saturday, 12/4, live on KRCW/Portland's CW. The announcement today underscores KOIN 6 and Portland's CW's commitment to local news, weather and sports coverage," KOIN 6 and Portland CW's Vice President and General Manager, Tom Keeler, said. "We take pride in enabling our viewers to watch local student-athletes compete to reach the highest-level of achievement in high school sports – a State Championship, Keeler added. "We are excited about a long-term partnership with OSAA that will not be limited to football but will also feature women's sports as we expand this partnership in the years to come."
Future championship events will also be broadcast on Portland's CW, including a to be determined slate of games from the 6A Basketball State Championships. Additional programming meant to highlight the amazing stories of OSAA member schools, teams, and students will also be developed in the future.
OSAA's multi-media rights holder, Playfly Sports Properties, aided in the development of the television broadcast partnership. OSAA State Championship events will continue to be available online on the NFHS Network.
-30-
About KOIN, Portland's The CW
Since 1953, KOIN 6 News has been Portland's CBS affiliate, providing local news, network and syndicated entertainment to viewers in Oregon and Southwest Washington. KOIN 6 News is Watching Out for You with 35 hours of local news broadcasts each week, featuring award-winning in-depth investigations, news, weather and traffic. KRCW-TV, Portland's CW, is an over-the-air broadcast television station broadcasting on channel 32.1 and is a network affiliate of The CW Television Network. Portland's CW also airs three hours of live news Monday through Friday, and two hours on the weekends powered by KOIN 6 News. Portland's CW also programs the best in syndicated situational comedies, as well as a myriad of local sports including The Portland Winterhawks, the University of Portland Pilots, Linfield University with more to come.
About Oregon School Activities Association
Created in 1918, the Oregon School Activities Association (OSAA) is a private non-profit, board-governed association comprised of 294 public and private member high schools. A member of the National Federation of State High School Associations, the OSAA annually sponsors 113 team and 426 individual event state championships for students competing in 19 interscholastic activities. For more information, visit OSAA.org or follow @OSAASports on social media.
About Playfly Sports
Playfly Sports is a full-service sports marketing company operating where sports marketing, media & technology converge. Playfly Sports drives outcome-based solutions for brands reaching approximately 83% of all US sports fans generating over 230bn impressions each year in pro, college, and high school sports. Utilizing the influence and durability of local sports fandom, Playfly Sports exclusive rights in the NBA, NHL, MLB, NCAA, esports, and high school sectors drive value for our local, regional, and national brand partners. Playfly's insights-infused multimedia and tech platforms drive innovation through scaled linear, digital, in-venue, and experiential marketing and engagement assets. Playfly Sports has the unique ability to partner, innovate, and advance the aspirations of athletes, brands, academic institutions, and sports fans across the U.S. Playfly Sports is Igniting Brands through the Love of Fans. Visit Playfly Sports online at playfly.com and follow Playfly Sports on LinkedIn, Twitter, and Facebook: @PlayflySports