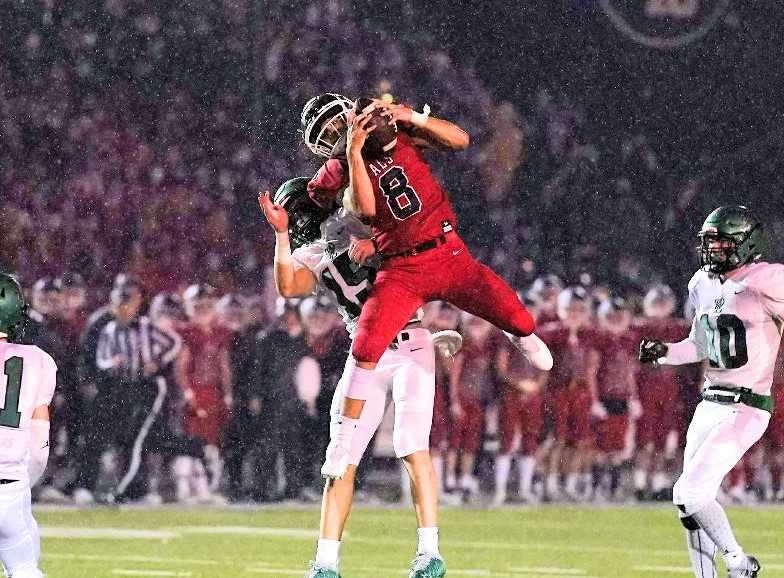 With a combined 65 seasons, 592 wins and six state championships, coaches Steve Coury of Lake Oswego and Ken Potter of Jesuit have pretty much seen it all in Oregon high school football.
And lately, they are seeing even more of each other.
In what is becoming a regular occurrence, 6A blue-bloods Jesuit and Lake Oswego will collide in a playoff game. The ninth-seeded Crusaders (10-1) will visit the top-seeded Lakers (10-1) in a quarterfinal Friday, marking the fourth postseason in a row that the teams will meet.
"It used to be, back before, it was always us and Sheldon in a lot of playoff games," Coury said. "Lately it seems like us and Jesuit meet somewhere. What's interesting is we've never met in the final. We're just not on opposite brackets."
Lake Oswego went 5-0 against Jesuit from 2017 to 2019, including wins in the quarterfinals in 2017 and the semifinals in 2018 and 2019.
"They shouldn't be unhappy about it because they've been able to go on these last few years," Potter said. "As we looked at the bracket, if we're fortunate to keep winning, we'll be playing everybody that is in the top. You have to face everybody sometime."
In the 2019 semifinals, Lake Oswego forced three turnovers in the fourth quarter to defeat Jesuit 28-21. One turnover stopped a sure touchdown, one set up the go-ahead score and another clinched the win.
"It was definitely turnovers that were costly at the end, for sure," Coury said. "The team that makes the least amount of mistakes is probably going to be the team that ends up winning."
Lake Oswego, which won the title in 2018 and was runner-up in 2019, beat Newberg 49-40 and McNary 35-14 in the first two rounds. The Lakers have won three in a row since a 31-14 loss to No. 2 seed West Linn on Oct. 21.
"That's just another really good team, so there's no disgrace in it," Coury said of the loss to West Linn. "We made some adjustments and we're doing some things that are different. We played a little bit conservative in the game, and that was due to some of the weather and the closeness of the game. The game was a lot closer than the score.
"The kids realize that they are not unbeatable. It was a plus in the end."
Jesuit defeated Liberty 62-6 and Clackamas 19-7 in the playoffs. The Crusaders have won their last 10 games since opening with a 17-3 loss to West Linn.
"This team has done a really good job of just getting better every week," Potter said. "It's one of those teams that when you go to practice, they practice hard."
The Crusaders have been dominant on defense, holding their last six opponents to a combined 26 points. Now they will face a Lake Oswego team that has scored at least 35 points in every game, except for the loss to West Linn.
Lakers senior quarterback Jack Layne has thrown 32 touchdown passes, including seven in the playoffs. Senior Gabe Olvera has rushed for 16 touchdowns and caught 11 scoring passes. Senior receiver Justius Lowe, who in the past week added Oregon to his list of scholarship offers, has 11 touchdown catches.
"They have some tremendous athletes that no matter what you do defensively, they can beat that," Potter said. "Their quarterback is very accurate, throws the ball well, understands the game. They have a number of receivers that are very talented, with one that's extremely talented. They have a running back who makes you miss and is very quick."
Coury said that Layne "makes it all go."
"He's had a phenomenal year," Coury said. "We've had some really good quarterbacks that have done great jobs over the years, and he's right up there with all of those guys."
Jesuit senior Michael Rincon has rushed for 1,111 yards and 14 touchdowns. Sophomore quarterback Jacob Hutchinson has passed for 1,192 yards and 14 touchdowns, six of the scores going to speedy sophomore Jace Burton.
Lake Oswego will have its hands full trying to neutralize Jesuit's power running game.
"They always have some big guys," Coury said. "If you look at our team, and our past teams, we're never the biggest team. They've got some guys that are bigger, but our kids, they'll play physical."
The winner will play either No. 4 Central Catholic or No. 21 Sherwood in the semifinals.
A look at the other matchups for the third week of the state playoffs:
Quarterfinals
6A
No. 21 Sherwood (7-4) vs. No. 4 Central Catholic (12-0), Friday, 7 p.m., Hillsboro Stadium
Sherwood, which lost in the second round the last four postseasons, is in the quarterfinals for the first time since 2015. The Bowmen, who started the season 0-4, have won playoff road games over Sandy and West Salem to extend their winning streak to seven. Senior Cody Hall has 60 catches for 1,132 yards and 17 touchdowns in nine games for Sherwood. Central Catholic, the champion in 2013, 2014 and 2019, is in the quarterfinals for the ninth time in 10 postseasons. Rams sophomore quarterback Cru Newman was the Mt. Hood Conference offensive player of the year.
No. 6 Summit (9-2) at No. 3 Tualatin (10-1), Friday, 7 p.m.
Summit, the 5A champion in 2015, has reached the 6A quarterfinals for the first time in what could be the Storm's last season before returning to 5A. Summit is holding foes to a 6A-low 8.8 points per game. Storm senior linebacker Jack Clemans is the Mountain Valley Conference defensive player of the year. Tualatin, which lost to Jesuit in the 2019 quarterfinals, is bidding for its first semifinal appearance since 2010, when it was state runner-up. Timberwolves senior running back Malik Ross scored six touchdowns in last week's 58-25 win over Westview, five in a whirlwind second quarter.
No. 10 Lakeridge (8-3) vs. No. 2 West Linn (10-1), Friday, 7 p.m., Pioneer Memorial Stadium, Oregon City
West Linn won at Lakeridge 28-27 in a Three Rivers League game Oct. 8, scoring a touchdown with 22 seconds left. That game kicked off a six-game winning streak that included a 31-14 victory at Lake Oswego. Lions junior Mark Hamper has 61 catches for 829 yards and seven touchdowns. Pacers senior Jake Reichle rushed for 328 yards and five touchdowns in a 40-7 win at Sheldon last week. The Pacers' only losses are to the top three seeds: No. 1 Lake Oswego, No. 2 West Linn and No. 3 Tualatin. Lakeridge hasn't made the semifinals since 1994.
Semifinals
5A
No. 5 Thurston (9-0) vs. No. 1 Wilsonville (11-0), Friday, 7 p.m., McNary HS
High-powered Wilsonville (44.0 points per game), which lost to Thurston 30-27 in the 2018 final and 48-9 in the 2019 quarterfinals, will be looking for some payback. Wildcats senior Chase Hix has thrown for 2,255 yards and 25 touchdowns. But the two-time reigning state champion Colts have been stellar on defense, recording five shutouts, including a 20-0 quarterfinal win over Canby. Thurston senior tight end Jacob Newell, signed with Arizona State, also is a force at defensive end.
No. 3 West Albany (10-1) vs. No. 2 Silverton (10-1), Friday, 7 p.m., McMinnville HS
Silverton defeated West Albany 28-21 at home on Oct. 22 to win the Mid-Willamette Conference, building a 28-7 lead and surviving a late rally. The stakes are higher this time, especially considering West Albany and Silverton haven't reached a state final since 2013 and 2014, respectively. The Bulldogs lost in the semifinals in 2018 and 2019. Silverton senior quarterback Jordan McCarty has passed for 20 touchdowns and run for 10 scores. West Albany has one of the state's top freshman in Tyler Hart-McNally, who ran for 180 yards and two touchdowns on eight carries as the Bulldogs beat Dallas 28-9 in the quarterfinals.
4A
No. 5 Mazama (9-2) vs. No. 1 Marshfield (13-0), Saturday, 12 p.m., Grants Pass HS
Marshfield has been virtually unstoppable behind senior quarterback Dom Montiel, who has thrown for 2,973 yards and 44 touchdowns. But Mazama, winner of the 4A Showcase in the spring, is much improved from when the Pirates dropped the Vikings 35-20 in the season opener. Montiel threw for 330 yards and four scores in that game.
No. 7 Marist Catholic (9-2) vs. No. 3 Estacada (11-0), Saturday, 5 p.m., McMinnville HS
Estacada, riding a 16-game winning streak, is shooting to make the final for the first time since 1953, when the Rangers were the A-2 runners-up. Marist Catholic was the runner-up of the 4A Showcase in the spring and a semifinalist in 2019. The Spartans knocked off No. 2 seed Cascade 62-35 last week, getting 287 rushing yards from Lucas Tuski.
3A
No. 5 La Pine (7-3) vs. No. 1 Siuslaw (10-0), Saturday, 1 p.m., Cottage Grove HS
La Pine, which has never made the final, is in the semifinals for the first time since 1991, when it lost to Vale. That team included current head coach Bo DeForest, defensive coordinator Travis Cook and assistant Bob Metcalf. Siuslaw, winless in 2018, is making its first final-four appearance since 2011. The Vikings, who beat La Pine 34-26 at home Oct. 9, are led by senior receiver Braydon Thornton. He had a state-record seven touchdowns catches Oct. 14 against Pleasant Hill.
No. 7 Vale (10-1) vs. No. 3 South Umpqua (10-1), Saturday, 10 a.m, Caldera HS
Vale upset No. 2 seed Rainier in the quarterfinals, holding the explosive Columbians to 129 total yards and a season-low point total. The Vikings have a state-leading 12 state titles, the last one in 2015. Vale made the semifinals in 2018, losing to Rainier 40-13. South Umpqua, which finished 2-7 in 2018 and 2019, has made the semifinals for the first time since 1981, when it shared the state title with Siuslaw. The Lancers' only loss this season was 40-0 to Kalama (Wash.).
2A
No. 4 Coquille (8-1) vs. No. 1 Heppner (11-0), Saturday, 12 p.m., McMinnville HS
Reigning state champion Heppner is riding a 29-game winning streak. Mustangs senior Brock Hisler has rushed for 1,114 yards and 12 touchdowns and the defense is holding opponents to 6.0 points per game, recording six shutouts. Coquille is in position to make the championship game for the first time since winning its only title in 1970. The Red Devils have a prolific running back in senior Gunner Yates., who has rushed for 1,686 yards and 28 touchdowns, averaging 18.3 yards per carry.
No. 3 Lakeview (10-1) vs. No. 2 Kennedy (10-1), Saturday, 5 p.m., Grants Pass HS
Kennedy, the 2018 champion and 2019 runner-up, is in the semifinals for the fifth time since 2015 and third postseason in a row. The Trojans' only setback this season is a 34-28 loss to reigning champion Heppner in Week 4, the only time they have allowed more than 16 points. Lakeview advanced with a 27-26 quarterfinal win over Bandon as Max Graham caught a 29-yard touchdown pass in the final minute. Lakeview, which went 2-7 in 2019, is in its first semifinal since 2008.
1A-8
No. 4 Lost River (10-1) vs. No. 1 Adrian (11-0), Saturday, 2 p.m., Caldera HS
No team in Oregon – at any classification – has been more dominant than reigning 1A-8 champion Adrian, which has outscored its opponents 498-34, and that doesn't even count a 58-0 forfeit win over Wallowa. The Antelopes thumped Dufur 88-6 in the quarterfinals. Lost River, a 2A semifinalist in 2019, hasn't made a final since winning the 2A title in 2004. Pirates junior Nathan Dalton rushed for 291 yards and six touchdowns in a 63-34 quarterfinal win over Waldport.
No. 3 St. Paul (10-1) vs. No. 2 Powder Valley (10-1), Saturday, 6 p.m., Caldera HS
The Buckaroos and Badgers meet for the third time this calendar year. Powder Valley won at St. Paul 44-20 in the spring and beat the Buckaroos 50-40 at home Sept. 17. In the most recent meeting, Powder Valley's Reece Dixon threw three touchdown passes and scored on a run and fumble return. It's the first semifinal for Powder Valley since 2003 (its only title). The Buckaroos are in the final four for the fourth consecutive postseason, including a 2A appearance in 2017. St. Paul was runner-up in 2018 and 2019.