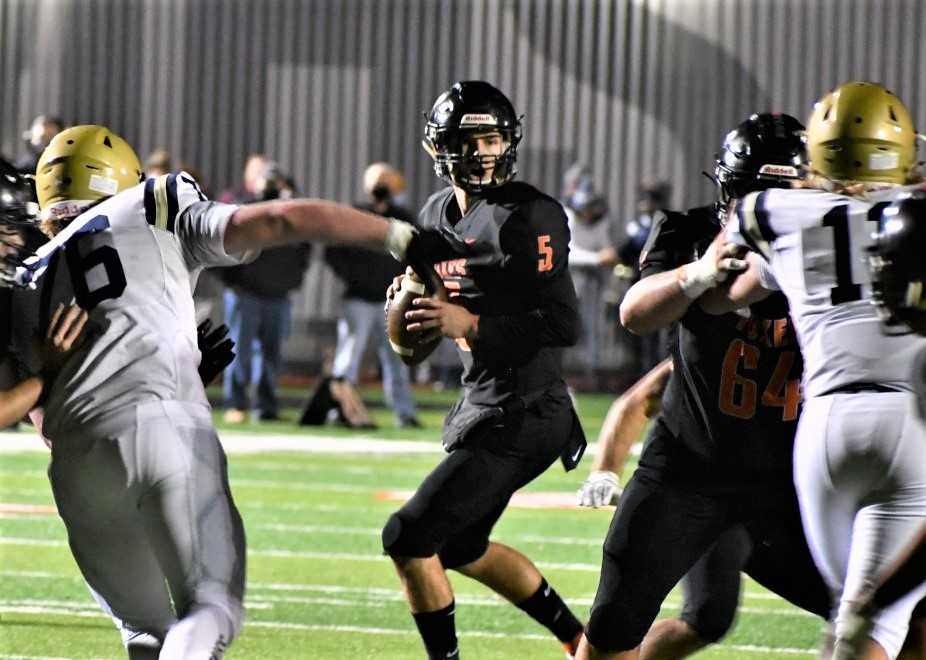 Silverton senior quarterback Jordan McCarty threw three touchdown passes to senior Austin Ratliff to spark the second-seeded Foxes to a 44-14 win over No. 3 West Albany in a 5A football semifinal Friday night at McMinnville High School.
McCarty completed 17 of 24 passes for 272 yards -- including scores of 29, 72 and 37 yards to Ratliff – and ran for a score as the Foxes defeated their Mid-Willamette Conference rival for the second time this season
Silverton (11-1) will go for its first title since 1991 when it meets No. 5 Thurston, the two-time reigning champion, in the championship game. The Foxes have not made the final since 2014.
"We've just got to take advantage of every moment," Ratliff said. "We're so dialed in right now. We're taking no days off. Our defense right now, I feel, it's one of the best in the state."
McCarty connected with Ratliff for two scores in the second quarter as the Foxes took a 24-7 lead over the Bulldogs (10-2) at half. McCarty's third scoring pass to Ratliff made it 31-7 early in the third quarter.
"We've been playing since forever, and it was good to get the connection going a couple of times," McCarty said. "The line blocked great for us.
"We were pretty confident with what we had going. We just kept at it and I think everyone trusted in each other. I trusted the line. They always come through. Of course, our guys out wide, they always come through."
The game was different than the first meeting between the teams, when the Foxes built a 28-7 lead but had to hang on to win 28-21.
"We were just waiting for that moment, and we just took advantage of it, and we just kept going," said Ratliff, who finished with six catches for 172 yards. "We took the momentum and put it on their throats."
The Foxes kept their focus, according to senior receiver Vandon Fessler, who had three catches for 31 yards and also collected two interceptions, returning one 39 yards for a score to make it 44-7 in the fourth quarter.
"We wanted to play the way we've been playing all season against them and not make things any different," Fessler said. "We knew they were going to take shots at us. That could've been the difference in the game if they kept making good shots on us. I'm glad we were prepared."
West Albany's Michael Cale completed 16 of 34 passes for 172 yards and two touchdowns – 23 yards to DeMarcus Houston and 30 yards to Donavyn Weddle – with three interceptions.
– Jeremy McDonald
No. 5 Thurston 34, No. 1 Wilsonville 14: Thurston (10-0) took a 14-0 lead in the first quarter and held off top-seeded Wilsonville (11-1) in the other 5A semifinal at McNary High School.
Brycen Indell and Gavin Knights scored on runs of 15 and 25 yards, respectively, in the first quarter as the Colts took control. Indell finished with 79 yards and two touchdowns on 22 carries and Knights had 84 yards and one score on 14 carries.
Thurston also got one-yard touchdown runs by Jay Rummel-West and quarterback Alex Boring and field goals of 28 and 33 yards by Gavin Levesque.
Wilsonville quarterback Chase Hix completed 19 of 42 passes for 368 yards and one touchdown, a seven-yard strike to Jack Johnson that made it 24-14 in the third quarter. Cooper Hiday caught six passes for 177 yards.
The Wildcats had a 361-251 edge in total yards, but the Colts forced seven turnovers, including interceptions by Parker Saunders, Vaun Halstead, Micah McGillivray and Miguel Perez.
6A quarterfinals
No. 9 Jesuit 56, No. 1 Lake Oswego 49: Game story
No. 4 Central Catholic 63, No. 21 Sherwood 21: Timmy Mitchell returned the opening kickoff for a touchdown for the 2019 champion Rams (13-0), who led 28-7 after one quarter and 49-21 at half in the game at Hillsboro Stadium.
Ellis Bynum rushed for 109 yards and three touchdowns, Cru Newman completed 14 of 18 passes for 241 yards and two scores, one to Jordan King, who had seven catches for 109 yards, to lead Central Catholic.
The Rams got interceptions from Mitchell, Solon Sanders, Stryder Todd-Fields and Zach Grisham and two sacks from Emar'rion Winston. Todd-Fields also returned a kickoff for a score.
Bjorn Bergstrom threw three touchdown passes to Cody Hall for Sherwood (7-5).
No. 3 Tualatin 42, No. 6 Summit 13: Malik Ross rushed for 150 yards and one touchdown on 18 carries as the Timberwolves (11-1) handled the visiting Storm (9-3).
Jackson Jones completed 17 of 27 passes for 158 yards and two touchdowns, to Peter Burke and Noah Ogoli. Jack Wagner ran for a score for Tualatin, which advanced to the semifinals for the first time since 2010, when it finished as runner-up.
No. 2 West Linn 10, No. 10 Lakeridge 7 (OT): Gage Hurych kicked a 23-yard field goal in overtime to lift the Lions (11-1) over Three Rivers League rival Lakeridge at Pioneer Memorial Stadium in Oregon City.
The Pacers (8-4) had the first possession of overtime but came up empty when they missed a field-goal attempt from about 40 yards.
West Linn took a 7-0 lead in the first quarter when Earl Ingle threw an 11-yard touchdown pass to Mark Hamper. Lakeridge made it 7-7 in the second quarter on a 10-yard run by Jake Reichle.
In the teams' other meeting this season, West Linn won 28-27 on a touchdown with 22 seconds left.