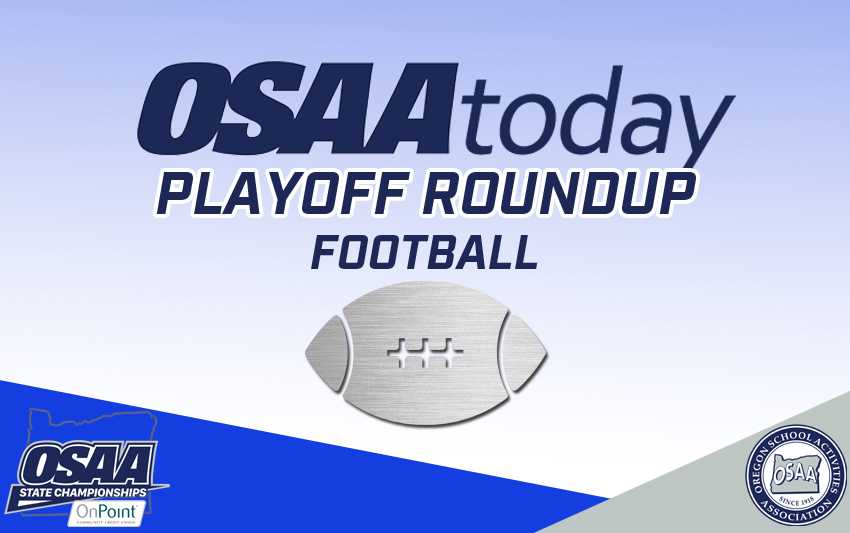 Seniors Miguel Velasquez and Ezra Waterman each ran for two touchdowns as top-seeded Marshfield ousted No. 5 Mazama 36-0 in a 4A football semifinal Saturday at Grants Pass High School.
With the win, the Pirates (14-0) advance to the championship game to face No. 7 Marist Catholic, a team it defeated 48-41 in the regular-season finale to win the Sky-Em League.
Marshfield will be going for its first state title since 1992. The Pirates last appeared in a state final in 2017, losing to Cottage Grove 48-14.
In Saturday's win, Marshfield held Mazama to 153 yards and forced four turnovers, two leading directly to touchdowns. Velasquez scored the Pirates' first touchdown on a 1-yard run in the second quarter after the Vikings fumbled the ball away at their own 17-yard line.
Waterman's one-yard touchdown run in the final minute of the first half – set up by a long pass from Dom Montiel to DJ Daugherty – gave Marshfield a 15-0 lead.
Velasquez made it 22-0 with a 27-yard run in the third quarter, and after the Pirates recovered a fumble at the Mazama 11 on the ensuing kickoff, Montiel threw a four-yard touchdown pass to Maddux Mateski for a 29-0 lead. Waterman scored Marshfield's final touchdown on an 11-yard run.
Montiel completed 21 of 31 passes for 255 yards and one score, giving him 3,228 yards and 45 touchdowns for the season. Waterman ran for 95 yards on nine carries and Velasquez rushed for 57 yards on nine carries for the Pirates, who finished with 420 total yards.
It was the second loss to Marshfield this season for Mazama, the 4A Showcase champion in the spring. The Vikings fell at Marshfield 35-20 in the season opener.
Saturday's other semifinals:
4A
No. 7 Marist Catholic 42, No. 3 Estacada 8: Game story
3A
No. 1 Siuslaw 28, No. 5 La Pine 26: Camp Lacouture rushed for 168 yards and four touchdowns on 21 carries as the Vikings beat the Hawks at Cottage Grove High School to advance to their first final since 2011.
Lacouture scored on two one-yard runs to give Siuslaw (11-0) a 16-0 lead in the first half. La Pine (7-4) drew within 28-26 on a 13-yard touchdown pass from Colton Campbell to Mike Brown with 3:41 left in the game, but on the ensuing two-point conversion attempt, Siuslaw's Braydon Thornton intercepted Campbell.
Lacouture recovered an onside kick and the Vikings ran out the clock.
Siuslaw owned a 424-270 edge in total yards. Vikings quarterback Beau Erickson completed 7 of 10 passes for 141 yards with one interception, and Thornton had two catches for 74 yards.
Campbell was 7 of 12 for 132 yards and one touchdown with one interception and ran for a team-high 73 yards and one score on 15 carries.
No. 3 South Umpqua 24, No. 7 Vale 21: Juri Moros kicked a 28-yard field goal with 18 seconds left to give the Lancers (11-1) the win over the Vikings (10-2) at Caldera High School in Bend.
South Umpqua will appear in its first state championship game since 1981, when it shared the title with Siuslaw. In an odd twist, the Lancers will play Siuslaw in the final.
South Umpqua never trailed against Vale, leading 7-0, 14-7 and 21-14. But the Vikings answered each time, finally pulling even at 21-21 on an eight-yard run by quarterback Tanner Steele late in the third quarter.
Vikings quarterback Jace Johnson threw touchdown passes of 45 and 6 yards to Andrew Christensen. Steele ran for two scores and threw a 34-yard touchdown pass to John Wolfe.
2A
No. 2 Kennedy 21, No. 3 Lakeview 0: Riley Cantu threw touchdown passes of 44 yards to Luke Beyer and 23 yards to Owen Bruner in the second quarter as the Trojans (11-1) built a 21-0 halftime lead and turned back the Honkers (10-2) at Grants Pass High School.
Kennedy, the 2018 champion and 2019 runner-up, will play in the final for the third consecutive postseason. The Trojans will meet Coquille.
William Schaecher also had an 11-yard touchdown run in the first half for Kennedy, which outgained Lakeview 274-147. Cantu was 9 of 22 for 138 yards and two touchdowns. Bruner and Elijah Traeger intercepted Honkers quarterback Benny Alves, who went 7 of 25 for 61 yards.
No. 4 Coquille 8, No. 1 Heppner 6: Game story
1A-8
No. 1 Adrian 62, No. 4 Lost River 20: Quarterback Conley Martin accounted for seven touchdowns as the reigning 1A champion Antelopes (12-0) rolled past the Pirates (10-2) at Caldera High School.
Martin rushed for 221 yards and six touchdowns on 13 carries and threw for one score, a 26-yarder to Riley Griffin. Jace Martin added nine carries for 165 yards and two scores for Adrian, which led 40-8 at half.
Lost River's Chase McAuliffe ran for a 59-yard touchdown and passed for a 39-yard score to Hayden Duren.
No. 2 Powder Valley 46, No. 3 St. Paul 8: The Badgers (11-1) defeated the Buckaroos (10-2) for the third time this calendar year to advance to their first final since 2003, the year of their only title.
Powder Valley, which beat St. Paul 44-20 in the spring and 50-40 on Sept. 17, took a 16-0 lead on an eight-yard run by quarterback Reece Dixon and a 39-yard pass from running back Cole Martin to Case Olson.
Dixon rushed for 108 yards and three touchdowns on 24 carries and Martin ran for 81 yards and one score on 10 carries, go to with his touchdown pass to Olson.
The Badgers held St. Paul to 217 total yards and eight first downs. The Buckaroos' only score came on a 44-yard pass from Lance Tuck to Warren Rose in the second quarter.
Powder Valley will meet Adrian in the final. The Antelopes beat the Badgers 38-0 on Oct. 1.