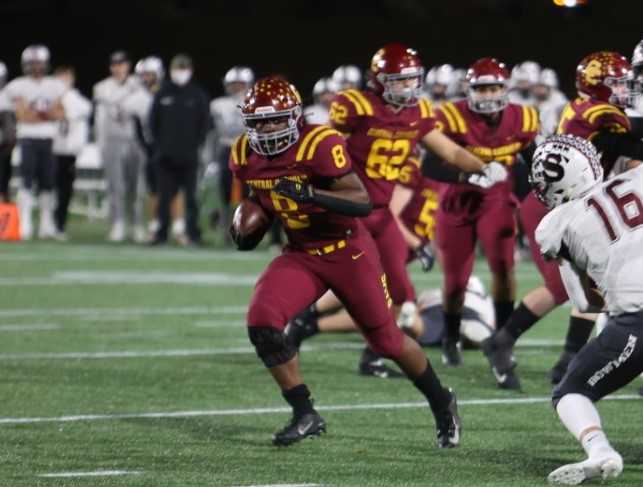 It's no secret that Central Catholic's explosive offense features the Mt. Hood Conference offensive player of the year in sophomore quarterback Cru Newman and two major college prospects in senior receiver Jordan King and junior tight end Riley Williams.
Late in the season, though, running back Ellis Bynum has come out of the shadows.
The 5-foot-10, 200-pound senior has rushed for 530 yards and eight touchdowns in the last five games, doing it all on 41 carries for the fourth-seeded Rams (13-0), who will play No. 9 Jesuit (11-1) in a 6A semifinal Friday.
"He's been phenomenal the last few weeks," Central Catholic coach Steve Pyne said. "He just runs so hard, and he's so patient. He does so many things well. He's just been real productive with the ball in his hands.
Bynum has rushed for six touchdowns in the last two games, playoff wins over Mountainside and Sherwood. Despite missing the first two games of the season with an MCL sprain, he has rushed for 838 yards and 15 touchdowns, averaging 12.3 yards per carry.
Pyne said Bynum is a cross between Miles Jackson and Elijah Elliott, the running backs that he played behind as a sophomore on Central Catholic's 2019 state title team.
"He's got a little bit of scoot to him, a little bit of wiggle, but he runs extremely hard," Pyne said. "People don't like to tackle him. He's put together."
Pyne said Bynum "played out of his mind" in his season debut against Tumwater, Wash., rushing for 82 yards and two touchdowns on eight carries and catching two passes for 69 yards.
And with the Mt. Hood Conference title on the line in the regular-season finale against Clackamas, Bynum rushed for 136 yards and one touchdown and caught six passes for 84 yards and one score.
After the Clackamas game, Bynum heard from Montana, Montana State and Weber State, according to Pyne. Portland State also has shown interest in Bynum.
Newman has been remarkably efficient at quarterback for the Rams. He has completed 117 of 155 passes for 2,196 yards and 32 touchdowns with three interceptions.
"He's a special talent," Pyne said of the 5-10 Newman. "He has kind of a sixth sense about him, an awareness, and playmaking ability. Even if he doesn't grow another inch, I think he's going to have a chance to play at a scholarship level."
Foxes defense 'locked in'
Overshadowed by Silverton's high-powered offense is the fact that the Foxes have been dominant on defense this season, too. After giving up 35 points in a loss to 6A Tualatin in Week 2, the Foxes (11-1) have held their last 10 opponents to 7.1 points per game.
No. 2 seed Silverton smothered rival West Albany 44-14 in a 5A semifinal, holding the No. 3 Bulldogs to seven points until giving up a touchdown with two minutes left. West Albany rushed for only 51 yards on 25 carries.
"We kind of ironed out some personnel stuff that's helped us get locked in, especially up front on the D-line, just figuring out who fits best where," Silverton coach Josh Craig said.
The key move came early in the season when the Foxes shifted senior Orie Schaffers (6-4, 280), a Mid-Williamette Conference first-team lineman on both sides of the ball, from defensive tackle to nose guard. It allowed the other defensive linemen – seniors Sam Willis (6-4, 275), Jermain Ifenuk (5-10, 200), Caelen Beatty (6-0, 200) and Lawson McEntire (6-0, 200) – to find more suitable roles.
Craig said the staff knew they needed to make some changes after a Week 3 win over South Albany.
"They got good penetration on us, so we thought, 'Man, we've got to get a little bit tougher up front to move,'" Craig said. "Once we moved Orie to nose, that kind of set everything else up front. He's been great for us. And we rotated better at the defensive tackle spots."
Against West Albany, senior Vandon Fessler had two interceptions, returning one 39 yards for a score. Senior Jordan McCarty, the team's standout quarterback, also had an interception on defense.
Silverton will play in its first final since 2014 on Saturday when it meets No. 5 Thurston (10-0), the two-time reigning state champion. Craig was a first-year assistant on that team under current Mountainside coach John Mannion, who visited the Foxes' practice on Thursday and attended their game Friday.
"We're really close. We talk all the time," Craig said of Mannion. "It's a cool relationship we have. He's got a lot of friends down here he talks to pretty much weekly."
Velasquez returns
The return of senior running back Miguel Velasquez provided a boost for Marshfield in its 36-0 win over Mazama in a 4A semifinal.
Velasquez was putting up big numbers late in the season by rushing for 131, 173 and 286 yards in successive games. In the latter, he ran for seven touchdowns against North Eugene.
But Velasquez suffered a high ankle sprain in the regular-season finale against Marist Catholic and missed playoff wins over Madras and Henley. He returned against Mazama and rushed for 57 yards and two touchdowns on nine carries.
"He's still good, but he's not the healthy Miguel," Pirates coach John Lemmons said of Velasquez, who has rushed for 870 yards and 19 touchdowns on 87 carries this season.
The 5-10, 195-pound Velasquez, a 2A/1A champion wrestler at 170 pounds for Reedsport as a sophomore, transferred to Marshfield as a junior and played running back and outside linebacker in the spring season.
He switched to defensive tackle this season and has been a key player up front, recording 39 tackles, four tackles for loss, 10 quarterback hurries, one caused fumble and two fumble recoveries.
"He's a very tough kid, very athletic, very explosive," Lemmons said. "Sometimes those smaller, faster, athletic kids are hard to deal with up front."
His breakout performances at running back are a welcome complement to a prolific Marshfield passing attack that features senior Dom Montiel, who has thrown 45 touchdown passes.
"We struggled finding a running game early in the season, and I feel like we're getting better all the time," Lemmons said. "That helps balance things out, makes us harder to defend when you have to worry about the run, too."
No. 1 seed Marshfield (14-0) plays No. 7 Marist Catholic (10-2) in the 4A final Saturday.