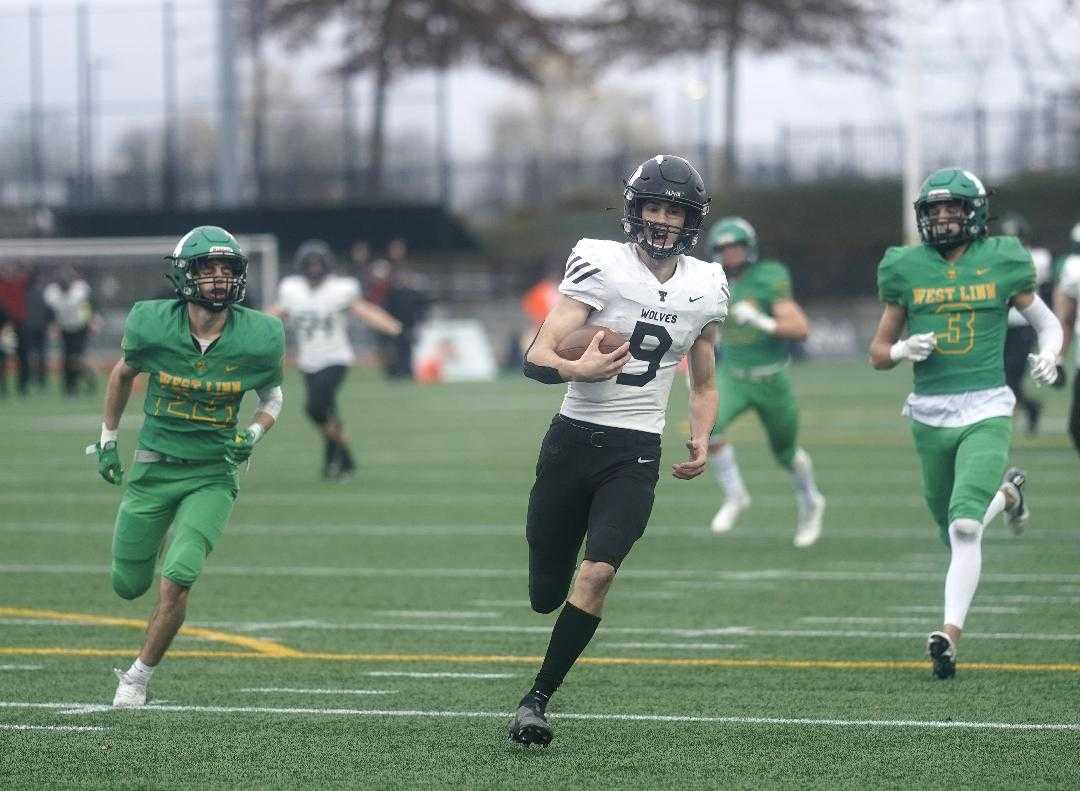 HILLSBORO – Tualatin was in a precarious position heading into a 6A football semifinal against West Linn on Friday afternoon at Hillsboro Stadium.
Even though Tualatin had beaten West Linn by five touchdowns in a Three Rivers League game in early October, the domination only seemed to crank up the pressure on the Timberwolves in the rematch with the proud Lions.
"For sure," Tualatin coach Dan Lever said. "To keep them focused this long is really hard. It's a rough way to make a living, I'll tell you that."
But the third-seeded Timberwolves (12-1) delivered with another convincing performance, seizing the momentum early by taking a two-touchdown lead in the first quarter and cruising to a 35-13 win over the No. 2 Lions (11-2).
"It's always tougher the second time, especially when it's that big of a margin," said Tualatin junior Jack Wagner, who ran for two touchdowns and had an interception on the game's first play. "I think we really needed the momentum in this game."
Tualatin will go for its first state championship next week when it meets either No. 9 Jesuit or No. 4 Central Catholic in the final at Hillsboro Stadium. It will be the third state final for the Timberwolves, who were runners-up to Sheldon in 2007 and Aloha in 2010.
"It's tough to soak it in," said senior running back Malik Ross, who rushed for two touchdowns and passed for a score. "Shoot, man, it's just crazy to think about, we could be one of the best teams ever to come through Tualatin. But we're not satisfied. We're not done yet."
West Linn came determined to make a better showing against Tualatin in a battle of teams that finished in a three-way tie with Lake Oswego atop the Three Rivers. But the Lions struggled to find an offensive rhythm against the stout, swarming Timberwolves, gaining a mere 167 total yards.
"We think the strength of our defense is the strength of our team," Timberwolves junior defensive lineman Richie Anderson said. "We're all-around great players. We have the energy, we're focused. I think we can stop anybody."
Lever called his defense "relentless." Tualatin had three sacks – solos by Anderson and senior Brandon Chin and half-sacks by junior Will Wilson and sophomore Hunter Smith – and got interceptions from Wagner and senior Kellen Hale.
"Just unbelievable effort by them," Lever said. "I'm so proud of them. They won us this football game. That old adage is right, 'Offense wins games, defense wins championships.' We rode them."
Wagner's interception of West Linn junior quarterback Earl Ingle – 10 seconds into the game – set up Tualatin at the Lions' 35-yard line. On fourth-and-12, Ross gained 13 yards on a screen pass, leading to a six-yard touchdown run by Wagner and a 7-0 lead.
The Timberwolves made it 14-0 late in the first quarter. On fourth-and-three at the West Linn 33, Ross took a direct snap from center, stopped in his tracks and threw a jump-pass over the Lions to a wide-open Anderson, who raced into the end zone.
What were Ross' thoughts on the play?
"Don't mess it up," Ross said. "I obviously can't throw the ball, so when I get my chance to throw it, I just had to make it right. We knew they were going to bite on the wildcat, and it was a perfect play for us to run. Shout-out to my tight end for catching that, too."
The call came after a Tualatin timeout.
"Everyone knows about Malik Ross, so we just switched it up to catch them off guard," Anderson said of his third touchdown catch of the season. "That was the plan. Lever pulled it off perfectly. It was the perfect time to use it. I've never run in the open like that. It's not something I'm used to."
West Linn had a first down at the Tualatin 16 early in the second quarter but turned it over on downs. The Lions took over at the Tualatin 38 on their next possession and again came up empty.
"Our defense fought really well early and kept us in the ballgame," West Linn coach Chris Miller said. "We just didn't deliver on offense. And we had plays to be made."
The Timberwolves opened the second half by driving 79 yards in 10 plays – capped by a one-yard touchdown run by Ross – to take a 21-0 lead. Two minutes later, Wagner ran for a 53-yard score, and it was 28-0.
"We struggled early, but we finally kind of got it going in the second half," Lever said of his offense. "We made some adjustments."
West Linn finally got on the board late in the third quarter on a five-yard pass from senior Chase Harmon to junior Mark Hamper, but Tualatin quickly answered with a 50-yard touchdown run by Ross to make it 35-7.
Ross called it a night after his second touchdown, finishing with 111 yards and two scores on 19 carries. It was a gutsy effort considering he is nursing a foot injury that he suffered in a quarterfinal win over Summit.
"This late in the season, nobody's 100 percent, so you've just got to toughen up and do it for your teammates," Ross said. "Not just for myself, but play for your teammates.
"Semis, man, it's my senior year, I couldn't miss out. You've got to throw the pain to the side. It's just weakness leaving your body. You've just got to toughen up."
Tualatin finished with 364 total yards, 225 on the ground. Wagner added 89 yards on eight carries. Senior Jackson Jones completed 7 of 11 passes for 78 yards with one interception.
For West Linn, Ingle completed 6 of 20 passes for 65 yards with two interceptions, and Harmon came off the bench to go 6 of 10 for 68 yards. Hamper had five catches for 61 yards and one touchdown and ran for two-yard score in the fourth quarter.
The Lions, playing in their first semifinal since winning the 2016 title, had eight pre-snap penalties.
"Unfortunately, our flaws on offense have been self-inflicted wounds," Miller said. "We had eight mental errors against Lakeridge (in the quarterfinals). I'm sure we had double-digit errors tonight."
Ingle's early interception set an ominous tone.
"Just coming out flat like that, it was battling from behind the entire time," Ingle said. "It's unacceptable. … We didn't put our best game together against them either time. Unfortunately, we won't get another chance to anymore."