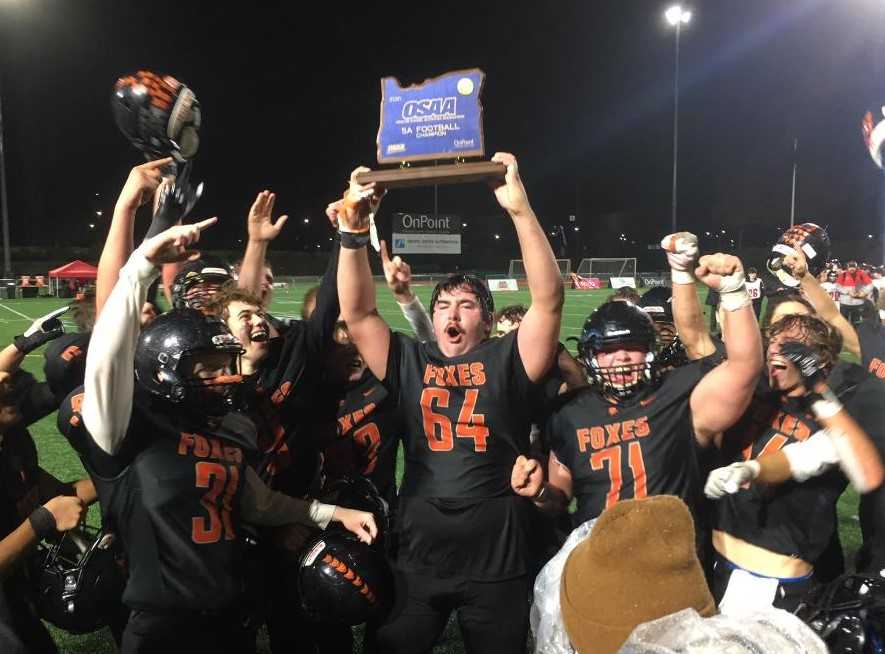 HILLSBORO – As Silverton piled up points in the first quarter Saturday at Hillsboro Stadium, the Foxes had a nagging feeling that they were going to need all of them against two-time reigning champion Thurston in the OSAA/OnPoint Community Credit Union 5A football final.
"We knew they were going to punch us back, and they did," Silverton senior quarterback Jordan McCarty said.
As it turned out, the Foxes had just enough, using a 23-point, first-quarter cushion to hold off the Colts 26-20 and win their second state championship. Since winning the other title 30 years ago, the Foxes had played in only one championship game, losing in 2014, and they were determined to make the opportunity count.
"Honestly, it's everything," said Silverton coach Josh Craig, who was a first-year assistant on the 2014 team. "We won one state championship, in 1991, and a lot of dads have players in the program now. For those dads to see their sons win it, it means everything."
No. 2-seeded Silverton (12-1) took advantage of three turnovers in the first quarter – turning two fumbles into touchdowns and getting a safety out of a failed punt snap – to build a 23-0 lead. No. 5 Thurston (10-1) rallied to within 26-20 early in the fourth quarter, but the Foxes rose up on defense to close it out.
"Just like we always have, we just got it together," said Silverton senior defensive lineman Samuel Willis, who had a key sack on Thurston's last series. "We bowed our necks and did it together."
McCarty completed 15 of 28 passes for 183 yards and two touchdowns, first-quarter strikes of 15 yards to senior Austin Ratliff and 25 yards to senior Vandon Fessler. The 5-foot-11, 175-pound Fessler had a big night, catching 10 passes for 145 yards, including a clinching fourth-down grab in the final seconds.
"It's fantastic. We've been working for this all year," said Fessler, who finished the season with 84 catches for 1,444 yards and nine touchdowns. "We just wanted to perform the same way we did all year. I'm glad we were able to."
Silverton's only loss this season was a 35-28 defeat at Tualatin, a 6A finalist.
"It took everyone playing together and everyone trusting the person next to them," McCarty said. "We're super excited how it turned out. We're confident in each other, and we have confidence in ourselves. And it goes a long way."
McCarty passed for 3,033 yards and 25 touchdowns and ran for 698 yards and 11 scores this season.
"Jordan's got the biggest heart and guts of anyone I've ever coached," Craig said. "The kid never quits. He just keeps competing, keeps battling, no matter what. He's always positive, and he sets the tone for our team in that way. A truly great person, too."
Fessler said it was "awesome" playing with McCarty.
"I'm really going to miss that guy.," Fessler said. "He throws the ball great, and he always makes the play for us."
Thurston had not lost to a 5A team since 2018. The Colts were holding opponents to 7.5 points per game and had plenty of momentum after beating No. 1 Wilsonville 34-14 in the semifinals.
But the first quarter was a nightmare for Thurston.
Junior Vaun Halstead fumbled on the game's first play and Silverton senior Keegan Walter recovered at the Thurston 26-yard line. Foxes junior Alejando Briseno scored on a one-yard run and it was 7-0.
On the Colts' next series, senior running back Brycen Indell lost a fumble to Silverton senior Nolan Meyer at the Thurston 12. McCarty's 15-yard touchdown pass to Ratliff put the Foxes up 14-0.
The punt snafu on Thurston's next series made it 16-0. Two minutes later, McCarty hit Fessler for the 25-yard score, extending the lead to 23-0 with 4:19 left in the first quarter.
"We put ourselves in a tough spot. Very uncharacteristic with that many turnovers," Thurston coach Justin Starck said. "We haven't turned the all over like that all year. We weren't quite built this year to be down that much, and be that one-dimensional."
The Colts got on the board early in the second quarter when senior Kellen Humphries intercepted a McCarty pass and returned it 48 yards for a touchdown, cutting the lead to 23-7. Silverton junior Benjamin Roythorne kicked a 27-yard field goal for a 26-7 lead at half.
Thurston's offense finally struck on the final play of the third quarter when senior Alex Boring threw a 39-yard touchdown pass to senior tight end Jacob Newell, making it 26-14. Unfortunately for the Colts, The Arizona State-bound Newell was injured from a hard fall into the end zone and left the game for good.
The Colts kept the momentum going on their next series as Boring connected with senior Micah McGillivray for a 35-yard touchdown pass, cutting the lead to 26-20 with 8:06 left. Thurston's defense held, and the Colts got the ball back at their own 30 with 5:43 to go.
But Silverton sacks by Willis and Meyer forced Thurston into fourth-and-26. The Colts punted it away, and Silverton ran out the last 4:26, clinching it with a 21-yard pass from McCarty to Fessler on fourth-and-17 with three seconds left.
"I was kind of numb. It was pretty great," Fessler said of the catch, which set off Silverton's celebration. "I hadn't made that catch early in the game, so I'm glad I did this time."
McCarty called the final play "very fitting."
"He just made a play, like he always does, like he has all season," McCarty said of Fessler.
Silverton's defense, which entered allowing 9.6 points per game, was outstanding. The Foxes held the Colts to 132 yards and seven first downs. Thurston finished with 20 rushing yards on 25 carries.
"I thought our defense did a great job holding up the whole way through," Craig said. "Even when things got scary and our offense kind of stalled out."
The defense ensured that Silverton did not wilt in the face of Thurston's second-half surge.
"We knew we were in it for the long haul," Willis said. "Championship games aren't over in the first half. So we knew we had to stick with it."
The Colts, who had designs on a three-peat, were left to lament their slow start.
"Mistakes add up really quick" Halstead said. "We played really well in the second half, but as many turnovers and mistakes as we had in the first half, we just couldn't come back from that. That's something we just have to deal with. We could've won this game. We should've won it. It came down to our mistakes."
It hurt Thurston that Newell had to leave the game in the midst of the second-half rally. Starck said that Newell suffered an "upper extremity injury" that could put his senior basketball season in jeopardy.
"We wanted to do good for him," Halstead said. "With him going out, getting hurt, that just gave us a little more fire, like, 'Hey, now we've got something even more to play for.'"
Starck was gracious in defeat.
"I want to give them all the credit in the world," he said of the Foxes. "Their kids were hungry and they played with a lot of heart. They really wanted it. They're very deserving of a championship."
Now some of the Foxes can turn their attention toward going after a basketball title. Ranked No. 1 in the OSAAtoday 5A preseason coaches poll, they are shooting for a state championship.
"That's the goal, yeah," said McCarty, the starting point guard. "We have Thurston in 10 days, I think. So I'm looking forward to that."