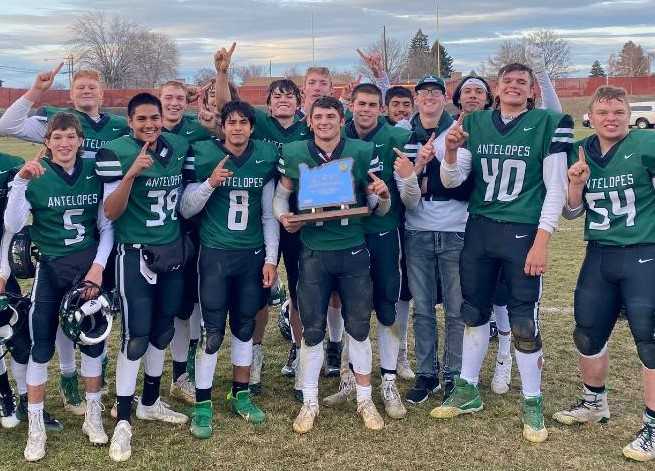 BAKER CITY – Reigning champion Adrian came from behind in the fourth quarter to defeat district rival Powder Valley 46-38 in the OSAA/OnPoint Community Credit Union 1A football final at Baker High School on Saturday.
Adrian senior quarterback Conley Martin ran for a six-yard touchdown and a two-point conversion with 2:37 left to break a 38-38 tie and lift the top-seeded Antelopes (13-0) over the No. 2 Badgers (11-2).
Adrian had not trailed this season, but fell behind by 10 points on three occasions, the final time at 32-22 in the middle of the third quarter. The Antelopes pulled even at 38-38 when Jace Martin scored on a two-yard run and Conley Martin ran for the two-point conversion with 4:57 remaining.
The final score was set up by a key turnover. Adrian's Misael Munoz strip-sacked Powder Valley's Reece Dixon, and Sam Kiely recovered for the Antelopes at the Badgers' 6-yard line. Conley Martin ran for the tiebreaking touchdown on the next play.
"We made big plays when we needed to," Adrian coach Bill Wortman said. "That was crucial. In the fourth quarter, we really buckled down up front and got pressure on the quarterback, and made them turn the ball over when we needed to."
On Powder Valley's final series, the Badgers turned the ball over on downs at their own 21.
Conley Martin rushed for 211 yards and three touchdowns on 29 carries and passed for a 23-yard score to Gavin Bayes. Conley Martin's performance came one week after he rushed for 221 yards and six touchdowns in a semifinal win over Lost River.
"He's a great, great football player, and a great kid," Wortman said. "I kind of had a feeling going into this game that he might have to run the ball 30 times, and he ended up running it 29. He was banged up. His shoulder got dinged up, but he gutted it out, just like he always has. Just a fantastic way to end his career at Adrian."
Adrian defeated Powder Valley 38-0 in a Special District 2 East Division game on Oct. 1, but the Badgers gave the Antelopes all they could handle Saturday. Wortman credited his team for battling through it.
"We still have a big core from that 2019 championship team," Wortman said. "We told them this week, 'Look, this is not going to be a walk in the park. There's going to be some adversity, you've just got to keep moving on to the next play.' They took that advice to heart, and they stuck after it."
Jace Martin rushed for 97 yards and two touchdowns on 17 carries for Adrian, which had a 363-252 edge in total yards. The Antelopes got sacks from Conley Martin, Munoz, Kiely and Chase Andrade.
Powder Valley's Dixon completed 8 of 16 passes for 129 yard and one touchdown and rushed for 49 yards and two scores on 23 carries. Cole Martin returned a kickoff 94 yards for a score and Kaden Krieger had four catches for 72 yards for the Badgers, who won their only championship in 2003.