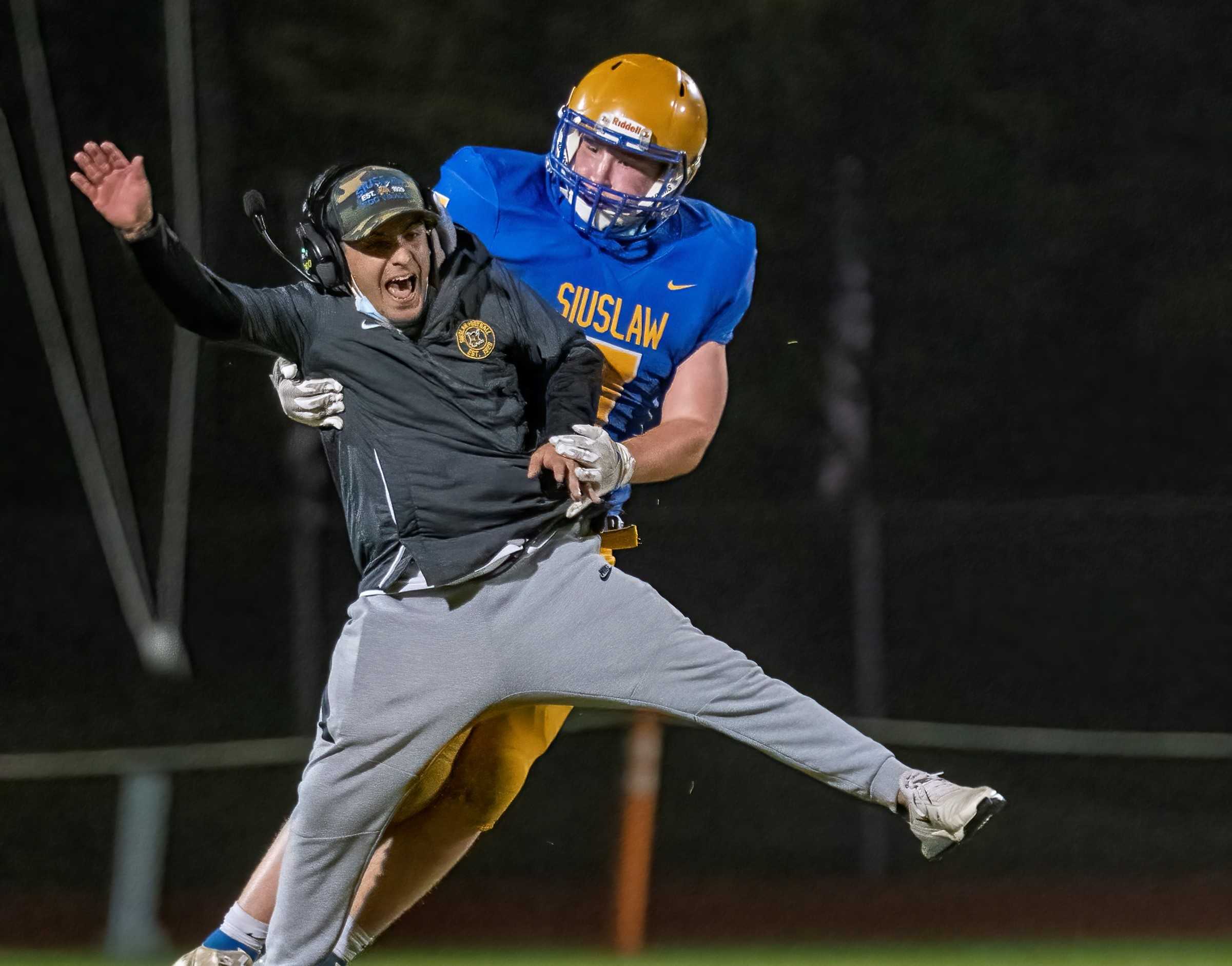 At 25, Siuslaw's Sam Johnson became one of the youngest football coaches – if not the youngest – ever to win an Oregon state championship when the Vikings beat South Umpqua 14-9 in the 3A final Saturday.
But football state titles certainly are nothing new to Johnson's extended family.
His uncle, Marty Johnson, coached Sheldon to three big-school titles (2002, 2007, 2009). Another uncle, Lane Johnson, assisted on title teams at Glencoe (1994) and Sheldon (2002, 2007, 2009) before coaching Sheldon to the championship in 2012.
His cousin, Jordan Johnson, was the quarterback for Sheldon title teams in 2007 and 2009.
His grandfather, John Johnson, played for Marshfield's championship team in 1954 before going on to become the Pirates' coach from 1979 to 1987, later assisting on their 1992 state title team.
Sam was the ballboy for four Sheldon championship teams and Siuslaw's last title team in 2006. Winning a championship at Siuslaw, where he and his brother John played for the state runner-up team in 2011, was about as good as it gets for Sam.
"Super appreciative of it all, and very thankful to be a part of it," said Sam, who took over as coach after the Vikings finished 0-8 in 2018 and led them to a 12-0 record this season. "Lucky to have it happen in Year 3 with such amazing kids. I was very blessed with a good group of kids. The state championship is not on me. I lucked into this."
Sam's father, Andy, is an assistant on the Siuslaw staff. Sam's cousin, Nick Johnson – the son of Rocky, who is the older brother of Marty, Lane and Andy – is the Vikings' defensive coordinator.
"Our big Johnson family group chat on text has been going crazy," Sam said. "A lot of pictures."
Sam's brother, Will, will be a freshman running back at Siuslaw next year. He has been a ballboy for the Vikings for the past three years.
"He's a stud. Holy smokes," Sam said of Will. "He's bigger than John and I are right now. So the older brothers picking on the younger brother doesn't really work anymore.
"The next four years should be fun. We viewed him as part of the team for the last three years, but for me and my dad and my cousin to be able to coach him is going to be pretty awesome."
Dream realized
For Silverton coach Josh Craig, who was born and raised in the town, winning a state title with the Foxes on Saturday fulfilled a childhood dream.
Craig and his twin brother, Jake, were one year old when Silverton won its last title in 1991. They played for the Foxes before graduating in 2009.
"It's just a massive part of our lives," Craig said. "It's been a big passion, so to do this is pretty special. I grew up with an article cut-out of that 1991 championship win on my bedroom door. I kind of idolized it."
Craig returned to Silverton as a teacher and coach in 2014, joining the staff under John Mannion. The Foxes reached the 5A final in that first season, losing to Hermiston 34-12 at Hillsboro Stadium.
Craig took over as coach in 2017 after Mannion left to start the program at 6A Mountainside. This season, he guided Silverton back to the 5A final at Hillsboro Stadium, where the Foxes beat two-time reigning champion Thurston 26-20.
"To get back there and win it this time was really cool," said Craig, who has a 41-11 record in five seasons, including 12-1 this year.
Mannion attended the final and visited with Silverton's coaches after the game.
"He was so pumped," Craig said. "He really started this thing 12 years ago. He kind of got Silverton football on the map. We weren't bad before, we were just hit and miss. He really got things rolling, and I kind of picked up the torch and kind of put my own spin on things."
Now Craig faces the challenge of replacing 25 seniors, including standout quarterback Jordan McCarty and receivers Vandon Fessler and Austin Ratliff. The prospects are promising, though, considering Silverton's freshman team went undefeated and its JV team lost only to 6A Central Catholic.
"There are going to be a lot of new faces, but we definitely have some talent coming in," Craig said.
The Foxes will be watching Saturday's 6A final between Tualatin and Central Catholic with interest. Their only loss this season was a 35-28 defeat at Tualatin, a game in which they fell behind 21-0 and rallied late.
Craig said he will be pulling for the Timberwolves. Losing only to the 6A champ would be a feather in Silverton's cap.
"If we don't start that game down 21-0, maybe we win that game," Craig said. "Tualatin plays with a lot of confidence. I wouldn't say it's cockiness, they just have a nice edge to them. So they're going to get after it."
Chip off the block
Considering his bloodlines, maybe it shouldn't be too surprising how Coquille senior running back Gunner Yates ran all over Kennedy in the 2A final Saturday.
The 6-0, 185-pound Yates, who ran for a finals record 388 yards and five touchdowns in a 38-28 win, is the son of former Coquille star running back Griff Yates, a three-time NAIA All-American at Southern Oregon in the late 1990s.
Gunner's brothers, Sye and Caiden, also were standout running backs and linebackers at Coquille. Caiden was the conference player of the year for the Red Devils in 2018 and 2019, setting school records that were broken by Gunner.
"They all know how to run the ball pretty darn good," Coquille coach David Thomason said. "Gunner is kind of the combination of those guys. He's got the physicality and the speed, and the football smarts. He can read a field. He's just got abilities you can't coach."
Yates put up staggering numbers this season. In nine games, he rushed for 2,203 yards and 34 touchdowns, averaging 15.6 yards per carry and 244.8 yards per game.
"A good chunk of the games, he only played in one half," Thomason said.
Thomason said Yates is the fastest player he has coached in his 13 seasons at Coquille. Yates has been hand-timed in the 4.5-second range for 40 yards, according to the coach.
"The thing about him is he doesn't lose speed when he cuts," Thomason said. "He cuts at full speed. So everything he's doing is at full speed, and then if he gets out in the open, he's just got that extra gear."
Yates plans to play in college, but has not decided on where. Oregon State has offered him a preferred walk-on opportunity.
"There are a lot of schools that have been looking into him," Thomason said. "Of course, SOU would love to have another Yates down there."
Early sign
Heading into the season, the Tualatin Timberwolves had a hunch that they were on the verge of something historic.
And when they opened with a 44-33 win at Menlo-Atherton (Calif.) in the Bay Area, it gave them confirmation. Menlo-Atherton went on to win its conference and a playoff game.
"How we played down there, I knew something special was happening this year," Tualatin junior Jack Wagner said. "Everything was clicking in that game. I knew we were in for a ride this year."
It only raised expectations for the third-seeded Timberwolves (12-1), who will go for their first title Saturday when they meet No. 4 Central Catholic (14-0) in the 6A final.
"When we beat Menlo-Atherton down there, with the players they have, I said, 'We're going to have a shot at this thing if we stay healthy,'" Timberwolves coach Dan Lever said. "Because that was a heck of a team."
Tualatin earned its spot in the final by beating No. 2 West Linn 35-13 in a semifinal Saturday.
"I think there's no limit when we play our best," Wagner said.
Added junior Richie Anderson: "We're focused on the championship. That's what we want. We think we deserve it."
Montiel makes his mark
Marshfield's Dom Montiel made sure to leave a lasting impression in leading the Pirates (15-0) past Marist Catholic 49-34 in the 4A final for the team's first championship since 1992.
The senior quarterback completed 28 of 44 passes for 439 yards and five touchdowns with one interception and ran for 121 yards and one score on 17 carries, setting career highs in passing and rushing yards.
The performance pushed Montiel further up the state's all-time lists.
He finished the season with 50 touchdown passes, tying for No. 4 on the single-season list with West Linn's Tim Tawa (2015). The top three seasons belong to Wilsonville's Nathan Overholt (59 in 2018), Beaverton's Taylor Barton (56 in 1997) and Tawa (55 in 2016).
His season passing total of 3,667 yards moved him into No. 10 all-time, edging past Scappoose's Derek Anderson (3,608 in 2000).
Montiel's 86 career touchdown passes puts him at No. 10. His 6,823 career passing yards is 16th.
Adrian's ace
If Adrian is going to pursue a 1A three-peat in 2022, the Antelopes will have to fill some big shoes in quarterback Conley Martin.
The 5-9, 165-pound Martin, a four-year starter, was the driving force for Adrian (13-0). In the 46-38 win over Powder Valley in the final, he rushed for 211 yards and three touchdowns and passed for a score. He broke a 38-38 tie by running for a six-yard touchdown and two-point conversion with 2:37 left.
Two years ago, he led the Antelopes past St. Paul 38-32 in the final by rushing for 201 yards and four touchdowns and passing for 237 yards and one score.
Martin said he plans on attending a four-year college but isn't sure about continuing his football career. He said he has talked with Pacific, Eastern Oregon and Carroll College about playing.
"I would like to play," he said. "I'm not picky. I just enjoy playing."
Martin took satisfaction in how the Antelopes were able to hold off Powder Valley on Saturday. They defeated the Badgers 38-0 in the first meeting this season.
"It was good to have a real challenging game to finish it off," he said. "There's nothing sweeter than winning a tight game."
How did the the Antelopes compare to their 2019 title team?
"The dynamic is a little bit different," Martin said. "The kids I'm playing with now I've been playing with since fourth and fifth grade, so there's maybe a little bit closer bond."
Martin's brother, Jace, was a junior running back on the team this season.