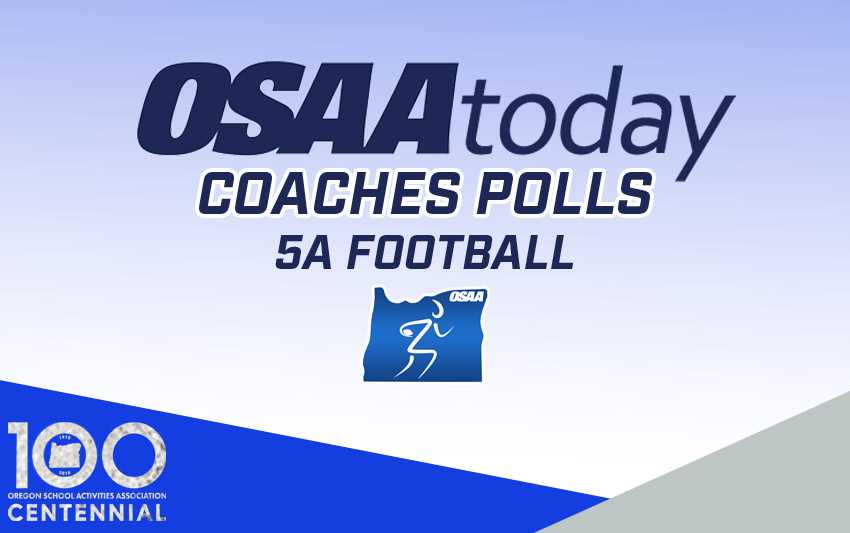 Week 8 Statewide Football Coaches Poll 5A
OSAAtoday presents its weekly 5A Football Coaches Poll. Thanks to all the coaches who took the time and had the expertise to contribute their opinions to this endeavor.
Please note: these polls are for generating interest and discussion only and have no impact on the OSAA's RPI and Colley ratings that form the basis of the OSAA's rankings for playoff purposes.
5A Football
1. Wilsonville (12) [1] 8-0 129
2. Churchill [3] 7-1 106
3. Pendleton (1) [2] 8-0 102
4. West Albany [4] 8-0 98
5. Silverton [5] 7-1 68
6. Thurston [6] 6-2 61
7. Lebanon [9] 6-2 50
8. Scappoose [7] 6-2 41
9. Crater [7] 5-3 18
10. Crescent Valley [10] 5-3 15
First-place votes in parentheses
Last ranking in brackets
Record listed is what's posted on www.osaa.org
Others receiving significant votes: North Bend (11), La Salle Prep (9)
Notes: Nathan Overholt threw six touchdown passes, giving him 38 for the season, as Wilsonville overran Wilson 57-20. … Carson Van Dyke threw two touchdown passes to Myles Westburg for West Albany in a 21-7 win over Dallas. … Lebanon built a 21-0 lead in the first quarter and cruised past Crescent Valley 56-19. … Silverton rolled McKay 55-13 behind quarterback Levi Nielsen, who returned after missing four games and threw three touchdown passes, two to Nathan Kuenzi. … Churchill defeated Crater 58-20 as Deonte Jones rushed for 248 yards and four touchdowns and Demontre Thomas II passed for 325 yards and three scores. Elijah Fields had two touchdown catches and returned a kickoff for a score for Churchill. … Connor McNabb ran for 96 yards and one touchdown, caught three passes for 81 yards and returned a kickoff 80 yards for score in Scappoose's 50-21 win over Cleveland. ... Thurston defeated Ridgeview 71-38 as Wes Kommer rushed for 239 yards and three touchdowns on 20 carries and caught two scoring passes, giving him 837 rushing yards in the last four games. Colts quarterback Cade Crist completed 12 of 15 passes for 216 yards and five touchdowns. … Pendleton remained unbeaten by blasting Benson 61-18, getting three touchdown passes and a touchdown run by Cooper Roberts. Blake Davis and Willie Camp each scored on a kick return and touchdown catch for Pendleton.