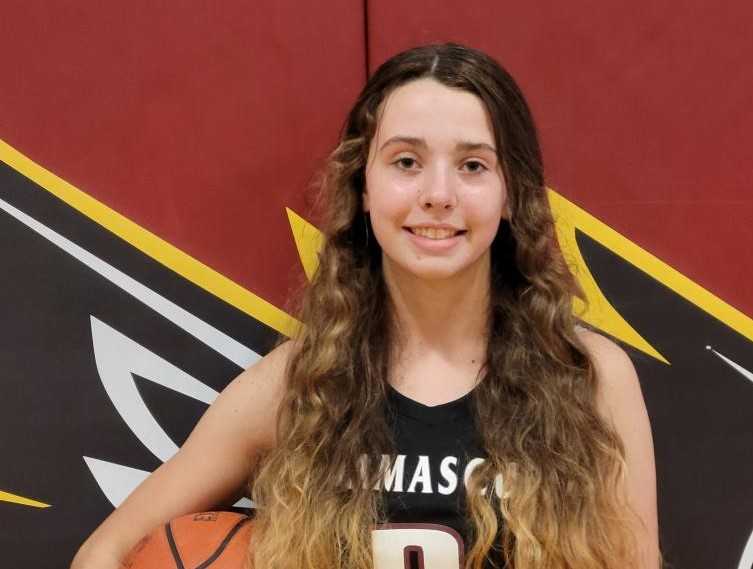 The 550-mile round trip to Burns paid off a big way for the Damascus Christian girls basketball team last weekend.
Led by 19 points from senior point guard Emily Powers, the Eagles stunned 1A powerhouse Crane 55-54 on Saturday at Burns High School, ending the Mustangs' 47-game winning streak.
"They were pretty excited," Damascus Christian coach Morgan Colburn said of his players. "There was a lot of hooting and hollering in the locker room. It was a big deal. It says something to us."
Crane (3-1) had not lost since falling to Powder Valley in the quarterfinals of the 1A tournament in 2019. The Mustangs went 29-0 to win the title in 2020 and finished 13-0 last season, claiming the championship of the 1A culminating week tournament in June.
Damascus Christian lost to 3A Burns 47-30 on Friday but bounced back to take down Crane, avenging a 43-23 semifinal loss to the Mustangs in the 1A culminating week tournament.
"We played smarter than we have been playing," Colburn said. "We didn't turn it over 100 times. Crane puts a lot of pressure on you, so that was really big. We played great team defense. We kept them out of the paint most of the time. Kept them from getting to the rim on breakaways."
The Eagles trailed by eight points in the first half before closing to within 26-23 by intermission. They took a 42-39 lead after three quarters and pulled ahead by eight points with one minute left before surviving a late rush by the Mustangs, who made a three-pointer at the buzzer to make it 55-54.
Damascus Christian (3-1) got 13 points from junior guard Sierra Hale, 12 from junior post Julia Mitchell and 11 from sophomore post Lailie Rasmussen. The defense of freshman guard Ava Mai and senior guard Alysha Colburn also was key.
The win bolsters the confidence of the Eagles, who are No. 3 in the this week's OSAAtoday 1A coaches poll, one spot behind Crane.
"It's too early to say, but I think we're in the top five teams," Morgan Colburn said. "We've got a long way to go. I think when you're up by eight points with a minute to go, you have to close that out better than that. We still play a little bit chaotic."
Crane junior guard Leslie Doman scored 19 points, making five three-pointers, four in the first half. Junior Alexia Ballard and sophomore Kortney Doman added 13 and 10 points, respectively, for the Mustangs.
Crane is playing without standout senior guard Kelsie Siegner, who suffered a torn ACL in the final of the 1A culminating week tournament. She was the 1A co-player of the year as a sophomore.
"If she was playing, they would hands-down be the best team again," Morgan Colburn said. "But they still have pieces. They have been blitzing other teams. They just have that winning tradition, so they find a way to compete."
Colburn, who previously coached the boys and girls teams at Trout Lake (Wash.), is in his second season as the Eagles' coach. He took over for Dave Wakefield, who is No. 2 on the state's all-time wins list with a record of 614-127 at North Clackamas Christian (1991-98) and Damascus Christian (2001-2020). Wakefield led the Eagles to state titles in 2013 and 2015.
Colburn also is in his first season as the Damascus Christian boys coach after assisting for the Eagles' runner-up team in the 1A culminating week tournament. He said that coaching the girls team is a "one-year deal."
"The idea is that I'll coach the boys from here on out," he said.
Foxes take down No. 1
Sophomore Kyleigh Brown scored 22 points and junior Lily Hayashida added 18 points as 5A Silverton went on the road to knock off 4A No. 1 Philomath 53-42 on Dec. 7.
The Foxes (2-2) went on an 11-3 run at the end of the first half to lead 22-15, then made three three-pointers at the start of the third quarter to pull away. They led by 23 points early in the fourth quarter before the Warriors made a late push.
Silverton finished with seven three-pointers, five in a 22-point third quarter.
The loss dropped Philomath (2-1) to No. 2 in the OSAAtoday coaches poll this week, behind Cascade. Silverton climbed from No. 8 to No. 5 in the 5A poll.
Philomath was hindered by foul trouble to standout senior guard Sage Kramer. She had three fouls in the first half and picked up her fourth foul 20 seconds into the third quarter, forcing her to the bench until late in the period.
Kramer scored 13 points for the Warriors. Junior Hailie Couture made four three-pointers and scored 21 points to lead Philomath.
Lighting it up
Junior guard Emma McDonald is off to a hot start for Putnam, which is No. 2 in the OSAAtoday 5A coaches poll.
The 5-5 McDonald is averaging 25.0 points, 3.0 rebounds and 3.5 steals for the Kingsmen (3-0), shooting at better than 50 percent from three-point range. She scored 31 points in a 78-45 win over 6A Liberty on Dec. 7.
Putnam coach Max d'Auvergne said McDonald returned this season as a "much more confident player" after playing extensively on the club circuit last summer.
"Three-point shooting is the most obvious way she impacts the game, but she makes a difference on both ends of the floor," d'Auvergne said. "Emma plays extremely hard on defense and is a harassing on-ball defender. Her foot speed and relentless motor allow her to really give opposing ballhandlers trouble."
Interstate Shootout
The Nike Interstate Shootout will mark its 30th anniversary with a 16-team, three-day event Dec. 18-20 at Lake Oswego High School.
The Shootout will feature two eight-team brackets, with championship games Monday at 4:30 p.m. and 6:15 p.m.
The Navy bracket will include South Albany, Lincoln, McKay, Lake Oswego, Newberg, Aloha, Glencoe and David Douglas. The White bracket will have Canby, McDaniel, Sunset, Battle Ground (Wash.), Sprague, Reynolds, Putnam and Westview.
The tournament began as a four-team event in 1991, organized by then-Lake Oswego coach Gary Lavender. It grew to eight teams in 1995, 16 teams in 1997 and 32 teams in 2001.
Lake Oswego coach Kaitlin Childs, who played for Lavender, is the tournament director.