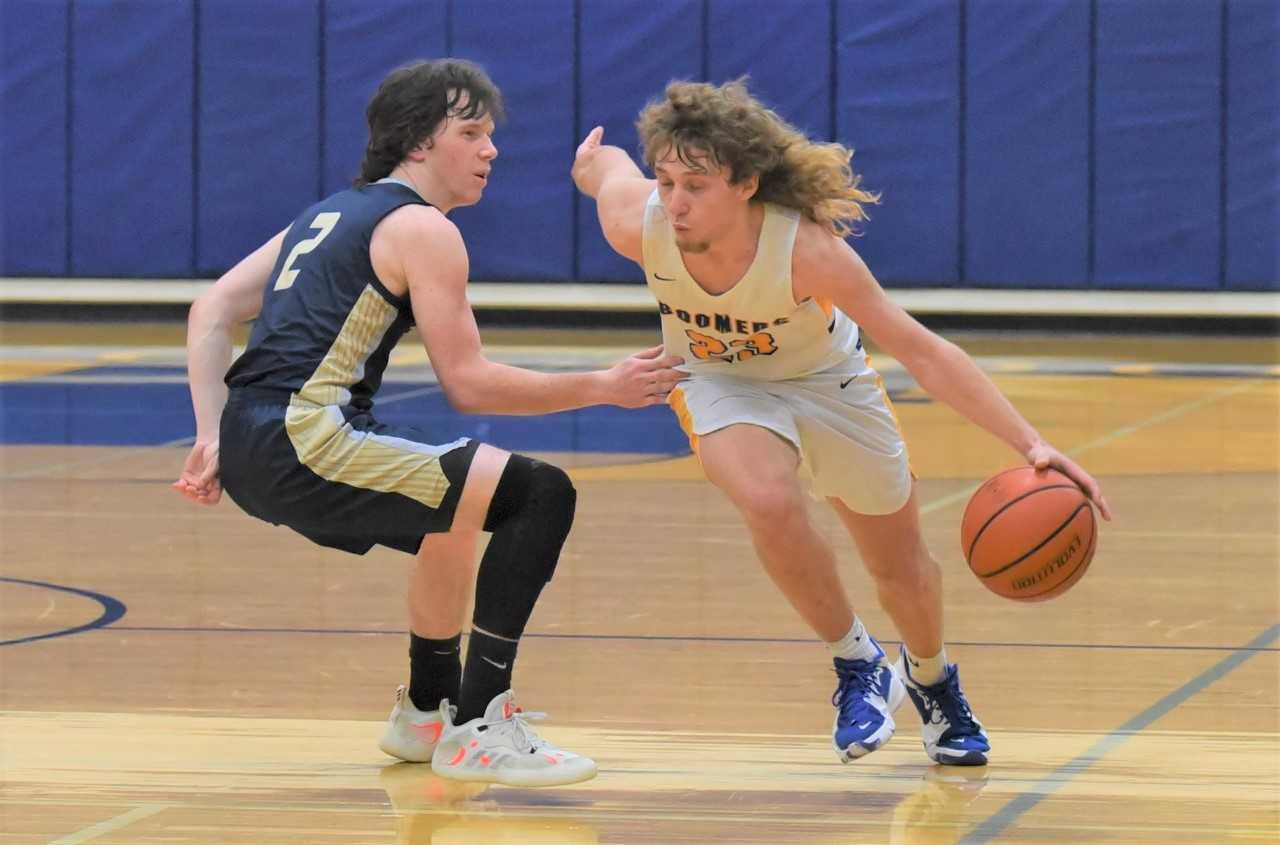 Toledo junior Gunner Rothenberger's early-season scoring binge has surprised even his father, Boomers boys basketball coach Bart Rothenberger.
"I didn't realize he could score that much," Bart Rothenberger said. "He's never really been a scorer."
Through seven games, the 6-foot, 165-pound point guard is averaging 29 points, 11 rebounds, six assists and seven steals for the Boomers (4-3). He scored 41 points against Pilot Rock and 36 against Mohawk.
"He's on fire right now," Bart said. "He's not shooting a lot. It's not like he's ball-hogging, he's just getting to the hole and making things happen. He is a tremendous 2A athlete."
Gunner is coming off a football season in which he was a first-team Special District 3 selection as a quarterback, rushing for 1,218 yards, and had 93 tackles at safety, earning district defensive player of the year and first-team all-state honors.
He started as a freshman on Toledo's state champion basketball team, recording 12 points and seven rebounds in the final, and averaged 10.3 points, 9.0 rebounds and 8.7 assists as a sophomore.
His role has expanded this season due to Toledo losing three players projected as starters. Senior post Bubba Barnhart is out with a torn ACL, junior wing Anden Lawson transferred to 3A Harrisburg and senior guard Coren Loper has been out of the lineup for the past two weeks due to illness.
"He's been a heck of a leader," Bart said of Gunner. "We probably went from being a top four or five team to really having to battle to get there."
Unlike Conner Marchant, the high-scoring guard who led Toledo to the state title in 2019, Gunner is not racking up big points from behind the three-point line.
"He'll hit a couple threes, but he's kind of old-school," Bart said. "He'll hit the 12-foot jumpers. We've worked on the pull-up. And then he gets to the hole. He gets a lot of fouls called for him."
Gunner is shooting 15.0 free throws per game, making 11.7. In Saturday's 61-49 home win over La Pine – Toledo's fourth consecutive win after opening with three losses – he made 18 of 21 free throws.
Gunner grew up in Junction City, where his grandfather, Craig Rothenberger, is the longtime coach of the Tigers. Junction City is 6-1 and No. 2 in the OSAAtoday 4A coaches poll.
"My dad lets me know all the time that Gunner would've helped them a lot, too," said Bart, whose sophomore son, Cooper, also starts for the Boomers.
Toledo plays at 3A No. 5 Creswell (7-0) on Tuesday before playing host to the Toledo Holiday Tournament Dec. 28-30. The eight-team field includes No. 2 Knappa (4-1) and No. 3 Kennedy (4-1).
Pointer leads Lebanon
Another player off to a strong start is Lebanon senior Henry Pointer.
The 6-2 guard is averaging 22.2 points, 4.2 rebounds, 2.4 assists and 1.2 steals for the Warriors (3-2). He had 35 points, 11 rebounds and three assists in a 58-50 home win over Hillsboro on Dec. 3.
"I think he's been under the radar, which has been good for me," Lebanon coach Casey VandenBos said.
Pointer got called up to the varsity during his sophomore season and showed promise by scoring 17 points against Corvallis, earning a starting spot for the last eight games.
He averaged 21 points in 13 games as a junior. He added about 10 pounds of muscle this past offseason and refined his game by playing in West Coast tournaments with a Salem-based AAU team.
Pointer came through in the clutch in the season opener Dec. 1 at Thurston. He made a three-pointer to cut Thurston's lead to three points inside 30 seconds left, and with the Warriors down one point, he scored on a teardrop drive with seven seconds left, giving them a 54-53 win.
His big game against Hillsboro came despite an off shooting night. He made 1 of 10 from three-point range and 12 of 22 free throws.
"He could've had 50," VandenBos said.
Pointer has been keeping defenses off balance with his diverse game.
"He can light it up from the volleyball line, so you've got to guard him out quite a bit," VandenBos said. "He's super smooth with the ball. He's fluid, so he can change directions quick, and he has a really good ability to create space, step back, get his feet set.
"He's deceivingly quick. You've got to play him honest. He can beat you off the dribble."
Tornado cuts path
North Medford won the championship of the Lakeridge Invitational for the sixth time since 2014 on Sunday by defeating McDaniel 62-45 in the final.
The Black Tornado (7-1), which won the tournament five consecutive years (2014-18), defeated Clackamas 66-53 and Canby 73-44 to reach the championship game against the Mountain Lions (4-2).
North Medford outscored McDaniel 22-7 in the second quarter to take a 39-17 lead and coasted to its sixth consecutive win. Senior Trey Neff scored 22 points, senior Bryce Dyer had 16 points and 15 rebounds and senior O'Shea Miller added eight points and nine rebounds for the Black Tornado.
"In reality the game was won right there in the second quarter," North Medford coach Scott Plankenhorn told the Medford Mail-Tribune. "As it was going you could see the momentum we had and it was like, keep churning it out because you never know how many you're going to need at the end."
North Medford's only setback this season is a 57-53 loss at Beaverton on Dec. 3. The Black Tornado were 14-2 last season, going 1-2 against rival South Medford.