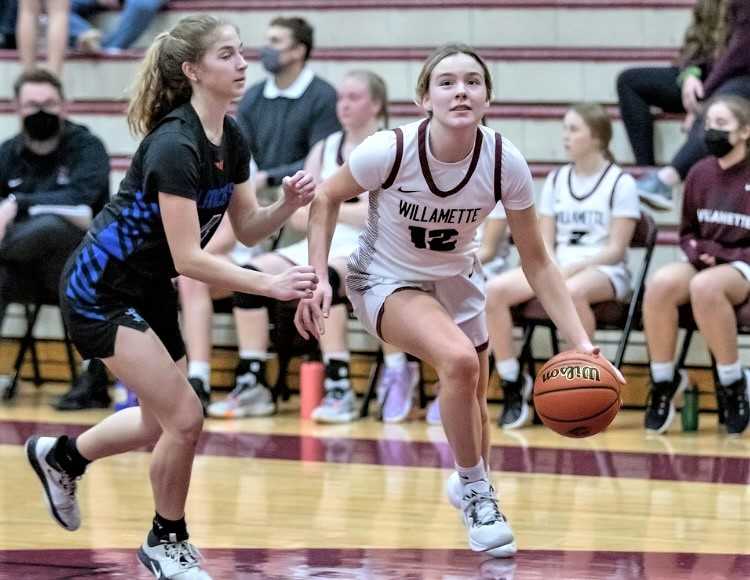 Freshman-dominated teams are quickly ascending this girls basketball season.
First it was Clackamas, which has risen to No. 1 in the OSAAtoday 6A coaches poll with four freshman starters. And now it's Willamette, which is 7-0 and No. 2 in the 5A coaches poll with three freshman starters.
The Wolverines, 2-11 last season, signaled their arrival as a state contender this week by defeating three top 5A teams to win the eight-team Spartan Holiday Showcase at Corvallis High School. They beat No. 1 Corvallis 74-69 in double-overtime in the first round, No. 4 Crater 60-42 in the semifinals and No. 3 West Albany 43-42 in the championship game.
Willamette coach Danielle Bellando, who was the 5A player of the year in leading the Wolverines to a state championship in 2007, believes her team has what it takes to make a serious run this season.
"I 100 percent see us going to the state tournament," Bellando said. "I have confidence in saying that. And if we keep performing the way that we are, the sky's the limit.
"It's crazy that these girls are freshmen. We keep saying, 'What's going to happen when they're juniors? What are we going to look like?' It's going to be crazy. … Our freshmen are confident. They don't play like normal freshmen. They are definitely basketball players."
The freshman starters are 5-foot-11 guard Brynn Smith (team-high 18.3 points per game), 5-6 point guard Victoria Nguyen and 5-11 forward Harper Wagner. They start alongside 5-6 sophomore guard Kayla Morris and 6-0 junior center Nancy Coffman.
Maddy Warberg, a 5-10 freshman wing, is averaging 14.0 points as the first player off the bench. Another freshman, 5-11 center Jadynn Ireland, also is in the rotation.
Smith scored 13 points and Warberg added 11 points in the tournament final against West Albany. The Wolverines trailed 42-40 with four seconds left after the Bulldogs scored a tie-breaking basket, but Warberg hit a three-pointer from the corner as time expired to give them the 43-42 win.
"For her to hit that shot, and for our team to get that win, it was great for those kids," Bellando said.
Smith and Nguyen scored 20 and 19 points, respectively, as Willamette outlasted Corvallis in double-overtime in a game that featured 22 three-pointers. The Wolverines made 12 three-pointers -- five by Smith, four by Warberg and three by Nguyen.
Willamette went 10 for 19 from three-point range in the win over Crater. Smith made five three-pointers and scored 19 points and Warberg had four three-pointers and 18 points.
Willamette originally was scheduled to play at a tournament in Bend before switching to the Spartan Holiday Showcase. The tournament included seven of the top 10 teams in the 5A coaches poll.
"Looking at all the teams, we were like, 'Wow,'" Bellando said. "This was a legitimate tournament. We were super excited to be playing against these really good teams. I said, 'This is going to be really good for us that we're in this tournament.'"
Bellando said that Smith has been excelling this season despite being at about 70 percent due to injuries to her foot, toe and ankle.
"I don't even think this is her best basketball," Bellando said. "She can do it all. Everything she does is really smooth, and it's smart. She makes great passes and sees the court really well. If it's a last-second shot, we want the ball in her hands, making the correct decision."
Smith comes from a basketball family. Her father, Burdy Smith, played at North Eugene, where he was head coach of the girls team for six seasons (2010-16). Her uncle, AD Smith, was a standout player at Churchill and Oregon. Burdy and AD are on Willamette's coaching staff.
The Wolverines will chase after a 5A title this season before moving to 6A next season.
"It would be great to stay in 5A, and we're going to focus on this season," Bellando said. "But it's always in the back of my mind that we're going to 6A next year, so I want to keep an eye on those teams, as well."
Shootout dramatics
Willamette wasn't the only team that used a buzzer-beater to win a tournament this week.
Canby got a last-second shot to defeat 5A No. 6 Putnam 47-45 in the White bracket final of the Nike Interstate Shootout at Lake Oswego High School on Monday.
With the score tied 45-45 in the closing seconds, Canby junior guard Allie Mead split a double-team in the backcourt and passed ahead to sophomore RayAnne Schedler, who saw the clock ticking toward zero and heaved a running shot from just inside the three-point line. The ball went through, setting off a wild celebration.
"It felt completely unreal," Schedler told CanbyFirst.com. "And to see my teammates and coaches come together after the close, hard-fought game was just incredible."
The 6A Cougars (4-1) defeated McDaniel 49-34 and Newberg 36-25 in the first two rounds of the tournament. They have won four in a row since opening with a 38-36 loss to Nelson.
"Seeing what we can do with only five games under our belt makes me super excited for the rest of the season," Schedler told CanbyFirst.com. "We have lots of time to grow and fix little things before league, but I think we've created a great base for it being so early in the season."
Lincoln beat Glencoe 44-28 in the Navy bracket final at the Shootout. The Cardinals (5-2) knocked out South Albany 57-27 and Lake Oswego 37-23 in the first two rounds.
Philomath wins tourney
Abigail Brown, a 6-3 junior post, scored all nine of her points in the fourth quarter as 4A No. 2 Philomath pulled away to beat 5A No. 7 Crook County in the championship game of the South Coast Les Schwab Tournament on Dec. 18 at Marshfield High School.
The Warriors (5-1) led 22-20 after three quarters before getting a boost from Brown, who made three field goals and three free throws in the final quarter.
Senior guard Sage Kramer scored 13 points and senior guard Reagan Larson made three three-pointers and added 11 points for Philomath, which defeated Hidden Valley 43-35 and Junction City 49-38 to reach the final.
Junior guard Katelynn Weaver scored 10 points for Crook County (7-1), which suffered its first loss of the season.
POA Holiday Classic
Every team in the top 10 of the OSAAtoday 6A coaches poll is scheduled to play in the top two brackets of the POA Holiday Classic, set for Tuesday through Thursday at Franklin High School.
No. 1 Clackamas, No. 2 Beaverton, No. 6 Benson and No. 10 Mountainside are in the eight-team Platinum bracket, along with 5A No. 9 Wilsonville. No. 3 South Medford, No. 4 Jesuit, No. 5 Barlow, No. 7 Wells, No. 8 Lakeridge and No. 9 Oregon City are in the eight-team Diamond bracket.
The tournament also includes La Jolla (Calif.), which meets West Linn in the first round of the Platinum bracket.
The four semifinals are scheduled for Wednesday at 3:30 p.m., 5 p.m., 6:30 p.m. and 8 p.m. The finals are Thursday at 6:30 p.m. and 8 p.m. for the Diamond and Platinum brackets, respectively.