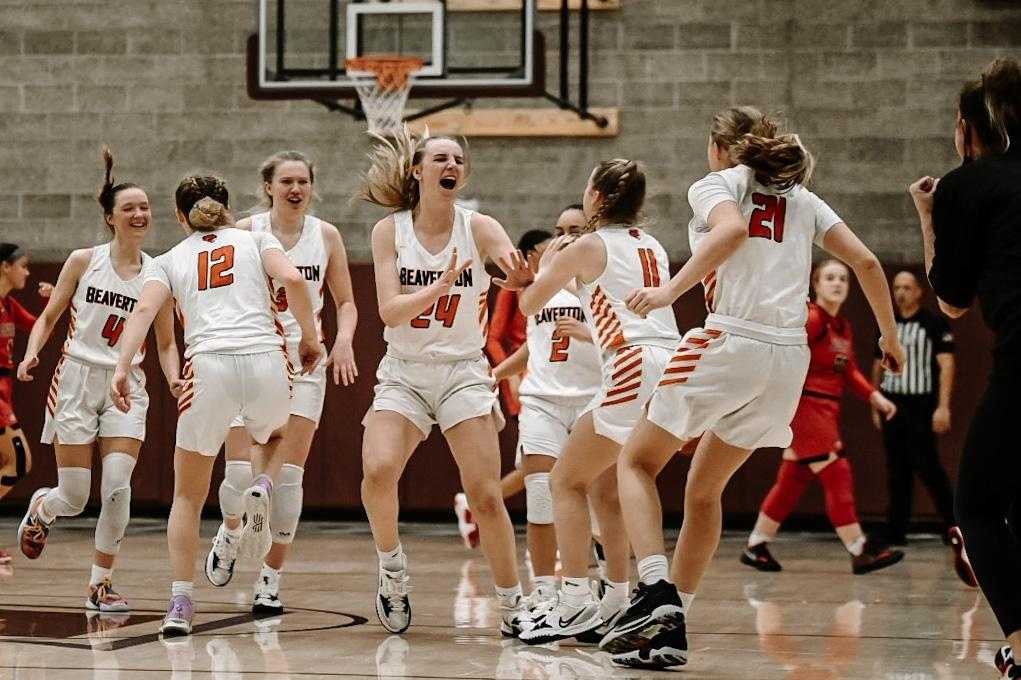 PORTLAND – Twenty-four hours after suffering its first loss of the season, Beaverton's girls basketball team found the perfect way to bounce back Thursday night.
The second-ranked Beavers jumped all over No. 1 Clackamas in the first half and hung on for a 50-44 win in the final game of the POA Holiday Classic at Franklin High School.
Handing the freshman-dominated Cavaliers (9-1) their first defeat was the ideal tonic for Beaverton (7-1), which was still smarting from letting a 13-point lead slip away in a 53-46 loss to co-No. 5 Barlow on Wednesday.
"We were super, super hungry," Beavers junior wing Lainey Spear said. "Last night just wasn't us. We wanted to show people that wasn't who we were. We wanted to show them what we can really play like. I think we showed that tonight."
Beaverton coach Kathy Naro said she was "so glad" her team got a chance to right their wrongs from the previous day.
"I'm just so proud of the kids," Naro said. "We stood around a lot yesterday, and defensively, we were super flat. I just thought it was a great response to addressing what happened yesterday, and coming out and playing such a good team. We shared the ball and we took advantage of things at times."
Zoe Borter, a 6-foot junior guard, scored 14 of her game-high 20 points in the first half as the Beavers built a 33-15 lead. Borter accounted for 12 points in a 14-0 run over the final 6:54 of the second quarter, including a buzzer-beating three-pointer.
"She just played so unselfish," Spear said of Borter. "She knew exactly when to pass it, when to shoot, when to take it. I think she took advantage of who was on her. … It's just super nice to play with someone who has that type of versatility."
Clackamas cranked up its defense in the second half, outscoring the Beavers 11-0 to pull within 33-26 after the third quarter. But Borter and junior guard Madison Naro hit back-to-back three-pointers to extend the lead to 41-28 with 4:54 left, and Beaverton made 9 of 16 free throws down the stretch to keep the Cavaliers at bay.
"We just had to take a second and settle down," Borter said. "I don't think we were nervous, we just had to keep our composure. We might've been a little out of rhythm. But they were playing good defense, and it just took us a second to settle down and get back to moving the ball and attacking."
Clackamas was within 42-36 and had the ball with two minutes left, but freshman wing Jazzy Davidson missed a three-point attempt, and Madison Naro hit two free throws to make it 44-36 with 1:54 remaining.
The Cavaliers, who have defeated No. 3 South Medford, No. 4 Jesuit and co-No. 5 Benson this season, were unable to overcome their slow start.
"We started playing how we wanted to play too late in the game," Davidson said. "And they were executing from early on. They were executing better than us on offense. I think our defense in the second half was just as good as theirs. We slowed them down a lot, but it was just too late in the game."
Clackamas shot 36.7 percent (18 for 49), including 5 of 20 from three-point range.
"They just weren't falling," Davidson said. "Our outside shooting is one of the biggest things for our team, and it just wasn't happening for us tonight."
Cavaliers freshman point guard Avery Peterson found a groove in the second half, scoring all of her team-high 17 points, making 3 of 4 three-point attempts. But the high-scoring Davidson (6-1) was held to eight points on 4-of-9 shooting as she was closely shadowed by the 6-1 Spear.
"The scouting report was she loves to go left," Spear said. "And she's really good at going left, and she's a great player. But my goal was to just take away the left hand. My goal was that every shot she had to take was going to be a tough shot."
Kathy Naro praised Spear's defense.
"Lainey was phenomenal," she said. "What's amazing about her is she's so strong and tall, but so fast. She is so quick-footed, she can turn on a dime from one direction to the other."
Spear had 10 points and five rebounds and Madison Naro finished with 13 points, four rebounds and two assists. The Beavers had a 35-24 edge in rebounds, getting nine from 5-8 senior Emily Rice.
It was clear that it was no ordinary victory for the Beavers, who broke into a celebration at the final buzzer.
"The celebration obviously was that we beat a super good team, and also we played super well, and we just wanted to celebrate that," Spear said.
For the Cavaliers, now it's their turn to respond to their first loss.
"I take it as a positive because it kind of lights a fire for our team," Davidson said. "I think we'll probably see them at the end of the season, so it gives us kind of an edge coming in when we play them next. I think if we come out like we did in the third quarter, that could've been our game."
Other games Thursday at Franklin:
No. 7 Lakeridge 46, Sheldon 43: Keelie O'Hollaren had 20 points, five rebounds and two steals and Reese Ericson added 14 points and five assists for the Pacers, who led 27-21 at half and were up by as many as nine points in the third quarter. Sheldon's Paityn Rhode made four three-pointers and finished with 14 points and 10 rebounds.
Mountainside 54, co-No. 8 Oregon City 36: The Mavericks forced 24 turnovers and collected 15 steals – five by Shaylee Gonzales – to overwhelm the Pioneers. Lindsey Wilson had 20 points, 12 rebounds and two steals and Halle Hageman added nine points and five assists for Mountainside, which shot 50 percent (20 for 40).
Jefferson 55, West Salem 47: The Democrats built a 15-point lead in the third quarter and cruised to the win behind Adrianna Lawrence (19 points, four assists, four steals), Chauncy Andersen (14 points) and Ja'Oshia Jone (six points, 13 rebounds). West Salem's Elizabeth Bennett had 26 points, four assists, three blocks and three steals.
No. 4 Jesuit 43, Sherwood 36: Emma Sixta scored 24 points – making 6 of 14 from three-point range – and Kendra Hicks added six points and 17 rebounds in the win for the Crusaders. Mandie Jensen scored 12 points for Sherwood.
Co-No. 8 Wells 50, St. Mary's Academy 38: Eliza Digiulio scored 15 points and Charlotte Richman added 13 points, making three three-pointers, to lead the Guardians, who led by as many as 20 points in the fourth quarter. Abby Graham had 19 points, nine rebounds and three steals for the Blues.
Co-No. 5 Barlow 48, co-No. 5 Benson 43: Barlow opened a 17-point lead in the second quarter and survived a late rally by the Techsters. Annie Koenig made four three-pointers and scored 14 points and Kennedie Shuler had 13 points and nine rebounds for the Bruins. Malaya LeSeur and Maurianna Hashemian-Orr scored 18 and 14 points, respectively, for Benson, which was playing without its leading scorer, 6-2 sophomore Mahogany Chandler Roberts.