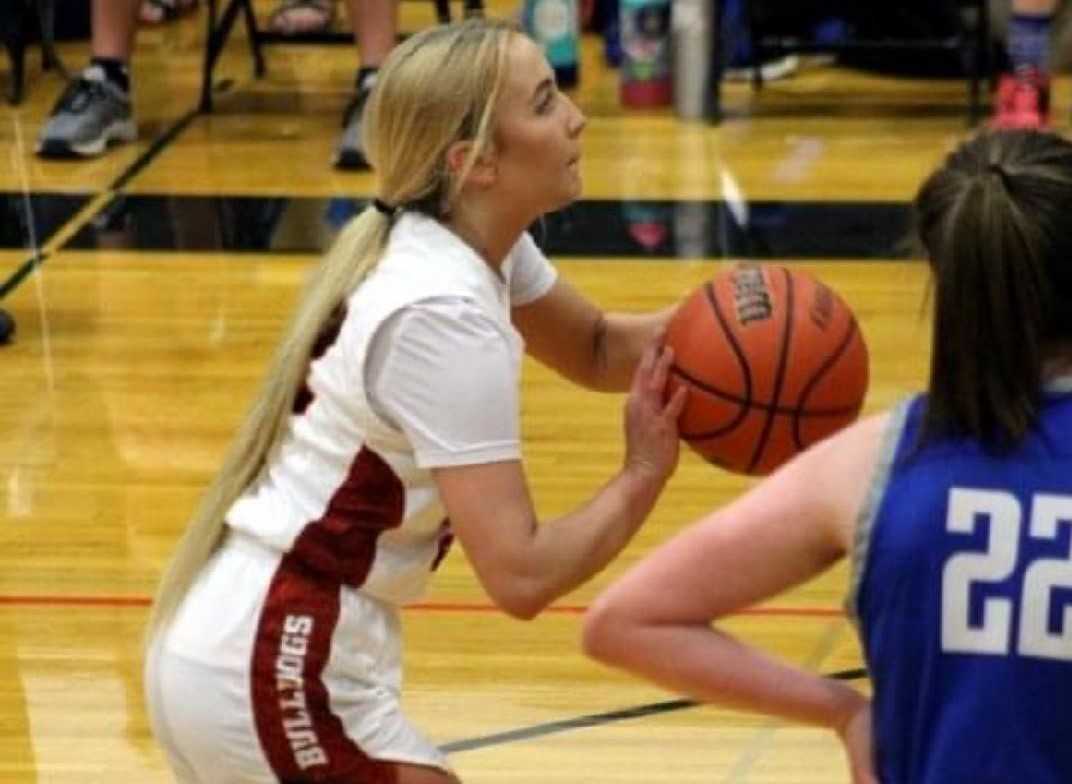 Willamina's girls basketball is doing more than just locking down opponents this season, holding them to a 3A-low 24.3 points per game. The Bulldogs are actively "hunting" them.
"We talk about going hunting, looking for a steal," said coach Tom Anderson, whose team is off to a 9-0 start and ranked No. 1 in the OSAAtoday 3A coaches poll.
Willamina is averaging 17.0 steals per game, led by senior point guard Grace France (5.2), junior wing Hallee Hughes (3.1), senior wing Kena Rankin (2.9) and senior guard Bahley Scranton (2.2). With 6-foot-3 senior Cam Eaglestaff anchoring the middle, the Bulldogs are free to terrorize the perimeter.
The senior-dominated team seems to be getting stingier each game. The Bulldogs have held their last three opponents under 20 points, including a 49-19 win over No. 7 Dayton on Wednesday in which they had 24 steals, 10 by France.
"Early on in their career, they wanted to come out and just take the ball from you, and they'd get in foul trouble doing that," Anderson said. "Our kids are getting better as the season goes on at playing disciplined defense and pressuring the ball, and girls off the ball are anticipating and reading shoulders and getting steals."
Eaglestaff – who transferred to Willamina this year after attending Roosevelt, David Douglas and Milwaukie – has been a huge addition, leading the team in scoring (10.6), rebounding (10.7) and blocked shots (1.1). She started three games early in the season but has been coming off the bench of late.
"The kids are learning how to play with her," Anderson said. "She's found a home here for this year, and we're happy to have her. She does a good job of finishing around the basket, keeping the ball high. She's not just 6-3, she's a big body. Offensive-rebound putbacks is probably her strength."
France, a fourth-year starter, is averaging 6.1 points, 2.7 rebounds and 3.3 assists. She is the team's verbal leader on both ends of the court.
"She is the ball hawk on defense," Anderson said. "She's gotten stronger with her ballhandling. Her first three years, she was attacking, looking for her shot. This year she's grown and matured. If her shot's there, she'll take it, and if not, she's finding those open players."
The 5-11 Hughes, an all-state volleyball player and a track standout as a thrower, is a third-year starter. She is averaging 8.4 points, 8.1 rebounds, and 1.0 blocks.
"She can play every position on the floor," Anderson said. "In my career, she's probably top three athletically that I've coached. She's 5-11, but she's the fastest girl on our team."
Scranton, a part-time starter last season, averages 9.1 points, 2.4 assists and 2.2 steals. She is the team's top perimeter threat, making 13 of 37 attempts from three-point range.
Success is nothing new at Willamina under Anderson, who reached 300 career wins Dec. 20 against Western Christian. After going 23-3 in one season at Central Linn, his alma mater, he has compiled a 278-119 record in 16 seasons at Willamina, including a third-place finish in the 3A tournament in 2014.
In 2020, Willamina went 22-8 and made the quarterfinals before losing to Brookings-Harbor 53-37. Last season, the Bulldogs finished 9-4 and lost to Sutherlin 58-31 in the quarterfinals of the 3A culminating week tournament.
They have made a giant leap this season, winning by an average margin of 28.6 points. They beat No. 4 Santiam Christian 54-40 on Dec. 16, coming back after falling behind by 16 points in the first quarter. They also defeated 2A No. 1 Gervais 41-29 on Dec. 3.
"I don't know that I saw us being where we are right now," Anderson said. "The kids are snapping and popping and playing well together. I'm surprised at how they've come along this fast. Going back to 2014, this is the next-best team."
The Bulldogs entered the season with hopes on dethroning Clatskanie in the Coastal Range League. The Tigers won 3A titles in 2019 and 2020 and took the 3A culminating week tournament last season, but graduated their two best players in forward Shelby Blodgett and guard Olivia Sprague.
"Those two girls graduating was a big thing for everybody. It opens it up," Anderson said. "There are more teams that have a shot in 3A. Where last year I thought it was Sutherlin and Clatskanie, this year there are five or six teams that could get that spot."