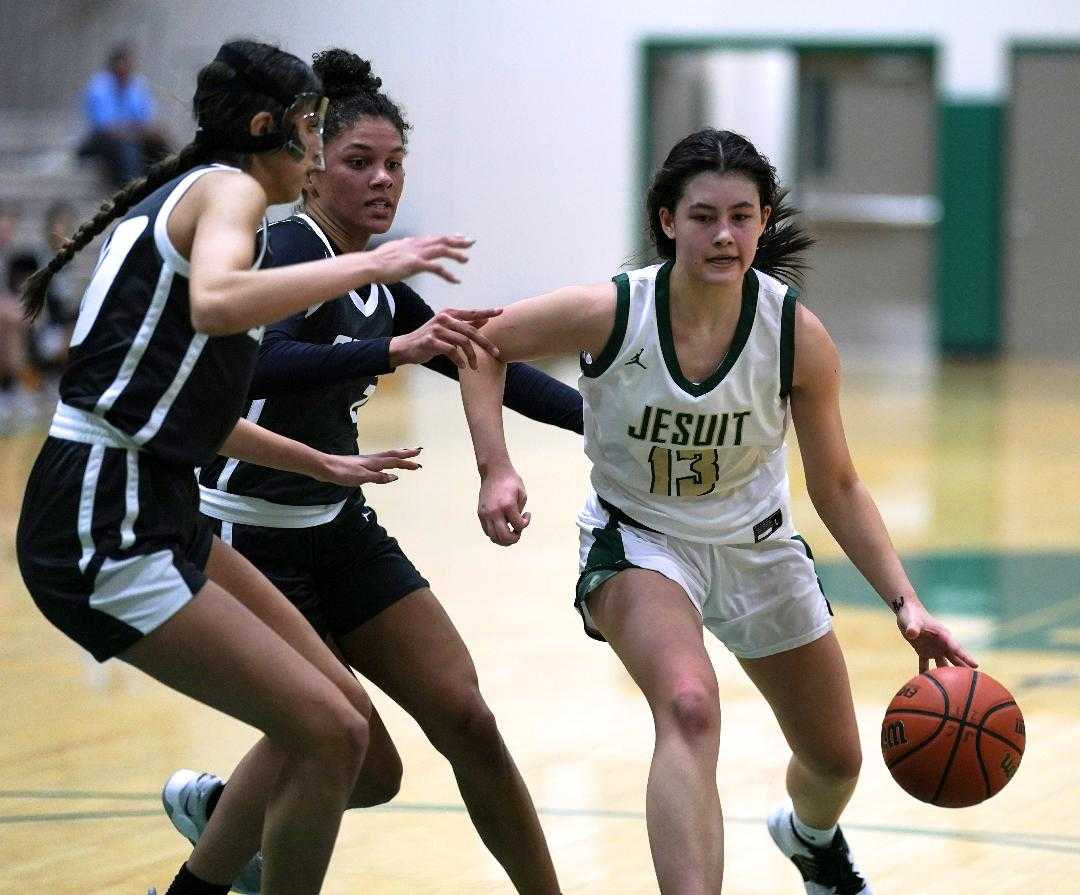 PORTLAND – Down by one point with 6.8 seconds left – and having to go the length of the court – Jesuit's strategy was simple Thursday night against visiting South Medford.
Get the ball into the hands of junior point guard Emma Sixta on the move, "and let Emma be Emma," Crusaders coach Jason Lowery said.
The left-handed Sixta navigated through South Medford's defense and hit a running 12-footer at the buzzer to give No. 5 Jesuit a 47-46 win over No. 3 South Medford in a battle of 6A girls basketball powers.
Sixta said the plan was for her to go as far as she could, then look to see if junior guard Avery Edwards was open in the corner.
"I didn't know how much time was left because I kind of stumbled," Sixta said. "I didn't know if I'd be able to get her a good pass. I thought I got a good look. I practice floaters all the time. That's one of my best shots, I'd say. It was pretty comfortable for me."
Sixta, who leads Jesuit (15-1) in scoring at 16 points per game, finished with a game-high 23 points. She scored inside and outside, sometimes leaving the Panthers (10-3) flat-footed on stutter drives to the basket.
"She's a basket-maker," Lowery said. "There's not too many people that can score efficiently from all three levels. Her mid-range little pull-up runner is as good as anybody's."
The winning shot punctuated a big night for the 5-foot-10 Sixta, who more than held her own against South Medford 5-10 junior guard Donovyn Hunter, one of the top recruits on the West Coast.
"Donovyn is a special defender, so it took some time for Emma to get used to that length and that speed," Lowery said. "In the second half, she was a lot more solid."
Sixta made 9 of 17 shots from the field, including 3 of 10 from three-point range. Hunter made 8 of 20 field-goal attempts and finished with 16 points – off her 25-point average – as she was shadowed by Jesuit junior guard Tessa Randall for much of the night.
"She's a really good player, probably one of the best we've seen so far this season," Sixta said of Hunter. "It's just about competing. As coach said, 'It's not a skills contest, it's a competition, so just focus on competing.' Tessa did a great job defending her the whole game. You have to give her credit for that."
South Medford trailed by six points in the third quarter but got back into the game with full-court pressure, forcing 11 turnovers in the third quarter. The Panthers pulled ahead 40-38 early in the fourth quarter as Hunter scored off a steal by freshman guard Sara Schmerbach.
The teams went back-and-forth from there. South Medford led 46-45 on a jumper by sophomore forward Kim Ceron with 45 seconds left, and after Jesuit's Edwards missed a three-pointer, Hunter had a chance to extend the lead with free throws with eight seconds to go.
But Hunter missed the front end of a one-and-one free throw opportunity, Jesuit rebounded and set up for Sixta's decisive play.
Sixta was mobbed by her teammates after hitting the winner.
"She's the coolest point guard I know," Crusaders 6-1 sophomore post Kendra Hicks said of Sixta. "I just think she's a great leader for our team, on and off the court. She represents our team really well."
South Medford coach Tom Cole was less than thrilled by his team's performance. The Panthers shot 32.2 percent from the field (19 of 59) and made 6 of 13 free throws, including 0 for 3 in the fourth quarter.
"I'm not happy about the way we played," Cole said. "I thought we had some good moments, and we had some moments of carelessness. We had an opportunity to put the game away with free throws, and we didn't execute that. Hopefully, we'll learn from it."
Jesuit got nine points and 17 rebounds from Hicks, who relentlessly fought the Panthers on the backboards. Her presence helped keep in check South Medford senior forward Sierra Logue (6-3), who entered averaging 15.9 points but was held to four points before fouling out with 3:52 left.
"She's a throwback," Lowery said of Hicks, who averages 13 rebounds per game. "She's a big who's only interested in being a big. You don't get too many of those anymore. She's about doing work around the basket."
Hicks came prepared to scrap inside.
"I knew I might not get very much on offense because they have big girls, so I just had to zone in on rebounding and really focus on that," Hicks said.
Jesuit has won nine in a row since a 55-32 loss at No. 4 Clackamas. The Crusaders play host to No. 1 Beaverton (13-1) in a Metro League first-place showdown Tuesday.
"It gives us confidence," Sixta said of Thursday's win. "It's going to help us play better as a team, keep our chemistry together. It's good to get the win after our loss at Clackamas, another top-five team."
Lowery said playing South Medford "helps us get better. We need to play good teams to keep getting better. Beaverton is I think the best team in the state, and it'll be a fun one."
Junior Kendall Fealey and Ceron added eight and seven points for South Medford, which plays at No. 6 Benson on Friday and at No. 7 Mountainside on Saturday.
"Jesuit is a really good team," Cole said. "When you play a really good team, on their home floor, there are no excuses. You've got to come out and play, and you've got to be ready. We've got to figure it out."