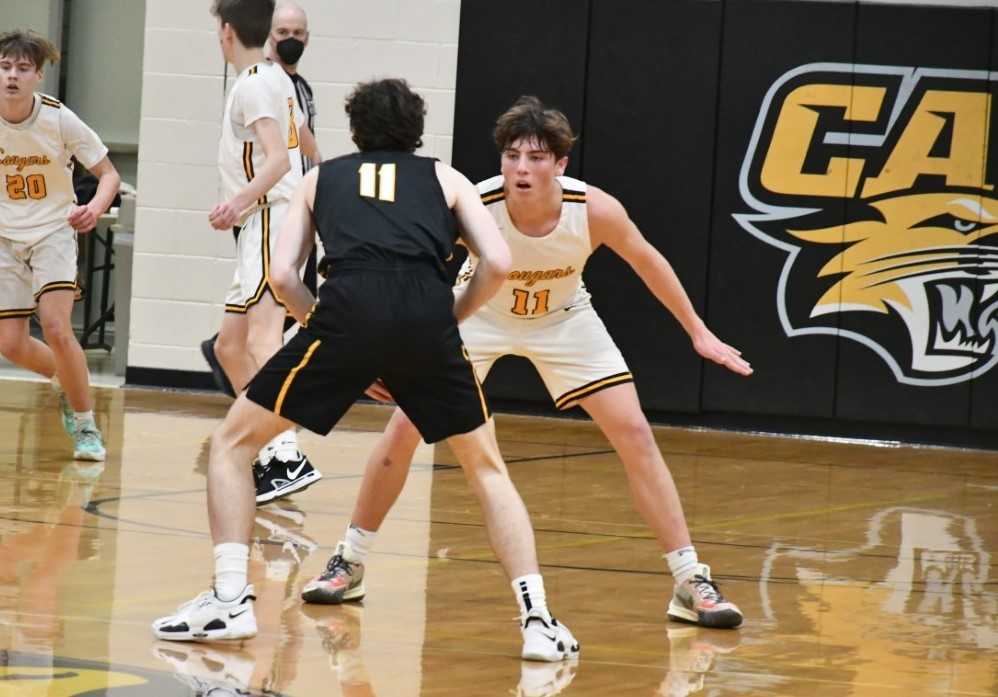 TURNER – Junior guard Samuel Horne scored 15 points as No. 4 Cascade got payback with a 42-36 home win over No. 3 Philomath in a 4A Oregon West Conference boys basketball game Tuesday night.
The Cougars (13-3, 6-1) have won six in a row since losing at Philomath 51-48 on Jan. 7. They ended an eight-game winning streak for the Warriors (11-4, 5-1) and moved to the top of the conference standings.
Down 23-17 at half, Cascade took the lead with a 14-2 run to start the third quarter. Philomath pulled even at 31-31 heading into the fourth quarter but the Cougars came through down the stretch for the win.
Ty Best, a 6-foot-7 junior wing, scored 14 points for Cascade, which also got eight points from 6-11 senior center Dominic Ball.
"This is without a doubt our most important game in league," Best said. "Just us a team, we had to get it together because in the first half we lost 11 offensive rebounds.
"We went on a run in the third and held it out to the end. We could've done better in the first half and made it so it wasn't so hard in the second half. We weren't taking a lot of shots in the beginning, so there were a lot of forced shots, and we finally figured it out."
Horne, who scored 11 of his 15 points in the second half, gave the Cougars a boost with his physical play and shooting.
"We normally don't have the best start," Horne said. "Usually our first reaction with the slow starts is go harder. It was huge for us to respond in a way faster way The atmosphere was great and it helped us with the win.
"We need to come out like the team we are and show them who we are from the get-go."
Junior guard Cole Beardsley and junior forward Ty May scored 11 and seven points, respectively, for Philomath.
-- Jeremy McDonald
No. 1 Tualatin falls
Senior guard Carson Reno scored on a drive with four seconds left to give Lake Oswego a 63-61 home win over No. 1 Tualatin in a 6A Three Rivers League game Tuesday.
With the score 61-61, Reno drove the length of the court for a basket to take the lead. Tualatin inbounded in the back court with 3.4 seconds left and got a running three-point attempt from senior Noah Ogoli, but he missed at the buzzer.
It was the first loss to an Oregon team this season for the Timberwolves (10-2, 1-1), whose only previous defeat came against Link Academy of Missouri in the Les Schwab Invitational.
Lake Oswego (10-9, 5-1) trailed 18-11 after one quarter and 30-26 at half before surging ahead 46-42 after three quarters. Freshman Winters Grady hit a three-pointer and junior Max Archambo made a layup to open a 51-42 lead.
The Lakers led 54-44 with five minutes left before Tualatin came back to draw even at 61-61 in the final minute. Lake Oswego inbounded with 12 seconds left and Reno scored the game-winner.
Grady scored 17 points for the Lakers, who also got 13 points apiece from Reno and Archambo. Ogoli led Tualatin with 13 points and senior Malik Ross added 11 points.
It was the sixth consecutive win for Lake Oswego since losing at No. 3 West Linn. The Lakers play host to the Lions in a rematch Thursday.
Grant prevails
No. 6 Grant escaped with a 43-42 win at Lincoln on Tuesday night, getting a go-ahead floater from junior guard Adrian Mosley in the final minute.
On the ensuing possession, Lincoln senior Sawyer Heald missed a fadeaway jumper and Grant rebounded. After two fouls, Mosley missed the front end of a one-and-one free throw opportunity with 2.6 seconds left, and Lincoln junior Moroni Seely-Roberts missed a half-court shot at the buzzer.
Senior wing Cole Bernius scored 13 points for the Generals (13-3, 8-2), who avenged an 82-68 loss to Lincoln on Jan. 12. Grant also got 12 points from junior Marcus McKinney and 11 points from Mosley.
Graham Eikenberry, a 6-10 junior, scored 10 points to lead the Cardinals (12-7, 6-4).