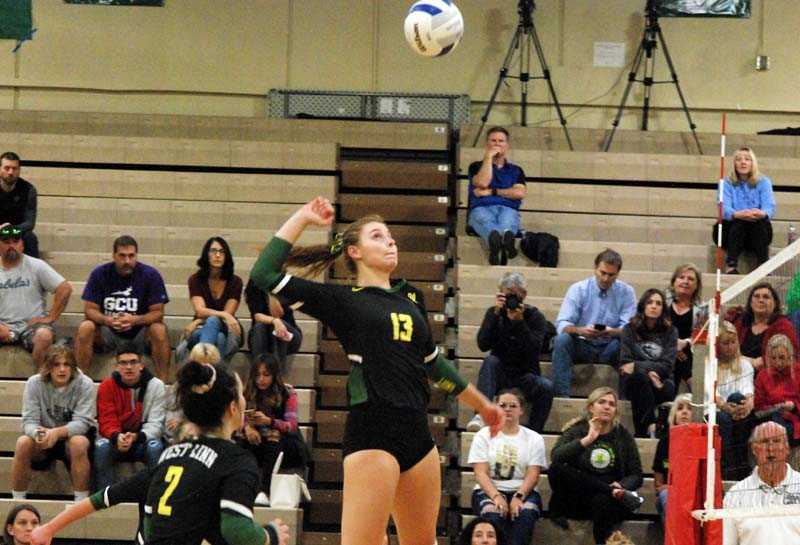 See below for results and highlights from 24 opening-round volleyball matches in Oregon's 6A and 1A playoffs last night. We will add more highlights as we receive them.
Second-round play in 6A and 1A as well as opening-round playoff action in 5A through 2A is Saturday
6A – First Round
Jesuit 3, South Salem 0 – OH Rose Booth had 15 kills on 19 swings and added nine digs and Alison Buchholz dished 41 assists in the home sweep for the 25-4 Crusaders.
Sunset 3, Grant 0 -- Sunset improved to 23-3 on the year with the home sweep, highlighted by the play of high-efficiency attackers Sophie Summers and Sydney Hankel, who combined for 17 kills on just 29 swings.
Central Catholic 3, Aloha 0 – Aloha could not overcome Central Catholic's big block as the Rams (25-3) swept at home. Mia Jordan led the way with 13 kills and six blocks. Julia Carr contributed pinpoint serving, including five aces.
West Linn 3, Grants Pass 0 – Long Game 1 serving runs by Kayla Moss and Lauren Knutson set the tone in host West Linn's workmanlike sweep of Grants Pass. The Lions (19-5) finished with 11 aces on the evening. Moss, Audra Wilmes and Makayla Long combined for 24 kills to power the offensive attack.
Mountainside 3, Barlow 0 – Mountainside (18-6) won its first-ever playoff game at home over a traditional Oregon power. Josie Carlson was a force for the Bruins, who could not overcome 11 kills and 16 assists from Mountainside's Izzi Szulczewski. Grace Clark also was a force for the Mavericks from her libero position. She had nine digs and passed at a 2.46 clip.
Sprague 3, Liberty 0 – Sprague (19-6) opened Wednesday's match on an 11-1 run and never looked back. Emily West (37 assists; 13 digs) and Bridgette Smith(13 kills, 11 digs) contributed double-doubles in the win for the Olympians.
Summit 3, Canby 0 – Jade Waskom and Emily Olson combined for 17 kills as Summit (17-4), the 2017 Oregon 5A runner up, won at home over a Canby team that showed its fight when Ruby Kayser went face first into the bleachers to save a ball and earn a point for the Cougars.
Sandy 3, Cleveland 0 -- Rylee Sneath had a great match as the Pioneers won at home.
Lincoln 3, Sherwood 0 -- An efficient attack, especially from Lincoln's middles, who each hit above .500, helped the Cardinals sweep a scrappy Sherwood team at home.
Southridge 3, Newberg 1 -- The reigning 6A champs withstood a first-round test from Giselle Benetti and the Newberg Tigers, drawing on their big-game experience to help them pull through at home. Lindsey Lambert showed great leadership for the Skyhawks in the win.
Bend 3, McMinnville 1 – Izzy Armstrong had 17 kills, Sonna Faulkner contributed 12 kills and 22 digs and Megan Bushnell recorded 36 assists, 11 digs and four aces as the Lava Bears (21-7), new to 6A this year after winning 5A a year ago, won their first-round match at home.
Sheldon 3, Oregon City 0 – The Irish (19-7) won a defensive struggle that featured spirited rallies. Anna Poole had 19 digs and three aces and Mackenzy Borek contributed 14 kills, two aces and two blocks for the victors.
Clackamas 3, Glencoe 0 -- The Cavaliers hit on all cylinders in the win, turning back a strong defensive effort from Glencoe. Grace Foneville had 14 kills to lead a dominant middle attack for Clackamas, which also got 38 assists from Jazzy Caston and terrific all-around play from outside Isabelle Combs, with seven kills and 13 digs.
Tualatin 3, Roseburg 1 – Roseburg won the first set on the road behind the senior trio of Morgan Johnson, Breez Hansen and Hannah Bartlett before Tualatin, sparked by physical senior OH Addison Crawford, turned the tables in the final three sets.
Lake Oswego 3, North Medford 0 -- Senior Olivia Salita set Lake Oswego to the home win in an entertaining and competitive match against a scrappy North Medford squad.
South Eugene 3, Wilson 1 – South Eugene (17-9) won in four behind Laura Fullerton, who had 13 kills and four aces; and Jenna Glenzel, who contributed 33 assists and 18 digs.
1A – First Round
Damascus Christian 3, Sherman 2 -- Damascus Christian dropped the first two sets on the road but rallied for the win behind the senior leadership of Abigail Hayes.
Joseph 3, Echo 1 -- Emma Hite and Sabrina Albee teamed for 24 kills, 15 assists, 13 digs and five aces in Joseph's four-set win.
Adrian 3, Wallowa 2 – Sadey Speelmon served Adrian to a 7-1 lead in the decisive fifth set and the Antelopes held on for the 15-11 win. Roby Young had 19 kills to lead Adrian (19-11).
Crane 3, Gilchrist 1 -- Crane rallied from a set down to win on the road and received help from an enthusiastic crowd that followed the team to Gilchrist. "We played very well together and were able to control the momentum," said Crane coach Raime Stoddart.
North Douglas 3, Rogue Valley Adventist 0 – Six of Rilie-Jo Olds' 12 aces came in the third set as North Douglas closed out RVA in three sets at home. Arianna Helgren had 11 kills – six in the final stanza – along with 11 digs for the victors.
Alsea 3, Umpqua Valley Christian / Melrose Christian 1 – The Alsea Wolverines (22-10) overcame seven aces combined from Addison Weckerle and Layla Pappas to win at home. Senior Nicole White served nine in a row for Alsea in a decisive third set. Abbie Lowther was outstanding defensively and also set in the third and fourth sets. She finished with 10 assists, 20 digs and three kills.
Perrydale 3, Mohawk 0
Crosshill Christian 3, North Clackamas Christian 0 -- Strong serving, paced by seven aces from senior Bethany Trull, helped Crosshill Christian sweep a gritty North Clackamas Christian squad. Senior Ellie Schanz put up a double-double, with 11 kills and 10 digs, for the victors.