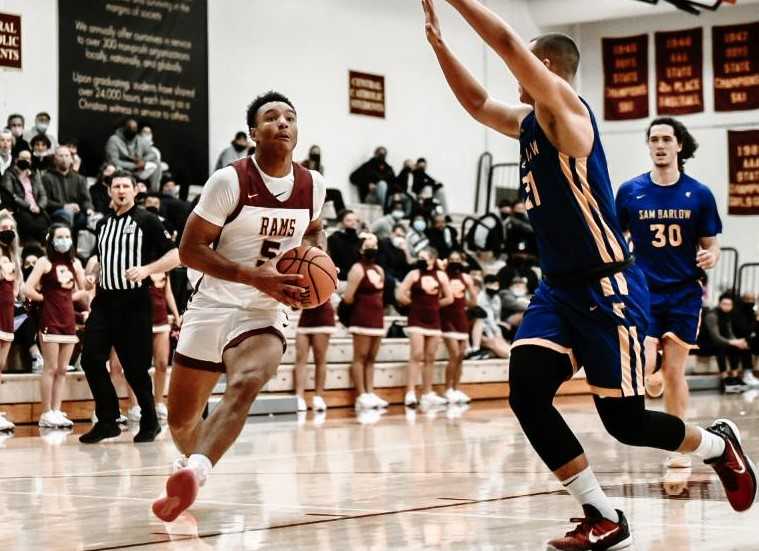 PORTLAND – The same bulk, physicality and athleticism that served Central Catholic so well in winning the 6A football title has made the Rams a dominant force in basketball, too.
With three all-state football players in the starting lineup in seniors Jordan King and Emar'rion Winston and junior Riley Williams, the Rams have been blitzing through their competition for more than a month, racking up 13 consecutive wins.
The latest victory was their biggest of the season, a 49-41 home win over Barlow on Saturday afternoon that pads their lead on top of the Mt. Hood Conference. With six conference games left, Central Catholic (15-4, 10-0) is in a commanding position over the second-place Bruins (12-6, 7-2).
"It's awesome. We're playing for each other," King said. "One guy's getting it done one day, another guy's getting it done the other day. We're all proud of each other's success, and that's something we've got to keep preaching for the rest of the season."
In Saturday's win, King scored 11 points and freshman guard Isaac Carr had 10 points for the Rams. Tied 18-18 at half, they scored the first six points of the third quarter and never looked back against the Bruins, who were unable to establish any kind of flow on offense.
"They're just so athletic and physical, it's hard to emulate them in practice," said Barlow coach Tom Johnson, whose team also lost to the Rams 50-46 at home Jan. 26. "We struggled offensively. We struggled offensively the first time we played them, too. We could never get into anything offensively just because of their defense."
Barlow shot 26 percent (13 for 50) against a Rams defense that is holding opponents to 47.5 points per game, among the best in 6A.
"I feel like that's our strength right there. It's defense," King said. "It was a real low-scoring game today, but we were able to get it done, grind it out."
The 6-foot-3 King drew the assignment of guarding Barlow's leading scorer, 6-1 freshman guard Jalen Atkins, who entered averaging 16.0 points per game. With King glued to him all game, Atkins couldn't get into a rhythm and finished with eight points on 3-for-10 shooting.
"He's a Division I football player. He's physical," Johnson said of King.
Central Catholic coach David Blue lauded the workmanlike effort of King.
"Jordan King is the ultimate student-athlete," Blue said. "I always talk about being a 24-hour student-athlete, and he does it from the time he wakes up. I'm just so thankful to be able to coach him."
Atkins gave King a good workout, though.
"It's a tough job, for sure," King said of Atkins. "He's tough, man. He works off the ball, he works with the ball in his hands. He's a real tough player, man. He's a freshman, he's got three years left."
Central Catholic led Barlow 26-20 after three quarters and pushed the lead as high as 10 points in the fourth quarter, when the Rams made 9 of 17 free throw attempts.
Gray Thompson, a 6-6 junior, scored nine points off the bench for Central Catholic, including two three-pointers and a fourth-quarter dunk. The 6-4 Winston and 6-7 Williams each scored seven points.
Barlow got 14 points from junior reserve guard Jahvari Martino, who made three three-pointers in the fourth quarter to keep the Bruins within reach. Senior point guard Connor Hills, who returned from missing the last two games with a sore groin, scored eight points.
Central Catholic has won 10 in a row since its leading scorer, 6-8 senior Luke Johnson (16.1 points per game), transferred to Huntington Prep in Virginia.
"I feel like that may have caused us to mesh more," King said. "It was a big hit, but it just caused us to grow together. It kind of made us rely on each other more. I love the way we adjusted because that's definitely something that could be tough to adjust to."
Johnson's transfer was especially difficult for the Rams considering two other starters from last season, juniors SC Tresvant (6-0) and Graham Eikenberry (6-10), transferred to Cleveland and Lincoln, respectively, in the offseason.
"It's next man up," Blue said. "It's a luxury to have guys that want to compete and play for one another."
Despite the winning streak, Central Catholic is not ranked in the OSAAtoday 6A coaches poll. The Rams lost to Jesuit in the season opener, six days after the football final. They fell to two national powers in a tournament in Hawaii. And they dropped a 54-52 decision to No. 10 Beaverton on a buzzer-beater after leading by 16 points in the fourth quarter.
Central Catholic, No. 10 in the OSAA 6A power rankings, could be a darkhorse in the state playoffs.
"Nobody's seen us," Blue said. "I love my crew. We're coming together through adversity. These guys are resilient, playing for each other. Hopefully we can move up, get a couple of home playoff games, if things work out."