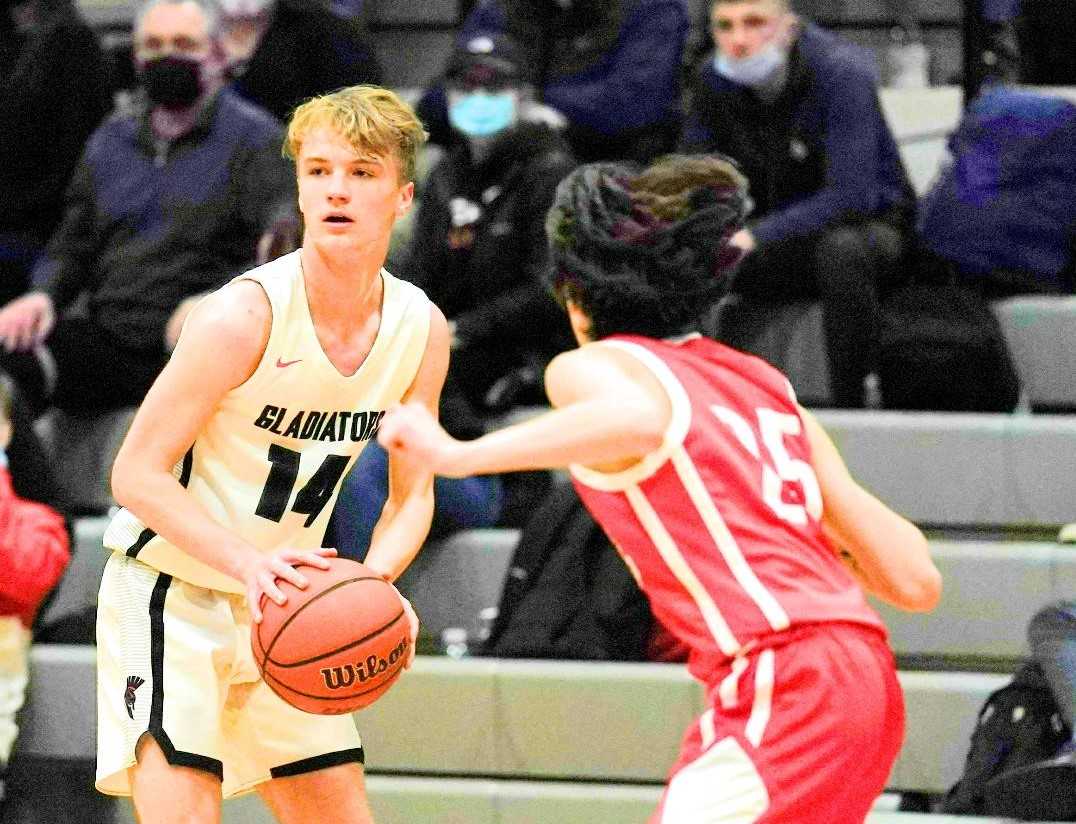 GLADSTONE – Up until the last two minutes Tuesday night, Gladstone's Cohen Daves was struggling to dial in his jump shot.
But when it mattered most down the stretch, the 6-foot-2 junior guard found his shooting stroke to help the Gladiators beat visiting Corbett 50-46 to keep sole possession of first place in 4A Tri-Valley Conference boys basketball.
Daves hit a three-pointer with two minutes left to make it 40-40, then hit another 30 seconds later to put Gladstone ahead for good at 43-41. Daves also made two free throws with 40 seconds left as the first-place Gladiators (13-6, 7-1) held off the second-place Cardinals (13-4, 5-3).
"Just coming through at the end," Daves said. "Luckily we came through and got the 'dub.'"
Corbett was in position to pull into a first-place tie when it led Gladstone by five points early in the fourth quarter, but the Gladiators found a way to scrape out the win. In the teams' first meeting Jan. 25 at Corbett, Gladstone overcame an 11-point deficit in the final three minutes to win 49-48.
"They're very resilient in that they know as crunch time comes, there's still always an opportunity," said Gladiators coach Cody Aker, whose team has won six in a row. "It's a very gritty group in that they play hard for 32 minutes. Practices are tough and physical."
Daves said Gladstone has become a second-half team.
"Going into halftime, we always get together," said Daves, the team's leading scorer at 14 points per game. "For some reason, we don't play as a team, and we're doing our own thing in the first half. But we always come together as a team in the second half. We always have faith in each other, no matter the circumstances."
Daves missed 17 of his first 19 shots before connecting on the back-to-back three-pointers. He finished with 13 points on 4 of 22 from the field.
"I just remember Coach Aker in my ear, 'Pull it,' and I pulled it and it went in," Daves said. "Shooters are going to shoot. Just keep shooting."
Corbett senior guard Joe Fundak, 4A's leading scorer at 28.7 points per game, kept his team in the game with a 28-point performance. Fundak scored on a drive and was fouled to cut Gladstone's lead to 45-44 with 28 seconds left, but with a chance to tie, he missed the ensuing free throw.
Gladstone junior Ben Hoffman split two free throws with 26 seconds left to make it 46-44. After Hoffman missed the second free throw, Gladiators senior Cory Rather saved the rebound off a Corbett player out of bounds. Gladstone senior Ricky White converted a layup off an inbound play for a 48-44 lead with 22 seconds to go.
Fundak scored to make it 48-46 with 10 seconds remaining, but Rather added two free throws with eight seconds left for the final margin.
Rather scored 15 points and Hoffman added 10 points for Gladstone, which won despite shooting 27.1 percent (16 for 59).
The Gladiators, who did not return a starter from last season, clinched at least a share of their third consecutive conference title. They can win it outright by beating either Molalla (10-9, 4-4) or Madras (5-15, 1-7) in their last two games.
"I am amazed," Daves said. "Coming into the season, I remember Coach Aker talking to me, 'We're just going to be that tenacity team, just flying around the court.' Because we don't have size anymore, and talent, we just have to be the energizers, and just straight up go after every loose ball."
Daves is the only Gladiator to play meaningful varsity minutes before this season.
"It's a testament to them stepping up to the challenge, seeing numbers on our banners and knowing that we want to try to win league championships," Aker said. "And they believe in themselves."
As much as the Gladiators have squeezed out of their ability, they believe they have untapped potential for the postseason.
"Honestly, we have not played our best game," Daves said. "We still have not come together as one for four quarters. Once we play all four quarters, super good, I think we honestly have a shot."
It was a tough loss for Corbett, which has its best record since going 17-7 in 2011-12, coach Don Carter's first season. The 6-2 Fundak has been a force all season for the Cardinals.
"Joe's a phenomenal player," Carter said. "I saw glimpses of it last year in the shortened COVID season. What he was really missing was a consistent outside shot, which he has gained."
Despite defenses strategizing to stop him, Fundak keeps on producing.
"He's a pretty special ball player," Carter said. "He's got a great skill set. And I hope it carries us a little bit further."
Gladstone did its best to keep tabs on Fundak he still found a way to get loose.
"He can shoot it and he can score off the dribble," Aker said. "He's a big, strong kid, so he can make contact and it doesn't really bother him. Dude can play. He came up as a freshman and he's grown into a pretty tough kid."