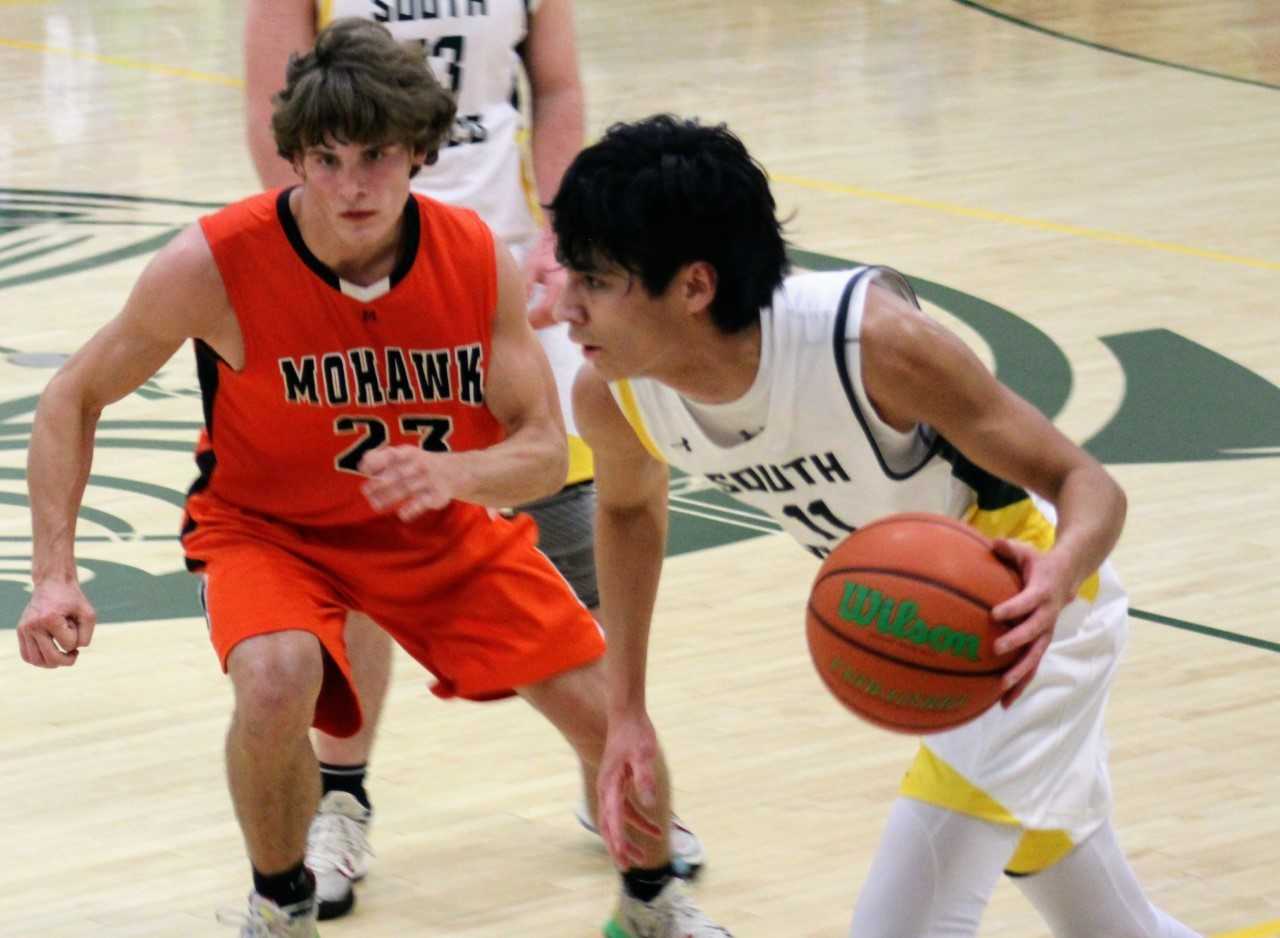 Last season, South Wasco County's boys basketball team got a tantalizing taste of the state tournament.
The Redsides, who hadn't reached the state quarterfinals since 2009 and have never won a state title, got to the semifinals of the 1A culminating week tournament in Baker before falling to eventual champion Nixyaawii.
It was enough to stir plenty of excitement about this season. But if the Redsides of Maupin were to make a serious postseason run, they would have to find a way without their star player in Garrett Olson, the Big Sky League player of the year last season.
"We ran a lot of things through him," coach Jim Hull said of the 6-foot-4 Olson, who went on to play football at Western Oregon.
As it has turned out, all of the returning players have stepped up their game, carrying South Wasco County to a 23-0 record and a berth in this week's OSAA/OnPoint Community Credit Union 1A tournament in Baker. The third-seeded Redsides will face No. 6 Rogue Valley Adventist in a quarterfinal Wednesday night at Baker High School.
"When he left, multiple people filled the void," Hull said. "We were a little more one-dimensional, and now we've become multi-dimensional. I think everybody else kind of played in his shadow a little bit."
South Wasco County has three first-team Big Sky League West division selections in 6-foot-3 senior guard Oscar Thomas, 6-6 senior center Brock LaFaver and 6-2 junior forward Ian Ongers.
Thomas, voted as the West player of the year, has been lighting it up all season. He is averaging 19.2 points, 5.1 assists, 6.3 steals and 4.8 rebounds and has made 60 three-pointers.
"He's the one that draws all the attention," Hull said. "He truly does shoot 30-foot shots."
After showing signs of breaking out late last season, the athletic Ongers has been a key cog in the offense, averaging 17.3 points, 6.8 rebounds, 3.1 steals and 2.7 assists.
"He went from what I considered another great role player to one of the guys," Hull said. "That's what's been great about this team."
LaFaver has shown that he can score inside and outside. He is averaging 14.6 points, 7.5 rebounds and 2.0 blocks and shooting 57 percent from the field with range beyond the three-point line.
"A lot of big men don't want to come out on him," Hull said. "They want to dare him, and he'll hit two or three in a row."
Hull – who is 326-170 in 20 seasons as South Wasco County's coach, including a state runner-up finish in 2006 – has never had a team go through the regular season unbeaten.
In fact, it may be the first time the Redsides (formerly Maupin) have had a perfect regular season in school history, according to Hull, a 1988 graduate of the school whose parents also are alumni.
"I can go back to well past 1950, and no boys team has ever gone 23-0," Hull said. "I always tell them that they're doing something that hasn't been done at our school.
"It is definitely one of the best teams I've ever had. Maybe I've had deeper teams, or maybe had individual players that are better. But in terms of working together, one of our strengths is our ability to find the open man, make the next pass."
The Redsides have doubled up their opponents this season, outscoring them by an average of 68.5 to 33.7. Their closest game was a 42-40 win over Ione/Arlington in the Big Sky district tournament in which they trailed briefly by one point in the third quarter before taking control in the fourth quarter.
South Wasco County is eager to make a stronger showing after a 77-45 semifinal loss to Nixyaawii last year.
"We feel like if we were on the other side of that bracket, we would've been second," Hull said. "So there was kind of a feeling like, 'Our job's not done.'"
The Redsides have not played any of the teams in the tournament field.
"That's good, because I prefer to play teams I haven't played before," Hull said. "That's what I love about state play. We believe everything we do works, so it just comes down to your execution and in-game adjustments."
1A boys quarterfinals, Wednesday, Baker HS
No. 8 North Douglas (20-7) vs. No. 1 Crane (28-0): Crane, known for its powerhouse girls program, chases after its first boys state title. The Mustangs are led by 6-foot-5 freshman Cody Siegner, who comes off the bench to average 16 points and nine rebounds, and sophomore point guard Carter Nichols (11.0 points, 4.5 assists). Skyline League champion North Douglas, which lost in the quarterfinals of the culminating week tournament last year, beat Perrydale 59-47 in the round of 16 behind 18 points from junior Keagan Mast.
No. 12 Riddle (21-4) vs. No. 4 Crosshill Christian (23-3): It's been a big year for Riddle, which has its third 20-win season in school history. Senior wing Mario Gianotti scored 47 points in two playoff wins, including 30 as the Irish beat No. 5 Country Christian 48-45 in overtime in the round of 16. Crosshill Christian, a semifinalist in 2020, has the Casco League player of the year in freshman guard Landon Knox (18.1 points, 5.1 assist, 3.0 steals) and another first-team pick in sophomore guard Julius Pokorny (13.6 points, 2.9 steals).
No. 6 Rogue Valley Adventist (23-2) vs. No. 3 South Wasco County (23-0): Rogue Valley Adventist of Medford is in the state tournament for the first time in 10 years, led by junior all-league guard David Zamudio (14.0 points). The Hawks have won 20 in a row since losing to Illinois Valley and Trinity Lutheran. South Wasco County, which lost to Nixyaawii in the semifinals of the culminating week tournament last year, has a dangerous deep shooter in senior guard Oscar Thomas (19.2 points, 60 three-pointers).
No. 7 Nixyaawii (23-6) vs. No. 2 Powder Valley (23-2): The Old Oregon League rivals square off with a semifinal berth at stake. The teams split two games this season, Powder Valley winning 76-64 and Nixyaawii getting payback 59-51 in the district tournament. Nixyaawii, which won the title in 2019 and the culminating week tournament last year, has two first-team all-league picks in sophomore Baron Moses (22.3 points, 8.6 rebounds, 2.9 steals) and junior Aaron Barkley (13.1 oints, 5.7 rebounds, 4.2 steals). Powder Valley has senior point guard Reece Dixon (15.0 points), the quarterback of the state runner-up football team, and 6-3 senior post Kaden Krieger (13.0 points), who scored 31 points in a first-round win over Condon.
1A girls quarterfinals, Thursday, Baker HS
No. 9 Jordan Valley (24-5) vs. No. 1 Crane (27-1): Crane, which won the 2020 title and the 2021 culminating week tournament, has won 24 in a row since having its 47-game winning streak snapped with a 55-54 loss to Damascus Christian. The Mustangs have played the season without senior guard Kelsie Siegner, the state player of the year as a sophomore who suffered a torn ACL in the state final last year. Crane is led by junior guard Leslie Doman, who can get hot from deep. The Mustangs are 4-0 this season against High Desert League rival Jordan Valley, winning by two, four, 15 and 13 points, in succession. Jordan Valley, a quarterfinalist in 2018 and 2019, did not have a team last year.
No. 5 Nixyaawii (24-4) vs. No. 4 Country Christian (23-6): Nixyaawii, which won state titles in 2011 and 2017 under Jeremy Maddern, is back in the tournament with a new coach in Michael BadWarrior. Junior point guard Sophie Bronson (18.5 points, 7.0 assists) was named the Old Oregon League player of the year. Junior Mersayus Hart (14.0 points) is a terror on defense, collecting 19 steals in one game this season. Nixyaawii lost to Damascus Christian 31-28 in the quarterfinals last year on a three-pointer at the buzzer. Country Christian has appeared in five of the last seven finals, winning titles in 2016 and 2018. The Cougars brought back their top two scorers from last year's runner-up team in senior Elizabeth Grandle and junior Annie Bafford.
No. 11 Trout Lake (13-3) vs. No. 3 Damascus Christian (23-2): Trout Lake, a Washington school in its second year in the OSAA, goes up against Damascus Christian, which has appeared in eight of the last nine state tournaments, winning titles in 2013 and 2015. Trout Lake, which went 9-0 last year but did not play in the culminating week tournament, earned its spot this year by going on the road for a 37-33 win over No. 6 St. Paul. The Mustangs' top scorers are junior Willa McLaughlin (12.0 points, 11.0 rebounds) and freshman Violette Anderson (13.0 points, 8.0 rebounds). Damascus Christian lost in the semifinals to Crane last year. The Eagles feature senior guard Emily Powers (11.0 points), a first-team Valley 10 League pick and the defensive player of the year.
No. 7 Echo (18-4) vs. No. 2 North Douglas (25-3): Echo is in its first state tournament since winning the B title in 1981. To reach the final eight, the Cougars made 10 three-pointers in a 73-47 win over Yoncalla, getting 28 points and six three-pointers from senior Faith McCarty. North Douglas, a quarterfinal team the last two years, has outscored its opponents by an average of 52-27. The Warriors have not lost to a 1A team this season. They are led by senior guard Samantha McDowell (12.5 points), the returning Skyline League player of the year, and junior forward Brooklyn Williams, the returning league defensive MVP.