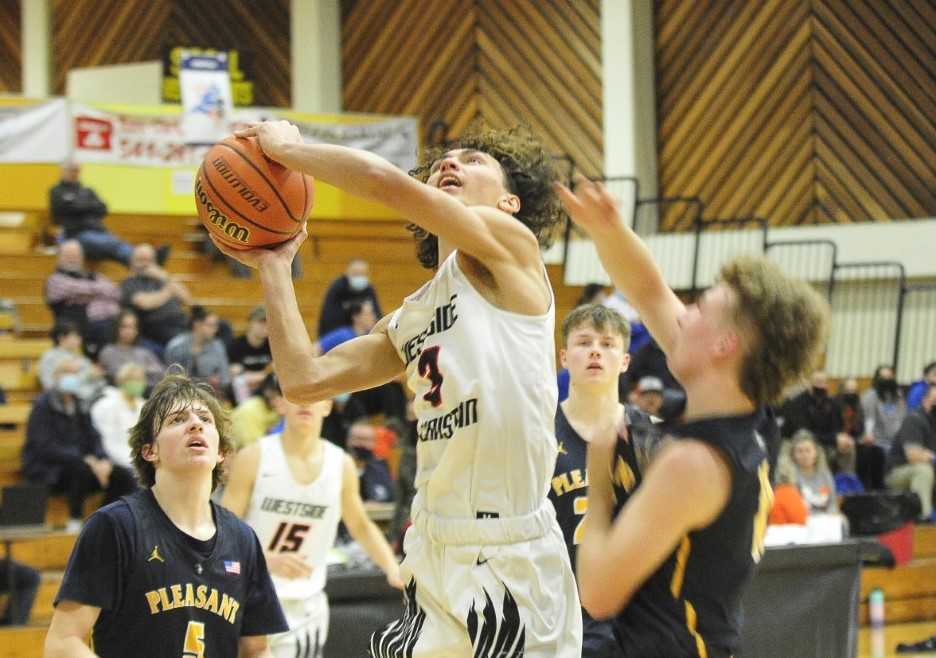 By JOHN GUNTHER/THE WORLD
NORTH BEND — Top-ranked Westside Christian soared into the semifinals at the OSAA/OnPoint Community Credit Union 3A boys basketball tournament with an 81-51 win over Pleasant Hill at North Bend High School on Thursday.
The Eagles set up a semifinal matchup with No. 4 Cascade Christian, but the win left a lot to be desired, according to Westside Christian coach David Henry.
"It was a little bit sloppy," Henry said.
He specifically wasn't happy with the team's defensive effort. Though the Eagles forced 30 turnovers and had 20 steals, they were repeatedly whistled for fouls — 24 in all.
"There was a lot of reaching in," Henry said.
Fortunately for Henry, Westside Christian has a deep bench and was able to sub in with little drop-off.
"Our bench really came through today," Henry said. "The depth is huge for us.
"The great thing is so much of that is underclassmen."
The Eagles start five seniors, but the younger players provided plenty of help.
"They just did what they've done all year and stepped up when we needed it," Henry said.
Jaymeson Ye led the Eagles with 20 points, while Kamir Hodge had 14, Blake Reinholz 13 and Jake Hergert 12. All 12 players in uniform scored in the win.
Gavin Inglish had 16 points and Braedyn Cantrell 13 — all in the first half — for the Billies.
Pleasant Hill kept in touch with the Eagles for a while. Though Westside Christian led 20-13 through one quarter, the Billies trimmed the deficit to just two points early in the second quarter when Westside Christian went on a big run spurred by the defense. Several turnovers in the full-court press led to quick hoops and by halftime, the Eagles were in front 43-25 and had 12 steals — Pleasant Hill had 16 turnovers in all in the opening two quarters.
The Billies attacked the basket relentlessly when they did break the press, but shot just 33 percent in the first half and misfired on seven of their 13 free throws. They improved some in the second half, but finished just 17-for-27 from the line.
Westside Christian added to the lead in the third quarter, going ahead 70-40, and the game became the first in the 3A tournament to have a running clock because of that margin in the final quarter.
Westside Christian improved to 24-2 and passed its first test in its first trip to the state tournament in the Bay Area.
"I'm glad to get the first one out of the way," Henry said, adding that his team has been working toward this for some time.
The Eagles were in position to get to the concluding tournament last year, but were upset by Santiam Christian in the round of eight.
"They've been talking about this for a couple years," Henry said. "Santiam Christian took it to us last year.
"We'll play anyone, anywhere."
In the semifinals, that means a noon date Friday with Cascade Christian, which scored the first 15 points on the way to a 66-36 win over Umatilla.
The Challengers were led by their two stars, 6-foot-11 center Austin Maurer and senior point guard Cody Reece.
"I've got two really good studs, the best player in 3A and the best point guard in 3A," Cascade Christian coach Brian Morse said.
Maurer finished with 24 points, 13 rebounds, three assists and three blocks, while Reece had 16 points, 10 assists, five rebounds and four steals.
Cascade Christian led 19-3 through one quarter and 45-12 at the break.
"They played phenomenal," Morse said of his team. "In the first half they really came out focused and executed the game plan. It was fun to watch.
"You always want to come out strong in your quarterfinal game."
Cascade Christian shot nearly 60 percent in the first half. Maurer was 8-for-10 including a trio of 3-pointers and an alley-oop dunk on a pass from Reece.
Morse noted how well his team attacked Umatilla's zone defense.
"Tomorrow is going to be a different story," he said of Westside Christian's man-to-man pressure.
Cascade Christian will try to avenge a 59-54 loss to the Eagles back on Jan. 17.
"We are totally excited about the matchup," Morse said.
Dayton 55, Vale 50: The Pirates earned another trip to the semifinals by holding off the Vikings.
The game was tied at 40 early in the fourth quarter when Tyler Spink nailed a 3-pointer to spark an 8-0 run and Vale never caught up again.
Spink led Dayton with 20 points, including hitting 4-for-7 from behind the arc. Trae Wall added 10 points.
Tanner Steele had 16 points and eight rebounds to lead Vale. Colten Stapleton added 12 points and John Wolfe 11 for the Vikings, who suffered their first loss against a fellow 3A team this season.
De La Salle North Catholic 76, Oregon Episcopal 47: The Knights raced out to a 24-9 first-quarter lead against their league rivals and never looked back to reach the semifinals against Dayton.
De La Salle shot a blistering 54 percent for the game and made all eight free throws while also collecting 18 steals and forcing 24 total turnovers.
Mathias Billings had 24 points to lead the way and TJ Latu and JahAllah Van added 14 and 11, respectively for the Knights.
Connor Mansfield had 13 points and eight rebounds for the Aardvarks and Ronit Mehta added 11 points.
Dayton and De La Salle North Catholic meet at 1:45 p.m. in the semifinals, while Vale and Oregon Episcopal meet at 9:45 in the consolation bracket, following an 8 a.m. game between Pleasant Hill and Umatilla.